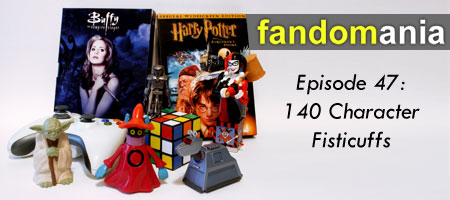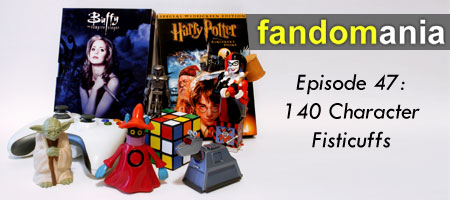 [audio:http://media.libsyn.com/media/fandomania/Episode_0047_-_140_Character_Fisticuffs.mp3]
On this week's episode:
00:00:16 – Episode Intro
00:00:22 – We give thanks for our iTunes reviews.
00:00:40 – Celeste and I recount our medical maladies of the past week.
00:01:55 – We talk a little (just a little!) about the previous week in our wedding stuff.
Comics Talk
00:03:12 – Celeste and I tell the story of our Twitter exchange with Joe Quesada regarding his mass media spoiling of upcoming Captain America comics.
TV Talk
00:11:34 – Celeste makes a correction concerning Dollhouse.
00:12:27 – Kings has returned, and we're wishy washy about whether we're returning to it.
00:13:46 – Celeste talks about the True Blood season premiere.
00:19:06 – We both talk about the insanity of the new season of I Survived a Japanese Gameshow.
Game Talk
00:20:14 – We talk a little about the new Ghostbusters game.
00:21:47 – I share my reserved hype for Scribblenauts.
00:25:27 – I've attempted a playthrough of the Saints Row 2 Corporate Warfare add-on… and failed.
00:28:06 – We discuss the ever-growing library of Fallout 3 expansion packs.
00:30:14 – I played through Resident Evil 4 and started Resident Evil 5 this week.
00:33:00 – I give a mini-review of Magic the Gathering on the Xbox Live Arcade.
00:37:33 – Celeste and I talk about the new 1 Vs 100 game on Xbox Primetime.
News of the Weird
00:42:58 – A Belgian girl accidentally had her face tattooed with 56 stars.
00:46:07 – Episode Closing
You can e-mail us at podcast@fandomania.com.
1 Vs 100
,
captain america
,
dollhouse
,
fallout 3
,
Ghostbusters
,
Joe Quesada
,
kings
,
Magic the Gathering
,
resident evil
,
saints row
,
true blood