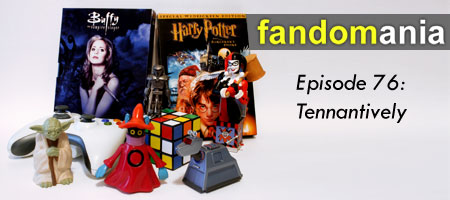 [audio:http://media.libsyn.com/media/fandomania/Episode_0076_-_Tennantively.mp3]
On this week's episode:
Episode Opening
00:00:16 – It's way too cold to be Florida.
Movie Talk
00:03:36 – Spider-Man 4 is running late, and we talk about how it's shaking up the movie release schedule, along with some talk about Pirates of the Caribbean 4.
00:08:55 – Jason's thoughts about Daybreakers.
Comics Talk:
TV Talk
00:16:36 – We talk about the strange numbering of Doctor Who's upcoming season / series.
00:22:48 – Dollhouse: Getting Closer (spoilers!), including a discussion about the future of genre TV on the major networks.
Game Talk:
00:42:07 – We've been playing some 1 vs 100 on the Xbox.
00:43:45 – We discuss Microsoft's CES announcements and how their new video has changed Jason's thoughts about Project Natal.
00:52:15 – Episode Closing