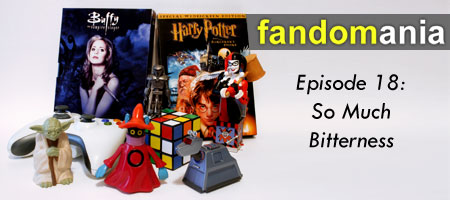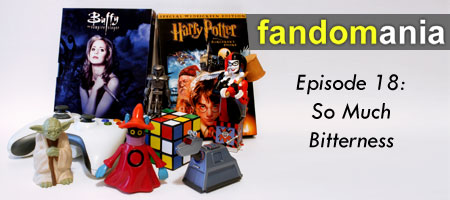 [audio:http://media.libsyn.com/media/fandomania/Episode_0018_-_So_Much_Bitterness.mp3]
On this week's episode:
We announce a new contest for a copy of Disney's Bolt soundtrack CD.
Celeste and I will be moving to a new Fandomania Central in a couple of weeks.
We talk about our respective Thanksgivings and give a shout out to some of Celeste's relatives.
Tim Kring puts the final nail in Heroes' coffin for me, and I finally stop watching the show.
We talk about all the good TV we've had time to watch this week: 24, Chuck, True Blood, Dexter, and Fringe.
John has an interview with Doctor Who writer Terrance Dicks.
Celeste dips her toe into the roleplaying game realm with Fable II.
I talk about all the games I played while Celeste was out of town: Fallout 3, Mortal Kombat Vs. DC, Quantum of Solace, and Left 4 Dead.
We are amused by the Easter egg hidden in the New XBox Experience's avatar system.
I sound off about the ending of Batman RIP this week, which leads into our discussion of comic book event storylines.
You can send us listener mail to podcast@fandomania.com.
24
,
batman
,
chuck
,
comics-
,
dexter
,
doctor who
,
fallout 3
,
fringe
,
heroes
,
new xbox experience
,
Podcast
,
quantum of solace
,
true blood
,
TV
,
video games