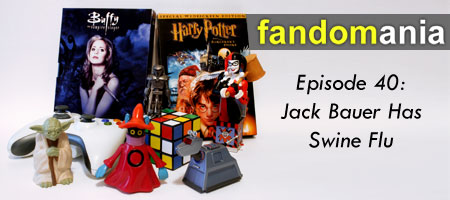 [audio:http://media.libsyn.com/media/fandomania/Episode_0040_-_Jack_Bauer_Has_Swine_Flu.mp3]
In this episode:
00:00:16 – Episode Intro
00:00:45 – Celeste and I recount our air conditioning woes of the past week, and Celeste talks a little about her wedding dress shopping.
00:03:20 – We share some Fandomania site news as we bring five new writers onto the staff and give our Twitters a plug.
00:06:14 – Camden Toy, the man behind several iconic Buffyverse monsters, joins us for an interview.
00:17:16 – I give my thoughts on the new X-Men Origins: Wolverine movie.
00:25:45 – Celeste and I agree on our TV Pick of the Week.
00:26:22 – Spoilers ahead!
00:26:36 – Dollhouse: Briar Rose – with an interlude about TV and movie trailers
00:40:02 – Chuck: Chuck Vs The Ring
00:50:04 – Heroes: An Invisible Thread – beware extreme wrath!
00:56:36 – 24: Day 7: 3:00AM – 4:00AM
01:02:42 – Lost: The Variable
01:10:33 – Fringe: Midnight
01:16:00 – Reaper: No Reaper Left Behind
01:20:26 – I scored some good video game deals at Best Buy's $10 sale.
01:21:40 – We talk about the recently confirmed and upcoming Lego Rock Band game.
01:24:05 – I've downloaded the new Saints Row 2 add-on pack but haven't had a chance to play it yet.
01:26:42 – Thanks to a promotion, I'm back playing World of Warcraft, at least for now.
01:29:15 – Celeste's dad's 360 goes to console heaven thanks to the RROD.
01:33:11 – Episode Closing
You can e-mail us at podcast@fandomania.com.
24
,
chuck
,
dollhouse
,
fringe
,
heroes
,
lost
,
Podcast
,
reaper
,
saints row
,
TV
,
video games
,
wolverine
,
world of warcraft