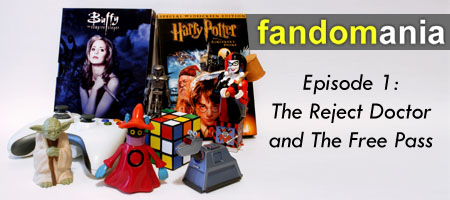 [audio:http://media.libsyn.com/media/fandomania/Episode_0001_-_The_Reject_Doctor_and_the_Free_Pass.mp3]
It's the inaugural episode of the Fandomania Podcast! In this episode you'll get to meet Celeste and me, and you'll hear us talk about:
TV shows, comics, and games we're into
Our religious experience with The Dark Knight via IMAX
My disappointment with The X-Files: I Want To Believe
Our thoughts about the Eureka season 3 premiere (spoiler warning!)
A discussion of the Doctor Who season 4 finale (spoiler warning!) and Torchwood
Why Joss Whedon let us down with Dr. Horrible (spoiler warning!)
How we've been doing with WiiFit
The saga of my broken Rock Band peripheral
If you'd like to send in listener mail, you can drop us a note at podcast @ fandomania.com. Who knows? We might read your letter on the air in an upcoming episode!