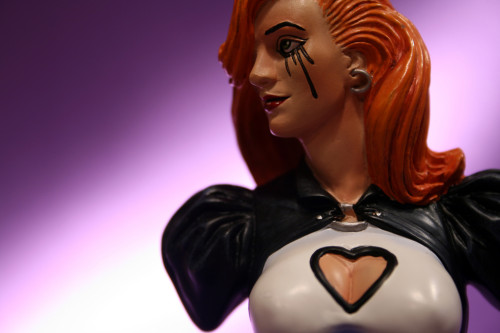 The Diamond Select Icons line is a series of smaller scale busts that previously has featured such characters as the X-Men and Avengers. This week, Diamond Select Toys took a departure with the release of an Icons bust of Joseph Linsner's Dawn.
This Dawn bust clocks in at just over 4″ tall, including the base. The base is very similar to that of previous installments in the Icons line, so she displays well alongside the Jean Grey and Elektra pieces. Also like those busts, Dawn is limited to 2000 pieces and comes with a certificate of authenticity. The packaging on these busts always strikes me as a little cheaply made. It consists of a window box (which is, in itself, a little strange for resin or polystone collectibles), and inside the cardboard box is a plastic tray that holds the collectible, instead of the usual styrofoam packaging most companies use. Complaints about the packaging aside, I really like a lot of the Icons busts.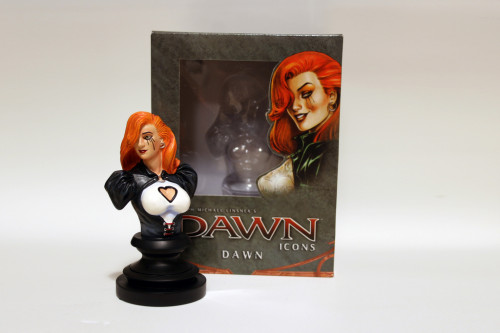 The sculpt is recognizably Linsner inspired, but as with many collectibles it looks a lot better at some angles than at others. There's some nice detailing in the laces on the front of Dawn's outfit, as well as in the rumpling of the sleeves. Overall I'm pleased with the sculpt. It's not the tightest and best Dawn sculpt by any means, but it is a very good job for this small scale.
The paint has good shading on her outfit, blending some subtle blues in with the black. The paintjob does fail a little on the edging around the heart hole in her top, where the black looks a little unsteady against Dawn's skin. The most noticeable paint flub on my bust is that Dawn's trademark tears defy gravity. They should be going straight down from her eye, but they actually are angled back a tiny bit. I'm a big Dawn fan, so this might be the sort of nitpick only I would catch, but nevertheless it's there. Additionally, there's some sloppy painting around the edges of Dawn's hair, especially at her left temple and along the area where her hair meets her back. It just looks like a speedy application, as often happens with these as well as with DC Direct's Women of DC busts.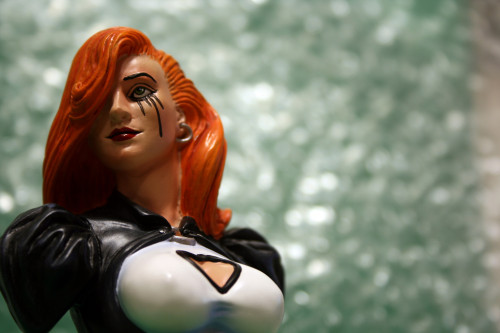 Despite the minor issues I have, I can easily recommend this piece for any Dawn collector. It has a low retail price of $45, so you most likely would be able to find it for even cheaper online. Here's a look at the rest of my photos of the Dawn Icons Bust:
( Dawn Icons Bust Flickr Set )