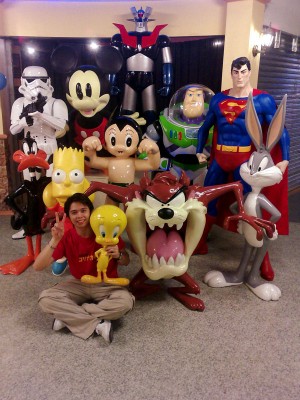 Every once in a while I come across a collection that wows me beyond belief, and such is the case with today's Collector Spotlight. Yexel is a collector from the Philippines whose passion for toys and statues has lead him to build his entire house around his collection. I had the opportunity to ask Yexel a few questions about his toy museum, and here are a bunch of photos of his massive collection.
Yexel's collection is famous on the Internet, and he's even been featured on a TV show, 100% Pinoy. Here's a clip:
Mechazilla: Hi Yexel, and welcome to Mechazilla! Can you give me a little background on yourself? Anything that you feel like sharing.
I'm from Las Pinas, Philippines. I enjoy dancing, magic, playing billiards, and of course collecting toys.
Mechazilla: When did you start collecting, and what got you into it?
I've been collecting since I was a kid. My first collection was made up of the free toys that came in the kids' meals at fast food chains.
Mechazilla: Can you describe your collection a bit? Are there any companies, lines, or characters that make up big portions of it?
Kotobukiya and Sideshow make up a big part of my collection. I also have plenty of stuff from ATS Japan.
Mechazilla: You have many unique pieces in your collection, such as many life-size figures. How did you get into collecting those, and how do you find them?
My friend owns ATS Co. in Japan, and we sculpted many of the pieces ourselves.
Mechazilla: Do you have a favorite piece (or pieces) in your collection? Can you share a little about that?
No, I don't have a particular favorite.
Mechazilla: Tell about how your collection is displayed. Did you plan it out or just put everything together as it came to you?
Toys are my life! I built my house just for the toys, hehe.
Mechazilla: How do you decide what pieces to add to your collection?
I always prefer the view of just an ordinary person, not a collector's eye. If I have a life-size version of a character, I don't need a small one.
Mechazilla: Do you have a "Holy Grail" collectible that you'd like to get or really are looking forward to?
Right now I'm just relaxing. I came to the point that I finished buying all the stuff that I want, and now I'm just waiting for new stuff to arrive.
I'd like to have more life-size Marvel characters like the Hulk, Wolverine, Captain America, and Iron Man.
Mechazilla: Any collecting tips you'd like to share?
Don't collect toys that you know you're going to sell someday.
Buy the expensive pieces that you know are worth it to you.
Know the exact line that you like, and most importantly make sure you have the best place to display all the stuff you collect. Don't just buy it and keep it or compress it to small cabinets. The beauty of the collection will not come out.
Mechazilla: Thanks for giving me the opportunity to talk with you and for showing us your impressive museum!
Here's a look at more of Yexel's Toy Museum: