In this feature, I interview collectors and feature photos and information about their collections. If you have an awesome collection or know someone who does and would like to suggest someone for a Collection Spotlight, please drop me a note to let me know.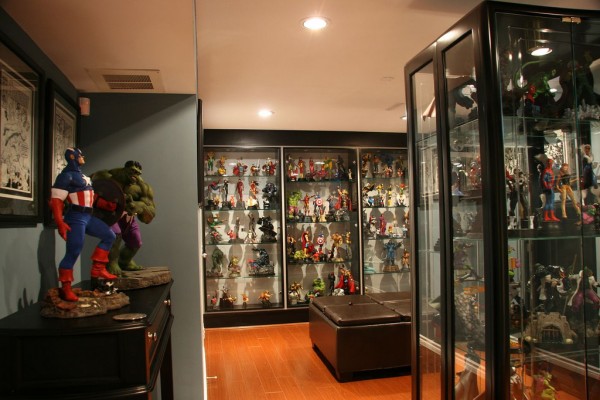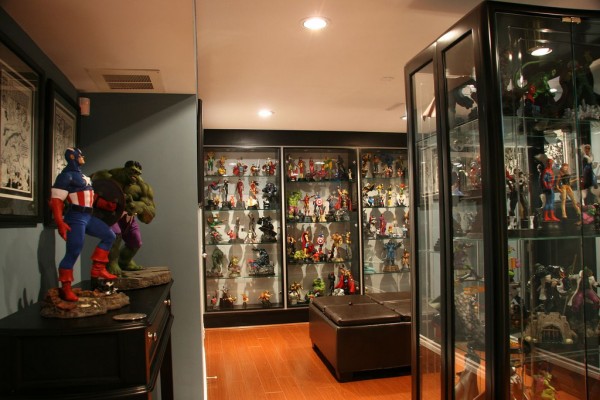 The newest Collector Spotlight features Norm, a big Marvel statue collector with a fantastic display and some really cool stories about his collection and his early brushes with pre-Spawn Todd McFarlane. Read on to check it out!
Mechazilla: Can you give me a little background on yourself? Where you live, what you do, etc? Anything about yourself that you feel like sharing.
Norm: Hi Jason, I would like to thank you for considering my collection for Mechazilla.com. There are some incredible collections on your site and I am honored to have my collection added.
I live in beautiful Coquitlam B.C., Canada, which is a suburb about 30 minutes outside Vancouver. I work as a computer programmer and I design and build software for the brokerage industry. I am luckily married to the perfect woman that understands and supports my passion for my hobbies.
Mechazilla: When did you start collecting, and what got you into it?
Norm: This is a tough question. I have been reading and purchasing comics my entire life. I guess I really didn't start collecting comics until I was in university in the last 80's early 90's. I started collecting original artwork a few years later. I was lucky enough to live in the same town as Todd McFarlane and would see him selling Hockey cards at the local conventions. I still remember buying my Trevor Linden and Cliff Ronning rookie cards from him. He would often have his art portfolio with him and having the opportunity to page through his artwork got me totally hooked on the hobby. Comic statues were the last comic related collectible that I got into. My first statue was Bowen's Thing when it was first released in 1999. I had admired the Daredevil and Thor statues at my local comic store and had been tempted to buy them but the cost seemed too high for a mass produced comic collectible. I knew Bowen was going to release the entire Fantastic Four team and since the FF was my favorite comic my plan was to just purchase the FF team. After bringing The Thing home and placing it on my shelf I knew I couldn't stop with the FF. I went back to buy Daredevil and Captain America and to use an old cliché "The rest is history".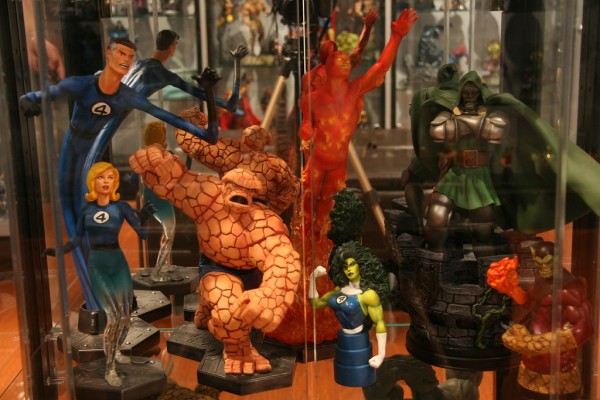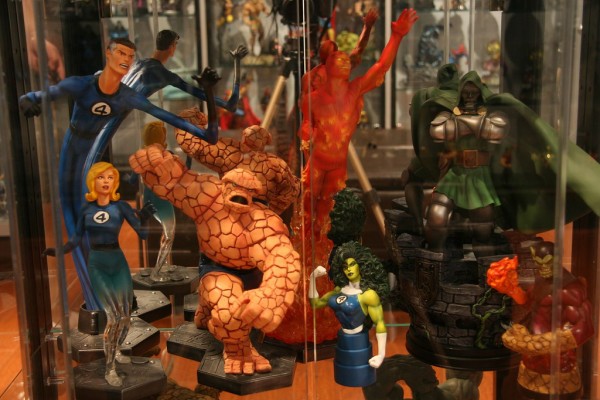 Mechazilla: Can you describe your collection a bit? Are there any companies, lines, or characters that make up big portions of it?
Norm: My collection revolves around Marvel comics. I have a few items from D.C.'s big three but the majority is Marvel. From a statues perspective about 75% of my collection is Bowen. I love the quality and diversity of characters that Bowen Designs produces. My most recent blunder was to start collecting Sideshow statues. I loved the detail and scale of their Green Hulk statue. Just like the Bowen Thing statue many years ago, I am now hooked on the SS line of statues. I have purchased all of their Comiquette and PF releases since the Hulk and spend way too much of my time and money looking for earlier pieces.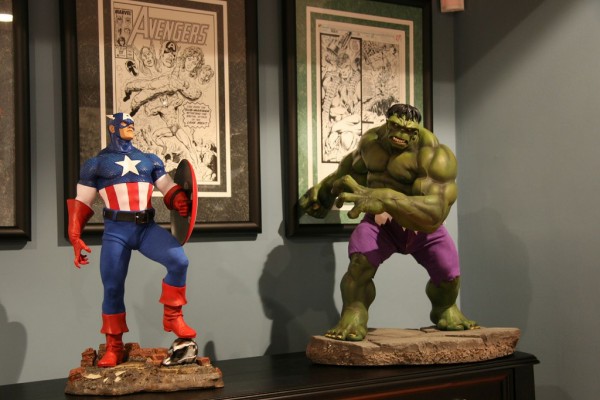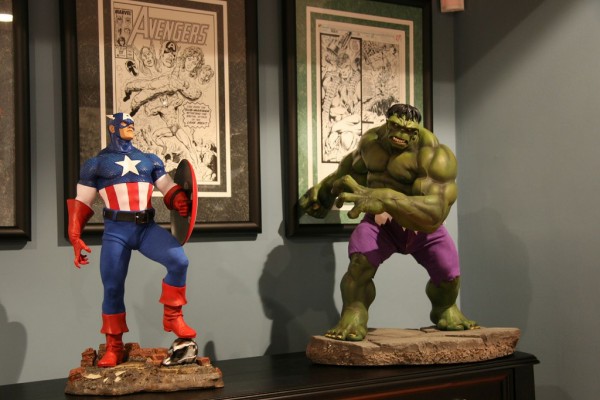 Mechazilla: Do you have a favorite piece (or pieces) in your collection? Can you share a little about that?
Norm: Another very tough question. If I had to pick one collectible to call a favorite it would have to be our sketch book. We don't have it updated as often since we don't go to conventions as frequent anymore, but it holds many fond memories for both my wife and me. We have attended numerous conventions across North America and she has stood in line ups more hours than I have to acquire the sketches.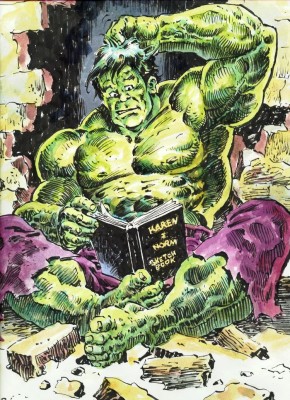 Link to the Sketchbook
Mechazilla: Tell about how your collection is displayed. Did you plan it out or just put everything together as it came to you?
Norm: In the beginning my collection was just placed wherever I had room. I would buy cases, mostly from Ikea, as the collection grew. Eventually we ran out of room for more cabinets and I started to leave the statues in the boxes and just store them downstairs. My dream was to have a room dedicated to my comic book collectibles. It played a major role when it came time to choose our next home. As it turned out we purchased a house with an unfinished basement. We hired a contractor to finish the basement and build the custom wall cabinets that holds the majority of my collection. Unfortunately I underestimated the number of statues I had and the wall cabinet filled up almost immediately. I purchased 2 Philip Reinsch curios to place in the center of the room to hold the extras.
The arrangement of the statues is quite simple. I just place the characters together as I remember them from the comics. Spidey is displayed with his friends and enemies, the Avengers are together, the X-Men and other mutant characters, Daredevil and company, etc… The only real rules I try to follow is to place only one statue of a character in one area or shelf and to group the statues by scale.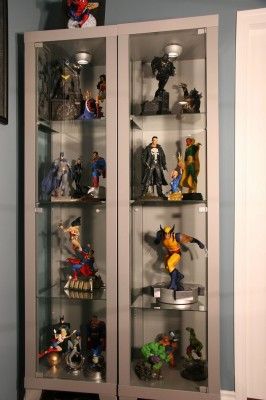 Mechazilla: How do you decide what pieces to add to your collection?
Norm: For a while I was purchasing almost every full size statue Bowen released. As his releases became more numerous and the characters more obscure I have switched to characters I know and liked. Although phase IV for Bowen looks fantastic I am going to pass on many of the pieces simply because I am not familiar with the stories behind the characters or just have no interest in them. Sideshow could be more of a problem simply because they are newer to the Marvel Universe and are producing all of the characters I know and like.
Mechazilla: Do you have a "Holy Grail" collectible that you'd like to get or really are looking forward to?
Norm: Hahahaha. Those that know me from the forums know that I have a problem with the term "Grail" being tossed around far too easily. For myself I believe a grail should be an item that is almost unobtainable. It should be something that the quest to obtain the item is as rewarding as the item itself. Arthur should not have been able to type in "Cup of Christ" in ye ole eBay and return pages of results. That being said, there probably are no statues out there that I want and would consider a grail. There are many statues I would like to have in my collection such as the SS Doom PF and the Iron Man comiquette which are very expensive, but they are too easily found to be considered a grail.
I guess my true grail would be something like an iconic Fantastic Four cover or splash page by Jack Kirby.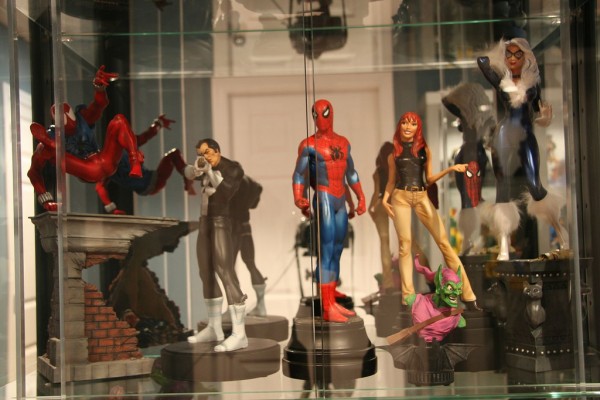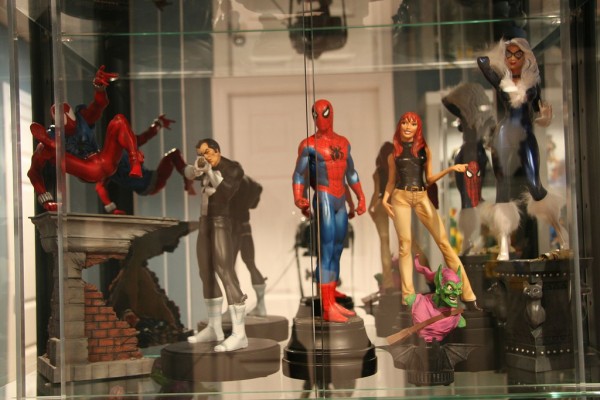 Mechazilla: Anything else you'd like to share?
Norm: I just wanted to thank you again and wish you and your site the best of luck. Thanks.
Mechazilla: It's been a pleasure talking with you!
You can see the rest of Norm's collection here: