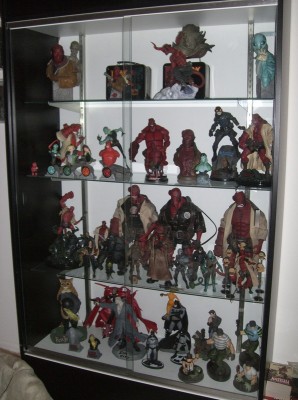 Hellboy II: The Golden Army is hitting theaters this weekend, and we have a new collector spotlight to help you get hyped. Here's a look at an awesome collection from Craig that shows off a whole lot of Hellboy goodies, as well as a bunch of other cool toys and collectibles.
Mechazilla: Can you give me a little background on yourself?
Well I'm 28 years old and I live in beautiful San Diego California, home of the best comic convention and some of the worst mortgage payments imaginable. I served 9 years in the Navy and now work for a wireless communication company as an engineering technician. I have a wonderful wife and 2 kids (3 year old daughter and 11 month old son). I collect comics (mainly Hellboy), figures, and statues (mainly Hellboy). Just to clear the air, I am not overweight, I don't sweat profusely while standing in line, I don't have thick rimmed glasses, and have become comfortable with references to the 40 Year Old Virgin.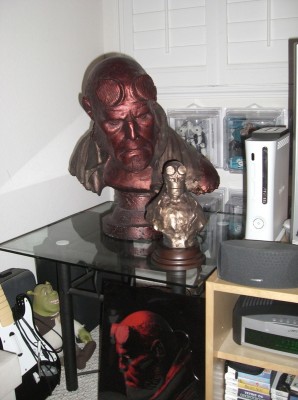 Mechazilla: When did you start collecting, and what got you into it? What got you into Hellboy in particular?
I started collecting figures about 10 years ago, mostly Spawn figures and some of the early McFarlane sportspicks. Todd McFarlane revolutionized the toy market setting the bar for the detail on toys. I was instantly hooked.
I got into the game late with Hellboy. About a year before the first Hellboy movie my old room mate tossed a Seed of Destruction trade paperback in my lap and said "Read this. You should like it". After reading it I was feening for more. The world that Mike Mignola created is just amazing. From the character designs, to the writing, to his unique art style, just brilliant. Then there are the novels and the artwork of others (big props to Guy Davis and Duncan Fegredo) that have continued to expand the Hellboy universe. As far as the figures go, I started collecting them about 4 years ago shortly after my wife (then girlfriend) moved in with me. Our small bedroom in the apartment had every inch of wallspace covered in figures in a matter of months. My wife said I was just waiting to find that "special someone" so my inner nerd could finally come out of hiding :) Before we were together I had a few figures, mainly Sportspicks, on display. I knew that no woman in their right mind would want to see a bunch of Spawn figures lining the walls of my bedroom!!! A couple of years ago, we moved into our current house and this loft became the home for my collection. This is when I started collecting statues and busts. I have to say, I am truly blessed that I have a wife that tolerates this (and she has to put up with me to boot!!!).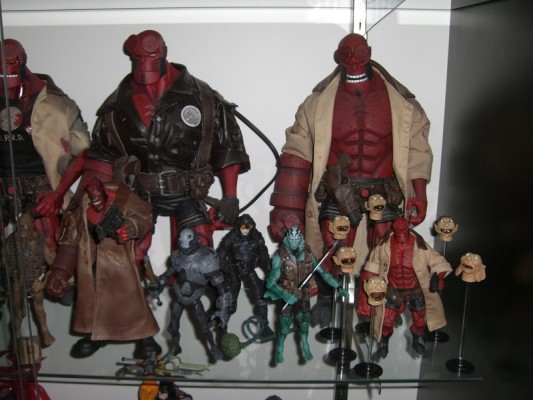 Mechazilla: Can you describe your collection a bit? You're obviously a big Hellboy fan, but what else are you into collecting in addition to that?
Well Big Red is numero uno… obviously. I collect an assortment of things. I've always been into Spawn so I have my designated corner for those figures. McFarlane Hanna Barbera, Simpsons, Corpse Bride, Wallace & Gromit, along with DC Direct's Looney Tunes and Neca's Nightmare Before Christmas are all wonderful animated lines and it's really disappointing that these lines have been cancelled because of lack of sales (except NBX). I also collect McFarlane Sportspicks of the Tennessee Titans (my team!!!), San Diego Chargers (wife's team), Superbowl Exclusives, and Kevin Garnett (favorite NBA player). I could list off some more stuff but I think the pictures can do some of the talking for me.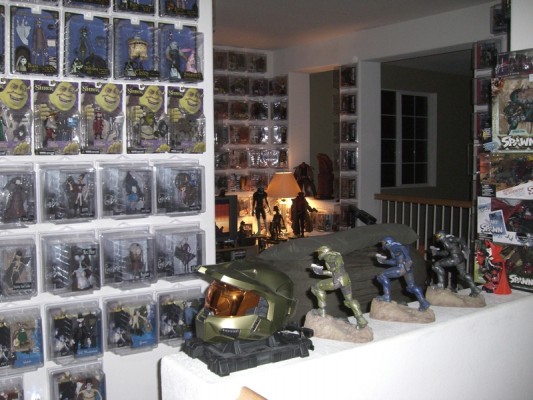 Mechazilla: Do you have a favorite piece (or pieces) in your collection? Can you share a little about that?
I love the Randy Bowen FS piece. He really captured the character perfectly in my opinion. Make more Hellboy stuff, Randy!!! Other pieces I consider the best in my collection: Mike Mignola B&W Batman (looks like it's cut straight from a comic book), Randy Bowen Goon statue (Powell's character is VERY underrated in my opinion), Mezco's Extreme Hellboy figure (how can you not love the swappable head with cigar?), and Sideshow's 1:1 Hellboy bust (it's HUGE!!!). As for books, I'm proud to have a copy of the Seed of Destruction slipcased hardcover. I also have some signed memoribilia (lithographs, sketches, comics, posters) I just unfortunately don't have the room for everything and my wife won't give up anymore wallspace in the house.
Mechazilla: Tell about how your collection is displayed. Did you plan it out or just put everything together as it came to you?
The display is planned out… well at least in my head it is. I'm a VERY organized person so everything has to have its place. I wanted clean lines and I tried to keep the room flowing as best I could. Also, I hate dusting, hence the reason I suffocate most of my figures in their plastic coffins. Every so often things are shifted to another spot. Change always seems to be happening since I'm constantly reevaluating the current setup, trying to make it look better. The walls look like a pin cushion without any figures on them. I think I have an obsessive compulsive disorder…. what do you think?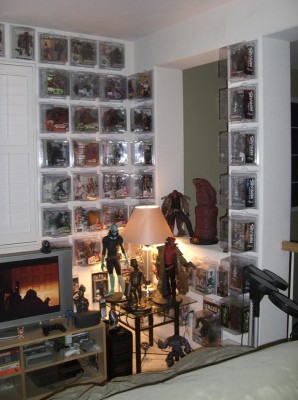 Mechazilla: How do you decide what pieces to add to your collection?
It's simple: I collect what I like. There's really not much else to say. I try to avoid compulsive purchases but they always seem to happen.
Mechazilla: Do you have a "Holy Grail" collectible that you'd like to get or really are looking forward to?
My "Holy Grail" would have to be an original piece of art drawn by Mike Mignola, a one of a kind piece.
I have a few other major wants. The Mondes Imaginaires Hellboy statue comes to mind. Comic wise it would have to be a near mint copy of Dime Press #4, considered the first apperance of Hellboy. I also missed out on the Starcraft Tychus Findlay statue but I'll find one eventually.
There are quite a few pieces I am looking forward to, all of them Hellboy. I was geeking out at the recent announcement from Sideshow of the 1:1 Big Baby prop replica. Also on the list are the Sideshow Hellboy 2 Premium Format, Samaritan (missed out the first time around), 1:1 bust, and from Gentle Giant the Angel of Death statue. Also to be noted is the statue from Mindzeye Studios which I really like.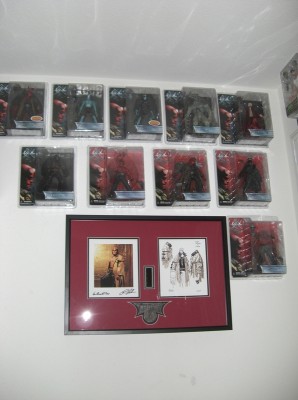 Mechazilla: What do you think draws you to being a collector, and how has it changed or affected your life?
One of the biggest draws for me has been the friends that I have made. Crazy as that may sound it is very true. I visit many online forums but one in particular there is a group of guys that I consider some of my best friends. Some I have met at conventions others I have only spoken to over the phone. It's a close knit community and we don't just talk about collectibles, we share our everyday lives with each other. It's a cool bond we have and it all started from a common hobby.
Mechazilla: Anything else you'd like to share (anecdotes, parting notes, etc)?
Uh…. how about "Need is such a needy word". Oh and don't wake up the baby!!!
Mechazilla: Thanks for taking the time to talk about your collection!
You can see the full gallery of photos below: