We have a brand new Collector Spotlight today. In this feature, I interview collectors and feature photos and information about their collections. If you have an awesome collection or know someone who does and would like to suggest someone for a Collection Spotlight, please drop me a note to let me know!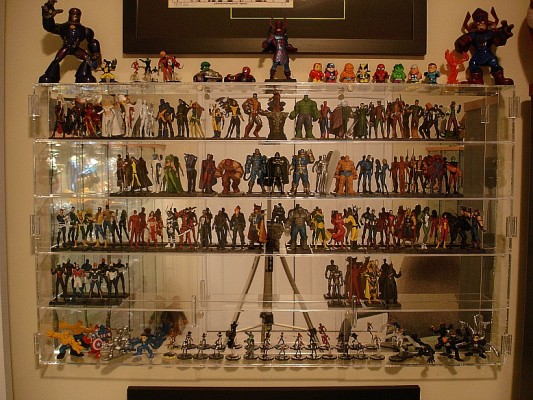 Today's featured collector is Neil, aka Rilynil, from Alabama. He is a big comics fan and statue and art collector.
Mechazilla: Can you give me a little background on yourself?
Neil: My name is Neil Adams ("rilynil" on statueforum.com and jinxworld.com), and I'm a 42-year-old newspaper journalist (page designer/editor) living in Huntsville, Alabama, and I've been reading comics since about 1972.
Mechazilla: When did you start collecting, and what got you into it?
Neil: I have always enjoyed having little figurines and nick-nacks with faces around the house. At a local art gallery in the 1990s, I bought several cartoony-animal original sculpts by an artist named Eric Evans. His work reminded me a lot of Pink Floyd for some reason, so I bought several pieces. I also had artsy girlfriend at the time who sculpted a statue of me playing basketball (she wasn't a sculptor, just creative, and she did a good job! I display it next to a ceramic basketball player I painted when I was in fifth grade). Anyway, I also bought a couple of "It's the Great Pumpkin, Charlie Brown" dioramas in the early 2000s. In retrospect, I guess my Neil statues, Eric Evans animals and Charlie Brown dios were the "warm up" acts for my present superhero collection.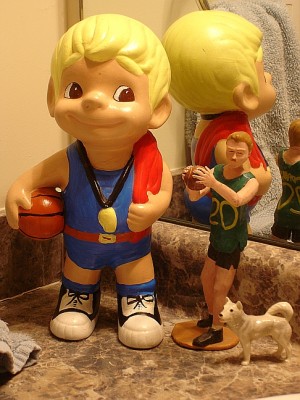 In July 2006, I was roaming around eBay, doing general searches for Spider-Man items, and I came across the Sideshow Spider-Man vs. the Hulk diorama. WOW! I had to have it. So I did a Google search on the dio to see if I could find out any background info on the piece and manufacturer (to make sure I didn't get ripped off on eBay). It was on this search that I discovered Statueforum.com, which led to my quick discovery of the Sideshow Dr. Doom PF.
I bought both of these SS dio exclusives off eBay (for about $575 each), then I saw a pic of the Bowen Phasing Vision. I quickly bought that, too, and I've been off to the races (and off my rocker) ever since.
I now own 108 statues/busts in my collection. I also have 72 different pieces of the Marvel Classic lead figurines, along with several Marvel Legends figures, HeroClix, Marvel Super Hero Squad figures and assorted vintage super hero toys.
Mechazilla: Can you describe your collection a bit? Are there any companies, lines, or characters that make up big portions of it?
Neil: I have eight Detolf cabinets made by IKEA that contain all but three of my superhero statue pieces. Ninety-nine percent of my collection is displayed in my home office.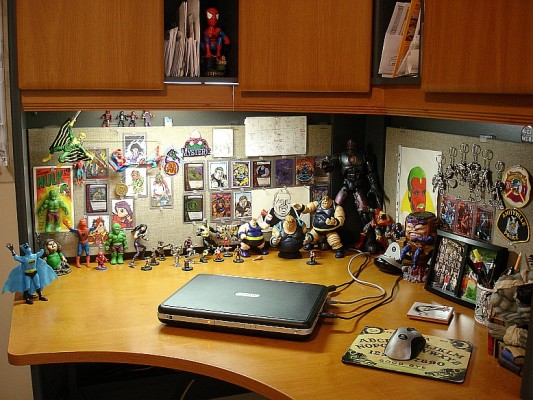 I know that many folks like to organize their collection displays by manufacturer or by fullsize/bust displays, but I display mine purely by characters. A big part of my collection is divided into four displays: Visionpalooza, Mysteriopalooza, Colossuspalooza and Blobapalooza. Those are just goofy names I gave my collections dealing with four of my favorite characters. In these displays, I include fullsize statues, busts, Marvel Classic lead figurines, Marvel Legends action figures, HeroClix, Marvel Super Hero Squad figures, Marvel Beanz, Mini-mates, custom pieces, various toys and anything else I can find. Practically anything goes! I even have a metal Mysterio Pepsi bottle cap distributed in Italy in 1980.
Mechazilla: Do you have a favorite piece (or pieces) in your collection?
Neil: My pride and joy is my X-23 fullsize commission, sculpted by the great John Cleary and painted by the incomparable Dan Cope. The reference art is the cover of "NYX" No. 4, which I display next to my statue. That comic is autographed by writer Joe Quesada and artist Josh Middleton. If my house caught fire, my X-23 commission and Sideshow Dr. Doom exclusive PF would be the first statues I'd save.
Although she didn't make her comic book debut until 2004, X-23 is one of my top 5 all-time favorite comic book characters. In my opinion, she's the greatest character Marvel has created since Kitty Pryde way back in 1980. I have enough X-23 memorabilia to create an X-23palooza display, but my Cleary X-23 will forever be displayed alone on a top shelf of a Detolf. I've also got some great custom busts of the New X-Men, with X-23 displayed front and center.
Mechazilla: Tell about how your collection is displayed. Did you plan it out or just put everything together as it came to you?
Neil: I do a lot of planning. Of my six Detolf cabinets that stand side-by-side, I'm trying to keep the left three cabinets X-Men only, as much as possible. On top of the Detolfs are my larger Sideshow Marvel pieces. Across the room, my other two Detolfs contain a horror theme: Buffy the Vampire Slayer, Marvel Zombies, Man-Thing, Walking Dead, Howard the Duck, John Carpenter's Halloween and two of William Paquet's fantastic Cabinet of Curiosities busts. I'm excited that Bowen Designs is producing some more Marvel monsters, particularly Dracula and Simon Garth the Zombie.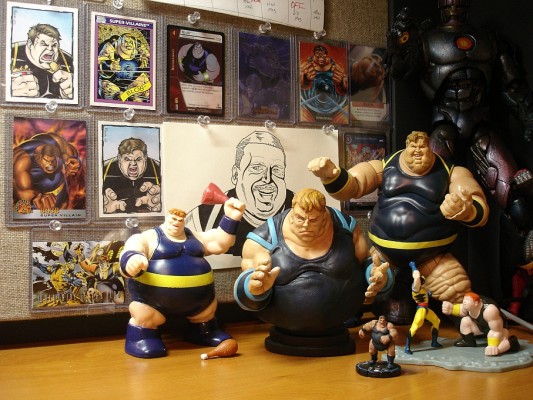 I also can't wait for Bowen to release their MODOK fullsize statue as well as a minibust of the Blob (I'm happy to say I may have had a small hand in Randy deciding to produce a Blob with a campaign presentation I did on Statueforum.com. I put a lot of effort into the first four posts of this thread: http://www.statueforum.com/showthread.php?t=47754
The thread grew to more than 1,800 posts and 21,000 views. It was a lot of fun.
Frederick J. Dukes ROCKS! I can't wait to add a Bowen Blob to my Blobapalooza display.
Mechazilla: How do you decide what pieces to add to your collection?
Neil: What I buy is determined (initially) by character and (secondly) by strength of sculpt. I'll buy a character I really don't have much enthusiasm for if the sculpt is striking.
Mechazilla: What else in your collection is special to you?
Neil: I have two lithographs (Spider-Man, Hulk vs. Wolverine) and a Stan Lee caricature (drawn by Statueforum.com's Tony Perna) that are autographed by Stan Lee, and are framed with photographs of The Man with the art! I also have a Mysterio original painting by Stuart Sayger; two framed covers and an inside page of "New X-Men" art drawn by Paco Medina and Juan Vlasco; and watercolor paintings of Spider-Man, Wolverine, the Vision and Mysterio by Mark McHaley.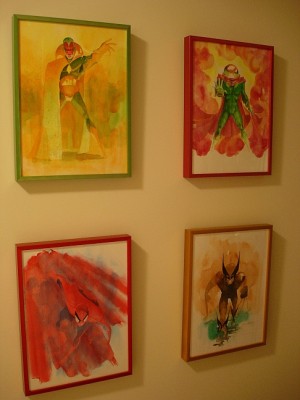 Mechazilla: Do you have a "Holy Grail" collectible that you'd like to get or really are looking forward to?
Neil: I would LOVE to have a Sideshow 1:1 Spider-Man bust. That thing is a beauty, and I should have bought one when I had a chance a while back. I also want to add William Paquet's "Dark Knight Strikes Back" statue (the one with Batman kneeling by the female Robin, who has a sling-shot). I love that story, and I love this statue. I need more Buffy the Vampire Slayer stuff, too.
Mechazilla: Anything else you'd like to share?
Neil: I'm a foolish, foolish man. But I enjoy myself.
Mechazilla: Thanks for taking the time to tell us about your collection!
You can see the rest of Neil's collection here: