Welcome to today's Collector Spotlight, where I interview collectors and feature photos and information about their collections. If you have an awesome collection or know someone who does and would like to suggest someone for a Collection Spotlight, please drop me a note to let me know!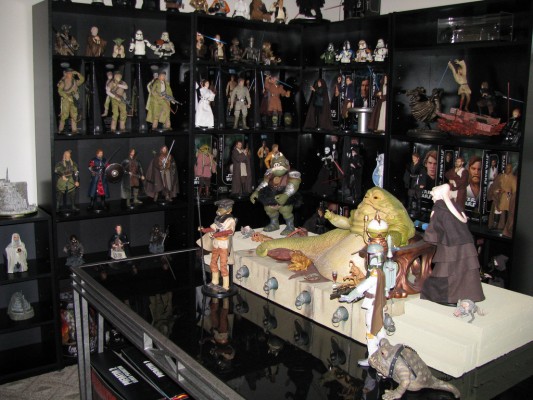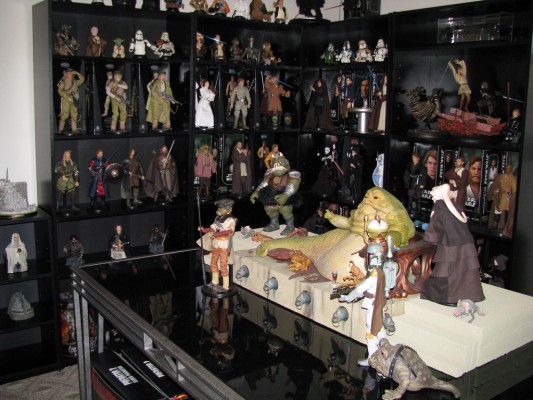 Today's featured collector is Keith, aka "BadMoon," from Pennsylvania. Keith is a big Sideshow and Hot Toys collector and agreed to show off his collection and answer a few questions.
Mechazilla: Can you give me a little background on yourself?
Keith: Hello, my name is Keith. I live in Pennsylvania about an hour and a half outside of Philadelphia. I am currently a marketing representative for a Fortune 500 company. I enjoy movies, gaming, animals, and Disney World. I am currently married and have three children. That is, if pets count as children. I have 2 Siamese cats. One is named Leo and the other Leia. I also have one new addition. Her name is Maggie, and she is a 14 week old Beagle mix puppy.
Mechazilla: When did you start collecting, and what got you into it?
Keith: Like a lot of kids, I have always had toys. Star Wars, GI Joes, and so on. I never seriously started collecting until around 1999. It all started with McFarlane's Movie Maniacs series and the release of the Star Wars Prequels. The McFarlane figures was the first time I looked at toys as pieces of art. Plus a lot of them were of favorite characters from movies I loved. Then came one day when I walked into a comic book store and glanced at an issue of Toy Fare. On the cover was a picture of Sideshow's 12 inch Luke figure. My jaw hit the floor. So did my wallet from that point on. I soon was heavily involved in pre-ordering upcoming Sideshow products. On September 13th of 2006, I found the Sideshow Freaks forum. This only helped fuel my desire to collect, knowing there were so many other people who were just as passionate about these as I. From then on I have been expanding my collection rapidly and have not looked back.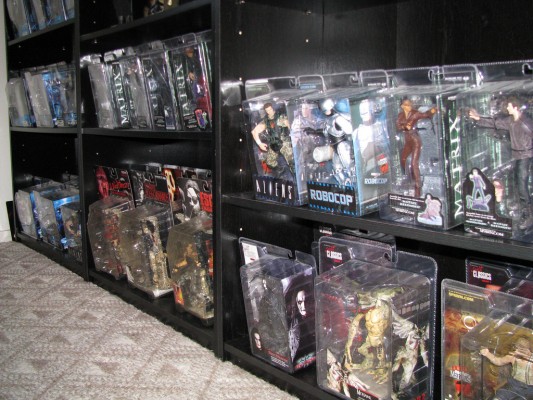 Mechazilla: Can you describe your collection a bit? Are there any companies, lines, or characters that make up big portions of it?
Keith: I mostly collect Star Wars, Aliens and Predator, and some Lord Of The Rings stuff, although I do have other items in my collection that would fall into other categories. I collect items from all different companies, but mostly Sideshow Toys and Hot Toys collectibles. I don't really collect by character type. I buy as much as I can. They are mostly all 12 inch figures but I have been trying to add some statues to the mix as well. I also have a couple Master Replicas Lightsaber hilts that I really enjoy.
Mechazilla: Do you have a favorite piece (or pieces) in your collection?
Keith: I have a few. My first Mater Replicas Lightsaber is an Obi-Wan saber from Attack of the Clones. My wife purchased it for me as a Christmas gift. It did not come with a display case; otherwise it would have a prime spot in my collection. Next are 2 Figure Master Les custom figures. First is my Zombie Luke figure. It is absolutely amazing! I will let the pictures speak for themselves. Next is a Les custom Hicks figure from Hot Toys. He sculpted a new and improved head and gave it a nice custom paint job. He then painted the arms to match the same skin tone as the face. It looks 100 times better than the original. Again, the pictures will speak for themselves. Finally I have to say my Jabba set up. I love that Sideshow went all out with all of the upgrades and creatures. I even tried to recreate a little of his throne room by adding additional figures and making the flanking steps. The steps are made from a hard foam and paint. I actually made them myself. Another thing I am proud of is the Gamorrean Guard. It is my first custom figure painted by me. It is just the Hasbro version repainted.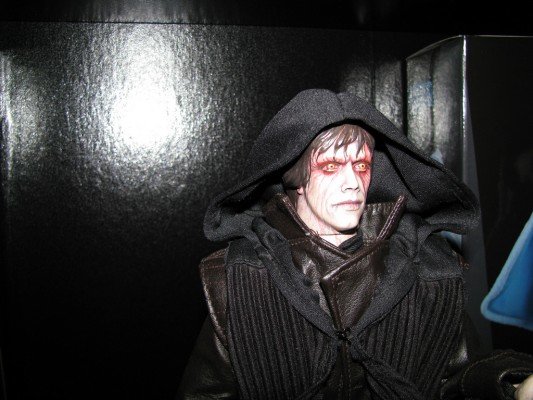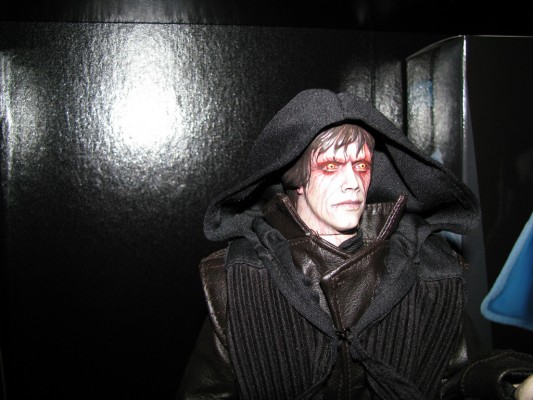 Mechazilla: Tell about how your collection is displayed. Did you plan it out or just put everything together as it came to you?
Keith: My display is ever evolving and always challenging to make sure everything looks nice and neat. When I collected only McFarlane it was easy to just tack figures up on the wall. Not so much with statues and figures. So I started by finding some black book shelves. I then bought as many as I could fit into the room. When Jabba came it was time to think outside the box. I ended up finding a really cool looking kitchen table that would be suitable. I think it does the job nicely. My goal is to have a plexiglass display case to fit on top of it, covering the entire table. As for where I put stuff, that is the challenge. I try to make it look full at all times. So whenever I get a new piece I have the challenge of figuring out where to put it. That is also the fun part. I try to figure out a good spot and then stick with it. It is clear though I will soon run out of room and need to expand. I think I am going to purchase a few of the classic Detlofs from Ikea.
Mechazilla: How do you decide what pieces to add to your collection?
Keith: I am pretty much a completionist when it comes to Sideshow's Star Wars 12 inch line. Other than that I really just buy items that look fun to me. A big example of this is "The Dead" line, again made by Sideshow Collectibles. I think they are really fun and cool looking.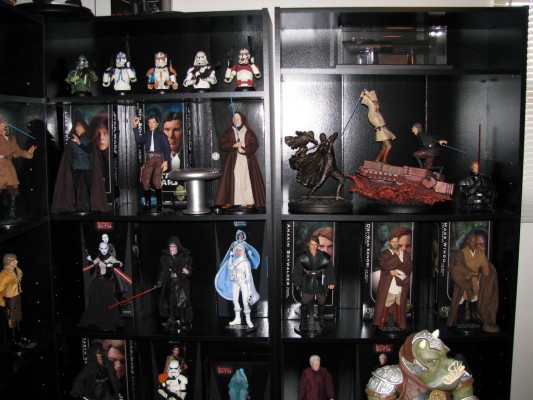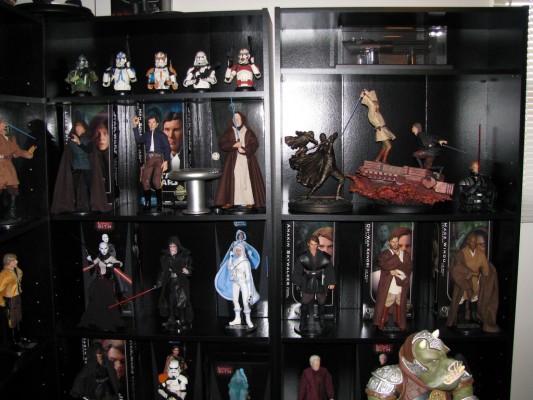 Mechazilla: Do you have a "Holy Grail" collectible that you'd like to get or really are looking forward to?
Keith: That is a tough question for me. "Holy Grail" to me would be being able to afford everything that I wanted. I would love to have the 1:1 scale Droids as well as some of the other Sideshow 1:1 scale Aliens and Predator busts. I would also go back and purchase every 12 inch figure from Hot Toys' Movie Masterpiece line.
Mechazilla: Anything else you'd like to share?
Keith: I can't wait to see what is in store for us collectible junkies next. With Sideshow's recent announcement of armored figures and Hot Toy's ever improving figure my wallet is sure to remain at wits end. I think this is a terrific hobby and it has brought a lot of joy to me. Every piece reminds me of being a kid again. Thank you for taking the time to learn more about me and my collection!
Mechazilla: Thanks for talking with me and sharing your hobby!
Check out the rest of Keith's collection here: