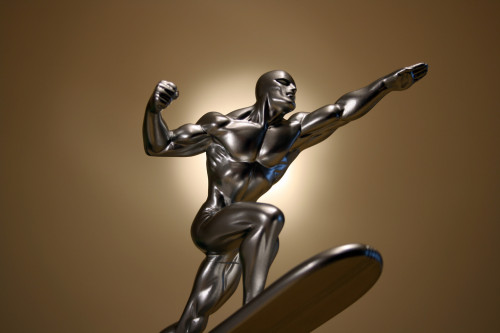 Bowen Designs has two new Silver Surfer collectibles, one in the full Bowen statue scale and the other in the smaller mini-statue scale. I nabbed the mini-statue "Galactus scale" one this week, and here's the review, with photos.
The first thing I thought when I opened the box was, "Wow, this really is small!" This is my first Bowen mini statue, so I wasn't sure what to expect from the size, really. I knew he would be in scale with Bowen's previous Galactus statue, but I haven't seen that one in person, so I didn't have a preconceived notion of what to expect. The Galactus scale Surfer measures about 3.5″ tall, from the top of his head to the underside of his surf board. He comes with a curved black display stand, though, that boosts the overall height to around 12″. Once he was on the stand, I was awed by the statue and wasn't bothered by the small scale.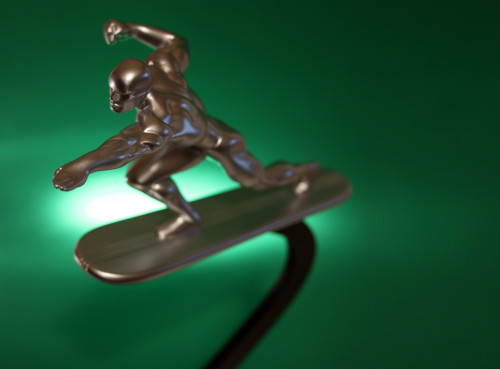 Bowen did a full-size Silver Surfer statue several years ago that was awesome in its own right but lacked the dynamic and kinetic feel of the Surfer. This piece has no such lacking, as it presents the Surfer full speed ahead on his cosmic board. The whole pose screams action, and the Surfer's sleekly defined muscles and sharp board lend to the aerodynamic nature of the statue. The display base even pushes action and speed into the sculpture, with its smoothly curved lines that swoop up and end tangentially to the bottom of the surf board.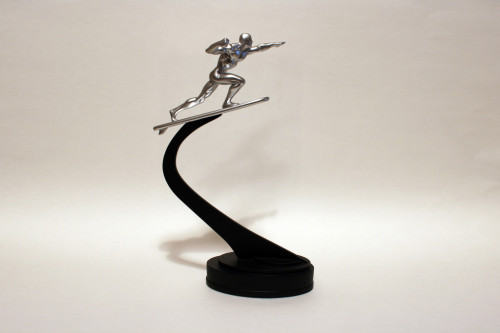 The paint job is an overall shiny silver covering with some black detailing around the eyes. It's not chrome, but I think it actually looks even cooler this way, without being highly reflective. You can see in the photos how it reflects the light and gives the Surfer a shimmer without looking fake or mirrored.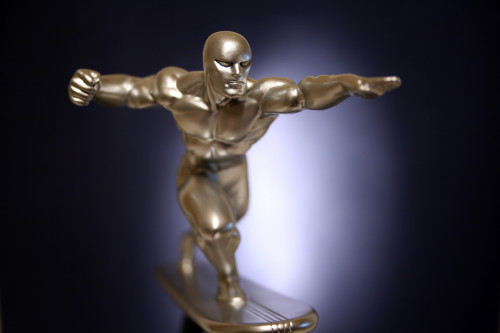 I love this statue and am looking forward to the new full-size Surfer, which should be releasing soon. This Galactus scale edition is limited to 2200 pieces. You can see the rest of my photos below:
( Bowen Designs Silver Surfer Galactus Scale Statue )