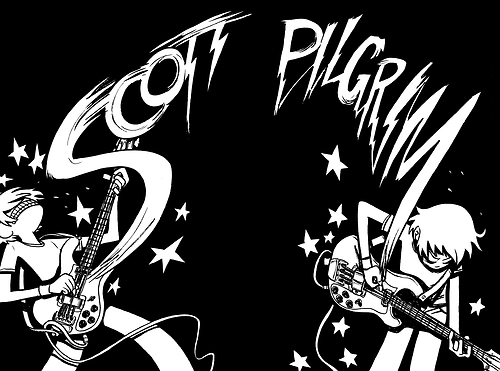 Alright, I know, you've missed me. You've been dying to know what I am writing about next. Well, we're gonna do another recent fandom of mine. And I'm gonna let you in on something shocking. I didn't get into it until January 4th of this year.
Yes, I'm talking about Scott Pilgrim.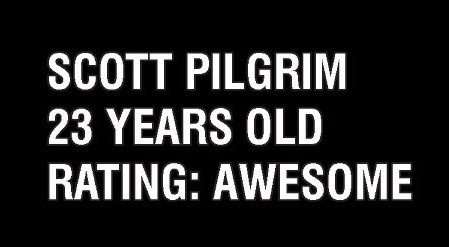 Now, in regard to the film, Scott Pilgrim Vs. The World, I don't know why I avoided it to begin with. I think it was the fact that whenever Edgar Wright, Simon Pegg, and Nick Frost separate, their respective projects pretty much lack that amazing chemistry. I know Edgar Wright is a brilliant, handsome man. And now I know I was very wrong to avoid this movie.
Let me back up a second. I was a teen during the grunge era. I had a boyfriend in a local band here in Kansas City. A pretty well known band. He was the singer. He was so cool. He wrote a song about me. Oh wow. Blah blah. I remember going to see them play and standing in the front row in front of him and feeling that feeling. It's hard to describe, but girls, you know that feeling. Maybe some of you boys, too.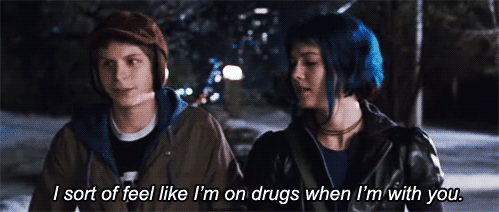 My reaction to the opening credits of Scott Pilgrim was pretty much that of Knives Chau watching her man perform with Sex Bob-omb.
The opening sequence of events, for me, was hypnotizing.
Kim's scream.
Michael Cera as Scott. Bass in hand. Doing the damn sexiest knock-kneed jumps ever. (I'm being fully serious.)
All of those graphics and color and…
That music. Dear god. That music…
It was just so… amazing.
I immediately paused and stated, "This is so amazing". I was hooked. This was going to become one of my favorite movies of all time having only seen that three-minute sequence.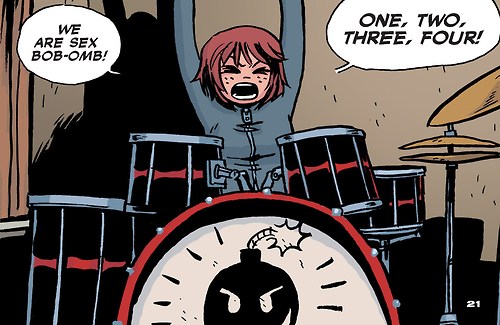 Immediately Scott Pilgrim took over my life. I was posting pictures. I bought a poster. I downloaded the ebooks of all of the comics. I listened to Sex Bob-omb on a daily basis. My Tumblr feed was dominated. I was quoting it (duh). And I finally took the plunge I had attempted to first take in 1994 in my parents' basement with that awful Manic Panic that ended up all over the walls and floor…
I dyed my hair blue.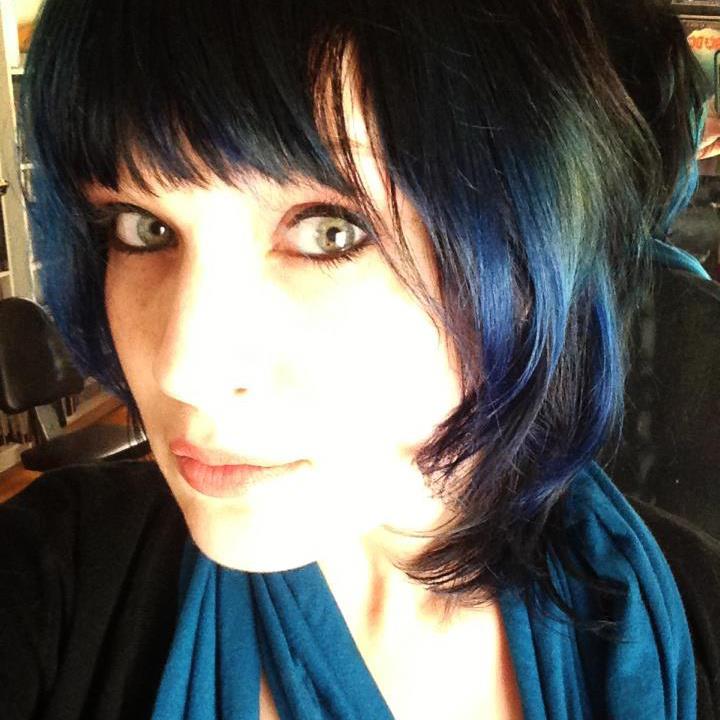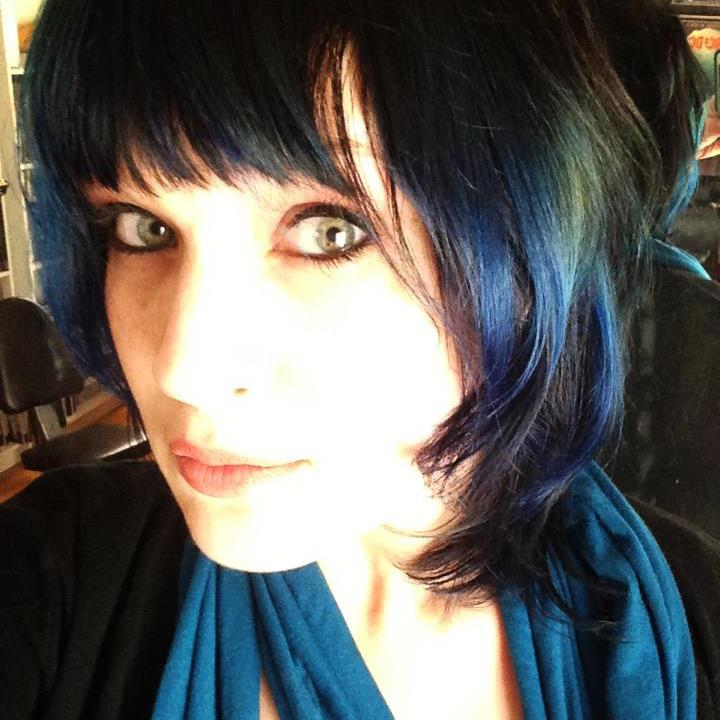 This is how big Scott Pilgrim became an influence in my life in such a short amount of time.
Dear Bryan Lee O'Malley,
Thank you for being amazeballs and writing these comics because wow.
Love, Lauren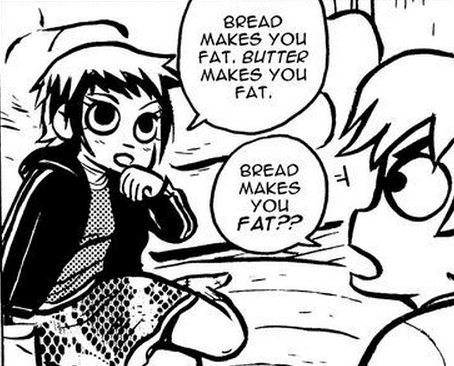 Dear Edgar Wright,
Thank you for doing a comic justice and making a gorgeous movie.
Love, Me
PS — Call me.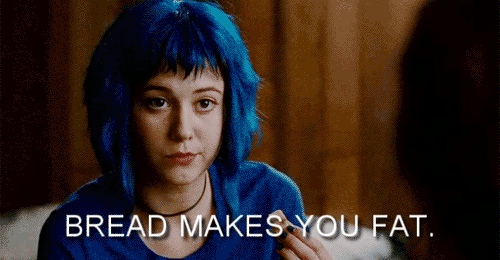 Ok, back to being a serious journalist here…
Show of hands. Who all has an ex they consider evil?
See? We've all just related to this movie. I can go home now.
Alright, I'll finish my thoughts. Yes, we've all had evil exes. We've all tried using the L word (no, not lesbian or the other L word, lesbians). We've all wanted something or someone that we didn't think we could get… We've all dealt with life.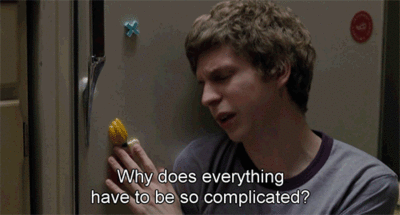 So, I dyed my hair blue — perhaps in an attempt to try and be Ramona V. Flowers, or perhaps more so in keeping with the idea that is the ultimate concept of this film: earning the power of Self Respect (we get Understanding in the comics… which applies, too) which made me say "Screw it!" and start to do things I was afraid of doing.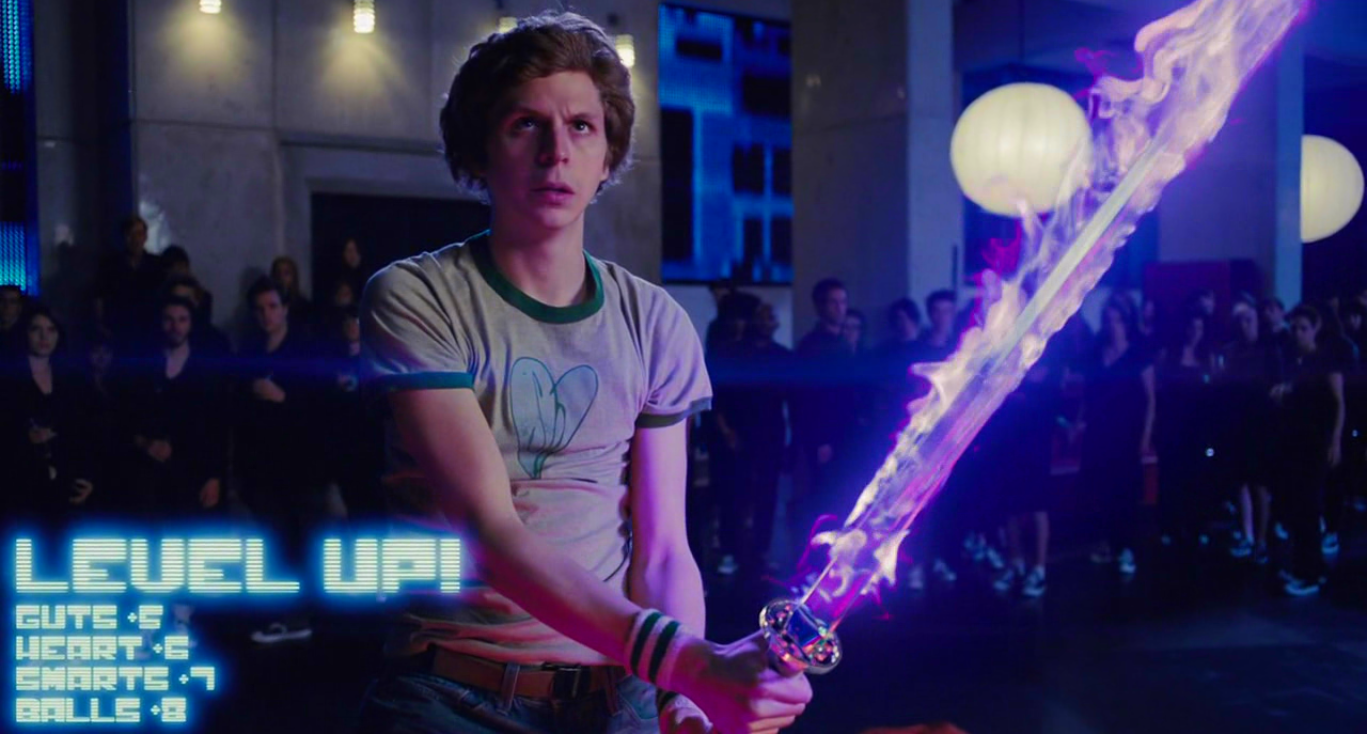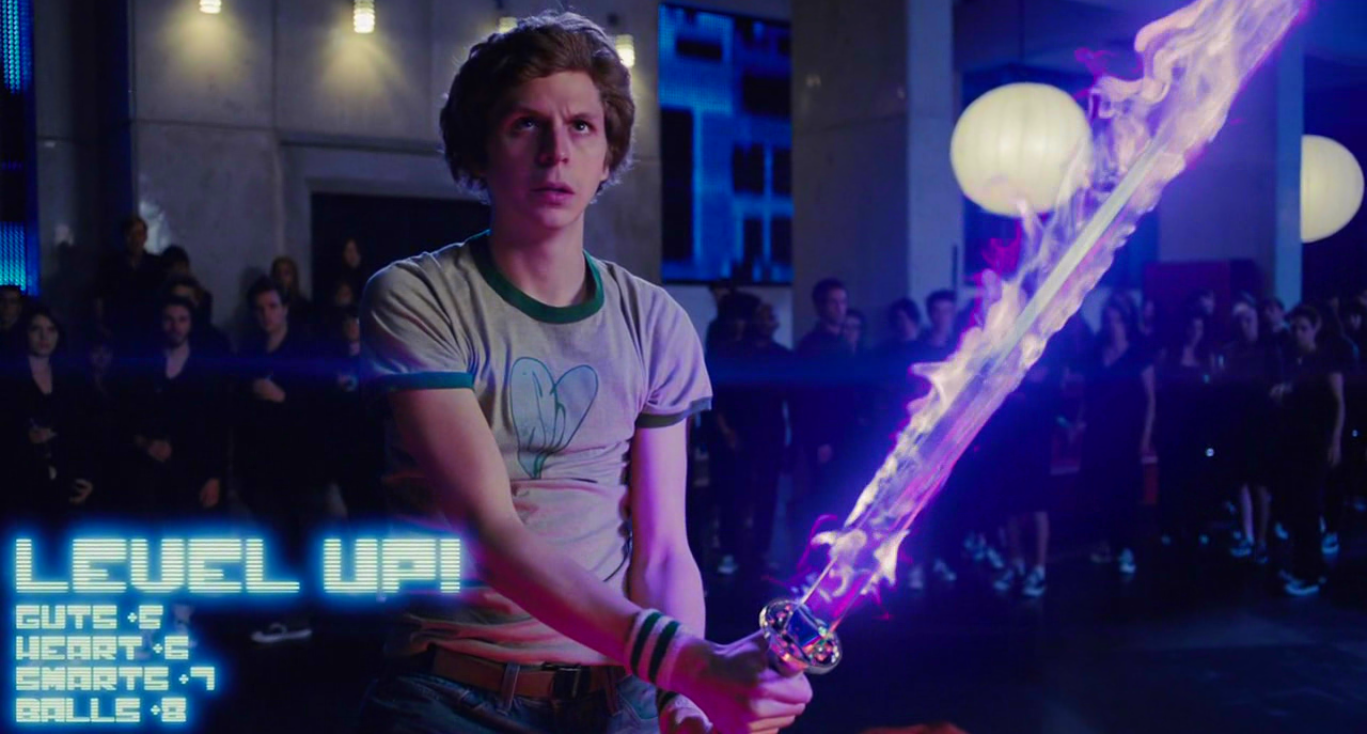 As much as you want to roll your eyes and believe the beginning of that statement, nope! It's the latter half. Scott Pilgrim finally got me living again.
First off, how can you not want to jump out of your skin listening to "We Are Sex Bob-omb" (aka "Launchpad McQuack") (the song in the opening sequence)?
Second, who doesn't want to find their manic pixie dream girl (or guy) and end up with them in the end? (If you say no, you're a liar.)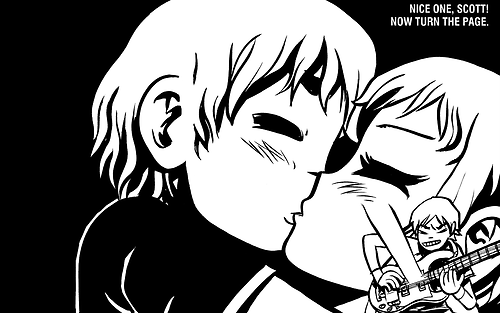 Third, dude, this movie and the comics it's based on FREAKIN' RULE — and that right there is reason enough to stop being so scared. Stop settling for something you think is just good enough because you're gonna be unhappy eventually and live in regret. It's about getting the cojones to go after something bigger and better and WHAT YOU REALLY WANT.
And by god, you're gonna get it.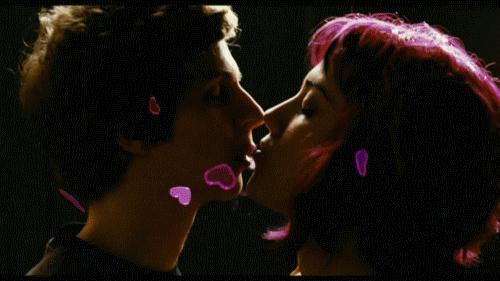 Ok, so the blue hair only lasted about a month and a half — a bit longer than Ramona's week and a half/three weeks depending on if you go with the film or the comic, but finally living again, after being somewhat of a hermit socially and just in life in general, is pretty awesome. Recently I dyed it bright red. Soon I'll be saying "Screw it!" again and dyeing it another awesome color.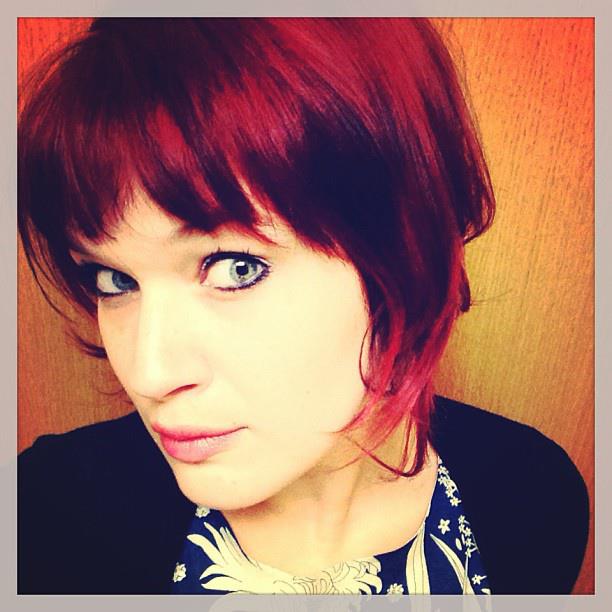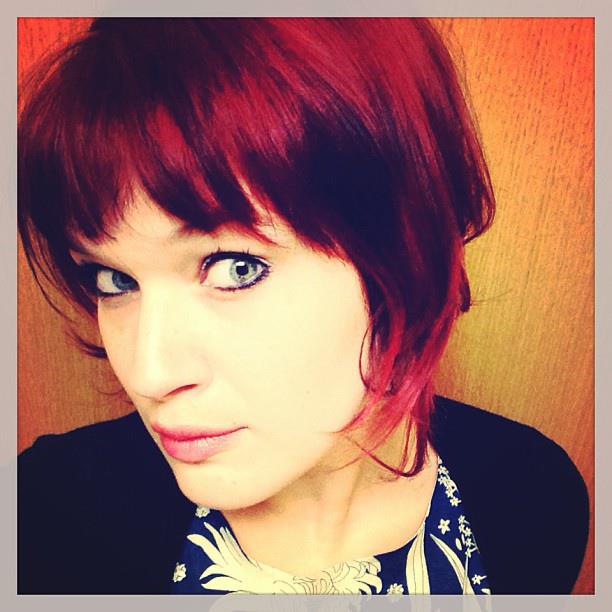 Now, at the time Scott Pilgrim was being filmed, Mr. O'Malley said that nothing from the last comic, Scott Pilgrim's Finest Hour, would appear in the movie. He gave some notes and said that "Their ending is their ending."
Well, this is what we would've had. And sadly, I think this is probably how life is more so than what we get in the real deal.
Oh, sorry, I was just under my desk crying…
Luckily, we get the perfect ending of Scott and Ramona walking through a thingie (a door) and into perfect happiness. Ahh… this is what movies are for, right?
RIGHT!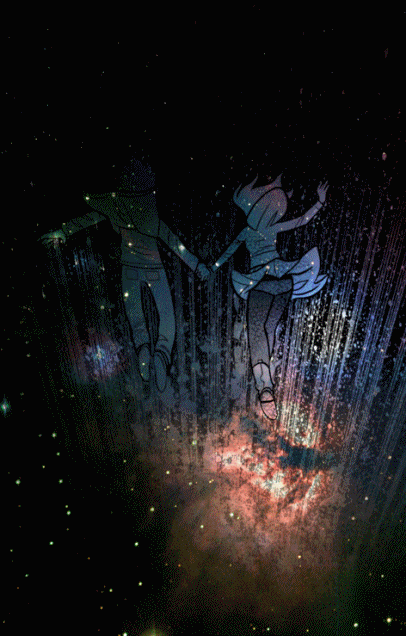 I know I usually base these articles on things I own, but I'm throwing in something extra amazing to this one. I've been to basically every location in Scott Pilgrim Vs. The World. Yes. I have family in Toronto and I've been to Castle Loma, Sonic Boom (the record store) — hell, I've even swam the depths of Honest Ed's last December.
I am somewhere in downtown Toronto. First person to find me wins a looney.

— Lauren Taylor (@StrickenLauren) December 26, 2012
Plus, my bakery — L's Treats — has some yummy treats:
SEX BOB-OMBS
Dipped banana bread (makes you fat?!) bites.
Perfect with any tea: blueberry, raspberry, ginseng, sleepy time, green tea, green tea with lemon, green tea with lemon and honey, liver disaster, ginger with honey, ginger without honey, vanilla almond, white truffle, blueberry chamomile, vanilla walnut, constant comment and… Earl Grey.
Can also be made VEGAN! Because vegans are just better than everyone else.
Now!
On to the things I own!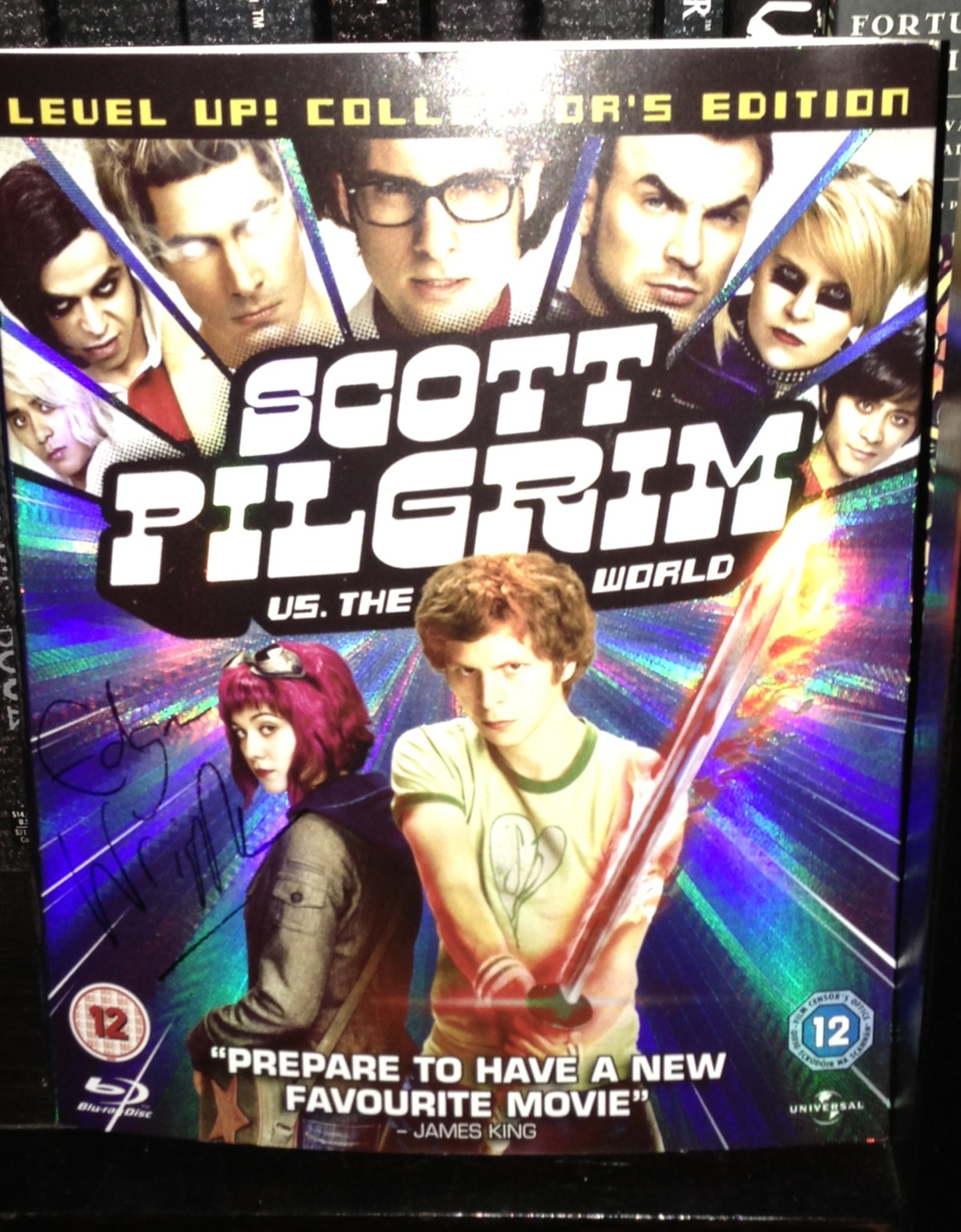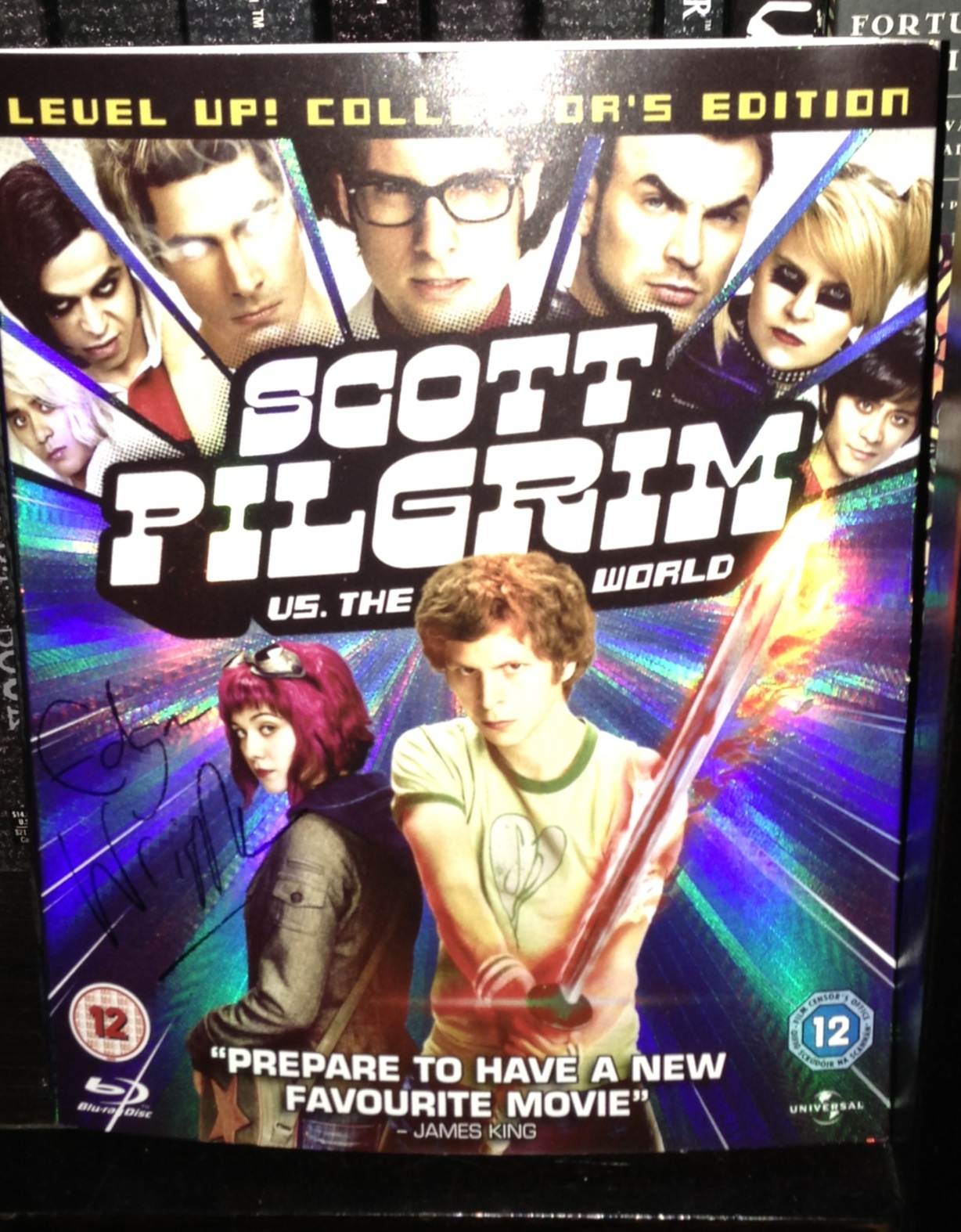 Duh, Scott Pilgrim on Blu-ray — and what's this? Oh it's just a signed sleeve. Yep, Mr. Wright signed this baby for Forbidden Planet and since I have a lovely friend that used to work there, he sent it to me and it's now mine.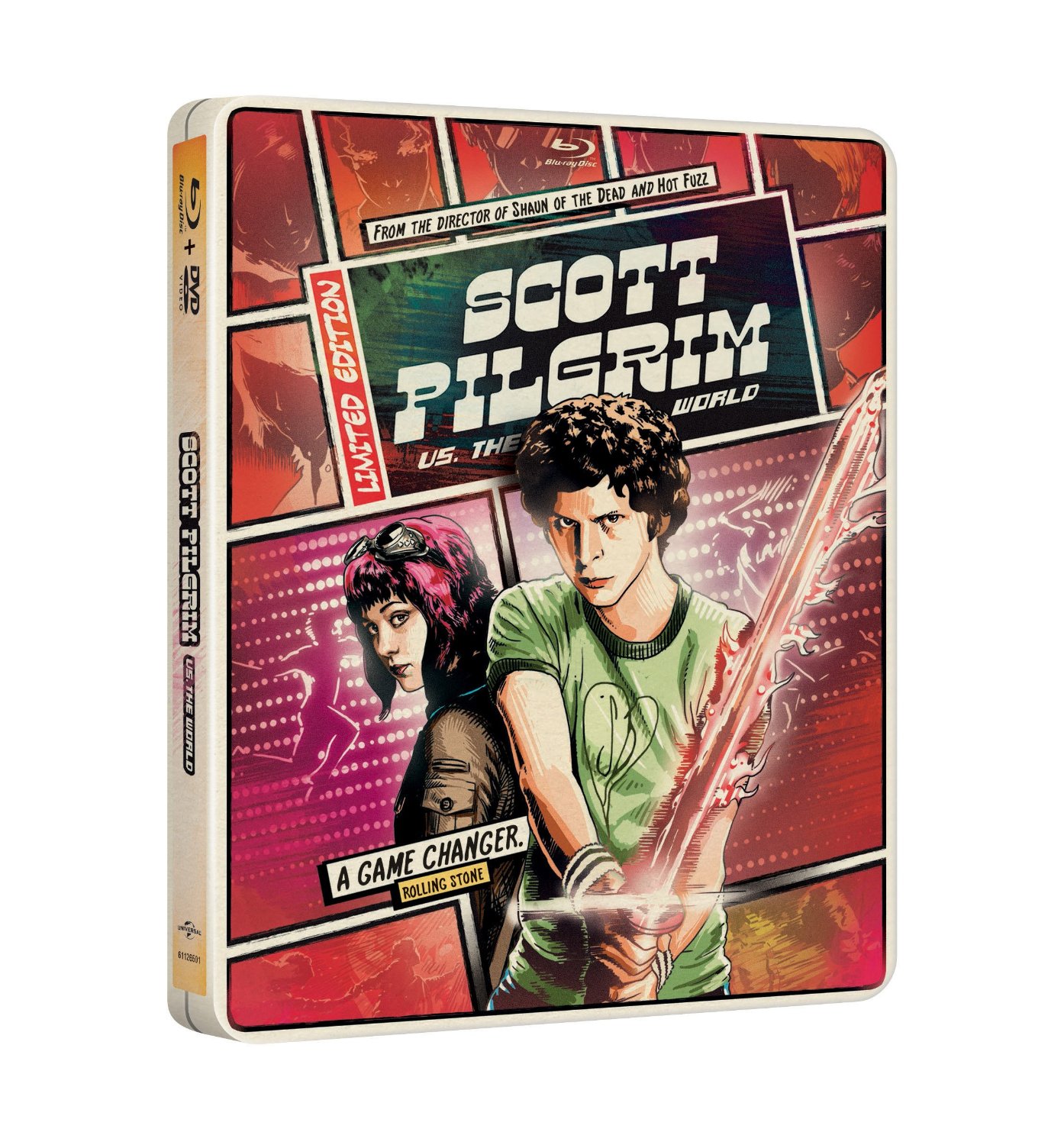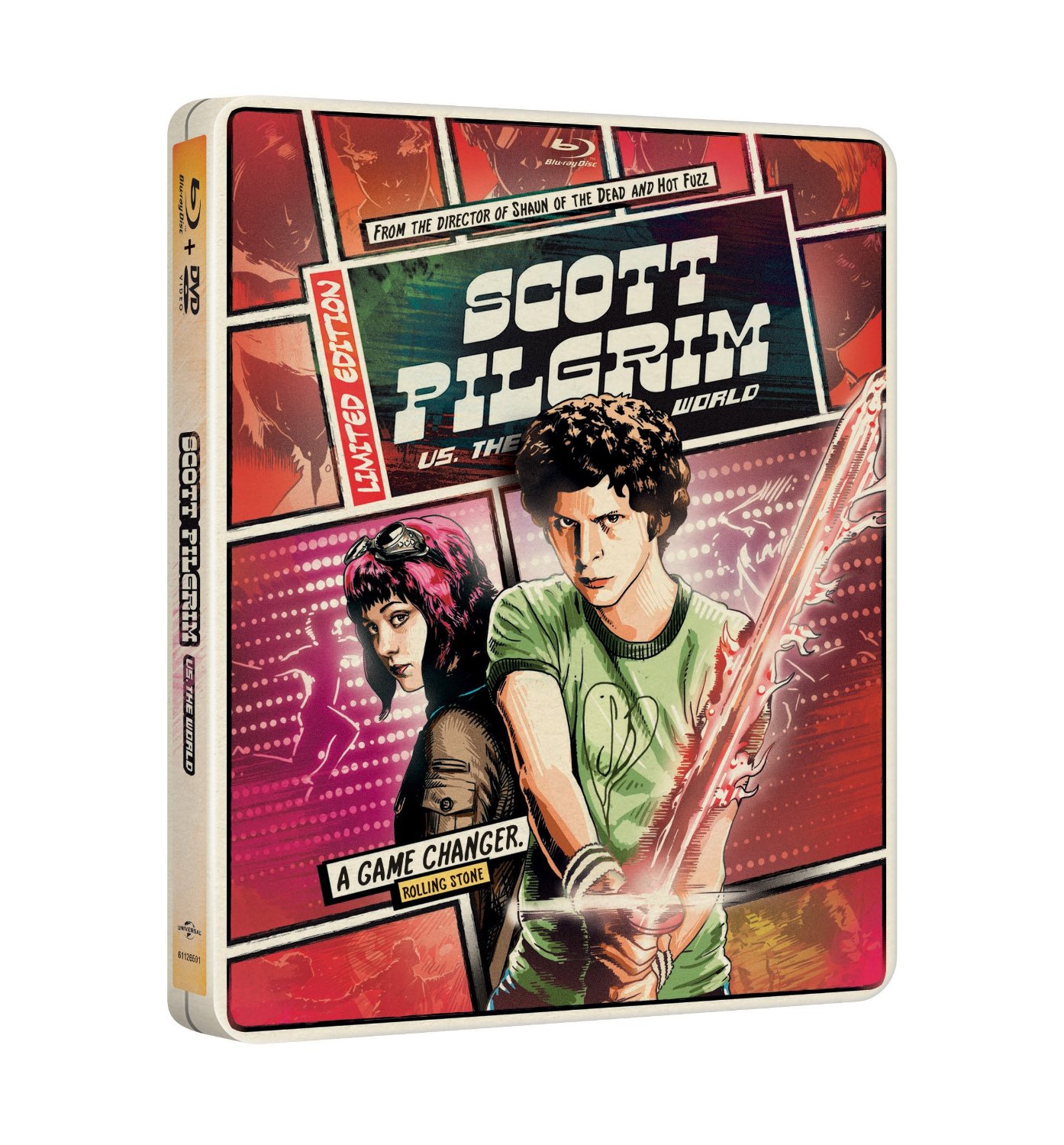 Coming soon to my doorstep will be a second copy — this time in an amazing steelbook! I can't wait.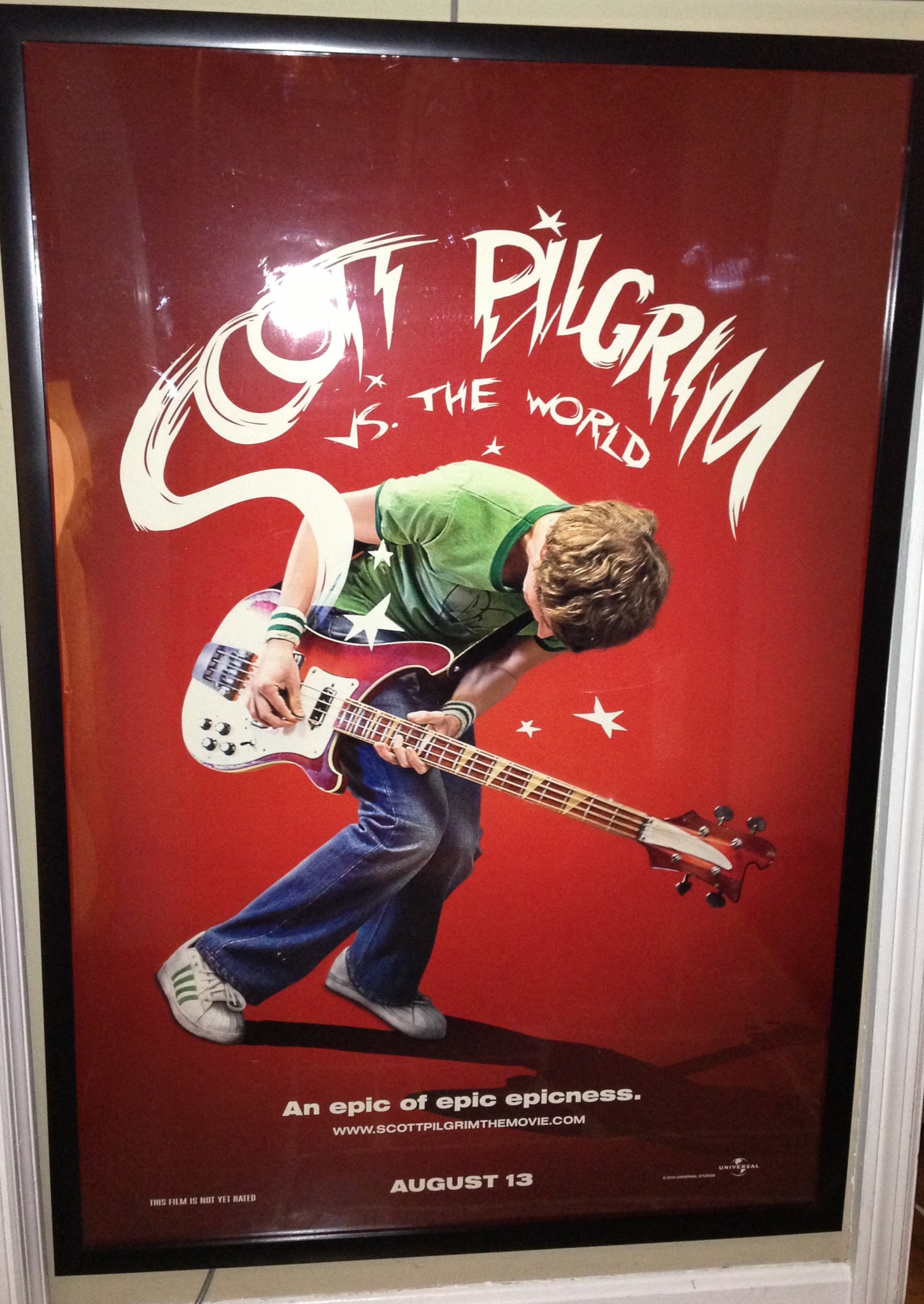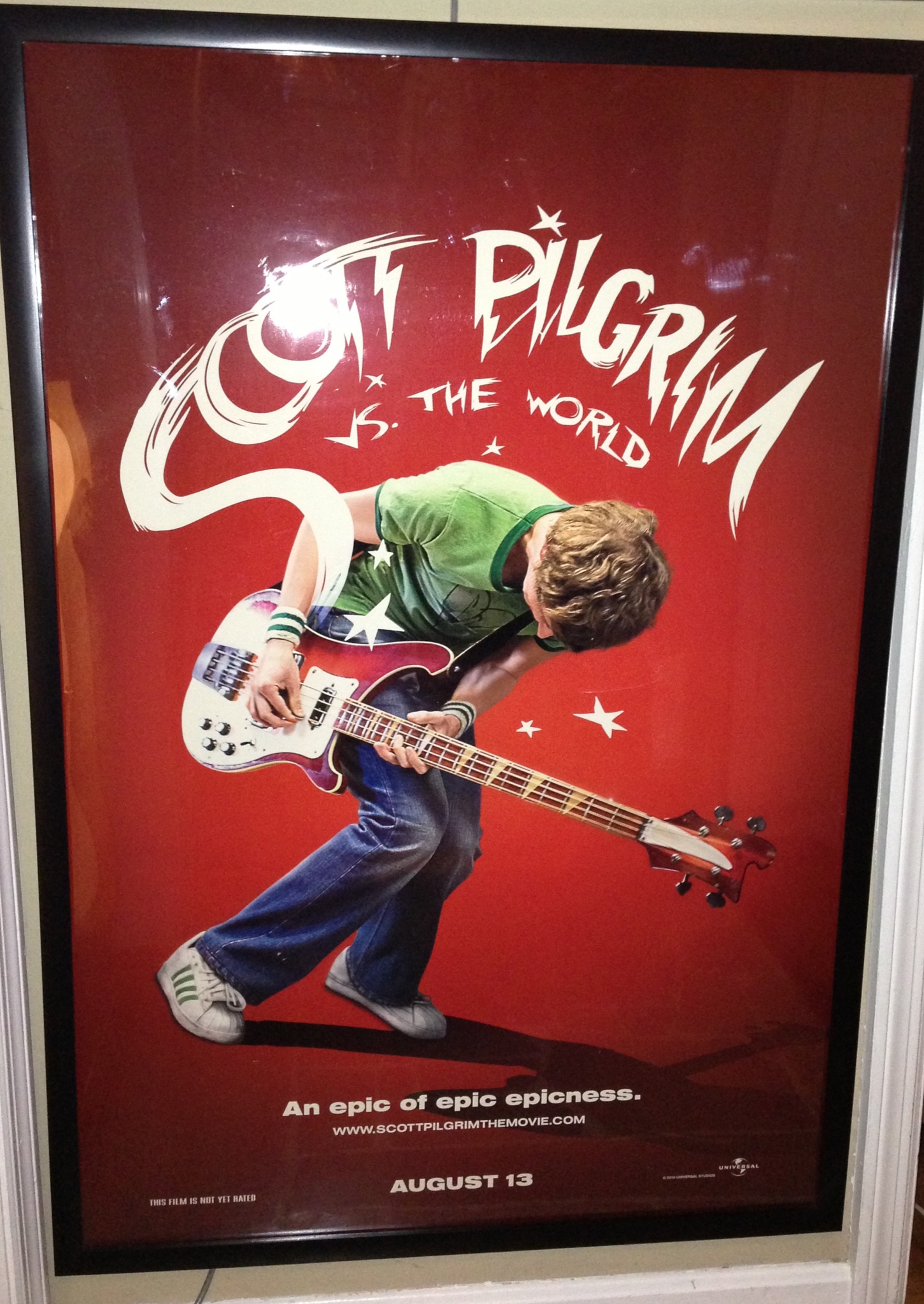 I got my Scott Pilgrim poster off eBay for $10. Yes. All because there is a small hole in it that you can't even see. I adore him. He actually sits underneath my Sixteen Candles poster!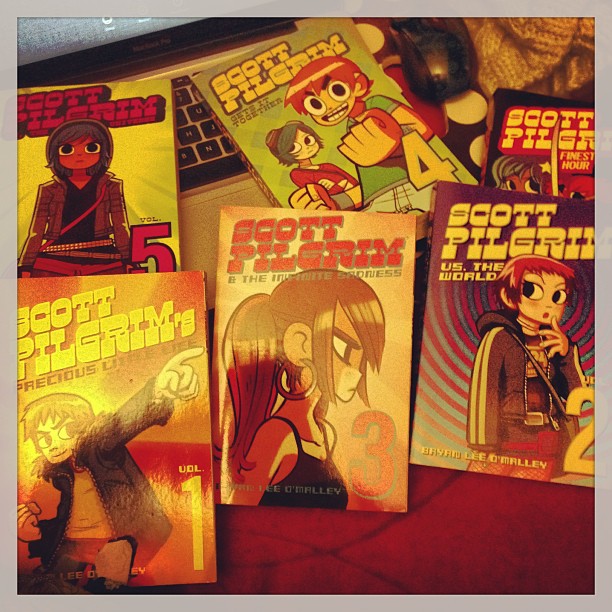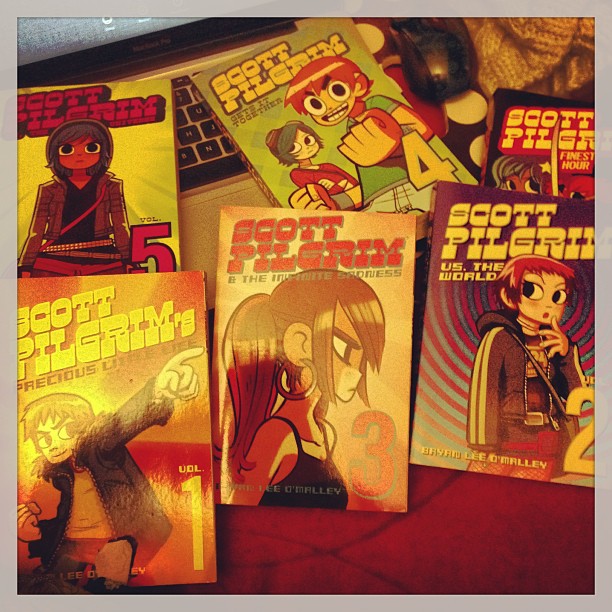 The comics. People, these arrived the day I wrote this article! I can't wait to re-read them! I am dying to get the new colored versions that O'Malley has slowly been releasing.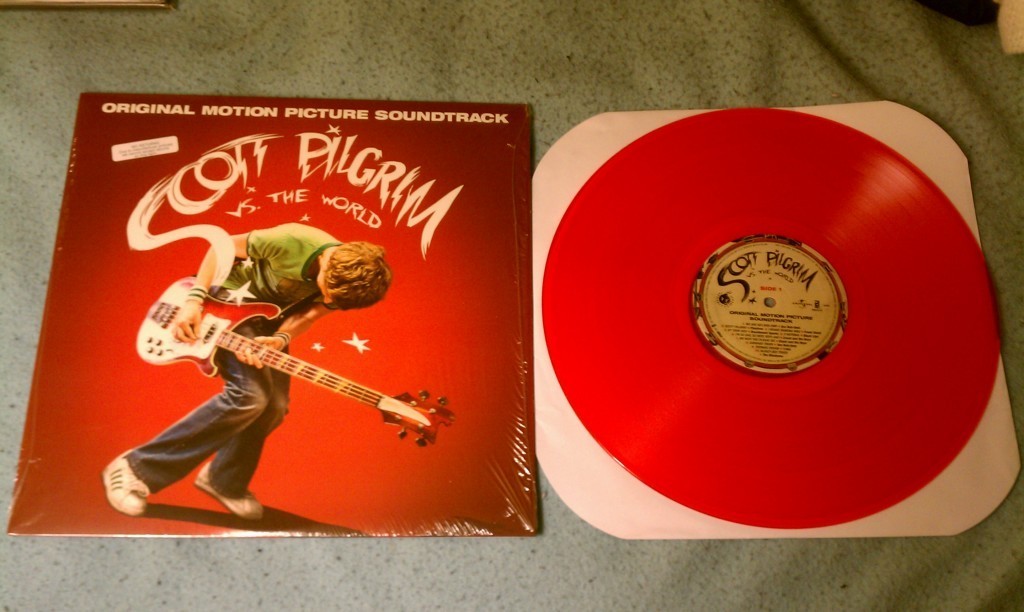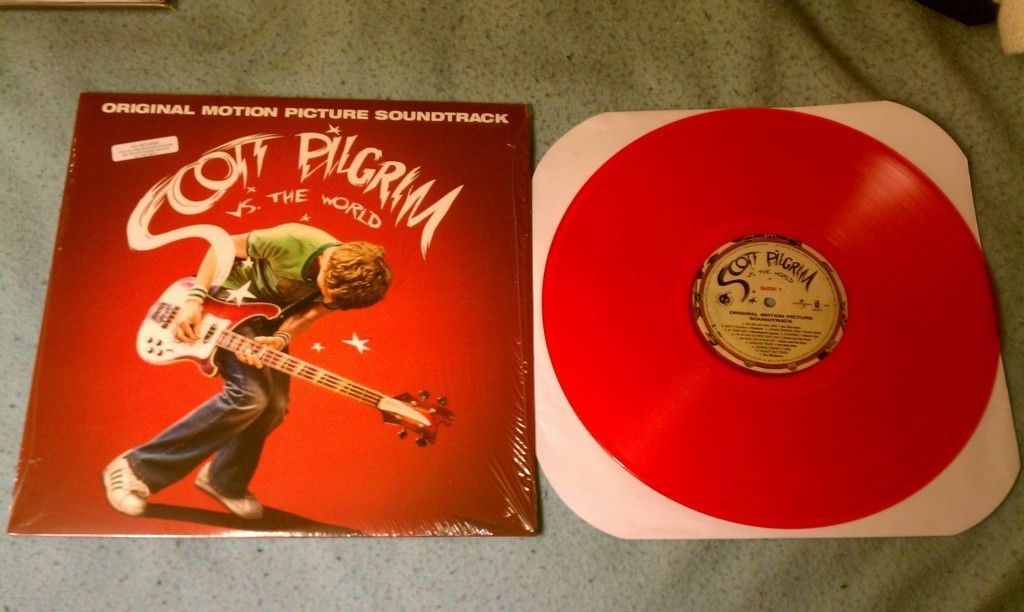 Now, here is something I desperately want. The Scott Pilgrim soundtrack… on vinyl. I'm watching one on eBay for $100. And I will pay it. I know, I'm a little crazy. But have you ever heard the songs on this thing? This is basically some of the greatest original music ever. It even includes Sleazy Bed Track by The Bluetones — which is a hot, hot song. But the greatest love song ever — Garbage Truck by Sex Bob-omb — is worth the money alone. So, I may own this sooner than later. You never know.
While we all aren't defeating evil exes, we ARE all fighters in our own way. Something I've mentioned before.
So, I guess that's why I love Scott Pilgrim. I won't settle ever again. I want what I want and if it means I have to fight for it, then SCREW IT! I will.
If anything, it's just another reminder to hold on.