I know I've written articles stating that my favorite TV shows ever were Buffy the Vampire Slayer and Twin Peaks. While I do love those shows, they don't always feel "right" to throw on at any given time. No. Not many things in the world in general feel always right at the drop of a hat.
There is only one thing that feels overwhelmingly in sync with the universe for me at all times.
I'm talking about Spaced.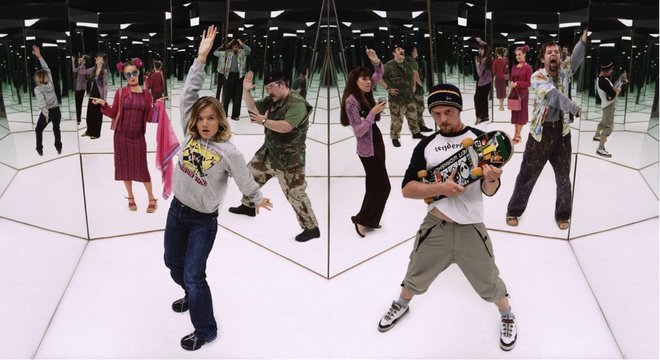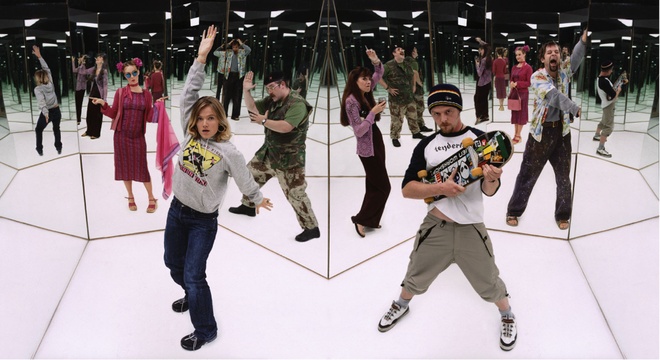 I'm not exactly sure how long ago I first saw Spaced. I do know that I have tweets going back 3+ years that state "Let's play 'Is Lauren Watching Spaced Again?'". And those tweets are not an exaggeration. When I say I'm watching Spaced, it means a marathon watch. I can't just watch one episode. I have to watch several — and sometimes I have to watch the entire series.
Even with the popularity of The Cornetto Trilogy (Shaun of the Dead, Hot Fuzz, and The World's End) a lot of people still have never had the pleasure of Spaced. No. It is still one of those rarities among a lot of fans. For me, it will always be the best of all collaborations of this group. Of course, many people may not see this. Difference of opinion.
Oh, let me warn you, this article will be filled with references even some Spaced "fans" may not get.
Why do I love Spaced? Well, I immediately want to say "What is not to love?!" However, that's far from an explanation. So, let me tell you the tale of Spaced and attempt to explain it out as I go. (For those who just want to get to the collection…. skip to the end?)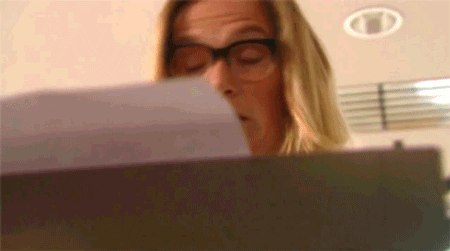 Tim Bisley (Simon Pegg), an artist, has been dumped by his girlfriend. Daisy Steiner (Jessica (Stevenson) Hynes), a writer, is moving out of the squatter pad she's been living in. The two fatefully meet at a local coffee shop and sit at the same table day after day, both looking for a new place in the classifieds — until they can't take it anymore. Cue the greatest sob scene ever. And let's just say I do this duet from time to time, playing both parts, duh.
They find a flat for rent — professional couple only. They scheme a plan and pose as two lovebirds for landlord lush Marsha in order to get a home. Soon we are introduced their neighbor Brian Topp (Mark Heap), another artist.
(NOTE: ALL OF THESE CLIPS ARE BASICALLY NSFW!)
Note: After this, Daisy asks "Ww..watercolors? Or…?" Whenever someone lists things, as we know I have a problem with quoting everything, I like to throw that question out there.
Along with Brian, we throw in Tim's best friend Mike Watt (Nick Frost). Mike once stole a tank and tried to invade Paris and, thus, can't seem to get into the army. Daisy also has a friend, Twist Morgan, who ends up hooking up with Brian while Marsha jealously looks on. From time to time we catch Marsha's daughter, Amber, but really it's just a rush of her legs as she runs from the house each time.
Mike and Tim's relationship is definitely the basis for any relationship Pegg and Frost have had on screen since. They're truly the best friends. Spaced is where we get the first go 'round of the "boyfriend" joke as seen in Shaun. (The "He's not my boyfriend" statement by Pegg, followed by calling Frost "babe".) They also have some of the most wicked flashbacks.
There were other characters like bike messenger Tyres, Ricky Gervais as the salesman for the classified ad, and David Walliams as Brian's ex-partner Vulva, but nothing topped Peter Serafinowicz as Duane Benzie. Oh, Duane. Everything that transpires in the series — and I mean everything — can be attributed to his actions. He's like the gunner on the Star Destroyer at the beginning of Star Wars! He stole Tim's girlfriend and set everything in motion! Tim eventually gets his revenge — twice. Once playing paintball and once by leaving Benzie to fend for himself with a pack of hooligans outside of a bar. Duane Benzie is one of the greatest voices ever done by Serafinowicz and it's eerily similar to his Howell Granger from Black Books. But let's keep moving.
Let's talk about Colin. Yes, by the fourth episode, Daisy adopts a cute little dog and her "family" with Tim is complete.
So, this is where I'll start with why Spaced means so much to me.
See that? If anyone knows me, they know I'm constantly posting photos or videos of my cat, Clouseau. I love that damn guy more than anything. My love for him is so eerily similar to Daisy's love for Colin, it isn't even funny. Ok, it is funny. And the reason I am probably so connected with Daisy and her love for Colin is, well, I'm Daisy.
Yep, this is probably why I can watch Spaced any time. Daisy Steiner and I are one and the same. I don't know exactly when this happened. From the start of watching the show, I would always say "That's totally me!" but more and more in the last year I've truly become Daisy. Let me give four examples.
We're both writers, duh! And I am not saying that to be a bit pretentious. Far from. Daisy and I are both truly struggling writers, folks. As in, no one is really paying attention and we sure aren't getting any paid gigs. (OK, Daisy did sell a few articles in order to pay for her trip between Season 1 & 2, but that's beside the point!)
She can't keep a regular job otherwise! (Me!)
She's klutzy, says the wrong things, and just messes up a lot (sing it with me! "Hot dog. Jumping Frog. Alma Cookies!") — and it's all just terribly endearing. (Right?)
This is what happens when she tries to dress up and look fancy (Skip to 6:10):
Daisy and I, again, are just the same.
The struggle Daisy feels with her writing is very close to home. Plus the part after she and Tim have cleaned the apartment (not done adult things) is right in line with my humor. I adore these two. I adore Tim.
Oh yes, Tim Bisley. The perfect man.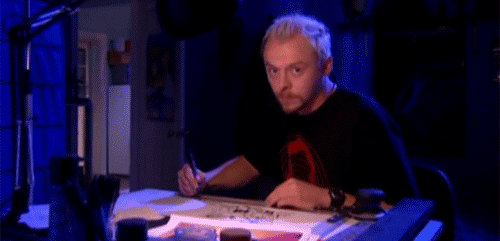 Ok, we know I have a mad crush on Simon Pegg (and Edgar Wright and Nick Frost in a way, too) but the actual character Tim Bisley has to be the cutest damn thing to walk the planet. He is slightly insecure, a brilliant artist, funny, witty — just a doll! He, uh, "enjoys" Gillian Anderson, hates Episode I, has a sweet Evil Dead II poster on the wall and well, he's just damn darling.
And the entire time you're watching Spaced, you madly want Tim and Daisy to hook up, right? The tension is unbearable!
Well, they never do, really… that is unless you watch the Skip To The End documentary included in the box set!
Is that the cutest thing ever? Yes. It is. Don't argue with me.
Spaced has amazing references to all kinds of pop culture that I just totally "get". It has relationships and characters I can identify with. It is basically just a great take on life in general. You know, it's up and downs, it's up and downs…
So, this program would never exist without the brilliance of Pegg and Hynes' writing. And Wright's direction. I will spare you my gushing over Edgar Wright this article (remember I already said he's brilliant and beautiful in my Scott Pilgrim article) but let's seriously take a moment to reflect on the relationship between Pegg and Hynes — and how amazingly they wrote this series. Every single thing about it seems plausible. Natural. Spaced is in harmony with the damn universe!
Let's take this scene for instance:
It's true, right? You're having a deep conversation about Star Wars and someone suddenly remembers they have Jaffa Cakes in their coat pocket. Tell me that hasn't happened to you!
Ok, maybe it hasn't, but I enjoy a Jaffa Cake when I have a cup of tea. And in regard to the tea, twelve's my limit.

This is actually a nice transition from my rambling into my collection. So, get cozy.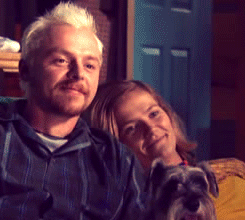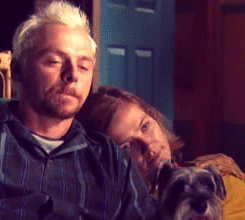 Well, folks, there isn't one.
Spaced is sadly one of my fandoms where I own nothing but the DVD set (and Jaffa Cakes if we want to dive two levels deep). The impact of the show on my life is far greater than any collection. The bountiful quotes, the drive for a Tim Bisley, the love of a Colin — all of it is greater than material goods. However, let's talk about these few little things I do so desperately want.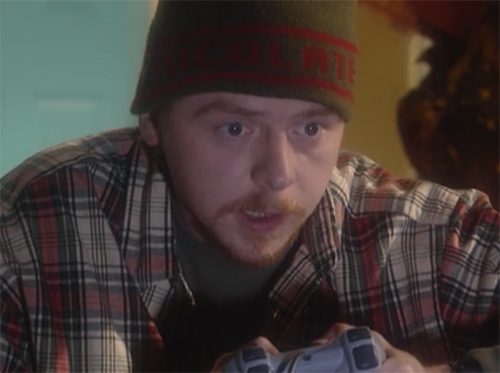 The chocolate beanie. I want. I need. Well, more so I just want a Tim Bisley wearing this. (Yes, I know he's not real!)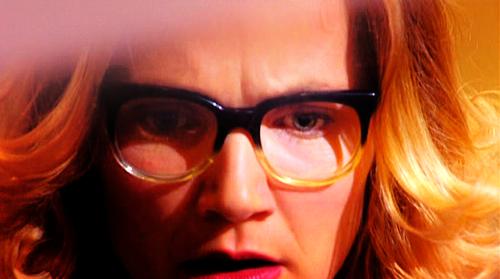 Daisy's glasses. I actively search for frames daily that match these. I actually have horrid eyesight and own about five pairs of glasses similar to these, yet none have that fade. So, if I ever find some, I want them in true Daisy style. Lenseless.
And then there is this beauty.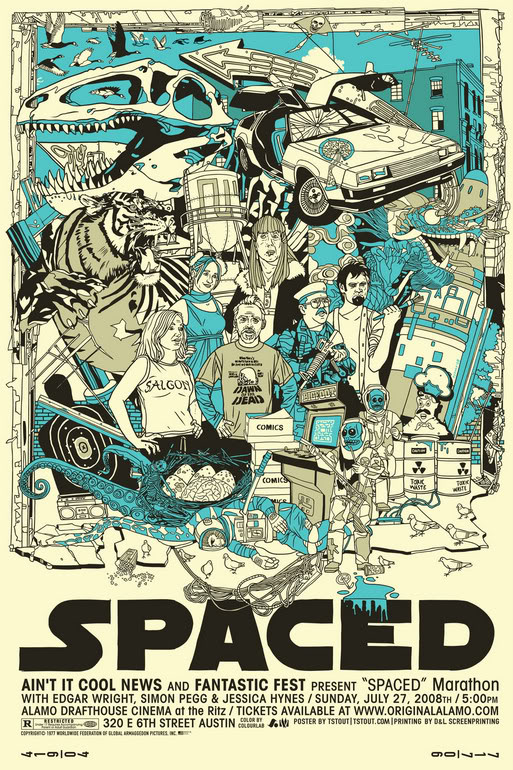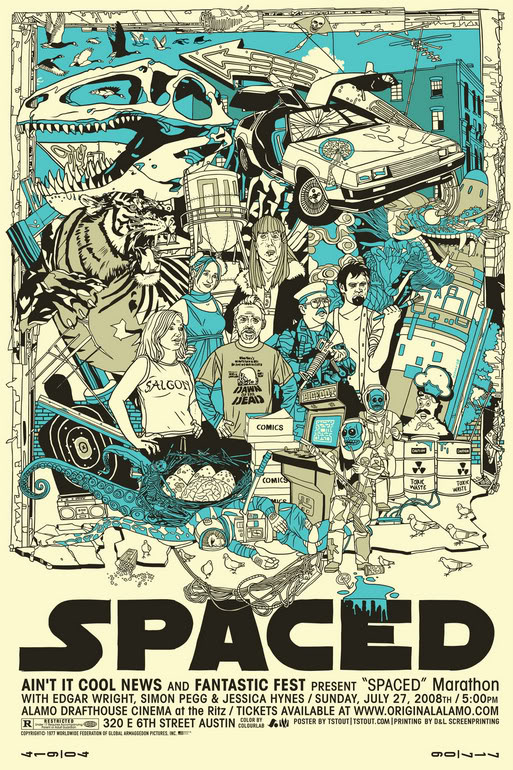 Tyler Stout is one of the few artists to gain massive popularity through Mondo – a print company that if you know nothing about it, well, it's too long to explain. The sad thing about this poster is I basically will never own it. After the rise in popularity of this company, people buy things up just because they are worth money and probably 80% of people that actually own this poster are some the same ones I mentioned at the start of this article that have never seen Spaced. However, they know it's worth something because Stout did a Shaun of the Dead poster when The World's End was released and it sold like hot cakes.
Still, a girl can dream.
Right?