I have a crush on this guy. When he gets excited, he waves his arms around and yells "Yay!" and it just makes me smile. It makes my heart flutter. I get butterflies. Ok. I've had this crush for a really long time. Years. A lot of years. He may be made of green felt, but I don't give a damn. I'm turning 34 next week — and I still love Kermit the Frog.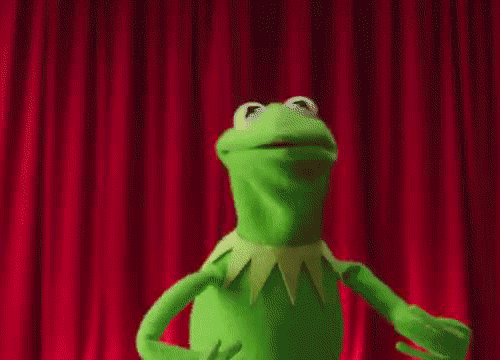 My first introduction to the little green guy was either one of two ways: 1. As anchor for News Flash on Sesame Street or 2. The Muppet Show. Or it could be both. I remember watching The Muppet Show on the small black and white television we had in our kitchen growing up. Yes, I am one of those people that has dusty memories from my very young years. I just remember the excitement of that theme song. Every week Kermit would appear in that O, announcing the special guest, usually throwing out a "YAY!" and then that theme song!
Naturally, growing up with The Muppet Show meant I also saw the first Muppet related movies, as well. The Muppet Movie was released in 1979, followed by my favorite — The Great Muppet Caper — in 1981, and The Muppets Take Manhattan in 1984. After that, there wouldn't be another Muppet movie until 1992, after their creator, Jim Henson, had passed away. For me, my favorite Muppet movie will always be the first one I saw in the theatre as a little bitty girl. Yes, The Great Muppet Caper has so many things about it that makes it stand out the most for me.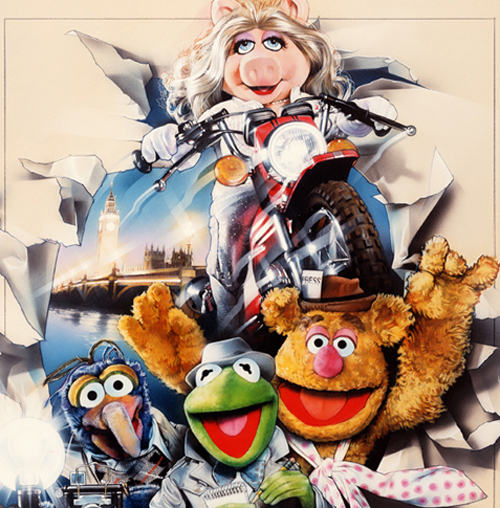 First, the poster is amazing and was drawn by Drew Struzan. If you don't know who he is — look him up! He's done countless posters you will recognize. Second, The Great Muppet Caper has such a great story — and there is no question that Miss Piggy steals this entire movie. Nicky Holiday falls for her, then frames her, she has epic daydreams, she busts out of jail in the most awesome of fashions, crashes in on a motorcycle to save the day — she is just all around a total badass. And you know what? She gets those skinny, sexy catburglars that were so darn mean to her in the end, too!
I think that Muppet Caper is exactly when I developed a certain bravado I still have to this day — and it all stems from Piggy's performance. I was always a chubby kid and, of course, that leads to being made fun of. To counteract that, I always marched to the beat of my own drummer, and also always touted a bit too vocally about how awesome that was. Much like Piggy, I always wanted to be loved by everyone. It wasn't until 2011's The Muppets that I realized just how big of an influence Piggy had been on my personality all of these years. And it just took one line from my Kermie to make me realize it.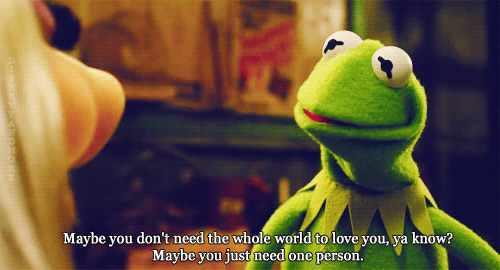 After The Muppets Take Manhattan, I became addicted to one of the best Saturday Morning Cartoon's ever — The Muppet Babies! The show ran for 7 seasons and was just incredible. Featuring baby versions of the Muppets, the show followed them in their nursery playing make believe and going on adventures. Most of the time their adventures would be cut with clips of movies like Star Wars and Raiders of the Lost Ark. Nothing can ever top how amazing this show was.
There can't be a Muppets article without a bit of a tribute to their creator, Jim Henson. The man was a genius. Simple as that. The world simply would not be what it is today without him. Sesame Street, The Muppets, Fraggle Rock, The Dark Crystal and Labyrinth are just the few things from my youth that either wouldn't have been the same or not existed at all without him. And I should mention the only time that 3D has ever really worked for me was at the Muppet*Vision attraction at Disney World.
I have a lot of Muppets stuff, of course. So, let's begin…
From my favorite film, I give you my stacks of The Great Muppet Caper glasses. I now have 11 of them. McDonald's released them — as they did with many movie tie-ins — and every time I see them at the right price, I buy more. It's a bit of an addiction, but look how you can create the scenes on them if you have multiples!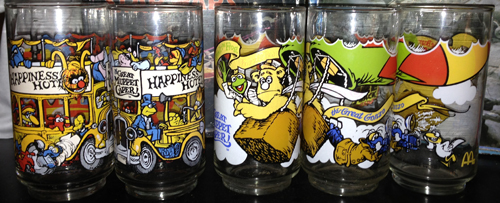 The Muppet Babies plush Christmas toys are a big memory for me. I remember when I got Fozzie. My dad bought him for me. We had gone to McDonald's and assumed you had to buy a Happy Meal to get the toy — then found out we could just buy the toy! It was exciting to complete the set. Somewhere along the line, I lost them, but as with a lot of my nostalgia, I regained them through the beauty of eBay.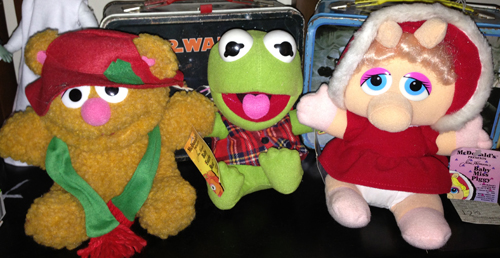 These cool Muppets nesting dolls were a recent gift to me! I had never seen them before and still haven't seen them available anywhere! A rare cool find — even if they're a little scratched up.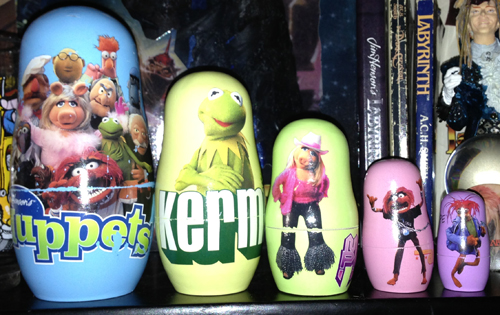 I have two books on The Muppet Show which are spectacular and rare.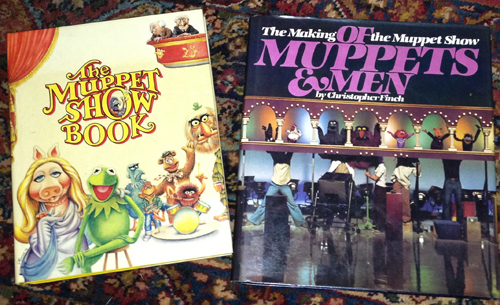 This amazing print is a mashup of The Muppets and Shaun of the Dead. When I saw it in May of 2012, I immediately bought it. The artist is James Hance and I HIGHLY encourage you to go to his site and marvel and buy his prints. He is the most talented artist I've seen that paints almost all of my fandoms and then some. Truly remarkable. Go, now: JamesHance.com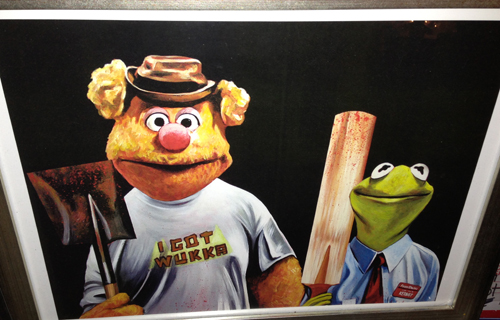 The most coveted items I own, however, are my Muppets lunchboxes. Growing up I had the Muppet Babies lunchbox — and I still do — it's just a bit beat up. After replacing it with a pristine version, I found The Muppets box at my favorite local antique mall. This is when I became determined to collect every metal box that was made.
Here they are!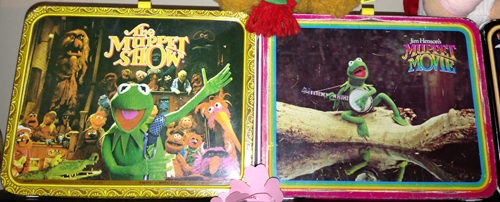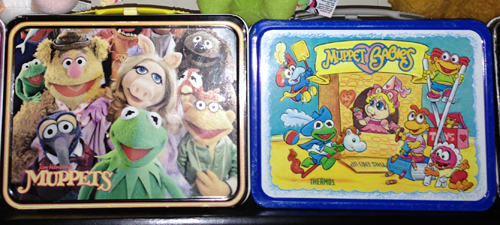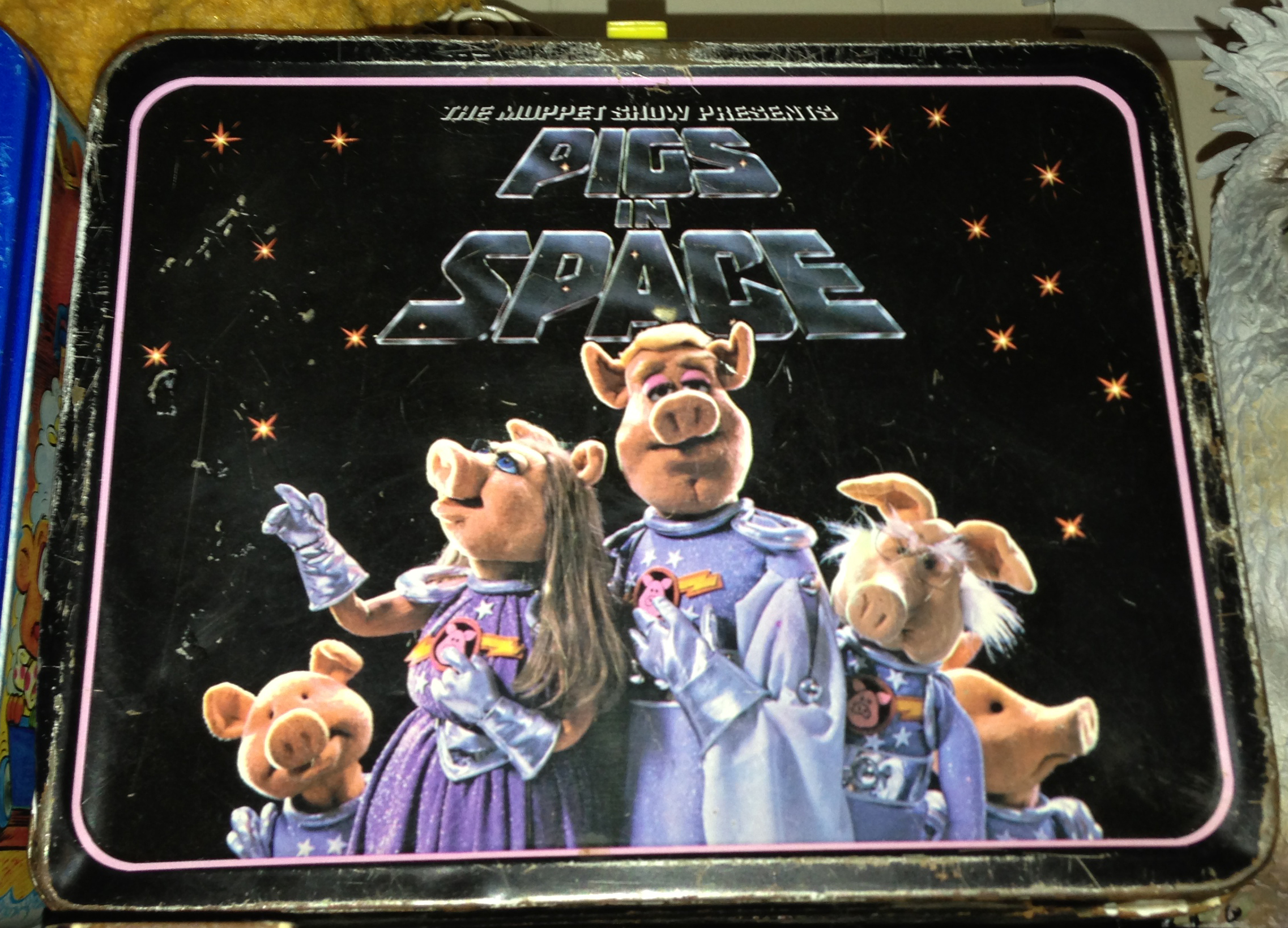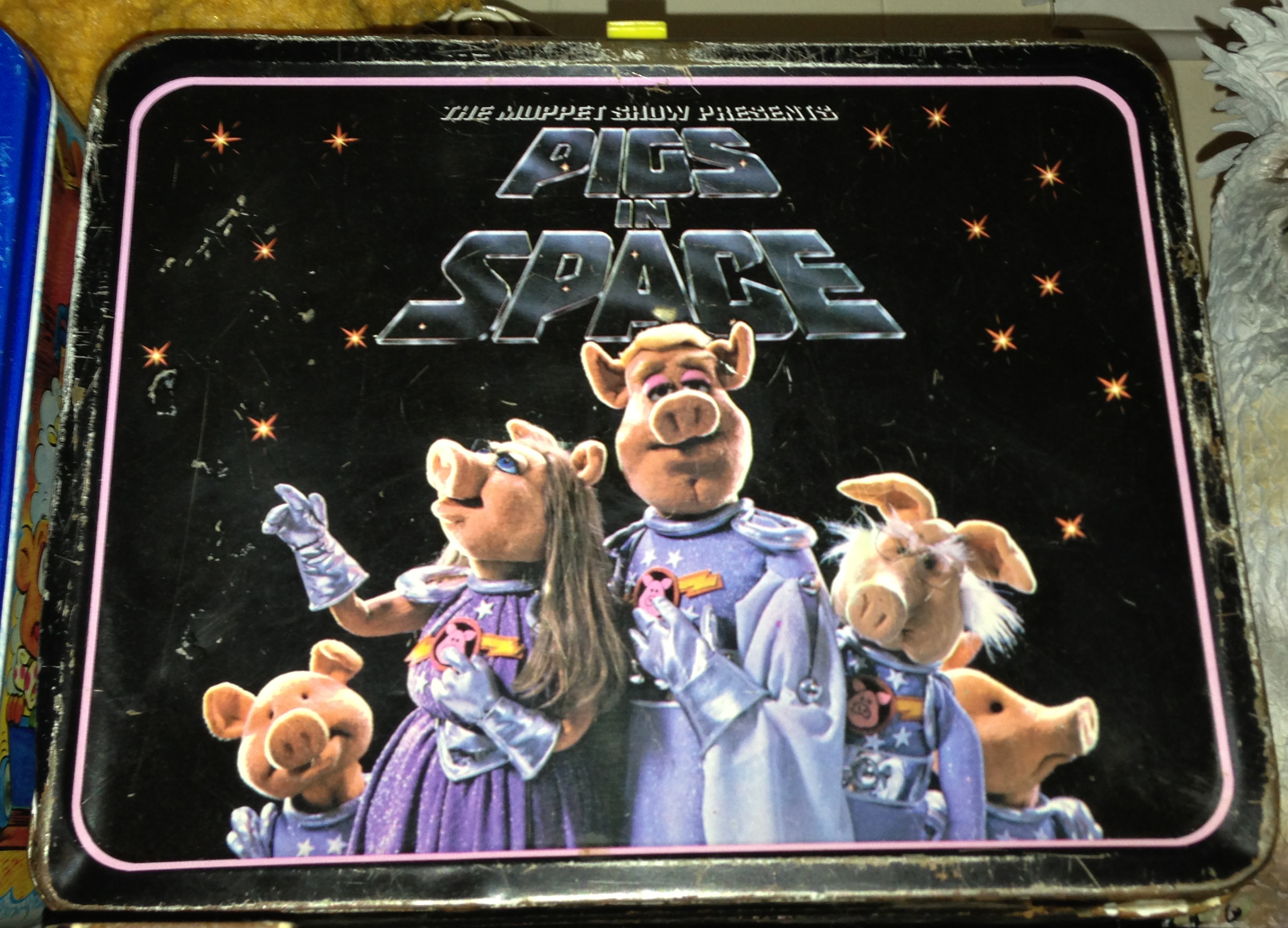 The Muppet Show, The Muppet Movie, The Muppets, The Muppet Babies, and Pigs In Space (VERY RARE) from The Muppet Show.

The Muppets box had three versions, one backed with Fozzie, one with Animal and one with Kermit. I have all three.
I had this article sitting for a bit for that final oomph to finish it — and this is how I did it. Today I bought this almost perfect Kermit doll from 1976. I saw him at that antique mall, just sitting there smiling at me and I had to bring him home. And looking at him here, now, hanging out — I still get those butterflies!