Okay, I know I just rambled about my crush on Kermit the Frog last week, but I… I've always been a bit boy crazy. And sometimes it's really smart, older men that I go for. Like ones that were born in 1899.
Duh, I'm talking about Dr. Henry "Indiana" Jones, Jr., or just Indy.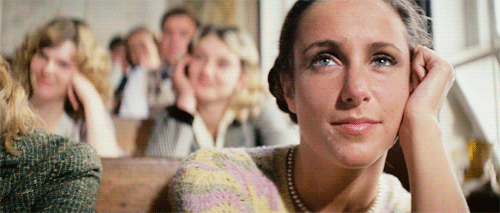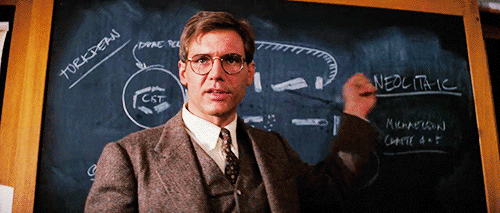 Raiders of the Lost Ark was released in 1981, yet I didn't see it until 1984, right before the release of Temple of Doom. I remember Marion being awesome, and I remember Indy being pretty cute, but the thing I remember most about Raiders is one of the greatest villains ever in the history of film: Major Arnold Toht.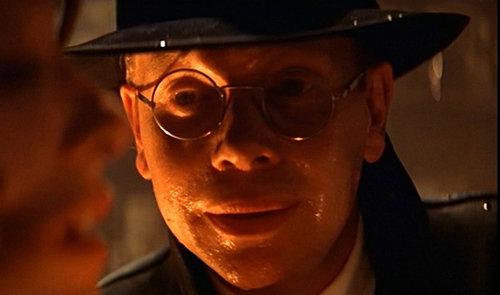 Toht was just disturbing. He was sleazy, he just oozed evil. I mean, literally oozed. No, I'm not talking about his face when the Ark is opened. Watch Raiders on Blu-ray — the amount of sweat coming from Toht is insane. The fact that he was a Nazi was lost on little me. Actually, the entire concept that Raiders was set in 1936 wasn't something I grasped until I was much older. However, the fact that Temple of Doom was set in 1935, BEFORE Raiders, is something that still bothers me a bit. Back then, sitting in the theatre, I couldn't understand:
Where Marion was (aka Who is this pretty blonde woman? — Which would be questioned again in Last Crusade). And
Where were the Nazis?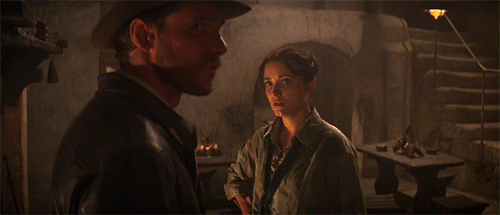 Let's address #1 of that statement before we move on. Marion Ravenwood — basically one of the coolest female characters ever. She is, simply, my hero. She is strong willed, can drink men under the table, and does her own thing. Sure she was young and fell in love with Indy, but she is happy to smack him when he shows up in her tavern and put him in his place. Marion cracks jokes, fights back, and gets her man at the end of Raiders… even if briefly, as we find out.

They have the greatest romance ever in my opinion, working together, even if they yell at each other, and they defeat the bad guys in the end — which sort of moves us on to #2 above.
So, Where were the Nazis? Well, as a kid, like I said, I didn't understand why we jumped back in time in Temple of Doom. While I would rank Temple of Doom at #3 in the trilogy (see what I just said? OK, OK, I will address Crystal Skull. We do get an amazing conversation in the film that makes me swoon. I will get to that.), there are still many awesome things about it. Why #3? Well, first of all, Temple of Doom grosses me out. I could handle the snakes in Raiders just fine, but when you give me bugs, snake surprise, monkey brains, AND Mola Ram pulling hearts out, well, my stomach is turning a bit. As a kid I just remember thinking "WTF?" in the theatre. This was so much more insane than Raiders.
I've retained a lot of Temple of Doom, though. Short Round is awesome, and I remember thinking I wanted to tie blocks on my shoes and try to drive. But mostly what I've retained is quotes: "No time for love" and "Kali ma!" are staples to blurt out; however, one to keep a girl feeling confident is Willie's mini speech to Indy as he's being attacked, ending in "I could've been your greatest adventure." She will never top Marion, but I would, more than likely, freak out over everything just like her.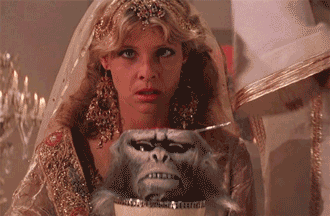 While Willie was the exact opposite of Marion, a combo of the two came in the form of Dr. Elsa Schneider. Don't get me wrong, I think Marion is beautiful, but she is far different than a leggy blonde. Willie was gorgeous as well, but Elsa was more of a typical male fantasy — beautiful and seductive and smart. Problem is, she just happened to be a Nazi. Last Crusade brought back the ultimate monsters in human history! There are too many things about Last Crusade that I love to list, but the main reason it is #2 in my list has to be Henry Jones, Sr. The dynamic between Indy and his father drives this movie.
Henry, Sr. has so many moments of disapproval — especially the scene in which they escape on a motorcycle with a sidecar. Indy flips one of the Nazis chasing them, looking back and giving a chuckle to his dad. His father is less than amused.
Now, I said I would address Crystal Skull, and here we go. Crystal Skull isn't horrible. It brought back this amazing franchise, right? The problem for me really fell in the overuse of the CGI. People take issue with the fridge/nuke scene, but how far fetched is that from jumping from a plane in a blow up raft, rolling down a hill, off a cliff… you get the point. But the CGI swinging from the trees and such ruined it for me — however, that motorcycle chase scene in Last Crusade I just mentioned is echoed wonderfully in Crystal Skull with Mutt laughing at taking out a Soviet spy and looking over to Indy, who is channeling his father. It was a good little tribute.
The one thing that comes close to making Crystal Skull not a disappointment for me is this scene. (Sorry for the quality.)
Absolutely the most sweetest thing ever. And it solidifies the fact that Marion and Indy are the greatest couple ever. They could be torn apart for years and still, they are as fully in love as they were when we first met them.
Raiders of the Lost Ark is my #1 of all the Indy movies. The combination of Nazis and Egypt actually influenced my novel series The Stricken Narrative. Perhaps it was being afraid of these men in their uniforms, out in this desert landscape, looking for something that should never be found and should definitely never be opened, that drove me to write the concept into my books. There is no doubt that Raiders alone has had an influence on me throughout life in general. After all, I have piles of Indy merchandise in my home. Normally I cut a few things from my collections in my articles, but this time, I'm showing it all — so let's begin…
First. Of course I have a Raiders poster up in my front room. How could I not?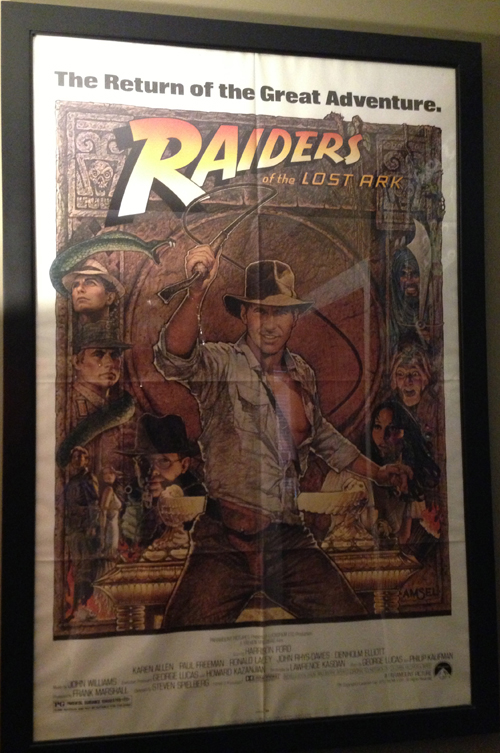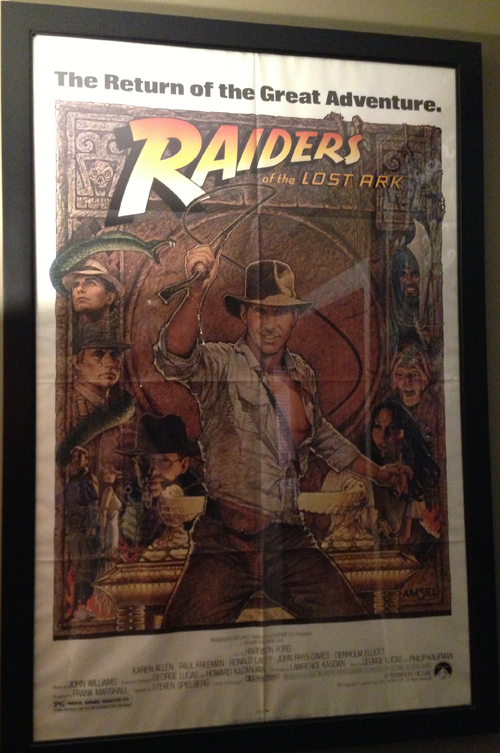 Last Halloween my niece and nephew and I made our own treat bags out of cheap tote bags from the craft store. Tote bags. So, naturally, I made a Toht bag. Haha. I'm so witty. If you are interested in one, let me know! I can make one for you!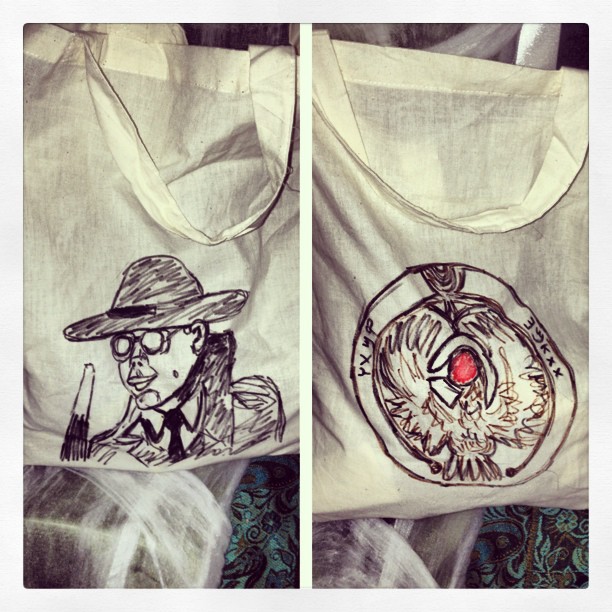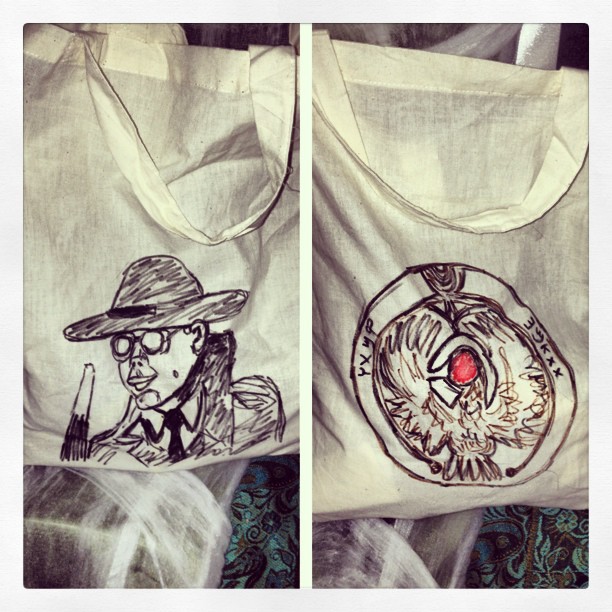 This pretty display sits in a cabinet and is normally covered in plexiglass. It includes the Sideshow Premium Format Indy figure, a Kenner Indy doll, the Raiders soundtrack on vinyl, and a 12″ Henry Jones, Sr. figure.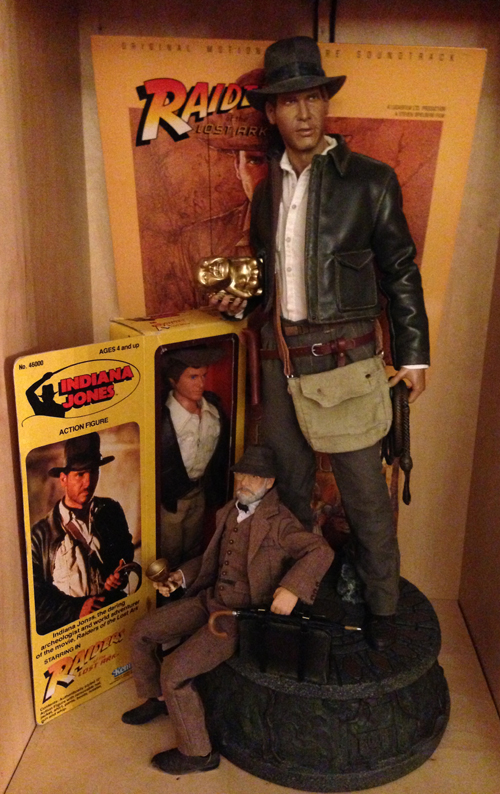 Both the Premium Format figure and the 12″ doll are miniature versions of the real people, I swear. They look exactly like Harrison Ford and Sean Connery, in my opinion!
Let's talk more about my obsession with Toht. Sideshow also put out a 12″ Toht, complete with melting face!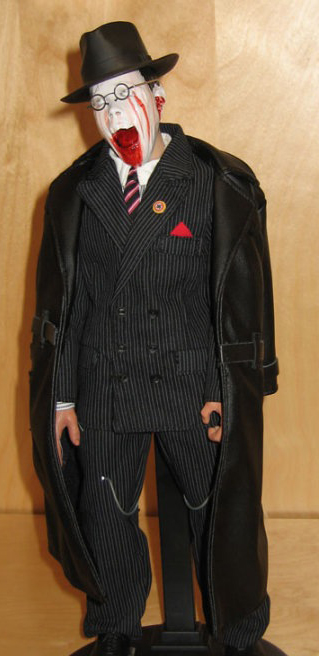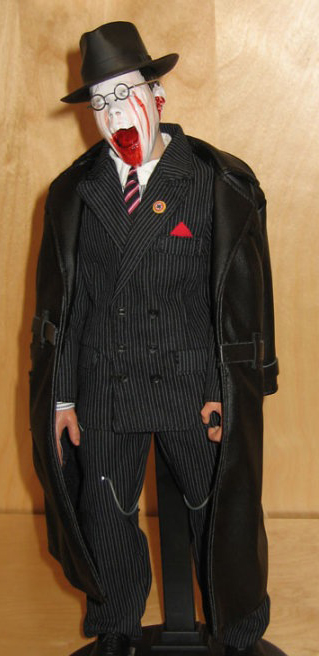 And also I have this formerly carded Toht from Kenner.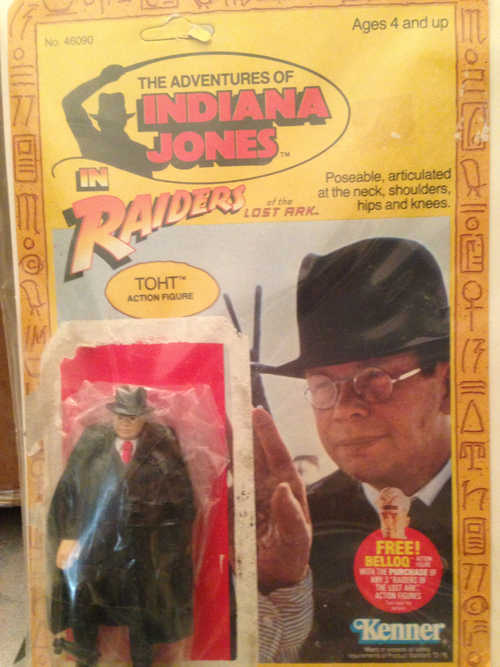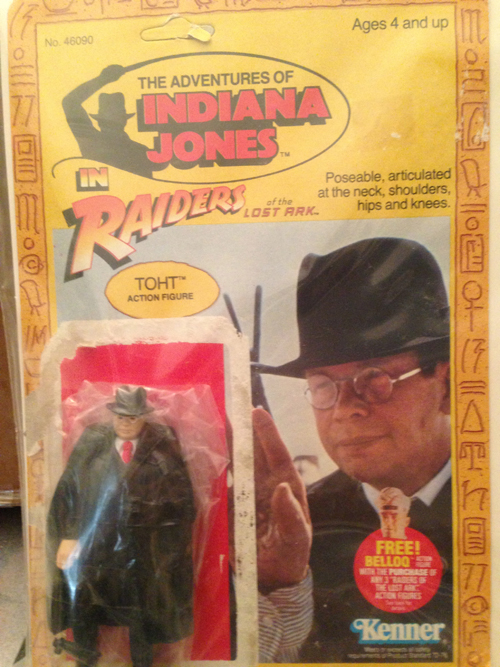 Really, this house is full of toys; thus, there is also an idol chamber. My cat, Clouseau, aka "Mr. C", sometimes enjoys hanging out by these items.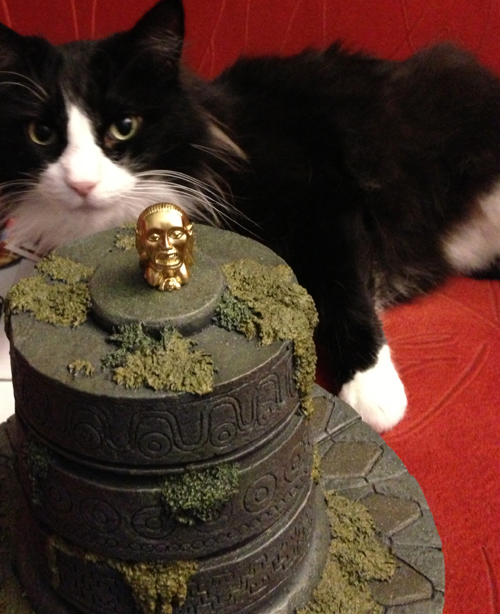 AND the Ark…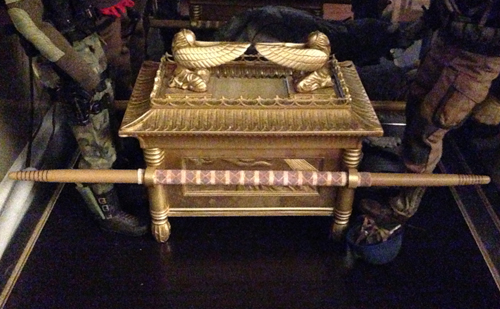 Some books, including an original Raiders children's book.
A Temple of Doom poster, again drawn by the amazing Drew Struzan!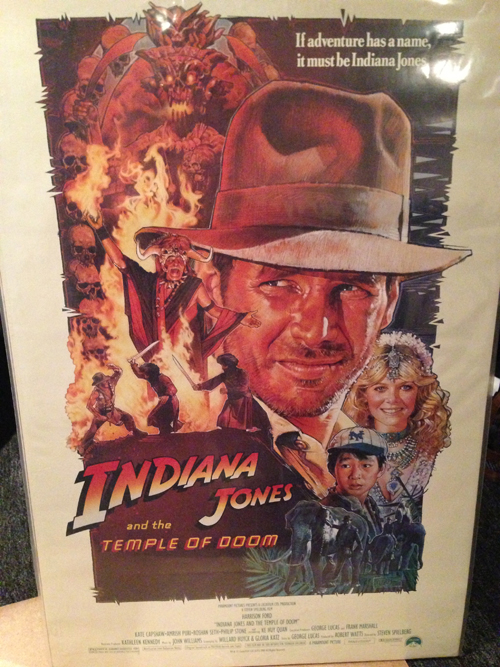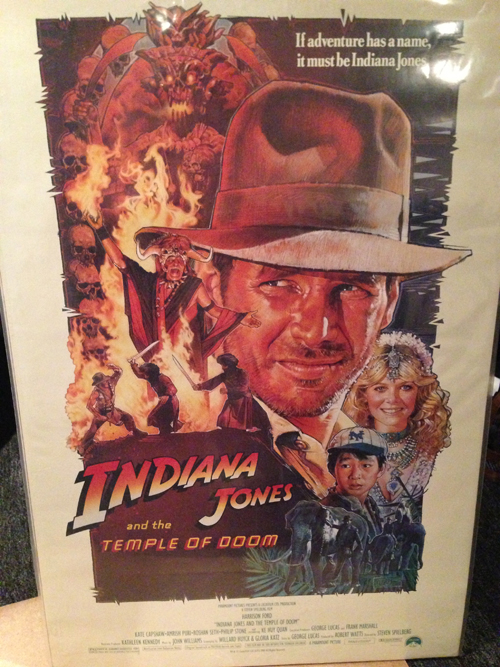 A Belloq figure — never unboxed because, well, it doesn't look like him.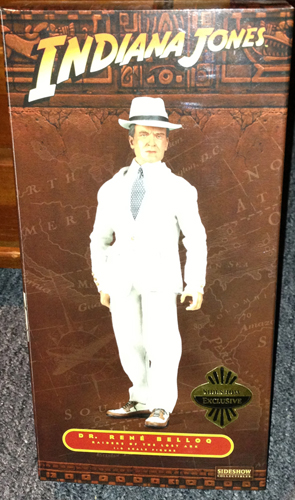 Raiders toys.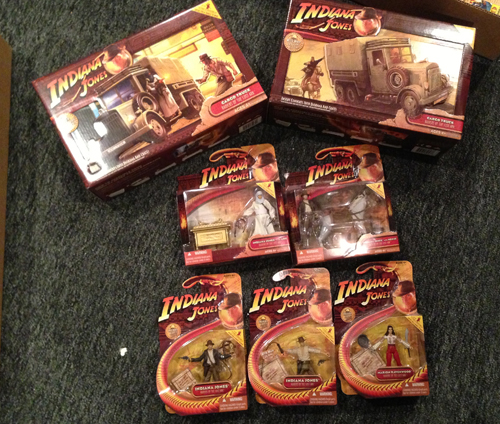 Temple of Doom toys.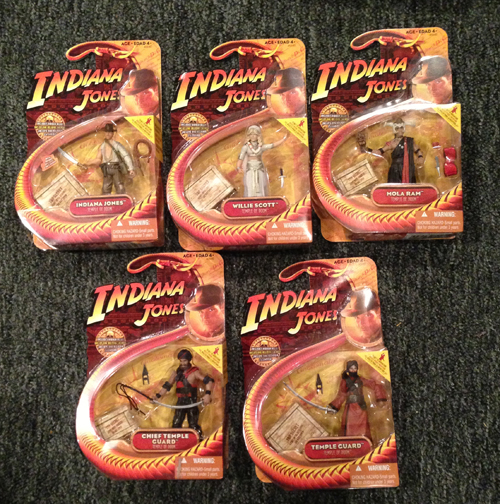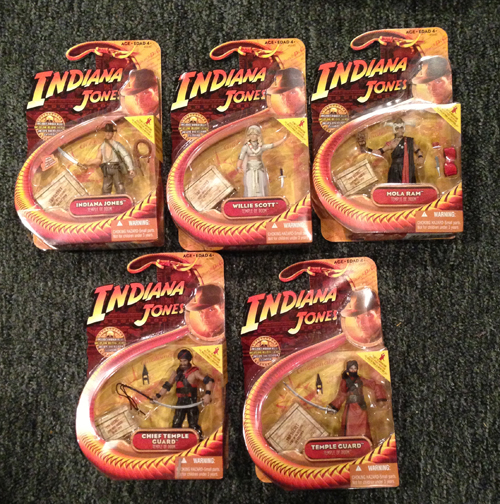 Last Crusade toys — including a Young Indy. If you remember, River Phoenix (RIP) played Young Indy in the movie.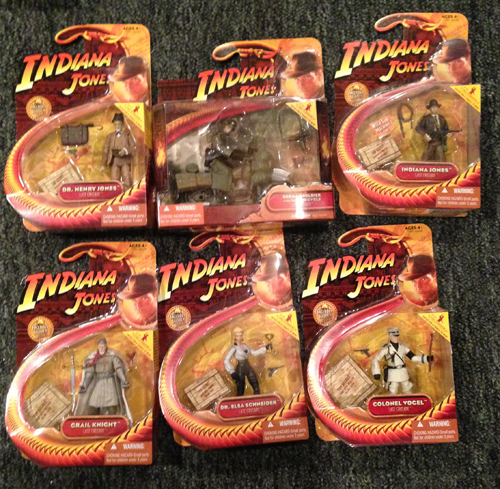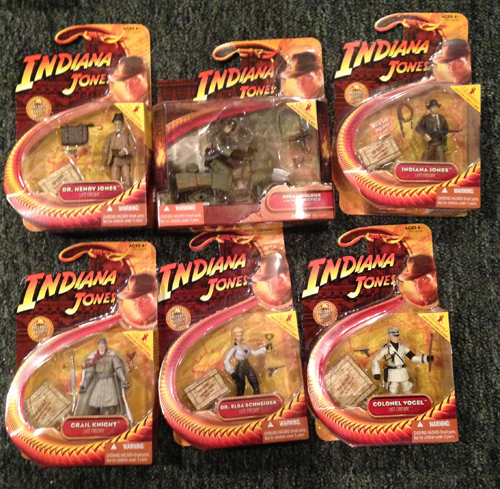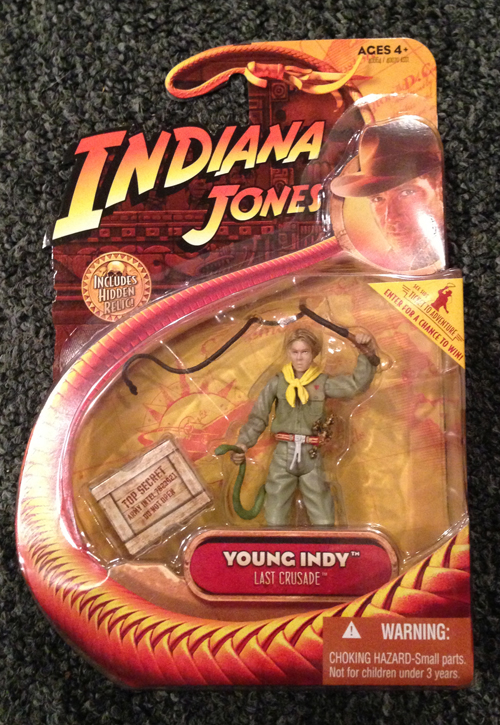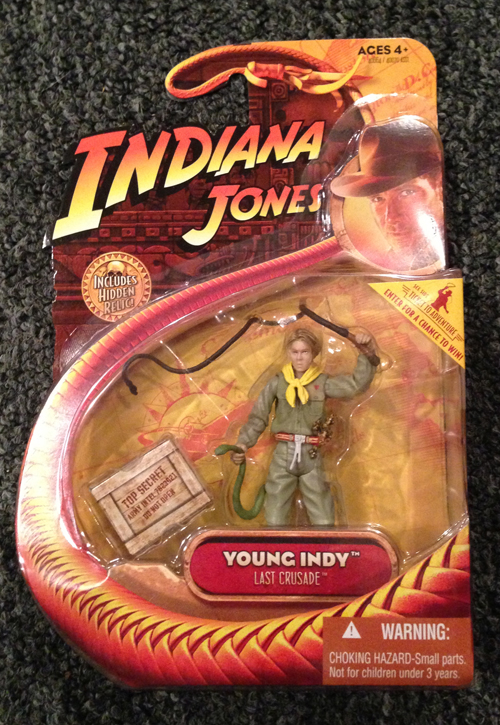 A Temple of Doom patch.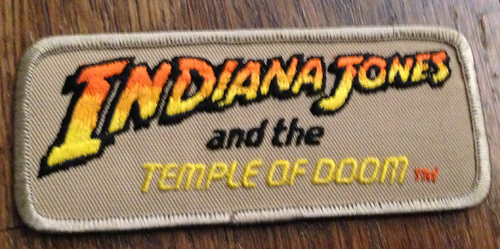 I do have a 12″ Indy figure, seen here looking up at his much more glamorous Premium Format counterpart. He feels pretty little compared to him.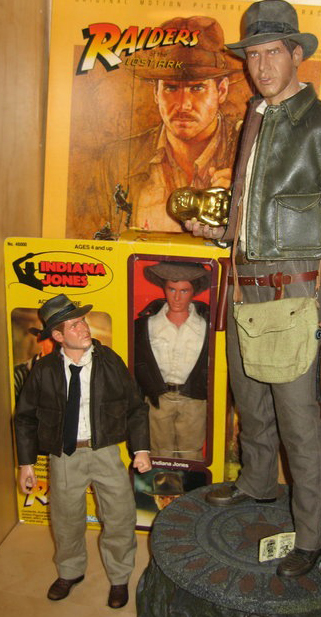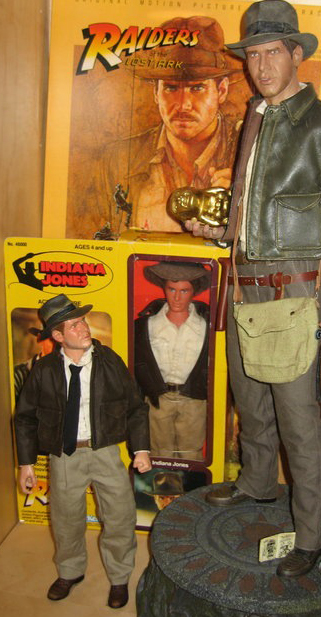 And, somewhat shamefully, I have a Crystal Skull teaser poster. Struzan did the artwork for this as well. Amazing artwork…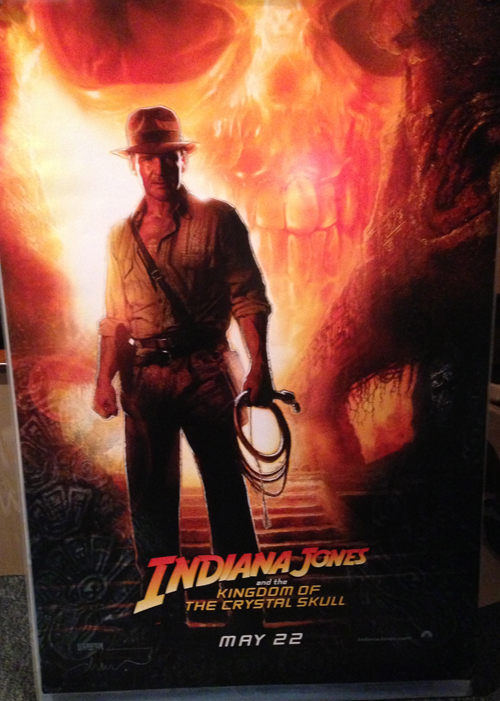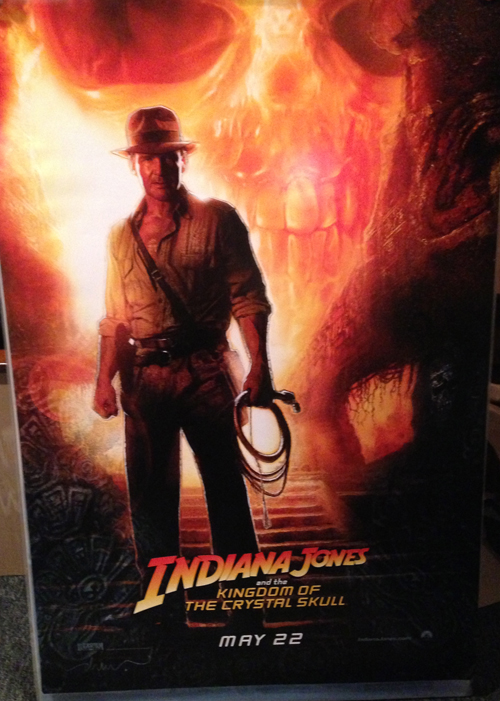 So amazing, that the theatrical poster was purchased prior to seeing Crystal Skull. Much like the Ark, it should and shall remain unopened.