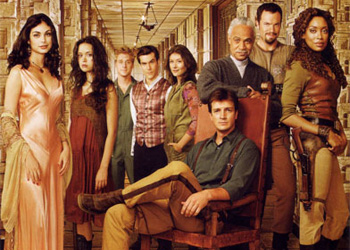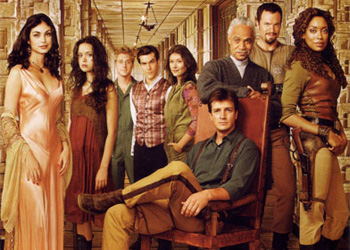 Firefly had its television premiere on September 20, 2002. It's been 10 years. Wow. Let's celebrate with some music!
1. The Browncoats – "Hero of Canton"
A punk cover of the song from "Jaynestown." Do I really need to say anything else?
2. Hello, the Future! – "Watch How We Soar"
I mentioned "No Power in the 'Verse" when I wrote about Nicole's Kickstarter recently, but she's also written another Firefly song about Wash (plus others on her YouTube channel). Nicely done, as you'd expect.
3. Michelle Dockrey – "Mal's Song"
This was one of the first Firefly songs I ever heard. It's also one of my favorites. It's just so well done.
4. King Pheenix with HD Ninja – "Open Sky"
King Pheenix weighs in with his own tribute to Firefly. It actually took me a couple of listens to catch that this was about Firefly for some reason. Bonus: the video is from a show I actually saw!
5. Sci-Fried – "Serenity Lost"
I really love the way Sci-Fried incorporates every single episode title into this track. This is a really nice live acoustic version.
6. Marian Call – "Dark, Dark Eyes"
This is probably my favorite of Marian Call's songs. Like all of the songs on Got to Fly, it's not just about Firefly, but she does capture River quite well.
7. Emerald Rose – "Big  Damn Heroes"
It's from the great documentary, Done the Impossible, which you should really check out if you haven't seen it.
8. Stephen Nicholson – "Leaf on the Wind"
This one is told from the point of view of Wash's mother, something she might have sung to him as a child.
9. Adam WarRock and Mikal kHill – "Firefly"
I love the way kHill wove music from the show into the songs on The Browncoats Mixtape, and the way WarRock made it about both his own independent spirit as well as Firefly. It was hard to pick a track for this list since they're all so good, so I went with the first track.
10. Patrick Donahue – "The Browncoat Anthem"
Actor Pat raps about the crew and the show. Nice incorporation of lines from the show.
11. Greg Bates – "Browncoat"
OK, maybe he doesn't have the greatest voice ever, but it's still a fun song that shows just how passionate we Browncoats can be.
12. Eben Brooks – "It's the the End of the 'Verse as We Know It (And I Feel Fine)"
Just look at the title. It's pretty obvious what it is. I'm especially fond of the "Mike Mills" background part.
13. Stan Peal – "Jayne's Hat"
Of course the hat deserves its own song.
14. The Bedlam Bards – "Ballad of Joss"
I had to include this hilarious parody of "The Hero of Canton." The Bards have an entire album of Firefly songs. You should definitely buy it if you don't already have it.
15. The Brobdingnagian Bards – "Hero of Canton"
One set of Bards deserves another, so let's end with another version of "Hero of Canton."
Bonus Material
In case that wasn't enough songs for you, there are several more on this page. Yes, I know Myspace is dead, but that doesn't mean there isn't anything worth checking out there anymore.
I really wish there was video (or even just audio) of this available somewhere but, alas, I have not found it. Yes, some fans actually made a musical version of this episode. I'm sure it was shiny!
Karmacoda – "Firefly" and Rob Spaull – "Serenity"
An older episode of the trip-hop and downtempo music podcast Dave's Lounge featured Karmacoda's "Firefly" followed immediately by Rob Spaull's "Serenity." The songs themselves probably have nothing to do with the show (which is why I included them as "Bonus Material"), but I'm pretty certain Dave is a Browncoat.
---
So, yeah, there are a ton of Firefly / Serenity songs out there. I limited myself to fifteen since that's the number of episodes that were made plus the movie. What did I miss? Leave your suggestions in the comments!