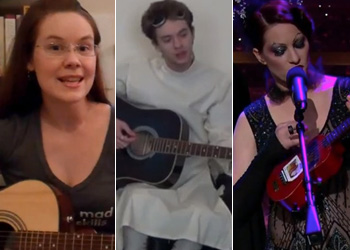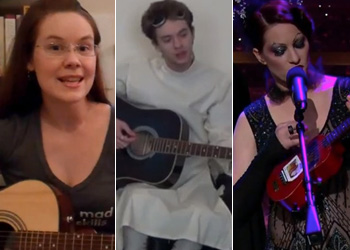 Time for more covers! Yay, covers! This time we have TV and movie themes, trock, and musicals represented among the usual covers.
1. "Yoshimi Battles the Pink Robots" – Debs & Errol (and Sue) (originally by The Flaming Lips)
Using just ukulele and a shaker, Debs & Errol (with Sue from the comic) cover the happiest song about defeating robots there is. So good!
2. "I'm the One that's Cool" – Diatonic Nerds (originally by The Guild)
It's a "chamber cover" of The Guild's third song. With bassoon, sax, and clarinet (I'm pretty sure that's the right instrumentation). Need I say more?
3. "The Reading Rainbow Theme" – "The Doors" (actually Jimmy Fallon)
What if The Doors performed the theme song from Reading Rainbow? I don't know how Fallon manages to sound like so many different artists, but he's pretty amazing.
4. "Science Fiction Double Feature" (Live on The Late Late Show With Craig Ferguson) – Amanda Palmer, Neil Gaiman, Moby, and Stephin Merritt (originally from The Rocky Horror Picture Show)
Yes, that's a rather interesting line up of artists. Yes, it's as good as you'd hope it would be. And, yes, Neil Gaiman actually plays keyboard (sort of).
5. "Regenerate Me" – Hello, the Future! (originally by Chameleon Circuit)
A nice, simple acoustic cover of a trock song. Very well done.
6. "These Girls" – Alison Brie and the Girls (originally by Childish Gambino with Garfunkel and Oates) (NSFW)
One Community actor covers another. Seems fitting.
7. "Silent All These Years" – Superpowerless and Pixelle
Superpowerless has tons of covers over on his YouTube channel. I knew as soon as I heard this one that I had to pick it for the list. I was a huge Tori Amos fan back in college, and this cover is really well done.
8. "My Eyes (On the Rise)" – Estelle Z (originally from Dr. Horrible's Sing-Along Blog)
What more can I say about this than io9 did? Nothing – so just go watch it!
9. "A Man's Gotta Do" – Alex Day, Liam Dryden, and SherlotteR (originally from Dr. Horrible's Sing-Along Blog)
Speaking of Dr. Horrible, here's another cover with Chameleon Circuit's Alex Day playing Dr. Horrible. And they're even wearing costumes! Very cool!
10. "We Are Going to Be Friends" – Dr. Noise (originally by The White Stripes)
Dr. Noise is always great, and this cover is no exception. The video is pretty amusing, though simple. I'm pretty sure the ukulele makes the whole thing.
11. "Word Up" – The Four Eyes (originally by Cameo)
I discovered this band on Radio Free Hipster. They covered Neil Diamond's "Brother Love's Traveling Salvation Show," a song from my childhood (my mom loves Neil Diamond). I couldn't find a video of that one, but it can be found on their Secret Center Sessions Vol. 3. This is a band I need to explore more.
alex day
,
alison brie
,
Amanda Palmer
,
Debs & Errol
,
diatonic nerds
,
dr. noise
,
estelle z
,
hello the future
,
jimmy fallon
,
liam dryden
,
music-
,
Neil Gaiman
,
superpowerless
,
the four eyes