We collected input from hundreds of visitors to the site to compile the list of the 100 Greatest Books of All Time. You can see the beginning of the project here, where you'll also find an index of all the results to date.
We are now in the final week of revealing the winners, and today we bring you #3.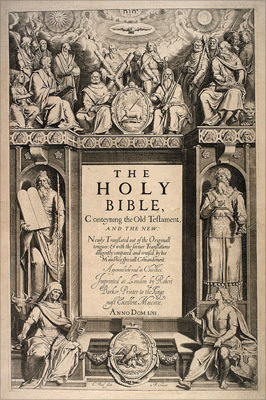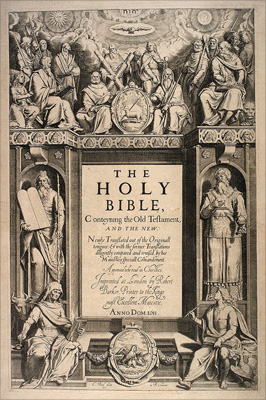 The Bible's original writing has been dated between 460 BC and 95 AD, with some portions being attributed to oral traditions going back as far as 1000 BC. The Authorized King James Version of the Bible is an English translation of the text that Robert Barker printed for the Church of England in 1611. Whether read as a religious and moral guidebook or viewed as a cultural and artistic cornerstone, the Bible arguably is the single most influential book ever written.
Attributed to numerous authors throughout history, from anonymous poets to Paul of Tarsus, the books of the Bible are a collection of documents that form an overall single volume that now is the bestselling book of all time. More than 2.5 billion — and possibly as many as 6 billion — copies have been sold, leaving no doubt that this book is worthy of being in this list's top five, regardless of any agreement or endorsement of the religious messages it contains.
Angela Holtz: I selected the Bible because there has never been a book that has done more to change the world… good or bad. Even if you think it is complete fiction, you have to admit that much.
Adam Black: Agree or not, the Bible shaped nearly everything about our society. Biblical themes exist in every portion of our culture.
Rose Shapiro: The Bible goes on here not because I'm one to beat it, but I mean… come on. What single book has ever been more influential than the Bible?
Fred M: No other book comes close in its impact on Western civilization, even now.
---
Previous book:
#4
Check back tomorrow for
#2
!