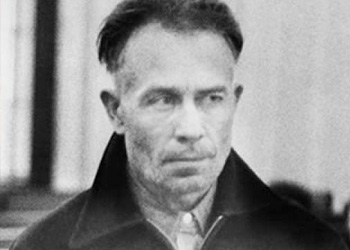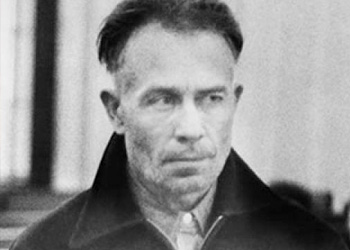 The first American film made about a serial killer was by the Master of Suspense himself, Alfred Hitchcock. It was 1943's Shadow of a Doubt about a man who took up with wealthy widows and then murdered them. The screenplay was written by Thornton Wilder, Sally Benson, and Hitchcock's prolific wife, Alma Reville. Much as I like this film, my preference is "based on fact" movie killers, not fiction.
If I had to pick a favorite real-life serial killer in films and books, he wouldn't be the most handsome (Ted Bundy), and he wouldn't be the most prolific (Gary Ridgeway), or even the hungriest (Jeffrey Dahmer), he'd be the one on whose life the most movies and books have been based. That'd surely be a 99-IQ whacko named Ed Gein.
What better time than Halloween to come up with a list of top films and books based on nutter Gein's grisly habit of wearing his mother's torso as a face? OK, maybe Mother's Day, but creepy stuff like Gein's life also belongs on Halloween lists. When the real Ed Gein tried on his mother for size, he didn't just put on her dress, he put on her skin. A mammary vest, they call it now. He wore the vest along with a homemade nipple belt.
The skin game for Ed was so successful, he segued into body snatching and dug up dead dames in the local cemeteries and wore them as well. He partly furnished his house with them, too. Skulls make dandy cereal bowls. Waste not, want not. Ed actually showed the preserved heads of dead women to some boys who visited his farmhouse and they later said they thought the heads were just strange Halloween masks. With such Halloween costumes in mind, here's a list of my favorite Ed-Gein-based movies and books: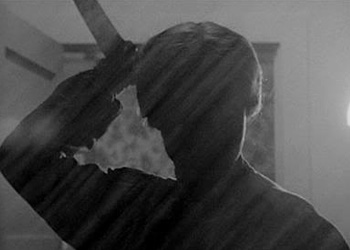 One of Alfred Hitchcock's creepiest movies was based on Robert Bloch's 1959 novel, Psycho, inspired by the true story of Ed Gein. The year after it was published, Hitchcock turned the book into a 1960s film classic about Norman Bates who loved his mother to death and still lived with her 20 years after she became a dirt sandwich. Norman, as mommie dearest, knows how to protect himself from the dirty thoughts he has while spying on a female guest at the Bates Motel. Meanwhile, what's left of mommie (who looks even skinnier than Mary-Kate Olsen), sits in a rocker waiting for sonny boy to wear her. Talk about the perfect Halloween costume, try your mother on for size.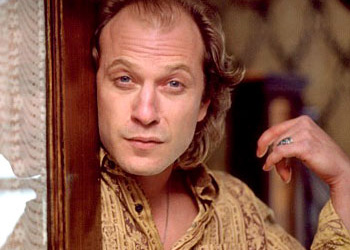 Jame "Buffalo Bill" Gumb of The Silence of the Lambs fame was based on Gein. Buffalo Bill slays and skins women, and evades capture so successfully that it takes the brilliant insights of incarcerated, twisted serial killer named Hannibal Lecter to catch him. The author of the book, Thomas Harris, had once been a crime reporter covering the worst crimes in the Midwest, including Ed Gein's stomping ground, Plainfield, Wisconsin, before he turned to full-time crime writing.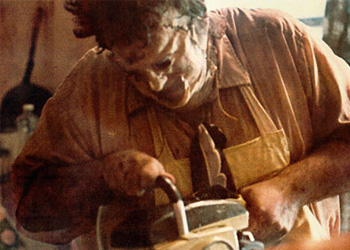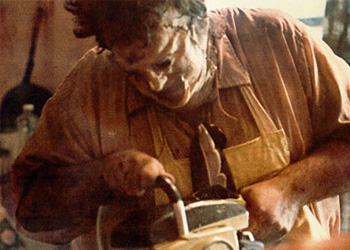 Without Ed Gein, there wouldn't have been a Leatherface in The Texas Chainsaw Massacre, including the 1974 original, its prequel (TCM: The Beginning) and all its many sequels and remakes. Technically, there's no specific character just like Ed, but there are many "Geinian" touches which put the real Ed Gein back in the spotlight during the mid-'70s, and it's widely considered to have been partly based on Ed's escapades.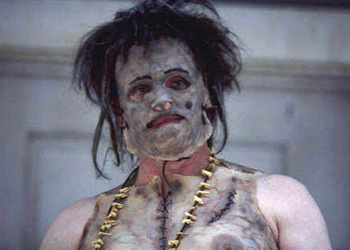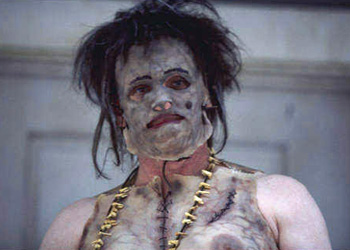 Lucky Steve Railsback got to play the title role in Ed Gein after previously playing Charles Manson in Helter Skelter. Must be those dead eyes of his that enabled him to play these psychos so well. Ed's Bible-spouting puritanical mother, Augusta Gein, was played by Carrie Snodgress, so the audience could easily understand how Ed grew up to become what he became, a liver-eating, corpse-digging, head-decapitating, entrail-cooking, shoebox-full-of-crotches psycho killer.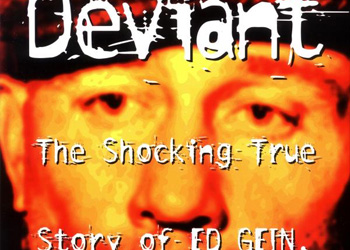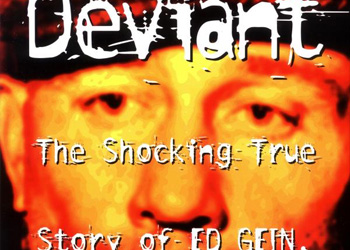 Harold Schechter's book about our favorite ghoul was researched in old newspaper clippings, and describes Ed Gein's Wisconsin farmhouse somewhat differently than I think of Wisconsin farmhouses. I'd hate to find out what Gein's cheese was made with. Schecter includes hundreds of details about the "death house," and Ed's "quiet and gentle personality." After his mother Augusta's death from natural causes, Schechter explains that Eddie had "lost his only friend and one true love. And he was absolutely alone in the world." Awwwwww. Over 50 years after Gein's romp in Wisconsin, Deviant is still up there at #94 on Amazon's list of top criminology books.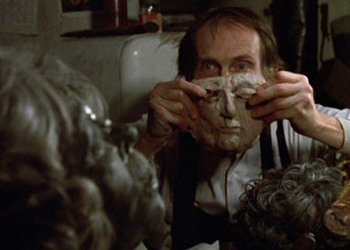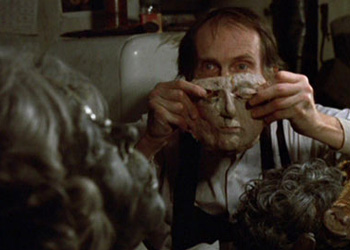 This film can't be described any better than on IMdB: "Based on the Ed Gein case, a deranged rural farmer becomes a grave robber and murderer after the death of his possessive mother whose corpse he keeps, among others, as his companions in his decaying farmhouse." Since Ed's father was a tanner, and Ed himself utilized some taxidermy skills in hoarding bodies, it's clear he confused the meanings of deer hunting and dear hunting.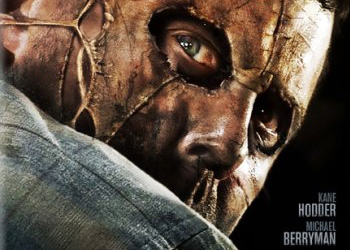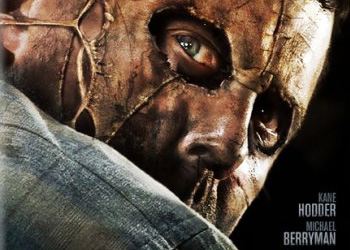 Skinning, disemboweling, and dissecting victims makes for yet another creepfest about old Ed. Kane Hodder plays Gein in this version and, though his leatherface isn't quite as gross and disgusting as Gunnar Hansen's in The Texas Chainsaw Massacre, it's creepy enough to know whom it's based on.
Besides those good, scary movies based on the life of Ed Gein, we've got Motel Hell, Maniac, Three on a Meathook, House of 1000 Corpses, and Ed and His Dead Mother, and a biographical musical called Ed Gein: The Musical debuted in Menasha, Wisconsin in January 2010.
Contributing to his status as a cultural icon, the Nu Metal group Mudvayne paid homage to him with their song, "Nothing to Gein," there's a band named Ed Gein, the metal group Slayer composed "Dead Skin Mask," and there's actually a punk rock group called Ed Gein's Car. Nothing ventured, nothing Geined.
Actors have their Oscar, musicians their Grammy, and television commercials their Clio Award, but Ed Gein has the greatest of all peer accolades: his own page on IMdB.