In the final installment of his four-part list, Keenan reveals his top five horror films of the past decade!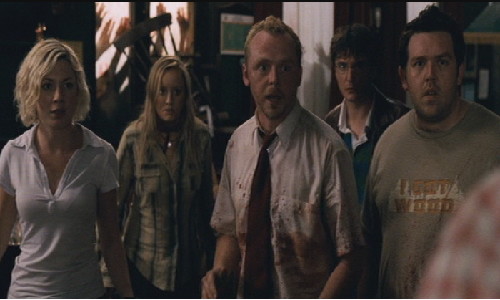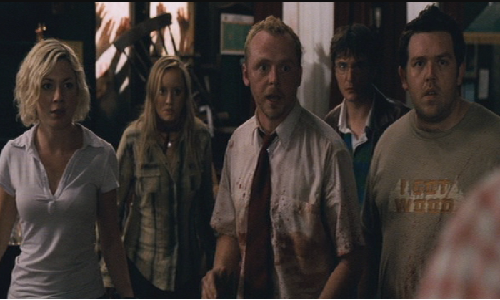 Looking back at the last 10 years of horror, one film crept its way towards the front of the line for me: the zombie comedy (zombedy?) Shaun of the Dead. The film was based off an episode of the British television sitcom Spaced, written by Simon Pegg and Jessica Stevenson and directed by Edgar Wright. The episode focused around Pegg's character Tim playing Resident Evil 2 on the influence of amphetamine all night long while he starts hallucinating about actually killing the walking dead. Pegg and Wright had such a strong appreciation for the Romero classics that they decided to write a zombie script of their own.
Shaun of the Dead was one of those great films that only come around every so often. There is something in it for everyone. Are you a horror fan who doesn't want to be bored by a chick flick? Take your girlfriend to see Shaun of the Dead. Great love story, gore, and comedy to make you both laugh. It's also a film that never gets old. The jokes and storytelling are so perfect that if it re-runs on Comedy Central, I'll leave it on. I also know a few friends who HATE British comedy that love Shaun of the Dead. It's a strong classic that I think we will hear about for years to come.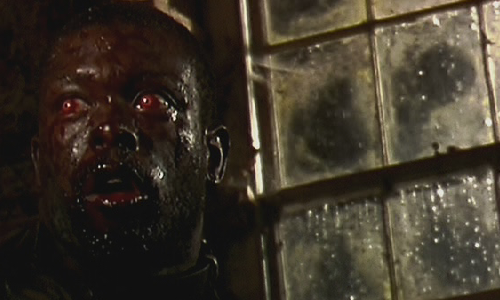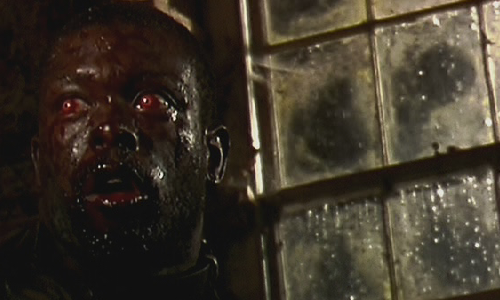 Ahh yes. The first Cillian Murphy film I ever saw. Too bad for me he had to be pantsless…
28 Days Later is a post apocalyptic horror film about the breakdown of society after a highly contained virus spreads across our planet. It focuses on four lone survivors dealing with the tragedy. Now, some may say this is a zombie film. In some ways it is. But it's really not. 28 Days is an infection film. The humans are infected. Their bodies are not breaking down. This is why they can run jump and leap. They are infected with rage. A very cool concept that breathes new life into an old one. It's very frightening to think of a man with bloodshot eyes, bleeding from his mouth and running at you with arms flailing while he screams in pain. Now just imagine crowds and cities infected with this. You are utterly screwed. It's not like a zombie film where you can just pick them off in a field.
Director Danny Boyle really created something unique and amazing. Everything about this film was almost like violent poetry, from the acting to the amazing score by John Murphy. It's really an emotional rollercoaster that drops you and doesn't pick you up till the very end. Sure, 28 Weeks Later was pretty damn awesome, but I don't think any sequel to the series will match up the unique beauty that 28 Days had.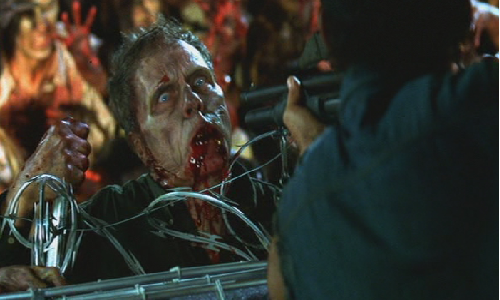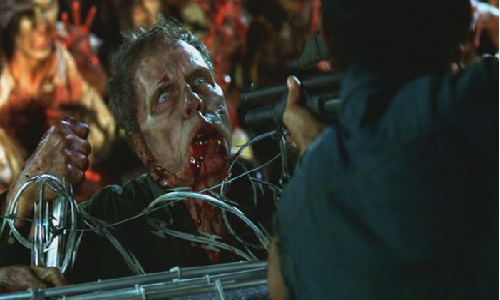 When I heard Dawn of the Dead was being remade, I shunned it! I shunned it so hard that I couldn't shun it anymore. I was so sick of these horrible remakes coming out. Especially after the 2003 release of The Texas Chainsaw Massacre remake. That and I didn't know who director Zack Snyder was at the time. Well, I took my chances and went to see it and once the opening credits started playing "The Man Comes Around" by Johnny Cash I knew this film was going to be something special and different. Now, I wouldn't call the 2009 Dawn of the Dead a remake. More of a re-visioning. They didn't re-write the script or keep the same characters. James Gunn, who wrote the script, is a huge horror fan and I think he really got the right idea: let's just take the basics and roll with it. Zombies. Mall. Survivors. That was it. We didn't need the same dialogue from the past film or same plot reminding us of how great the other film was and how bad this film is trying to attempt it. This new Dawn of the Dead is all their own.
It really sets up all of the best characters for a great zombie film. We have our survivor girl, badass black dude, hero, jackass, traitor, young flirts, and a few more casualties. These character types really paved the way for new zombie story telling, as seen in the popular comic book series The Walking Dead and the Left 4 Dead video game series. But in the end, all we really want to see is amazing gore! Some head shots, chainsaw killings and a few shot gun blasts — the new Dawn delivers all this and then some. Along with the best zombie FX I had ever seen and even some zombies on fire! I really think the 2004 Dawn of the Dead is the best new age zombie film to date. Nothing I have seen has topped it in terms of quality and enjoyment. As for the whole Running Zombies vs Slow Zombies thing… well, that's a discussion for another time.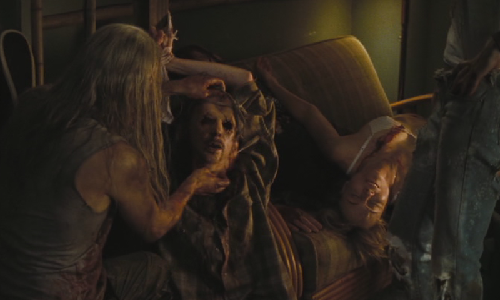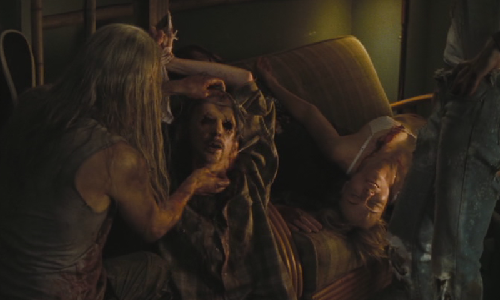 Shortly after the release of Rob Zombie's first film House of 1000 Corpses, Lionsgate made all their money back and wanted Rob to make a second film. With a script already in mind, Rob got to writing. He wanted to focus this movie more on the story at hand than the characters, but also flesh them out more in this version than the previous one and make them a lot less cartoony. Rejects picks up two years after the events in Corpses. Sheriff John Wydell, along with good amount of police officers, comes to take the Firefly clan in after seventy-five homicides and disappearances over the past few years leading up to one of the best shoot out scenes in cinema history. Half the Firefly clan are indisposed or on the run at this point, making for an excellent and horrific road trip adventure.
Rejects is a dirty and gritty movie. Rob cut no corners, making this one of the most graphic and disturbing films to ever hit 1,757 screens. And if he did… well, I could only imagine what in God's name they could have been. Everyone had a great time on set. "It was almost like a second family," actor Sid Haig put it. But there were times when things got dark. Sheri Moon at one point did not come into work for two days after a scene where she had to fight for her life. Even Bill Moseley of horror fan favorite Texas Chainsaw Massacre 2 had to walk up to Rob and say, "Man, this scene is really bumming me out" after having to rape a woman in front of his wife with a gun. Rejects went through the MPAA eight times receiving an NC-17 rating every time until the last viewing. Censors had a real problem with the tone of the film. And I don't mean the colorful language.
The film really shines though when it's all put together, with a fantastic soundtrack including 70's classics by Buck Owens, Terry Reid and the James Gang. But one of the most memorable scenes was done using Lynyrd Skynyrd's over-nine-minute classic "Free Bird." For such an epic song, nobody has really done anything with it in a movie and Rob now owns that title. The music along with the look of the film really captures that '70s feel, really showing its colors. It's beautiful, brutal, and relentless all at the same time.
Rob really showed us with this movie that he was growing as a director and storyteller. It pretty much captures everything I wanted to see in a horror film: fun characters with a great driving and hard hitting story with the perfect amount of gore and terror. I mean, what really scares horror fans anymore? They are numb to almost everything now. Tell them they will end up feeling sympathy for murderers and rapists towards the end. That should frighten them.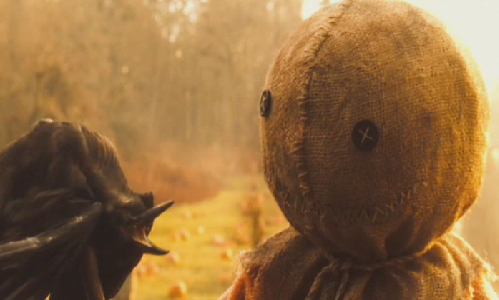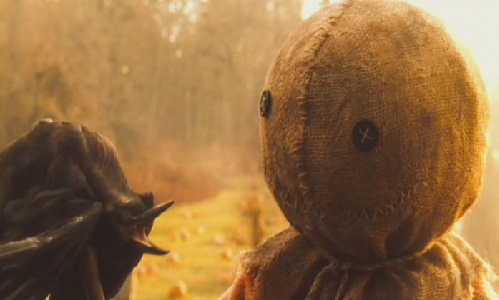 Director Michael Dougherty had an awesome vision while attending animation school in New York. He had been beating around the idea for an icon that represented Halloween. Almost every classic holiday has a mascot except for Halloween. After a few ideas, he did a short animation for class called "Seasons Greetings" starring a small figure with an orange onesie on and a sack over his head. This characters name was Sam. Sam represented everything about Halloween. There are special rules you need to follow on Halloween in order to have a fun and joyous holiday. Break these rules and you will have to answer to the cute little guy with the deadly jack o'lantern lollipop. After co-writing X-Men 2 and Superman Returns with Bryan Singer, Bryan told Mike that he really needs his one script in Hollywood and that Trick 'r Treat was it. So Mike started writing this horror anthology film that was four short stories that all take place on Halloween night in the same small town. The characters all intertwine in the movie. Almost think Creepshow meets Pulp Fiction.
Let me go on the record and say I recommend this film to EVERYONE. You have no idea. I think everyone needs to see this film. And so far everyone I have recommended it to say they loved it. Not liked it. Not "It was OK." Loved it! It holds a great trait that I wish more horror films did: it uses camera tricks and makeup effects only. There are a few CG tricks here and there to enhance scenes, but it's over all a straight-up low-budget horror film. In ways it's a dark comedy. Should you laugh as kids die in this film? The answer is yes because they deserved it.
From the storytelling to the oh-so-wonderful Halloween feel, Trick 'r Treat is a real bag of treats that should have been released in 2007. But after Warner Brothers viewed the film they were not sure what to do with it due to the dark humor undertone along with kids dying. They shelved the project promising release the following year. 2008 came and still it sat. Dougherty really kept this one alive by showing it at different film festivals and conventions. All the reviews from each showing were outstanding, praising the movie. After so many great reviews came in, the studio finally decided to release the film straight to DVD and Blu-ray in October of 2009. It is great to see a wonderful vision push and push and push and then finally watch it over exceed expectations. This rarely happens in cinema and I'm glad it did. I could go more into the movie plot but I think it would give too much away. Just do yourself a favor and buy the best horror film to come out in the last ten years.