Keenan's four-part list of the top twenty horror films of the past decade (2000-2009) continues here with part three, numbers 10-6.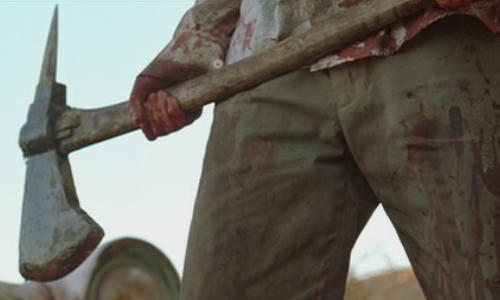 Many remakes have bitten the big one. But most never do what The Hills Have Eyes remake did: made a remake BETTER than the original. Sure, Wes Craven's film was a classic, but Alex Aja's vision for this retelling was something amazing. Very brutal and gritty. How can you make a rape scene more horrendous and grueling then the last? Or make you really care for the characters on screen? Well, Aja succeeds this with flying colors. It is by far my favorite mutated hillbilly film. From the hard pounding hits with X2's Aaron Stanford and Pluto beating the living day lights out of each other in the old test site home, to the crucifix scene in the desert, I was glued to this film and did not want it to ever end. Sadly, the film spawned a sequel that Aja had nothing to do with and it showed. It was atrocious. From bad non-on-site shots to dismal acting, the sequel could not hold a torch next to the remake. I'd like to believe The Hills Have Eyes remake will live alongside The Fly and The Thing as one of the best remakes of all time.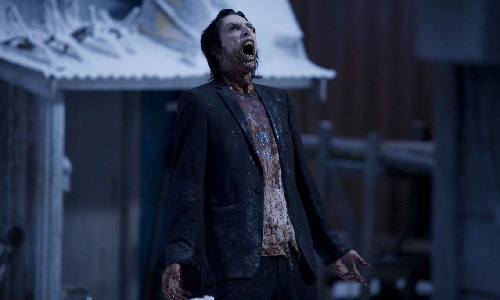 A scary vampire movie? What's that? I thought vampires were supposed to flirt with young girls and whisk them away into trees, get interviewed, and come over for dinner and a little southern comfort? Back in 2002 Steve Niles wrote one of the most interesting vampire stories I have ever read next to Bram Stoker's tales. Teaming up with rising artist Ben Templesmith and IDW Publishing, these guys really released something great and unique onto the world. They brought the horror back to vampires and made them scary again. The script for 30 Days of Night took a while to get into the right hands with re-writes after re-writes and even studio changes. Even director Sam Raimi really wanted to get this film on screen by saying "This will be unlike the horror films of recent years." And he was right! There is one scene that says it all. A slow pan over the small town of Barrow, Alaska showing the vampires ripping the citizens to shreds as they scream their final screams. Red snow covers the town. With fantastic acting by Ben Foster, Melissa George, and Josh Hartnett and a superb script this is a must-have Blu-ray to pick up.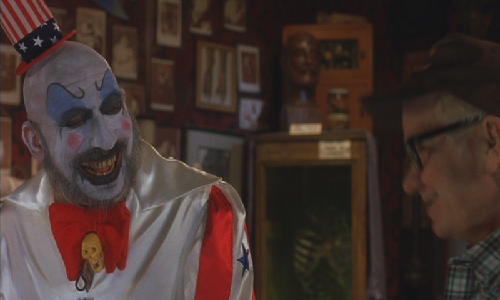 This was Rob Zombie's first endeavor into real filmmaking after producing and directing a few of his own music videos. What came of Rob's first film was far from perfect but a lot of fun! After being funded and edited at Universal Pictures, it was quickly rejected. Universal believed the film would receive an NC-17 rating (there was no way) and would make the company no money. So Rob took the film to MGM where he began editing. MGM ended up dropping Corpses after Zombie made the quote, "Apparently they have no morals over there. They're happy for some blood." Rob finally found a home for the film at Lionsgate.
Rob put into this film what he knew and loved: horror, Halloween, and rednecks. The film takes place on a dark and stormy night in 1977. After some car troubles, two couples find themselves in a backwoods-ass house full of strange and interesting characters who turn out to be murderous psychos who take them on one hell of a Murder Ride. The main thing Corpses has going for it is its characters. Rob really gave this family some color. One character in particular was Captain Spaulding. Like the movie or hate it, people love Spaulding. And I'm pretty sure that clown will be a horror icon for years to come. The characters drive this movie into a different world entirely. And that's a good thing. The film almost feels like an 88-minute White Zombie music video. But I was OK with that.
07) Zombieland (October 2, 2009)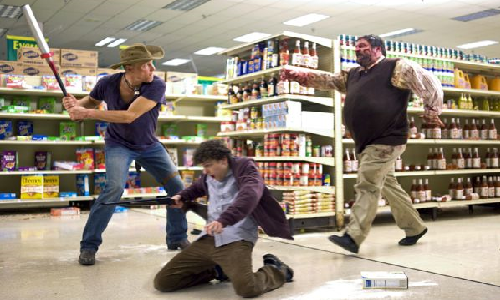 Zombieland is one of those rare films that only come around once in a while. A good zombie comedy that really never takes itself too seriously, but stays entertaining and hilarious all the way through. Even in the sentimental parts, there are a few cracks here and there that make you smirk. One thing in particular is "The Rules," 33 rules to keep you alive by Columbus. These rules pop up throughout the movie reminding us why our lead actor (as weak and small as he is) is still alive. It's a very pop culture film with H2 Hummers and mentionings of Miley Cyrus along with movie references from the past. There is even a cameo in the film that, if it hasn't been spoiled for you already, you are in for a real treat. It pretty much halts the movie and just has a good time with the audience. In most films, this would be disastrous. But with Zombieland, it works very well.
If the zombie apocalypse ever hits, what do you see yourself doing? What kind of person would you be? I think everyone wants to be Tallahassee, the bad ass, cool quoted, funny zombie killer with every weapon. You can relate very well with Woody Harrelson's character. This film feels like if the popular zombie shooter game Left 4 Dead was a comedy flick. If you missed your chance to catch this in theaters, BUY IT THE DAY IT COMES OUT!
06) The Mist (November 21, 2007)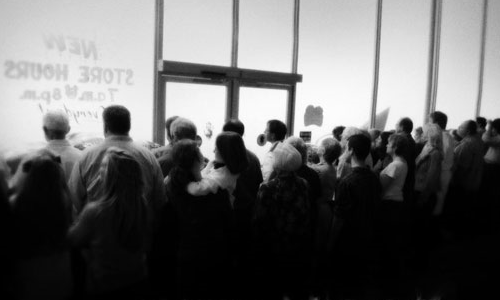 I remember reading Skeleton Crew by Stephen King when I was a kid, and the one story I read over and over was The Mist. There was just something very eerie and haunting about it that intrigued me. The morning after a really heavy storm, an unnatural mist rolls into the small town of Bridgton, Maine. David Drayton, his son Billy, and irritated neighbor Brenton head to the local convenience store to pick up some supplies from the damages done during the storm. What the mist brings with it while the three shop, they will never forget.
Frank Darabont's adaptation was perfect, adding his own unique flair to the film. I feel like this is what I pictured while reading the book as a kid. Everything from the look of the store to the feel of the town. One thing that did look a little odd was the CG. And Darabont knew this. That is why he pushed for the film to be released in black and white. But the studio would not have it. Though, if you pick up the Blu-ray release or the two-disc special edition of the DVD it comes with the black and white version and, man, does it do some justice. I don't think I will ever watch this film in color again. Back to the film… the acting is superb. I don't think I have seen Thomas Jane in a better role. And Marcia Gay Harden plays Mrs. Carmody perfectly and you love to hate her. The Mist has a few changes from the book, but they actually make for a stronger story. I love watching this with friends and watch their mouths just drop at the very end.