Keenan's four-part list of the top twenty horror films of the past decade (2000-2009) continues here with part two, numbers 15-11.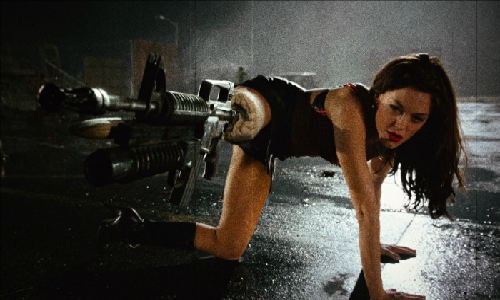 What could be better than going back in time and checking out some of the classic grindhouse films on 42nd Street? Having two brand new films, one directed by Robert Rodriguez (Planet Terror) and the other by the man himself, Quentin Tarantino (Death Proof), one a zombie-like horror film and the other a road revenged thriller. But not only are these two films back to back, there are mock trailers attached to the prints done by the up-and-coming horror greats like Rob Zombie, Edgar Wright, and Eli Roth. Not to mention the trailer for Hobo with a Shotgun included only in the Canadian prints and Machete, also done by Rodriguez. Along with these, we get classic Grindhouse Releasing intros, lobby cards, intermission bumpers, and so much more.
Going to see this in theaters was an event! And was probably the most fun I had ever had going to see a movie with my friends. The films by themselves don't really hold up much separated on DVD and Blu-ray (I'm still waiting for the deluxe release). But I think seeing it at home just does not do it justice anyways. I mean, cigarette burns and cracks on a DVD just does not make sense. It was a real treat to see this sucker in a theater full of people. And it's a shame we probably will never see another Grindhouse anytime soon since it tanked in theaters due to its run time and release date. But it is what it is, and feel special if you got a ticket for this thing back in April of 2007. Also look for the full length feature of Machete in theaters in mid-2010.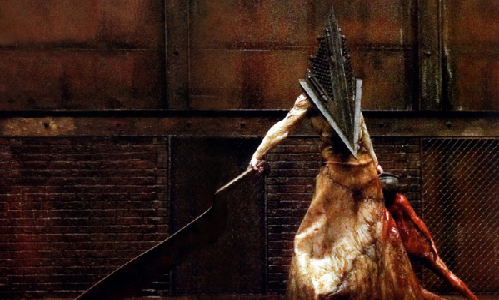 Let me start this off by saying most video game-adapted films tend to suck. Especially the survival horror games. So call me skeptical when I heard Silent Hill was getting adapted into a film. Though I was relieved when Christophe Gans was directing and not Uwe Boll. Because, let's face it… who really wanted to see Jason Statham play Harry Masson?
I was pleasantly surprised at how well the town of Silent Hill was captured in this movie, pulling a little from each of the best games, some well written dialogue, a story I could get into and, might I say, some of the coolest visuals I had seen on screen a very long time. I still get goose bumps when I think of what Pyramid Head does to that one innocent girl. There is a second Silent Hill already in production and I'm not surprised. If they stick to everything that made this movie so classic I think we are all in for a great series of films.
13) Saw (January 19, 2004)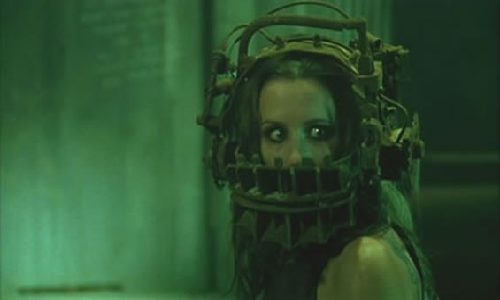 These damn movies! I swear, they will come out year after year and yet I will still go see every one. But only one is truly the best in the series, and that is the first film, written by Leigh Whannel and James Wan and directed by James Wan. Saw brought back what most common moviegoers like to call "torture porn" to the big screen again and many critics hated it, calling Saw just another cheap snuff film. But one thing Saw had that most "cheap snuff films" did not was a fantastic script! I was completely floored by the sum up at the end of the film, thinking to myself "This is the way more films need to be written." A lot of the time movies hint at themselves way to much and the audience catches on too quickly, and by the time the ending is revealed, you have already lost interest. Saw threw you around and made you really think while showing you some pretty intense gore. A great story and some great makeup FX. I couldn't ask for more in a horror flick.
The hit film that grossed $103 million in nine weeks went on to spawn five more sequels with more on the way along with a video game, a haunted house at Universal Studios and its own rollercoaster in England. The Saw franchise just keeps growing and growing. It probably is the most watched horror film series of the last ten years.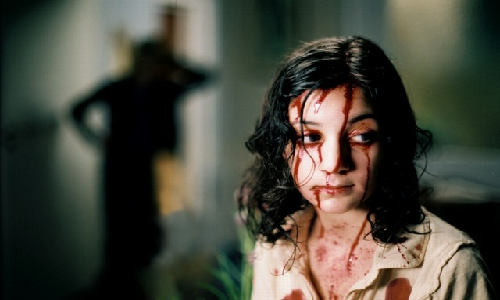 Talk about out of the blue. This film really took me by surprise. Let the Right One In was originally a Swedish novel by John Ajvide Lindqvist that centered around the meetings of a 12-year-old boy named Oskar and mysterious vampire named Eli. It takes place in Stockholm during the early 1980s. It is very quiet with little score. This helps the audience focus on the dialogue and the strong relationship that Oskar and Eli share. What slowly unfolds is quite possibly one of the best vampire films to come out in the last 10 years if not of all time. Tomas Alfredson, the director, was unfamiliar with horror in general and this was his first real stab at it. Man, did he hit the nail on the head with this one. Let the Right One In went on to win tons of awards and was put out by Magnet Releasing (now with correct subtitles) and is now in the works to be remade here in America by director (of my seventeenth pick Cloverfield) Matt Reeves, who is re-titling the film Let Me In. Do yourself a favor and go pick this one up now. You will not regret it.
11) Cabin Fever (September 12, 2002)
It took a lot for Eli Roth to get his film Cabin Fever off the ground. He and his roommate from NYU wrote the script and tried selling the thing, but nobody was interested because everyone in the '90s knew that horror was dead and unprofitable. That is, until Wes Craven's horror genre kickstarter Scream hit theaters. Although Roth still had trouble due to studios wanting his script to be more like Scream's, Eli and Lauren Moews raised $50,000 to begin production themselves and, while shooting, the money pretty much raised itself. This film can be summed up in one word: Fun! A lot of people look into it way too much. And I mean, come on! It brought Rider Strong back to entertainment. That alone needs applause. Roth brought what he loved about horror to the table with Cabin Fever. There were jokes made in the film during completely serious parts that just throws everything off and really puts you in the mood of the film. You really get along with the characters and want to see what happens to them later on during the film, like 'em or hate 'em. From a random kung fu kid screaming "Pancakes!" to the few brain cells that Deputy Winston has, this film is a rollercoaster of hilarity and leg shaving gore!