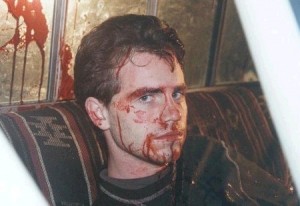 You ever have those times where you're watching a horror movie, a comedy, or what have you, and there's a scene where you see something so disgusting you find yourself on the verge of retching? I don't mean metaphorically. I mean "Having to clean up after your dog" retching. There are a lot of movies that happen to have scenes with that sort of effect… Don't you just love 'em? Here are ten examples of scenes that make you feel all sorts of funny in the tummy.
10. "A Mind is a Terrible Thing To Waste…On Ketchup" from Hannibal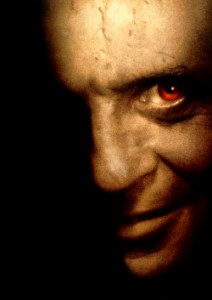 It's weird… We see scenes where people get sections of their heads blown off by gunfire, leaving chunks of their cranium doing a fantastic Jackson Pollock impression, and we're totally okay with that. So it's ironic on a very macabre level when we witness Hannibal Lecter actually removing the top of Paul Krendler's head like the top of a cookie jar, cutting open the protective sac, removing a chunk of Krendler's brain, cooking it on a wok, and then feeding it to Krendler himself. We're grossed out by this because we literally have never seen this before except from zombies. It's just mortifying how Ridley Scott fearlessly shows you every aspect of this act in grotesque detail.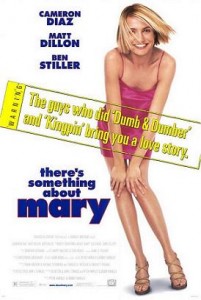 Granted, this may not be the type of scene that causes a man's stomach to churn, but for those hormonally unbalanced men eager for a glimpse of Cameron Diaz's dimensions, the scene in question does provoke temporary burning of the eyes. Of course, I'm referring to the dirty scene of blatant voyeurism where Pat Healy is peeping on Mary while she is changing. In an effort to get a closer look Healy switches to the long lens and accidentally gets a glimpse of female anatomy that has a lot more mileage than Healy is comfortable with. The anatomy in question belongs to Mary's aged roommate, Magda. The thick-headed male walks into an R rated flick expecting to see naked breasts, but I guess they forgot to specify how old. It's almost as if The Farrelly Brothers were reprimanding them for being so perverted.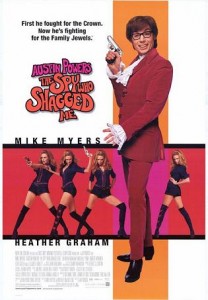 It's a time honored and consistently repulsive tradition in comedy to put a character in a position to ingest something that just shouldn't be ingested. Granted, Pink Flamingos also did this, but what makes this one different is that Austin is totally oblivious about what he is ingesting, and the fact that he probably went in for a few extra gulps is not far from our minds. Basically Austin and Felicity Shagwell found a stool sample from Fat Bastard, and they were examining it. Someone needs to fire the guy who put the stool sample in a kettle-shaped container and placed it next to the coffee machine. What inevitably transpires induces a series of gags from the characters on screen and the audience as well.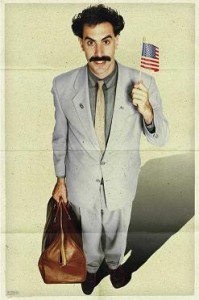 Naturally the scene I'm talking about is the often praised and equally reviled scene in which Borat Sagdiyev exits the shower to witness his producer Azamat Bagatov punishing the bishop to the image of Borat's beloved Pamela Anderson. That's when Borat admits that their nationwide trek is simply so Borat can find her. Azamat is not happy with this and proceeds to accost Borat. Both are in the buff, and neither is pleasant to look at. The filmmakers were kind enough to cover the unsavory bits with the obligatory black boxes, but it's even worse when we see the overweight Azamat full frontal, and we cringe with the horrible realization that he is already covered, and he doesn't need the boxes! Many a female audience member expecting to get frisky with their man after the movie found themselves sorely chagrined as they found their men to be traumatized to the point of impotence… Then again, I'm sure the scene affected the ladies in a discouraging fashion too. Oh well, another thing they have in common.
This is just plain wacky, seeing as the film is a veritable blood bath. Planet Terror is a film in which zombies get run over by trucks and explode like water balloons. People get torn apart like photos of The Pope in Sinead O'Connor's house, and one character has a hobby of collecting his victims' testicles. Amidst all of this, the one scene that caused the biggest groan in the audience was the one in which Dr. Block and a colleague examine a patient who has checked in with a strange infected wound. In order to diagnose the patient's condition they consult a vast array of grotesque images of infected masculine organs, many of which are deformed so badly that they aren't even recognizable. The reason why this is the most disgusting of the lot is that it's not fake! Simple as that.
5) "Gary Drowns His Sorrow, Then Spits It Back Up" from Team America: World Police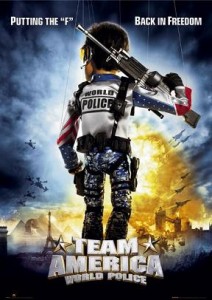 Our hero Gary, ace actor and recent addition to Team America, has walked out on his comrades and decided to take the notoriously ineffective route to forget his troubles. That's right, I'm talking about the bottle. Like clockwork, Gary overdoes it and starts to spew a little bit of bile. Now instead of just a little puddle like most of us release, Gary emits a massive tsunami of stomach juice, accompanied by dramatic music. Kind of a waste, since we're distracted by the marionette spewing bodily fluids from his mouth in a fashion similar to a high-pressure garden sprinkler. Credit to the filmmakers for making us totally grossed out even though it's coming from a puppet.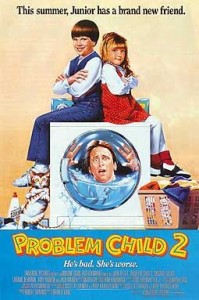 Unfortunately one puppet vomiting in a alley is nothing compared to the hurricane of puke brought about by Junior Healy when he wages terrible vengeance on his enemies by accelerating the speed on a carnival ride  they all happen to be riding. This is a scene that indeed is not remembered for its humor. Quite the contrary, this scene is so vile that there isn't a single person who can watch it without wanting to puke themselves. I myself immediately fast forward the tape the minute I see Junior at the controls. The puking of the kids on the ride is only the beginning, as it snowballs into a bigger and more revolting debacle as bystanders, so repulsed by what they're witnessing that begin to hurl as well. If you do not wish to follow suit you might want to get better acquainted with the FF button on your remote.
3) "A Guaranteed Close Shave" from Cabin Fever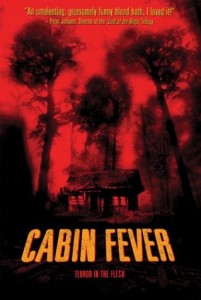 Cabin Fever is a fearless film in its resolve to make you afraid of something as frighteningly common as disease. The disease in question is a flesh eating one that infects a group of friends who rent out a cabin in the woods. It's disgusting enough to see the flesh of each of the characters gradually eaten away, but one of the females thought is was a good idea to take a bath and shave her legs in the midst of all this. Here come the phantom pains! Do the math: flesh eating virus, shaving of the legs, nuff said. You can count on director Eli Roth to put it on display in cringe-inducing detail. I'm positive the sales of ladies' razors in the countryside severely dropped after Cabin Fever was released.
2) "The Paris Hilton Diet Plan" from Bad Taste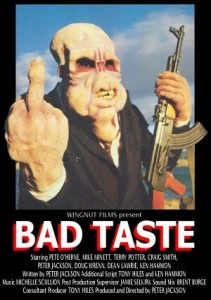 Of course vomit has already been mentioned more than once on this list, but those who have seen Peter Jackson's demented filmmaking debut will know what scene I'm about to mention. Basically a group of alien fighters-for-hire are hunting down another group of aliens who are harvesting humans for meat in order to stock their intergalactic fast food chain. In order to rescue an innocent bystander caught in the crossfire, one of our heroes is forced to go undercover inside their stronghold. He witnesses their feeding ritual where one of the aliens regurgitates into a bowl and proceeds to pass it to the rest of its brethren who make the scene more repulsive by eating it with utter glee. Peter Jackson pushes the repugnance off the cliff by forcing our hero to sample from the bowl in order to prevent breaking his cover. It's been a while since I've watched the film, but this scene still lingers in the back of my brain, and as I describe it in print it still nauseates with the mere thought.
1) "Lunch With Vera" from Dead-Alive (or Braindead)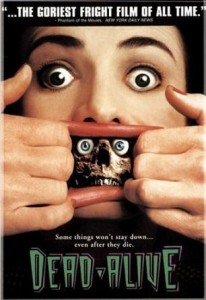 It's hard to believe that Peter Jackson could trump the vile nature of the aformentioned scene in Bad Taste, but in his zombie infested comedy fright fest Dead-Alive (or Braindead as it's known overseas) he has it all beat in one scene that is guaranteed to put you off your lunch… literally. The story revolves around Lionel, a total mama's boy who puts other mama's boys to shame. One day, Lionel's mother Vera is bitten by the cursed Sumatran Rat Monkey. She becomes a zombie pratically overnight. Unfortunately for Lionel, Vera is very popular in her community and is having lunch with some very important people. Lunch is understandably unsuccessful as bits of Vera are gradually falling off. First Vera's ear falls off and lands in her porridge. This is exacerbated when Vera eats her own ear without hesitation. It gets worse from there. The wound on Vera left arm is still oozing and pulsating. The wound squirts a horrible mixture of blood and pus into a gentleman's bowl of porridge. The gentleman seems to not be in the habit of not looking at his food when he eats it, because you can guess where it goes from there. Believe me, the horrid imagery of this scene just cannot by done justice by my description. Suffice to say you have to see it for yourself. Afterwards you'll never want to eat porridge again.