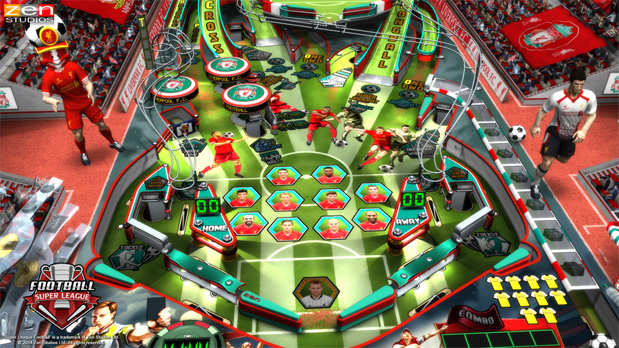 Zen Studios is the go-to company when it comes to digital pinball games, and they're bringing one of the world's favorite sports into the mix for their upcoming add-on table. Super League Football is the just-announced DLC pinball table that will be available for all of Zen Studios' platforms (including the recently released Zen Pinball 2 on PlayStation 4). The new table will feature many real soccer teams, and players will be able to pick a team to support upon installing the table. The pinball mechanics, goals, and aesthetics all are themed around the sport, and Zen has incorporated social features that will let players compete through leaderboards and other features.
"World Cup Soccer (Midway 1994), is one of the greatest pinball tables ever created, and we have long been thinking about creating a modern day version football pinball table that would capture the essence of the game in today's climate, include the biggest clubs and players, and create an exciting level of competition that makes club football so entertaining, said Mel Kirk, Zen Studios Vice President of Publishing. "Working with the biggest clubs in the world and involving players like Lionel Messi, Neymar da Silva Santos Júnior, Gerard Piqué, Francesco Totti, Andrea Pirlo, and Luis Suárez really takes this pinball experience to another level."

"We are excited to bring digital pinball to our Roma fans around the world. The pinball game makes you feel like you are in an arcade, and fans will enjoy seeing many of their favorite Roma stars in the game itself," said Shergul Arshad, Head of Digital, A.S. Roma.

"Zen Studios invites players with no football club allegiance to join the Zen Studios F.C. team. We certainly need your help if we are going to compete with the big boys," said Bobby Loertscher, Zen Studios Community Manager.