Daria was the 2D depiction of a generation. She, along with her friend Jane, was the epitome of the anti-establishment in high school and all it embodied. Kids who didn't fit into the image of "perfect" who sat on the sidelines of social norms looked up to her for her blunt shell.
And if you weren't a "Daria," you were more than likely another character depicted in the Lawndale realm. You might've been artsy like Jane, struggling in a band like Trent, or were part of the "American dream" couple like Kev and Brittany. No matter who you were, the characters resonated with you, and it's been 10 years since we heard from this class of misfits who fit perfectly into our "whatever" generation's lives. So it's time for a class reunion to see where they are…
Daria Morgendorffer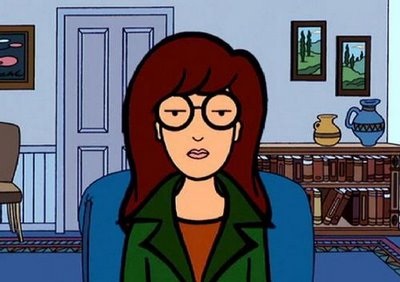 Of course she went on to a liberal arts college because that's what you did in the '90s to showcase your "out there" state of mind. College was the place Daria was able to find company as cynical as her. She smiled and meant it. What about her love life? No, she didn't go on to marry Trent. She ended up dating a couple guys in school but during her last semester, she fell for a guy in her thesis class. Adam and Daria decided to move in together after graduation. Today you'll find Daria single and heading her own literary magazine out of the Bay area in California. She's been encouraged to date, but always puts it off for work.
Jane Lane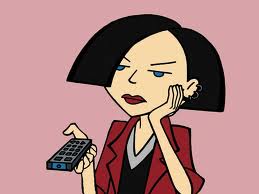 After a couple of art classes at the local community college, Jane packed up her things and headed to Philly. No real reason, she'd just seen it in a photo and decided that was it. While working as a bartender she hooked up with a local and the two had a daughter named Jacksin. Two years later and broke, Jane moved back to Lawndale. Today she lives in an apartment not too far from Daria and works as an elementary art teacher. And every week the pair still makes time for a pizza date.
Quinn Morgendorffer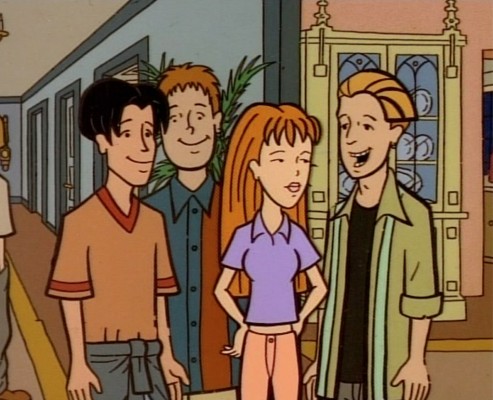 The little sister no one ever wanted… she was perky, cute and popular. Talk about annoying. After high school the fashion club parted ways, and Quinn off to a state school and enjoyed sorority life and all the normalcy of college life depicted in cinema… for a year. It just wasn't for her and she transferred to fashion school. Her uppity personality landed her a job as a personal stylist, and she married a good looking business man. Quinn's not quite sure what he does… but she loves him, and has twin boys and a little girl to complete the picture perfect life we all expected.
Trent Lane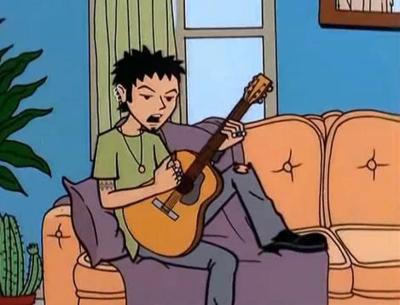 His bad boy demeanor and raspy, just-woke-up voice all pulled together with a guitar made Trent everything you wanted in a boyfriend. Sadly, he and Daria never married, but we can be happy that his band toured a bit… throughout the state. Once he knocked up a fan after a show, he put his life in perspective and settled down. He started working at a local Lawndale venue and has passed his musical skills to his two sons. Oz and Zep (yup) are 6 and 4 and are already the coolest kids in the block in mini AC/DC and Metallica tees.
Kevin and Brittany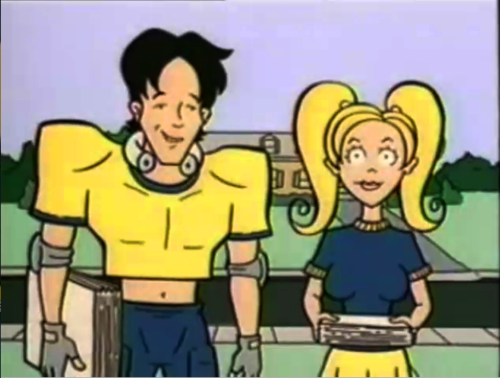 High school sweethearts like these two are too dumb to ever live without one another, so yes, they're still an item. Kevin took a job with Brittany's dad when his football "career" was a no go. The pair lives a normal life with two girls. One's into cheer and the other couldn't care less.