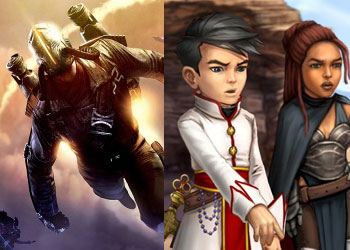 Each week I take a look at what I think are the most interesting new video games being released during the coming week. Feel free to let me know if I've missed something you think will be cool or if I've included something that doesn't register on your cool-o-meter.
Retail Releases
Dark Void – Sporting music by Battlestar Galactica's Bear McCreary, Dark Void is a sci-fi adventure from Capcom that features vertical jetpack combat and cover systems. It releases on the Xbox 360, Playstation 3, and PC this week.
Glory of Heracles – This is a new RPG featuring strategic turn-based combat, releasing this week on the Nintendo DS.
Silent Hill: Shattered Memories – Previously released on the Wii, this reimagining of the original Silent Hill comes to the PS2 and PSP this week.
Downloadable Releases
Death By Cube – Square Enix puts a unique spin on the dual stick shooter genre with this new Xbox Live Arcade release.
Muscle March – Truly one of the oddest games I've ever seen, Muscle March is a game about a bunch of muscley, scantily clad men and animals knocking holes in walls and running through them. It's worth looking at, just so you can reset your bar for ridiculousness. It releases this week on WiiWare.
Vandal Hearts: Flames of Judgment – The classic Vandal Hearts series comes into this generation of gaming with an all new strategy RPG, releasing this week on the Playstation Network and the Xbox Live Arcade.