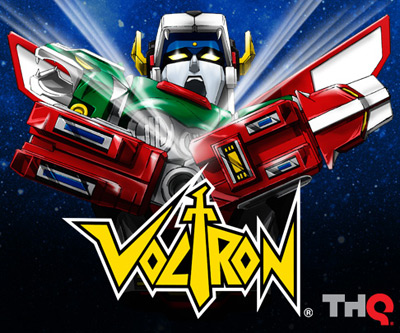 I've always considered myself lucky to be a child of the '80s. I was born in 1978, so I grew up right in the midst of everything that was awesome about children's entertainment. In elementary school, my brain was abuzz every day with the latest adventures of Inspector Gadget, Matt Trakker, He-Man, and Luke Skywalker. Somewhere in the midst of all that, I got my first exposure to Japanese anime in the form of Voltron: Defender of the Universe. At the time, I wasn't aware that it was a different animal entirely from the otherwise mostly American stable of cartoons that occupied my interest, but I knew there was something special about Voltron that set it aside from the others. Maybe it was that it had ongoing serial storylines, or maybe it was that I just thought those transforming lions were the coolest things ever. Whatever the reason, Voltron maxed out my awesome-o-meter, and I tried hard never to miss an episode.
It should be understandable, then, that the new Voltron: Defender of the Universe game from THQ and Behaviour Interactive hits my nostalgia buttons pretty ferociously. It has been decades since I actively watched Voltron, but the very beginning of the game's opening cinematic rocketed me back in time to those countless hours of sitting in front of the TV after school. The game begins with the familiar opening from the TV show, narrated by Peter "Optimus Prime" Cullen. From there, it flies full-on into unabashed fandom, delivering a game that is both fun to play and suitably servicing to fans of the giant robot and his battles.
The game's story follows storylines from the animated series, and each mission is preceded by actual clips from the show that deliver the setting and your goals. The action is divided into three multi-level chapters, each set in a different familiar locale from the Voltron mythos. Initially you will choose one of the five lions as your vehicle into combat, and it's through controlling the lion that you experience most of the game. The lion segment of the game is a dual stick shooter that lets you take advantage of your chosen lion's unique abilities and weaponry. Each lion has its own stats and actions, all faithful translations from the show. I've sunk the most time into playing as the red lion, which boasts a ridiculously powerful fire-breathing attack, in addition to being able to run around firing lasers and pouncing on bad guys from afar.
Eventually you'll join with the other four lions to form Voltron, and the game mechanics change significantly. Rather than have Voltron himself dropped into the dual stick shooter gameplay, you'll have him pitted against some of the evil Robeasts in strategic reflex battles. Voltron and the Robeast take turns attacking each other, and you'll have a limited time to quickly choose and execute Voltron's attacks, followed by a brief window during which you can block the Robeast's attack with timely button presses. All this of course leads up to Voltron unsheathing his Blazing Sword and laying waste to his evil opponents.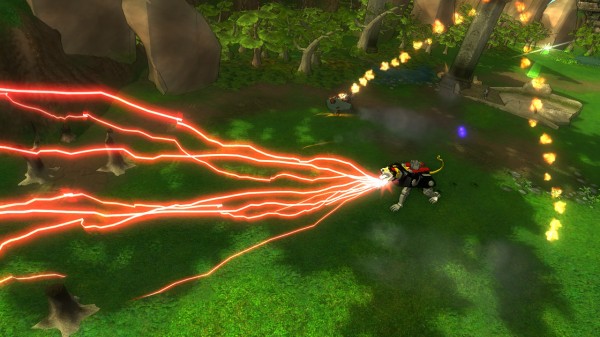 Voltron does a great job of baby stepping you into the action and introducing the game's concepts and mechanics without overwhelming you. The initial levels are not too painful, but the difficulty does ramp up, gradually becoming pretty fierce during the second of the three chapters. The difficulty carries some old school penalties, as you'll be running on a limited number of lives, something almost unheard of in today's gaming market. Whenever your lion takes too much damage, it will shut down, ejecting your pilot. You then must run the pilot around on foot and try to avoid getting killed altogether while the lion reboots. Once the lion has powered up again, you can jump back inside and resume your fighting. If you die while on foot (in "Survivor Mode"), however, you lose a life and then respawn into the lion. Lose all your lives, and you'll have to start the current level over from the beginning. It's a fair way to handle lives, and while there is a penalty for dying, it isn't so punishing as to make you rage quit the game.
You can take on the evil forces of King Zarkon on your own, or you can join up with friends in a couple of different ways. Locally, the game supports up to two players playing cooperatively on one system. If you go online, you can create a full team of lions with four other players. Whether you play solo or in multiplayer, the game delivers a lot of excitement, especially for longtime fans. Everything from the story to the sounds to the cutscenes cater to the fandom. Even the pause menu is awesome. When you hit "start," Peter Cullen tells you that Voltron will return in a moment. Upon going back into the game, he intones, "We now return to Voltron." Pure genius.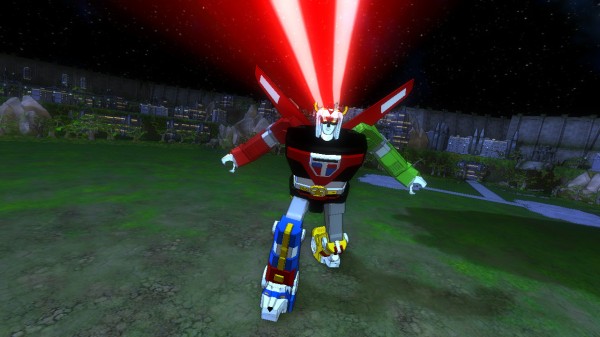 As my childhood was deeply steeped in a love for Voltron, I'm dead center of the target demographic for this game. If you grew up with Voltron and enjoy dual stick shooters, you really need to give this game a spin. My fandom admittedly biases me toward the property, so I'm not sure how well the whole thing goes over for newcomers to Voltron. I suspect that it could be an awesome jumping-on point, though, because the game itself is a lot of fun, independent of the property that inspired it. Voltron: Defender of the Universe is available right now in the Xbox Live Arcade and on the PlayStation Network.