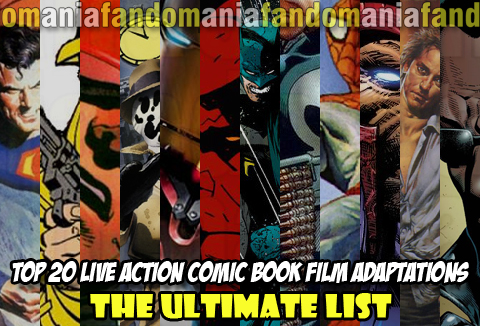 Comic book movies are bigger now than ever. And here at Fandomania we wanted to give you nice little guide on the best of the best, based on successful translation from page to screen by use of visual style, story, cast and general quality. A top 5, top 10, even top 15 wasn't enough to showcase this incredible genre.
So here it is, The Top 20. The Ultimate List.
#20 – Blade II (2002)
New Line Cinema
Dir. Guillermo del Toro

This slot was almost given to Blade. The first Blade was a good adaptation and was the first time a Marvel character ever truly succeeded in a movie and was accepted by the masses. I was a skeptic about Mr. Snipes in the role, yet he gave the character the edge yet likability he needed. But the bottom line is that Guillermo del Toro's second installment in the series was a better movie than the original, and so it nabs the #20 spot. Ron Perlman tacks on to the cast as Reinhardt and Norman Reedus steals most of the scenes as the ever-so-lovable Scud. This movie was a huge step up in makeup, special effects and action. And how awesome were those freakin' Reapers! I couldn't go outside at night for a week… and I kept thinking my friends' faces were going to split open at the chin. Blade II proved the comic film adaption was not only here, but had staying power.

#19 – The Punisher (2004)
Lions Gate Films
Dir. Jonathan Hensleigh

Thomas Jane IS Frank Castle. And I think his portrayal saved the script of this particular film. We see a whole lot of "avenge my family" action flicks, and the story behind the Punisher character is far from original, but what Jane brought to the picture made it enjoyable and captivating to watch a movie we've probably already seen. I think that John Pinette and Ben Foster added character faces that were lacking in the comics which makes the story generic in the first place. So despite the lame death of a lame bad guy, it was an awesome time watching Thomas Jane get mean in The Punisher. This was a good comic book action flick.

#18 – V for Vendetta (2005)
Silver Pictures
Dir. James McTeique

Just because Alan Moore hates every adaptation of his work doesn't mean the rest of us have to. An incredible visual style inspired by the art of David Lloyd (no relation) enhances the story's dark political overtones thrown in a blender with incredible action and a cast that puts most to shame, nabbing V for Vendetta a spot on this list. Natalie Portman, Hugo Weaving, and the Stephens (Rae and Fry) all deliver stellar performances in this Wachowski-written success. We're sure to remember the 5th for a long time to come.

#17 – Hellboy II: The Golden Army (2008)
Dark Horse Entertainment
Dir. Guillermo del Toro

Guillermo del Toro is making his presence known on this list with the second installment of the Hellboy series, Hellboy II: The Golden Army. Ron Perlman's reprise of Big Red was everything you would expect and, although I think the Abe character lost flair without the voice of David Hyde Pierce, Doug Jones takes the shape of not only everyone's favorite aquatic member of the BPRD, but one of the most artistically interesting characters we've seen in a film in years, The Chamberlain. The addition of Johann Krauss was another incredible adaption of a Mignola original and the visual effects and creature work were downright stunning earning it an Oscar nomination for Achievement in Makeup. If Guillermo keeps up the pace with future Hellboy titles, I will surely keep watching with joy. Hellboy II was everything a sequel to 2004's Hellboy needed to be.

#16 – 300 (2006)
Warner Bros. Pictures
Dir. Zack Snyder

"Holy #&%$! Did you See that?!!" was probably muttered more times in the theaters watching 300 than any other film in history. 300 was definitely eye candy. The story may have been a little trite, yet it was still inspiring. Kind of like that 'cool' jock you knew in high school — you hated football, but he was a nice guy, so you put down the comic book and clapped when they announced his name at the pep rally. Snyder did a GREAT job of making 300 look much like Frank Miller's book and, as shallow as the movie may have seemed to some, every guy walked out thinking "I need to do some crunches and grow a beard. Only then, will I truly be a man."

This is… FANDOMANIAAAAAAAAA!!

#15 – Dick Tracy (1990)
Touchstone Pictures
Dir. Warren Beatty

A walking, living, breathing comic. This triple-Oscar-Winning tale was filmed using only the 6 colors seen in the original comics. Now THAT is what's called staying true to the comic! Warren Beatty directed and starred in this amazing accomplishment and was supported by an award winning cast including Dustin Hoffman, Al Pacino, Madonna, Dick Van Dyke, and Kathy Bates. The script was just as tommy-gun mobster as the comics and had everything you would expect including sex, guns, and double crosses. I look at this film as the great grandpa of Sin City. Dick Tracy was an artistic masterpiece and definitely began a new trend for page-to-screen adaptations.

#14 – Hellboy (2004)
Revolution Studios
Dir. Guillermo del Toro

I was a skeptic when I heard they were making a movie based on the world's greatest paranormal investigator, Mike Mignola's Hellboy. But once I saw Ron Perlman as Big Red I was hooked. And Guillermo del Toro did not disappoint me. His visual style inspired by Mignola's signature look gave birth to a film that did the Hellboy mythology incredible justice. Guillermo's decision to keep Mignola close to the project was a recipe for success. With one of my favorite openings of all movies, the first Hellboy movie delivers and delivers for 122 minutes. Incredible performances throughout and a set of some of the coolest villains we've seen made Hellboy one tasty cigar.

#13 – Constantine (2005)
Warner Bros. Pictures
Dir. Francis Lawrence

I don't hate Keanu, but I don't love him either. And when I heard he was going to be filling the shoes of occult detective John Constantine I feared he was going to play him just like every other character he's ever played. And, well, he did. But somehow, through the power of the comic book gods, I didn't mind at all. I thought Constantine was great. It left a huge visual imprint on me and I felt inspired when it was over. I think the plot was incredible and it was cast perfectly. I particularly enjoyed Shia LeBeouf, Tilda Swinton, and was even surprised by the performance given by Bush frontman Gavin Rossdale. I'll say again I thought Reeves was good, although I can't help but imagine what it would've been like had John Constantine been played by the person the character was originally modeled after: Sting of The Police.

#12 – Spider-Man 2 (2004)
Columbia Pictures Corp.
Dir. Sam Raimi

Parker in college ready to quit the Spidey gig, the birth of Doc Ock, Mary Jane gone and engaged, and the great responsibility rearing its ugly head, Spidey 2 was as close to a Spidey comic book come to life that I think we will ever see. Though I think the Spidey franchise is the most poorly-casted comic adaptation (with the exception of Franco), this was by far the best Spidey of the bunch and the only one worthy of everyone's favorite web slinger. Winning an Oscar for visual effects, Spider-Man 2 was the first Marvel-character-based film to take home a gold shiny bald man. It was by far easier to watch than the others and felt much more filler-free. It was just flat out good. The Doc Ock dropping Aunt Mae scene was quintessential Spider-Man. I feel it was scenes like that that were missing from the first. If Spider-Man 2 were the only Spider-Man movie made, I would be happy.

#11 – X-Men 2: X-Men United (2003)
20th Century Fox Film Corp./Marvel Enterprises
Dir. Bryan Singer

Alan Cumming. Need I say more? The opening scene of X2 goes down as one of my favorite cinematic openers of all time. Nightcrawler was always a fan favorite and Cumming's depiction of him was truly flawless. The script for this one was all over the place (kind of like most X-Men books), and I still wanted Halle Berry to die throughout, but when it was all said and done I couldn't help grinning ear to ear and saying "That was awesome." They stepped up the violence a notch from the first flick, blurred the lines between good and bad (which is what the X-Men is all about) and tied in even more of the millions of the X-Men world's storylines and I loved every second of it.

#10 – X-Men (2000)
20th Century Fox Film Corp./Marvel Enterprises
Dir. Bryan Singer

It was tough placing X-Men ahead of X2 on this list. I think all in all United had a more X-Men comic-esque script and the villains were way better, but nothing will replace that feeling of sitting in the theater during X-Men and FINALLY seeing these characters come to life after waiting what felt like an eternity. X-Men was my favorite book in my youth and the original animated series made the franchise a household entity worldwide. The adaptation could have very easily been a disaster but Bryan Singer did a good job under a lot of pressure. They struck GOLD with Hugh Jackman as the beloved Logan. To think he wasn't the first choice and only got the role because someone else said no is crazy. Patrick Stewart and Ian McKellen were born for their roles. Why Halle Berry, we'll never know, but despite that, the Magneto intro was all we needed to sit back in our seat and think "Yes. They did it."

#9 – Superman (1978)
Alexander Salkind
Dir. Richard Donner

What is there left to be said about Richard Donner's Superman? We saw a man fly. I was a kid when I saw it for the first time and didn't know about a guy named Christopher Reeves, didn't know about Marlon Brando or who Gene Hackman was. But one thing I did know was Krypton had sent its only son, Superman. And that there was nothing that was going to stop him. I saw this movie for the first time as a real youngster prior to ever reading, well, anything. And I've been a comic nerd since. Nominated for three Oscars, Superman is legendary for more reasons we can list and still holds up today as one of the most entertaining, iconic and inspiring comic films, ever.

#8 – Teenage Mutant Ninja Turtles (1990)
888 Productions/New Line Cinema
Dir. Steve Barron

Eastman and Laird's Teenage Mutant Ninja Turtles comic book was originally released as a parody of early 80s comics. Soon after it was turned into one of the most profitable merchandising opportunities of all time and, before you knew it, the heroes in a half shell were more recognizable than Jesus. OK, I don't know that for a fact, but the 1990 adaptation of TMNT was an incredible accomplishment for independent film and years ahead of its time. Teenage Mutant Ninja Turtles is not the cheesetastic family cartoon of a movie it could've been, but instead kept very close to the dark feel of the original comics with only a few elements from the widely known cartoon. The turtle costumes themselves were created by Jim Henson and at the time were the most complicated creature costumes ever designed for and actor/live performance. The cast and voice cast all gave incredible performances and had the movie been made today, I couldn't imagine it being much better.

#7 – Batman (1989)
Warner Bros. Pictures
Dir. Tim Burton

"Where does he get those wonderful toys?" "…where is the Batman?! He's at home, washing his tights!" " Have you ever danced with the devil by the pale moon light?" "Can somebody tell me what kind of world we live in, where a man dressed up as a bat gets all of my press? This town needs an enema!"… I could go on forever. Nicholson's Joker was the epitome of comic book villainy on the big screen. Keaton made a great Batman and an incredible Bruce Wayne. Tim Burton's visual style gave the caped crusader and Gotham City a texture like none other we've seen yet. Inspired mostly by Frank Miller's The Dark Knight Returns, Batman was the coolest movie of my young life, and probably yours. It was also the first comic book movie to ever win an Oscar, which it won for Best Art Direction.

#6 – Sin City (2005)
Dimension Films
Dir. Frank Miller -Robert Rodriguez

Frank Miller's fictional world of Basin City has a heartbeat. Miller's vision lives and breathes and Sin City took the life from his graphic novel and cut and pasted it onto the screen. When it comes to transferring the detailed essence of a comic to a film, others have done well, but Sin City is hands down the best. Every moment is a visual orgasm and the character development is as good as it gets. Rob Rodriguez and his all-star cast pushed the limit and made Sin City one of the most original films of the decade and possibly our cinematic era. A comic book movie co-directed by the comic book's creator. Who would've thought that was a good idea?! Still the film I saw in the theaters more than any other film.

#5 – The Crow (1994)
Crowvision Inc./Miramax Films
Dir. Alex Proyas

A lot was changed to adapt The Crow for film, but none took away from the tale's raw passion. The character Eric Draven created by James O'Barr is one of the greatest protagonists ever. He is one of the most relatable and endearing characters we have ever seen. And Brandon Lee's ominous portrayal is real, heartfelt, painful, emotionally wrenching, and most importantly, truly believable. Lee's accidental death on set just days before his own wedding add an eerie realism to the film. Incredible performances, a visually stunning look, and an award winning soundtrack, The Crow will go down as one of the greatest 'cult followed' movies as all time. And one of the greatest comic book adaptations as well.

#4 – The Dark Knight (2008)
Warner Bros. Pictures
Dir. Christopher Nolan

One of the most anticipated movies ever, made only more so after the untimely death of young star Heath Ledger, The Dark Knight delivered and delivered again. Ledger's award winning performance as the Joker will go down in history as one of the most unsettling and disturbing portrayals of any comic villain, ever. And although Ledger may be the most talked about, the entire cast was nothing short of brilliant. Bale's reprise of the role was everything we expected and more, and Aaron Eckhart and Maggie Gyllenhaal were in top form. Nolan's second Batman film gave us a ground-breaking IMAX experience and some of the most memorable moments in recent film history. It was sick, twisted, emotionally revealing and politically thought-provoking and was everything we need in a Batman movie. We hope they keep it up.

#3 – Iron Man (2008)
Marvel Studios
Dir. Jon Favreau

At a time when studio-run comic book films began to spew out any and every franchise it could to sell action figures (Elektra?! Really?), we were saved by the very first film self-financed by Marvel and the birth of Marvel Studios. From the ashes of 16 years' worth of dead attempts to bring Iron Man to the big screen rises writer/actor/director Jon Favreau and a script molded by some of the greatest screenplay and comic writers of our time. Iron Man made sense. And that's what set it apart from so many of the other extremely cheesy Marvel films being vomited out at us. John Favreau directed the brilliantly-cast Robert Downey Jr. as Tony Stark in a hyper-realistic and detail-oriented adventure of how Iron Man came to be. Hard political overtones balanced well with personal drama and jaw-dropping action. The incredible effects work on Iron Man earned it an Oscar nomination. The technique to shoot Downey's face inside the suit instead of just the Iron Man face exterior added a whole new level to the performance. The movie was flat out perfect and it finally began to build the Marvel UNIVERSE on film that we are so familiar reading in the books.

#2 – Watchmen (2009)
Warner Bros. Pictures
Dir. Zack Snyder

Yet another Moore property disowned by him, the mere idea of a Watchmen movie is pretty frightening. The single most celebrated graphic novel of all time and the only comic ever to appear in Time Magazine's "All Time 100 Greatest Novels" list, Watchmen is not an easy read and would surely not be an easy thing to translate from page to film. Yet that is exactly what 300 director Zak Snyder did. A brilliant and essentially 'no named' cast took on the roles of each of the iconic Watchmen characters and the book itself acted as the film's storyboard. There has never been an adaptation that was as close to the source material as Watchmen. Though there will always be people arguing about what was left out or changed from the original text, the nearly 3 hour film not only did its comic counterpart justice but got a whole new group of people reading. Nearly a million copies of the Watchmen graphic novel had to be printed to meet the demand once the movie was released.

#1 – Batman Begins (2005)
Warner Bros. Pictures
Dir. Christopher Nolan

The top 5 of this was not easy to order. But when it comes down to it, the depth of Christopher Nolan's Batman Begins blows the rest away. There's no other superhero-themed comic book tale that is so believable and well-rounded. The new level of intensity brought to the main character by the incredibly-cast Christian Bale was award worthy and every minor detail was covered in the story. Finally someone brought LOGIC into a movie about a superhero. Sitting in the theater it all made perfect sense why a grown man was dressed up like a bat and fighting for what's right. It made you believe it and it didn't rush into mindless action or insult the viewer. The cinematography earned the film an Oscar nomination. Nolan set the new standard for comic book movies with Batman Begins, and I think it's the primary reason Marvel has begun its new independent studio project: to restore respect in the genre and show that it's not just about a guy in a costume and action and not just about selling toys. It's about quality filmmaking, pleasing ALL audiences, and respecting who these characters really are. This is the Dark Knight and this is his story.
Honorable Mention: Batman Returns, Blade, American Splendor, Old Boy, The Incredible Hulk, Road to Perdition, Superman II, Ghost World