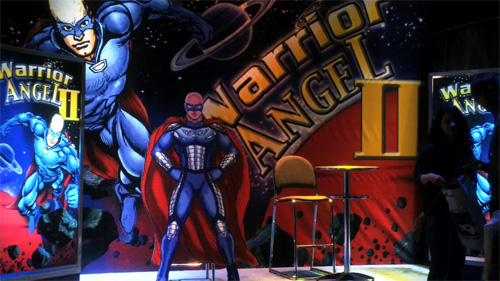 Episode: Smallville 9.13 – "Warrior"
Original Air Date: February 12, 2010
Screencaps by Home of the Nutty.
After the previous week's two-hour extravaganza "Absolute Justice," I was expecting to be disappointed this week. But I wasn't that disappointed. In fact, this week's installment was a good old-fashioned decent story.
Of course, you have to be okay with the "freak of the week" format. True Smallvillaniacs will remember that, for the first few seasons, Smallville used the following 3-step formula:
Somebody gets exposed to kryptonite…
Which endows amazing super powers, but the kryptonite also turns him or her evil, so…
Clark saves the day.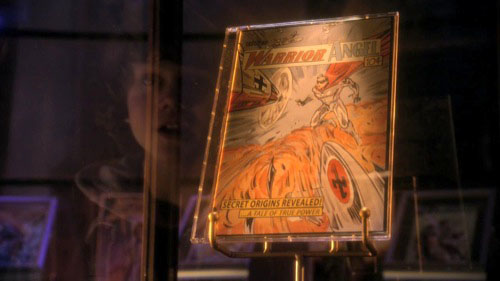 The action starts at a comic book convention, where a kid swipes a rare comic book. It's so rare, it's never been read. It's never even been opened. The kid sneaks into the attic to read the comic book. Just as we get flashbacks of The Neverending Story, the kid reads out loud the secret words that give the comic book hero his powers. This in turn makes the kid a hero, and we have our freak of the week.
Technically it's not a freak of the week story because the kid's powers come from the magic comic book, not from kryptonite exposure. Nevertheless, we can pat ourselves on the back for being alert enough to spot the general formula.
Also, if you know anything about Captain Marvel (the kid who gets his powers by saying SHAZAM!), then you probably noticed the similarity to our freak of the week:
Captain Marvel's alter ego is a kid
He uses a magic word to transform into his hero self, and
His hero self has a super uniform with a cape and powers similar to Superman's (for more on CM, check out this article I did on who would win in a fight).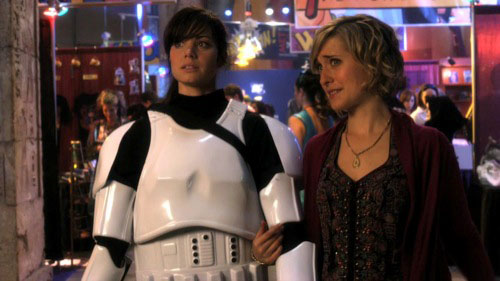 While the kid does his thing, Chloe and Lois have been enjoying the convention. Lois is dressed as a Stormtrooper (with appropriate one liners: "I can't see a thing with this blast shield down!"). Lois is annoyed that no guys are paying attention to her, so she calls Clark to bring her a less clunky costume.  Chloe wanders away, just in time to stand under a falling fake planet that would probably kill her if it landed on her. But don't worry, the thieving kid — now transformed into WARRIOR ANGEL — saves Chloe.
The kid disappears to change into street clothes. Chloe finds him just in time to see him with his shirt off (this is Smallville we're talking about, after all).  She is totally into helping him fulfill his super hero potential (this is Chloe we are talking about, after all). And just in case you are wondering whether "fulfill his super hero potential" is a euphemism for "jump his bones," then let me assure you it is. But she doesn't come out and say it, so it's not creepy… much.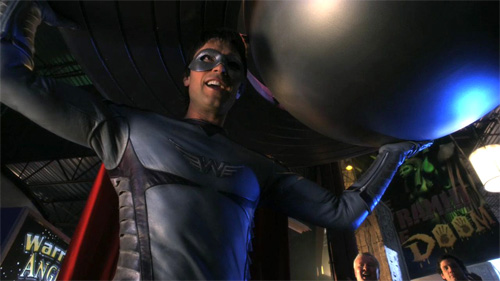 Clark arrives at the convention with Lois's new costume. They have a little conversation about fantasy and responsibility.  Clark doesn't like all this fantasy and escape from reality, but Lois is totally into it. This is an ongoing theme for today's installment: fantasy versus reality and escapism versus responsibility.
But more on that later. Zatanna the magician randomly shows up in a totally hot magician outfit that makes Lois jealous. She needs to "borrow" Clark. It turns out that Zatanna's father, before his demise, created a bunch of cursed magic items. Guess what one of those items is — just guess.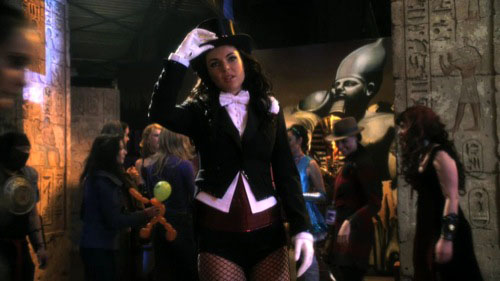 Okay, I'll tell you. It's a comic book that gives the reader super powers.
But their conversation is cut short when Clark picks up Lois's screaming voice with his super hearing. He rushes to her aid, but it turns out she is just telling the people to back off while she uses the men's room to change into her newer, sexier, costume, which is a (totally hot) Wonder Woman costume. So now Lois is jealous of Clark for talking to this hot magician chick, and Clark is jealous of Lois because of all the geeks that are gawking at Lois. Jealousy? Yep, that's another theme.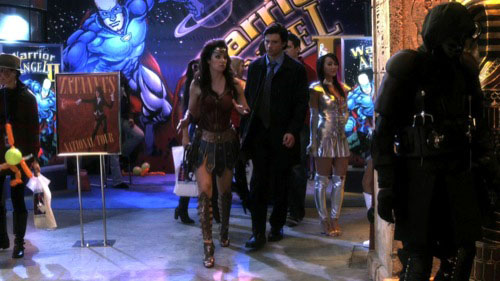 Clark should be worried, by the way, about all those geeks oogling Lois. We geeks are technically proficient. And I'm not just talking about computers.
Anyway, Chloe has taken our Captain Marvel wannabe out for coffee. We'll basically have a bunch of scenes that make jokes based on the irony of a girl being attracted to a hot guy who's got boyish enthusiasm because he actually is a boy. For example, when they go out for coffee:
Chloe: You made sure my decaf caramel java-chip white chocolate mocha has three shots in it?
Tom Hanks from Big: A glass of milk would be great.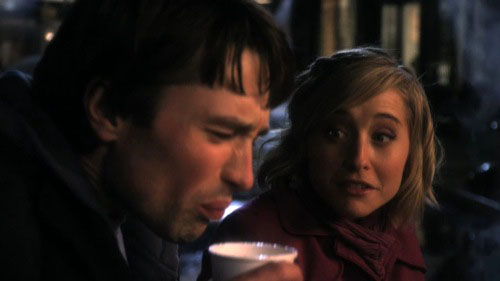 While Chloe is doing her thing, Zatanna makes a move on Clark, using her magic powers. He rejects her, but not before she gets a super kiss. Back at the Daily Planet, Lois can tell what happened, even though Clark doesn't admit to anything. Lois insists she's not jealous in a way that shows she's totally jealous. But Clark has bigger problems he has to deal with.
He goes to the Watchtower to meet up with Zatanna, who has found the spell that will reverse the curse.  They have to hurry because, when Clark skips to the end of the comic book, he realizes that the Warrior Angel is going to turn evil. It's not a super hero origin story. It's a villain origin story. Even worse, Chloe has gone off on her own to try to talk the kid into giving up his powers.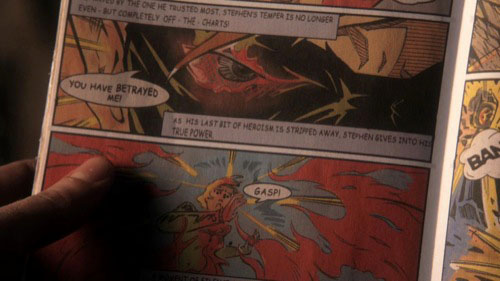 She's too late, however, and he starts turning evil. When Chloe points out that he has always wanted to be a good guy, the kid responds that "Lethal enforcers are much more interesting. They were big in the '90s." (I'm starting to like this guy.) So, it's either reverse the magic spell, or Chloe will be his first victim.
Clark uses his super hearing to triangulate the rooftop that all this is happening on, and rushes to the rescue. But this is Chloe, not Lois, so Clark doesn't get to rescue her. Instead, the anti-curse spell works, with Clark arriving just in time to witness Chloe comforting the kid — who has now become a kid again.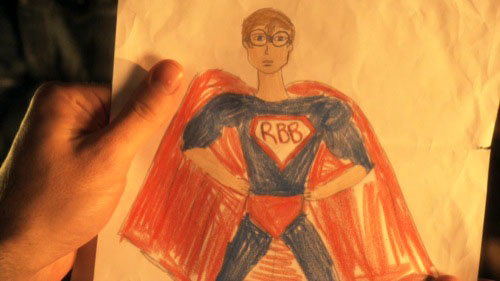 Now comes the part of the episode where we close the loose ends:
Clark admits to Lois that he kissed Zatanna, so Lois responds by kissing a random guy who's walking by to show Clark how it feels. They're good now.
Clark talks to the kid, who it turns out is a huge fan of the Red Blue Blur. The kid even draws a picture of the Blur that looks suspiciously similar to the Superman tights, except that it has an RBB insignia instead of an S. Clark also gives a speech about how being a hero carries responsibility. It sounds suspiciously like Spider-Man territory: with great power comes great responsibility. But nine seasons about a superhero's origin is a long time to go without touching on that theme. And it's a great theme. So we'll let it slide.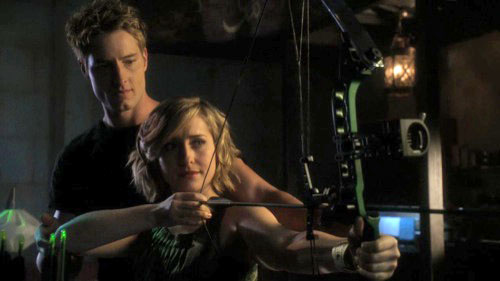 Chloe returns to Watchtower to find Oliver doing some target practice. There's a strong hint that they are going have a "two lonely ships, passing in the night" type of hookup.
Rating: 3 / 5 Stars