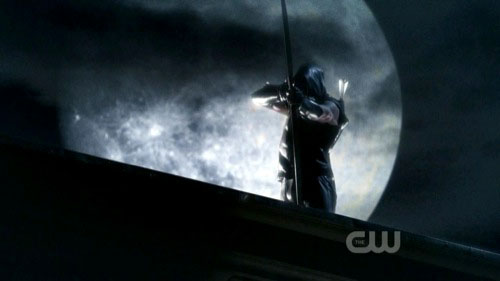 Episode: Smallville 9.10 – "Disciple"
Original Air Date: January 29, 2010
Screencaps by Home of the Nutty.
The good news is that, after an extra-long hiatus, Smallville is back. The bad news is that the first new episode is another Green Arrow/Oliver backstory. The silver-lining-news is that, of all the Oliver backstory episodes (and there've been plenty lately), this is the least horrible one.
We start off with Lois and Clark finishing up their third date. Lois has been counting instances of public displays of affection (this is Clark's fourth PDA in three dates). This reminds us — as if we would forget — that Lois is totally in love, since if this were any other man she would have already chewed him up and spit him out.
Suddenly Clark's super hearing kicks in, so he rushes away to save people.
"Wait," says Lois, "are you sure you want to leave me alone in a dark alley?" But Clark has read the contract that requires Lois to be the distressed damsel of every episode, so he ignores her and leaves. Green Arrow appears on a rooftop and shoots her dead. Yep. He shoots her dead.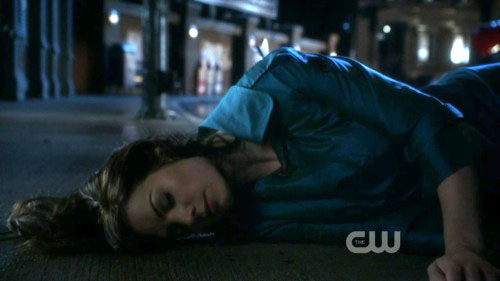 This is where I realized this would be an Oliver background story. I reached to the sky:
"Why?" I demanded, "why have the producers done this to me?" But I got my answer when my wife walked into the room, just in time to witness the obligatory scene of a shirtless Oliver straining and exerting himself as he hones his ass-kicking skills. My wife swooned, but expertly covered it up as a purposeful plop onto the couch.
"Oh, good. Is it an Oliver episode?" Her question didn't sound as casual as she intended. That's when I realized why the producers have done this to me: because they don't just look at the Nielson ratings. They also read the demographic breakdown of those ratings.
Anyway, in that scene Oliver is training and getting all sweaty when his sidekick, disguised as a ninja, attacks him. Oliver nearly kills her. This is supposed to be a dramatic scene that shows how Oliver is always living on the edge, and his dark side could come through at any moment and cause him to go on a killing spree, but the exposition got in the way.*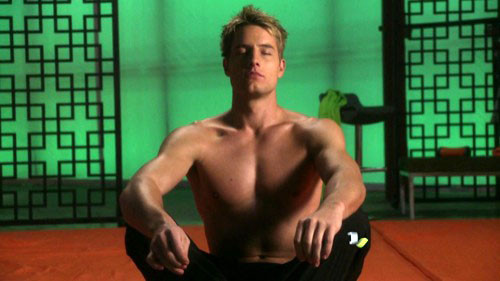 The producers did throw a bone for fans of the Kandorian back-story. Remember how in the last episode, Clark decided to reveal himself to Major Zod and try to talk him out of becoming a genocidal maniac instead of fighting him directly? Remember how that scene was the climax of the entire season to date and served as a mini cliffhanger for the holiday break? We were expecting something to come of that. Instead we got this Oliver episode.
But all is not lost. In the next scene, Clark and Zod have a conversation in which Zod demands that Clark help him and the rest of the Kandorians develop their super powers. Just as we deduce that Zod is still homicidal, Clark gets a phone call telling him that Lois is in the hospital.
It turns out Green Arrow (or someone dressed as Green Arrow) was an expert marksman and placed the shot in Lois's shoulder so it wouldn't do any permanent damage. We know this because Chloe has been doing her behind-the-scenes investigation thing and reveals this to Oliver. Oliver responds with cryptic statements like "only a few people in the world could make that shot." When he sees the offending arrow, his eyebrows knot up and he gets all pensive and stuff.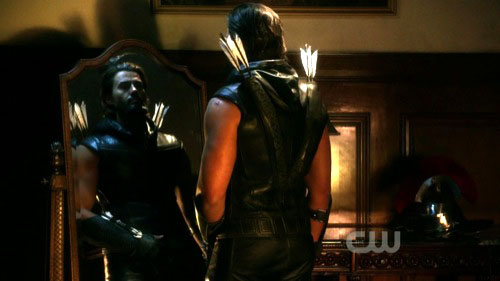 "Mortigan," he says, under his breath.
At this point, we all want to know who Mortigan is. The best way to find out is to cut to a scene of some random shirtless guy with a hot body and a goatee putting on his green arrow uniform.
But that scene only lasts for a second. Back at the hotel, Zod drops in on Lois, claiming to be an old friend of Clark's. He drops all kinds of innuendos about their fake happy Midwestern past, and leaves Lois with a Kryptonian symbol disguised as a bracelet.
Over at the watchtower, Chloe has been doing her secret research thing when Mortigan shows up and shoots her. He then confronts Oliver's sidekick (the one that apparently can't fight) and effortlessly kidnaps her. He sets her loose in a giant maze shaped in the pattern of an ancient Celtic symbol.
I'm starting to see why they introduced this new sidekick character. If this is an Oliver story instead of a Clark story, then Oliver needs his own damsel to rescue. That way, when it's a Clark story, Lois is in danger. When it's an Oliver story, he gets his own damsel. Why does it have to be damsels you ask? I'm still figuring that part out.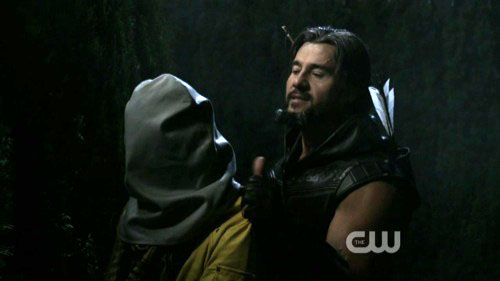 But forget that for now. We have an Oliver backstory episode to get through.
While all this is going on, Clark arrives at the watchtower to discover that Chloe was not fatally injured. She explains that she found information about a secret society of Celtic archers descended from ancient times. She and Clark realize Oliver must have joined this secret society after he left the island (another Oliver background episode. I think it was from last season, or maybe two seasons ago. Oliver was trapped on a deserted island and had to develop archery skills to hunt for food. That's how he got so good at the bow and arrow thing. He was trapped there with Tess, for those who are wondering why he's got history with her). Oliver left the society, but the secret cult doesn't allow that.**
Chloe figured out where Mortigan's secret lair/maze is located, so Clark rushes away to save Oliver, who by now has tracked down Mortigan. Mortigan first advises Oliver to get a sidekick that isn't such a wimp. He then explains that, since getting old is such a drag (he's still hot, but only in a way that appeals to chicks who are into bad boy guys with long hair and goatees and tattoos and stuff), it's time for Oliver to kill him. It's part of the secret cult's code of honor (deep down, Mortigan is just a big lovable Klingon).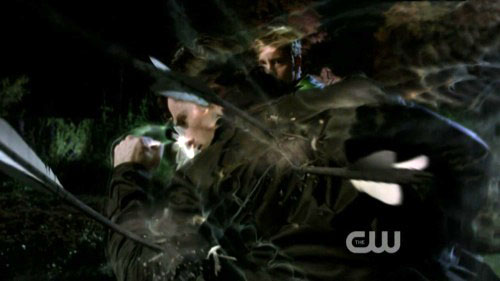 Mortigan fires a barrage of arrows. Clark super-speeds to the scene just in time to block the arrows. Oliver returns fire, and hits Mortigan on his first try. He explains that he used the old "hit them in the shoulder in a place that makes the audience think he's dead but really doesn't cause any damage except to knock him out" trick.
The episode is almost over, but we have a loose end to tie up. Clark noticed the Kryptonian symbol on Lois's bracelet, so he and Zod have another conversation. Zod claims he just wants to "save our race," but we all know he just wants to take over the world and kill people. Clark warns Zod that Lois is off limits.
Rating: 3 / 5 Stars
** Also, with my wife eyeballing Oliver's heaving upper body, all it did was remind me that I have to get to the gym more often.
** You might be wondering whey they targeted Lois, Chloe, and Oliver's new sidekick. Mostly, it's because the actors' contracts require a certain amount of screen time. But also the cult's rules require disciples to swear off lovers, allies, and disciples. It's a lot like Fight Club, except that you are allowed to talk about it.