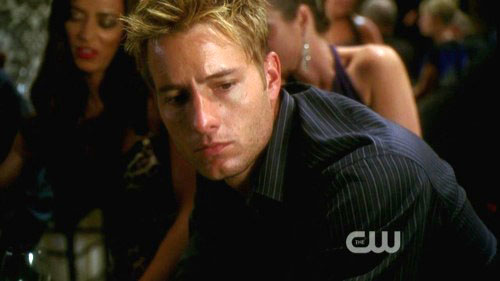 Episode: Smallville 9.05 – "Roulette"
Original Air Date: October 23, 2009
Screencaps by Home of the Nutty.
We've got another Oliver/Green Arrow episode on our hands. The opening montage shows that Oliver's still in self-destructive mode, going so far as to wager his car on a game of roulette. He doesn't even care when he loses it.
A mysterious woman wearing red shows up and challenges Oliver to an even more dangerous game, which is for him to swallow a pill. This, despite the fact that the mysterious woman will not be tripping with him, and the fact that Oliver's alter ego is Green Arrow, not Neo. Oliver wants to die anyway, so he's like "why not?"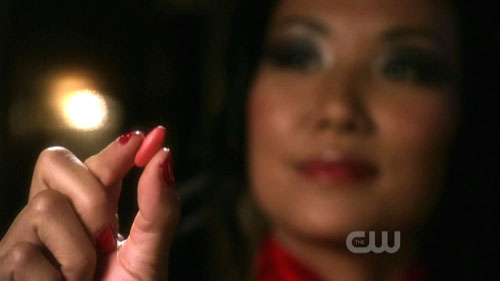 Oliver passes out (we didn't see that one coming) and wakes up in a coffin (we kind of saw that one coming). But before we can get any further on the Oliver story, the producers suddenly remembered that the name of the show is Smallville, and that they haven't used the Kent farm in forever, so we cut to Clark's living room. Lois has brought a ton of laundry, and has been waiting for him so they could watch thriller movies involving sharks all night.
Poor Clark is unaccustomed to the loquacious Lois charm, so even though he has a night full of heroics on his plate, he finds himself settling instead for an evening of Lois-narrated shark attacks and trips on his way to the kitchen to refill the popcorn.
Back at the Oliver plot, Oliver picks the coffin's lock and breaks free. He finds himself in an empty warehouse. Oliver suspects someone is playing a weird game when a disembodied voice starts telling him that the game is on, and he has to play by the rules. "Who did you destroy?" It demands.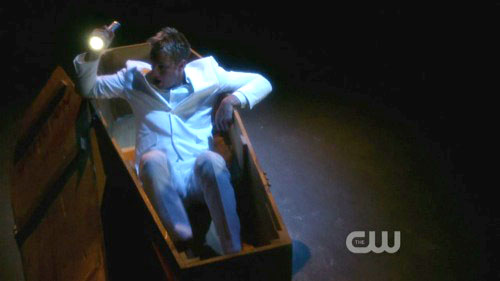 "I've ruined a lot of lives," responds Oliver. Apparently that's not the right answer, because the disembodied voice sends a vicious dog after him. Oliver escapes the dog, and the warehouse, but nearly gets killed by a truck in the process.
Meanwhile, Clark is digging a little deeper into why Lois randomly showed up with her laundry (when she's been known to send her socks for dry cleaning) and a bunch of shark movies. It turns out Lois thinks the plot device the producers came up with to get Clark and Lois to try to track down Oliver is really stupid. Clark is like "that's all right, this is generally a lame episode anyway. What is it?"
Lois reveals that it's Oliver's birthday, and they have a tradition of playing beer pong on his birthday, and he is totally blowing her off. So, obviously, he must be in danger. "Wow," responds Clark, "that is stupid. But it's better than the decision to kill off Smallville's Sheriff back in the second season just because the actor that plays him wasn't a hot young former model. So don't feel so bad."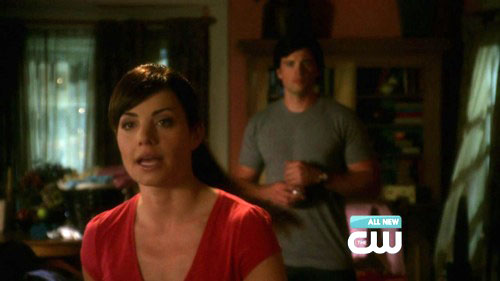 Back in Oliver's plot, he wakes up in the middle of the street, having survived the oncoming truck. He goes back to the illegal gambling establishment that created this whole mess in the first place. Presumably he's looking for answers.
He finds the woman in the red dress that gave him the pill. It turns out her name is not Morpheus, it's Victoria, and she claims she is as much a pawn in this as Oliver. If Oliver wouldn't have taken the pill, they would have killed killed her. To prove the point, some random henchmen attack them. The pair defeat their attackers and run into the street, where Victoria is gunned down buy an unseen assassin.
The police arrive just in time to think Oliver was the assassin.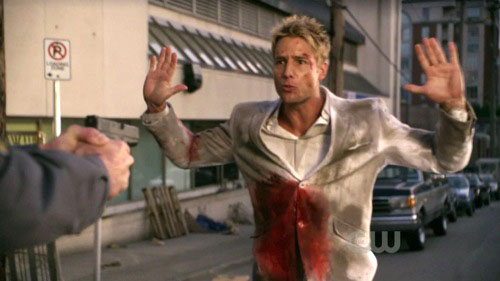 Meanwhile, Clark and Lois show up at Oliver's office to check out his cool stuff. Lois looks at the security feed from last episode, and sees the part where Oliver tried to kill himself, and then the part where Clark witnessed it. She's pretty angry that Clark didn't tell her about Oliver's suicidal tendencies. She storms off, but Clark isn't too upset, because he spots a clue: the invitation to the illegal gambling den. It's a place called Roulette.
Back to Oliver: he's at the police station. Of course, we know it's not a real police station because we have been paying attention. But Oliver apparently hasn't been paying attention, and he sweats it out with the uniformed cop for a while. Then, an FBI agent shows up, who sends the cop away and states that he knows Oliver is being subjected to some bizarre game. It is an organization, apparently, that extorts money out of rich people.
He explains that, while Oliver has been playing this "game," the mysterious organization was probably draining his bank account. If you are a scream at the TV type, then this is probably the part where you screamed at Oliver. You probably also screamed at the writers while you were at it.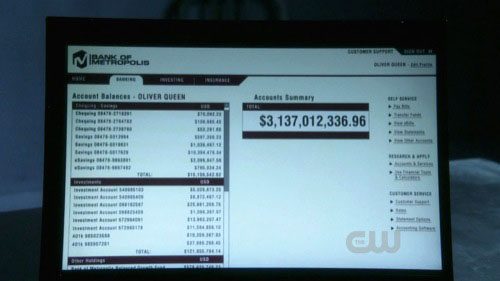 But Oliver doesn't take advice from the audience. So, when the FBI hands him a laptop and suggests he check his bank accounts, Oliver does exactly that. Of course, as soon as he logs into his bank account, it starts draining. The FBI agent leaves, wondering if this show is supposed to be a comedy.
Realizing he's been duped, Oliver jumps to the door and starts screaming. Clark arrives, explaining that he heard Oliver's screams with his super hearing. They head to Chloe's place (since she's a great computer hacker, and Smallville plot device #213 states that when you need the characters to randomly discover new information, you should have them do it by hacking into someone's computer system). Chloe promises to investigate this "Roulette" organization. Oliver storms off, claiming he's going to get his lawyers. Clark wants to go with him, but Chloe tells him to hang back. She's got some bigger problems that Clark needs to hear about.
Chloe shows Clark footage from last episode (the part just before Oliver tried to kill himself), and points out a person in the crowd. It's the dead Kryptonian assassin from the future that attacked Clark in the season opener.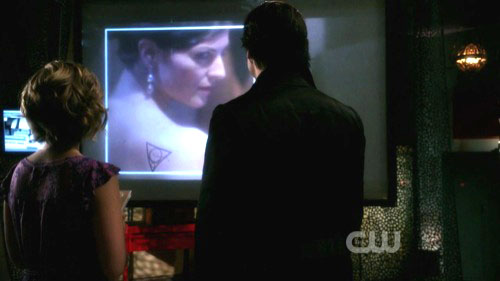 There's a brief discussion to explain why she would still be alive if she died three episodes ago (because she's from the future, DUH!), before Clark decides to go to the Fortress of Solitude to ask Jor-El if he knows who this mysterious woman is.
Meanwhile, Lois gets kidnapped by Victoria, presumably because her contract specifies that she is supposed to be captured and rescued at the end of every episode of Smallville from now until the end of the series.
We then cut to Oliver, who apparently was lying when he said he was going to use his lawyers (we didn't see that coming, either). Oliver enters the room — it's the same illegal gambling den from the opening scene — and thinks Lois is Victoria because she's dressed in that same red dress from the opening scene. Oliver contemplates shooting her in the back of the head and just getting it over with, but he hasn't sunk that low.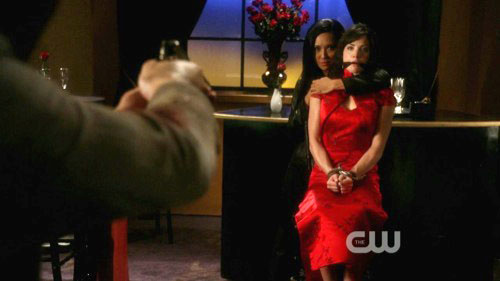 The real Victoria enters the room and taunts Oliver. She disarms him, and starts shooting at him with her own gun. When her gun runs out of bullets, she grabs a lighter and threatens to set Lois on fire. It turns out the whole place — including Lois — has been covered with gasoline.
Victoria makes a run for it as Oliver rushes after Lois to make sure she's okay. As Oliver concludes that Lois is unconscious but otherwise okay, a massive explosion goes off in the other room. Oliver's old Green Arrow instincts kick in, and he decides to save the villain, even if she did take all his money and almost kill him on numerous occasions.
When Oliver makes the commitment, Victoria suddenly stands up. The fires die out. It turns out the whole thing was a hoax. Of course, we audience members could see this coming since way back in the first scene when Oliver first met Victoria. But Oliver didn't see it coming. He hasn't been himself lately. But now, thanks to this bizarre "game," the old Oliver is back.
"I kept asking you," explains Victoria, "who did you destroy?"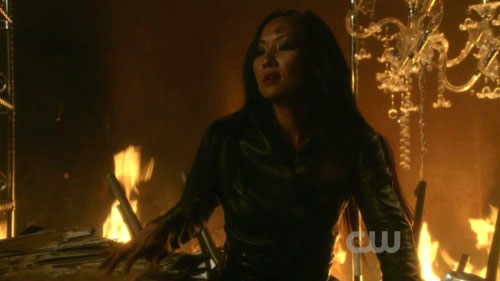 "Myself," replies Oliver, snapping out of his multi-episode brain fart.
The next day, Oliver tracks down Chloe, who admits she set up the whole thing. Oliver needed a little kick in the pants, so Chloe obliged. So, Oliver thanks her and heads to his office to try to salvage what is left of his chances of getting a spinoff show.
Lois catches up with Oliver, and pulls out a six pack so they can have their nonsensical yet traditional birthday beer pong match.
The only loose end is the mysterious person Chloe spotted on her security footage from last episode. Clark shows up at Chloe's place to tell her that Jor-El knows who this woman is: she's from Kandor. Chloe is like "what a coincidence. I ran a computer program to track down all the Kandorians who are on Earth. Check it out." With that, the monitor reveals hundreds of little dots all over the map. Apparently, the Kandorians have been busy.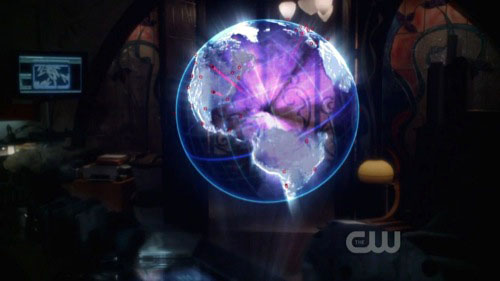 This was one of the worst episodes of Smallville I've seen in a long time. But I'll give extra points for finishing off the "Oliver as self-hating slacker" back story. Also, I give points for trying to give some grey area depth to Green Arrow that — at least in theory — can function as counterpoint to Clark's moral absolutism.
Rating: 1.5 / 5 Stars