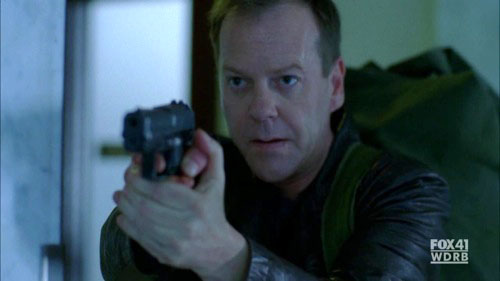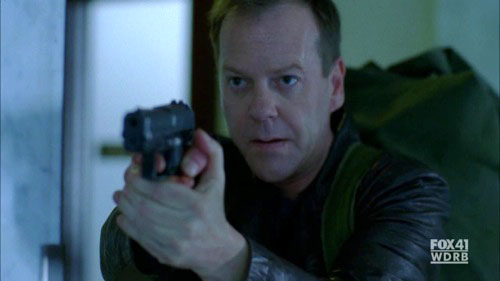 Episode: 24 8.23 – "2:00 p.m.-3:00 p.m." and 8.24 – "3:00 p.m.-4:00 p.m."
Original Air Date: May 24, 2010
If you think there are no more surprises possible in 24, you'd be wrong. The last double episode has so many unexpected plot turns, it's enough to have you spinning like a top for two full hours.
24 fans were not let down by the action- and emotion-packed two-hour finale. Lately, we've seen Jack as Darth Bauer Terminator, wreaking vengeance on America's enemies and seeking revenge for the killing of his lover, Renee Walker. We've seen a mad former U.S. president influence a sitting U.S. president to violate and betray her own principles and become a traitor. We've seen our trusted Chloe hesitate and come to doubt Jack's motives in his killing spree.
One last time on this superb finale of 24, a show that grabbed the attention of the country shortly after 9/11, a time when we needed a Jack Bauer to fill our imaginations with passion, fury, and joy, Jack has brought down a corrupt presidency, saved us from nuclear attack, and gone off the grid.
If you missed the finale, can't get it on Hulu or Fox, and don't want to wait until the Season 8 DVD is released, here's a recap…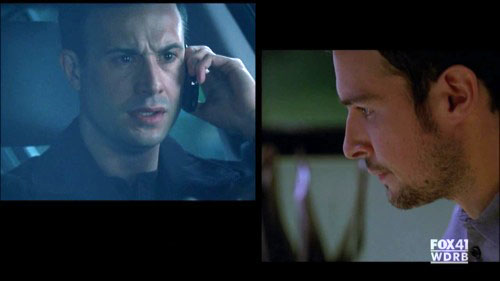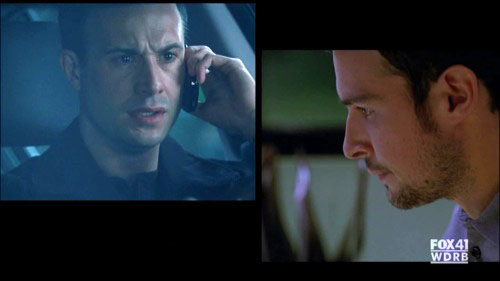 PART ONE
Arlo alerts Cole and Chloe that Jack's off the radar, leaving "a slaughterhouse" behind. Cole's on his way to Ricker's apartment knowing Ricker won't like being found. We finally learn that Jack saved Ricker's life in Damascus, so that's why Ricker owes him. Ricker watches Cole approach on his monitor and wipes everything clean before Cole can get at his computer files. Cole shoots his way in and finds himself looking down Ricker's gun barrel. Now they're each pointing guns at each other. Cole tells him if he doesn't help them find Jack, he'll alert CTU that Ricker's got weapons hoarded and he'll be locked up for life. He puts down his weapon saying, "If Jack dies today, it's on you." Ricker gives him the info.
Chloe learns that Reed has been arrested and that the memory card was taken from her. Now they need other evidence and Chloe must come up with a brilliant idea. Cole phones Chloe and tells her Jack's on his way to assassinate Suvarov, and he knows this because Jack recorded the conversations between Logan and Suvarov. Chloe says now they must have that recording to prove the cover-up.
Pillar advises Logan to tell the president that they lost Bauer. Logan thinks it's time he tells Taylor everything. Suvarov is in transit to the U.N. Logan calls Taylor and tells her that Bauer is seeking retribution and not just seeking evidence, that Jack just murdered Novakovich. Taylor is getting frazzled, especially when Logan tells her it's really Suvarov behind the horrendous events of the day. Jack is listening in on this entire conversation. He hears Logan tell Taylor that Jack is finished, that this can all get swept under the rug. She has no choice but to go through with the peace agreement, but it's clear that she doesn't like asking Dalia Hassan to shake hands with her husband's murderer.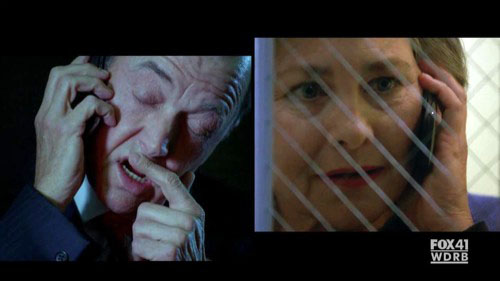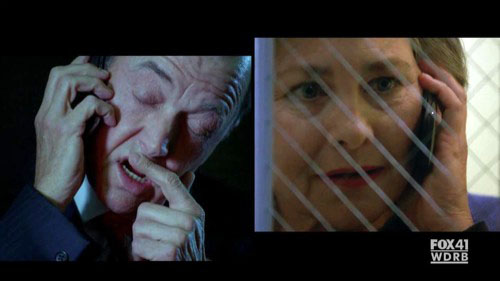 Logan is very happy and thinks "we're almost there," as he gets into his limo to go to the peace accord signing. Pillar calls his fink at CTU, who confirms that Jack was wounded badly and will seek treatment. As Pillar hangs up the phone, there's Bauer in the back of Pillar's car holding a gun to Pillar's head. "Start the car and drive." Jack says he'll take Pillar apart piece by piece of he doesn't drive. Pillar tries to reason with him, when Jack says, "Save your breath, I know about President Suvarov." Pillar pales.
Things get even worse for Taylor when Mrs. Hassan, who doesn't know anything that's going on, presents her with a beautiful box carved with "All religions always singing one song. Peace be with you." Inside the box is a golden pen, meant for signing the agreement. Taylor tearfully says she's "very honored. Thank you." As a very conflicted Taylor walks away, we see the daughter telling Mrs. Hassan about reporter Reed's cryptic call about the Russians involvement in the assassination of Hassan. Mrs. Hassan wants to get to the bottom of this story but cannot locate Reed.
Chloe at CTU tells Cole that when they get Jack's recording of the phone calls between Logan and Suvarov, they'll distribute it to simultaneously to legislative, military, judiciary, and press outlets, and that Taylor cannot shut down every avenue of communication to the people.
Jack forces Pillar to get him into the building across from the U.N. and park underground. The building had been cleared two hours ago due to Suvarov's visit, and Pillar fakes his way in with Jack lying down on the floor in the rear. "Park here," Jack orders and gets the keys from Pillar. "Get out of the car. NOW!!"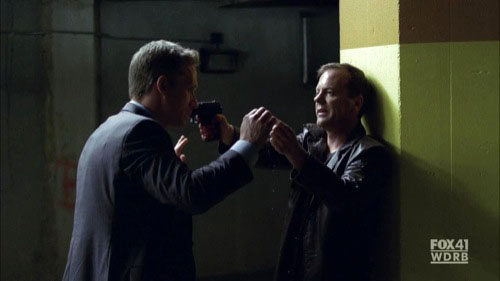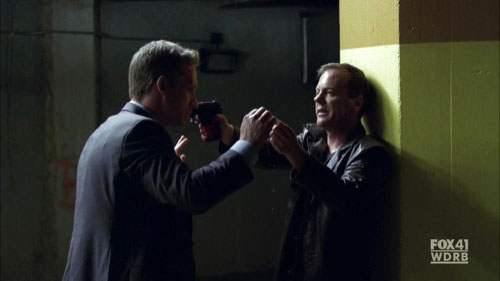 Jack backs up to a wall in the garage. Pillar notes that Jack is bleeding profusely. Jack takes out a needle and thread and has Pillar back up to him slowly and tells him to "suture me up. If you make a move, I will put a bullet into your brain. Got it?" Pillar gets it and starts sewing up Jack's wound. Jack winces but stays conscious. He asks Jack why he's destroying the agreement it took so long together. "What makes you judge and jury?" Jack answers:
"President Taylor, when she agreed to the cover up… I would have accepted justice by law, but that was taken away from me by people like you… so you're right, I am judge and jury." Pillar begs for his life, and Jack, in great pain, doesn't shoot him, just smashes him in the back of the head and shoves him into the car trunk. I don't know how Jack manages that huge weapons bag on his back, with all that bleeding, but hey, it's Jack Bauer.
Mrs. Hassan feels she must tell President Taylor about what Reed's message was, little knowing that Taylor already knows. Mrs. Hassan reveals everything she heard and asks Taylor for help to find Reed to learn if there's any truth in what Reed said. Taylor is forced by Mrs. Hassan's honesty to reveal that Reed has been arrested. Mrs. Hassan is shocked to hear this and realizes what has happened and that the Russians were really behind her husband's death. Both actresses in this scene are superb. Cherry Jones looks like she's cracking up, especially when Mrs. Hassan says "My husband trusted you. I trusted you!" She says she'll file a formal complaint to the U.N. Taylor gets vicious and insists Mrs. Hassan sign the treaty or she'll start a war against Hassan's country. It's not a pretty sight to see President Taylor so Loganized. Mrs. Hassan walks out, slamming the door.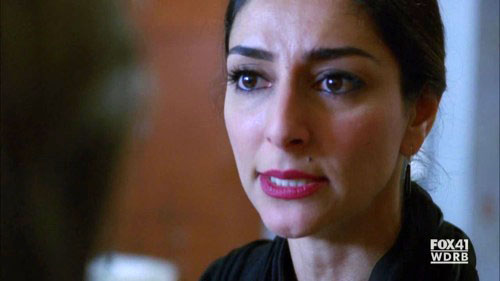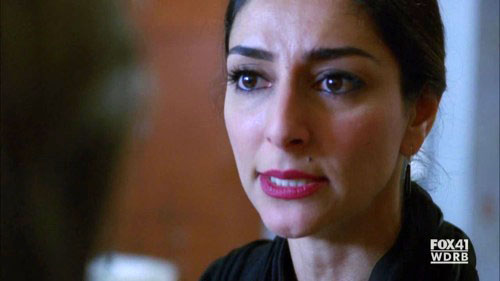 Jack, in pain but ready for action, makes his way to the 22nd floor, overlooking where Suvarov will be speaking and unloads a rifle from his backpack that looks like it could stop a tank. He makes a video, apparently for Kim and little Teri, explaining why he did what he did that day.
Back at CTU, there's facial recognition of Jack who had avoided all security cameras but his reflection was picked up in a window. Chloe deduces Pillar was forced to get Jack into the building, and tells Cole she's going in to talk Jack down, that if he doesn't hear from her in 20 minutes, come in with a tac team.
Suvarov's motorcade arrives and a testy Taylor asks Tim if Mrs. Hassan will be coming. We don't know either, until we see Mrs. H. arrive and stand next to Taylor to greet Suvarov. Although she's there, she won't look Suvarov in the eyes and she does not shake his hand when he says he's sorry for her loss. They go up to the press conference. Mrs. Hassan freezes out Taylor when she tries to be nice. Waytago Mrs. H. She seems to be the only sensible person aside from Jack and, hopefully, Chloe and Cole.
As Chloe gains access to the building where Jack is, the Peace Accord signing is being announced by the U.N. Secretary, who talks about "transparency, honesty, and trust." You can see Taylor flinching at those noble words. Logan is in his own office and getting ready to soon join them. Greg Itzin as Logan is a villain for the ages.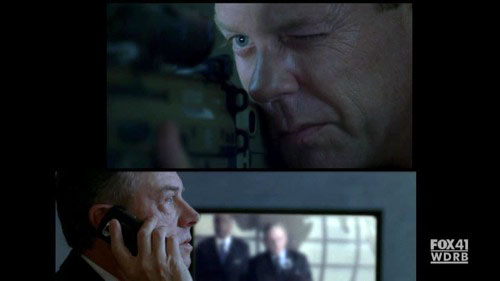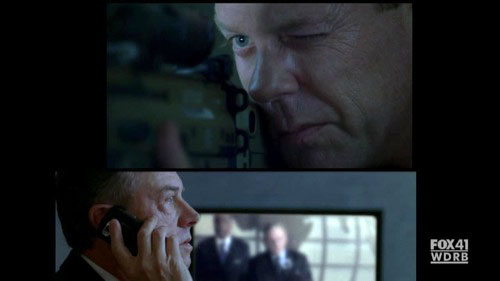 Chloe has a gun and opens the door behind which Jack is waiting. He grabs her. "Jack, they're going to kill you if they don't hear from me in 20 minutes. They have orders to shoot on sight. I couldn't let that happen." "Don't fight it," Jack tells her as he gets her in a necklock, rendering her unconscious. Logan's phone rings and he answers thinking it's Pillar. "If you try to move, you're a dead man," Jack tells him, as he gets Logan in his sights through the window. Jack instructs Logan to get Suvarov over to his suite. "What shall I tell him?" snivels Logan. "Try telling the truth for a change," snorts Jack.
PART TWO
Suvarov speaks to the press, saying lovely things about the late President Hassan, with Mrs. Hassan keeping an immobile face and Taylor with a frozen smile on hers. Suvarov guesses that Mrs. Hassan knows he was complicit in her husband's murder, and Taylor confirms that. Suvarov takes an urgent phone call from Logan who silkily persuades him to come to his suite. All the while, Jack keeps Logan in his rifle's cross-hairs.
Chloe comes to and starts talking to Jack, telling him of their plan to alert media outlets, that Taylor cannot shut them all down. She begs Jack not to do what he's planning to do. The 20 minutes are up, and Cole cannot reach Chloe. He must alert his team to take Jack down, that he's "armed and dangerous."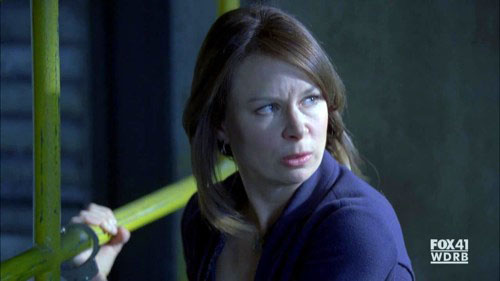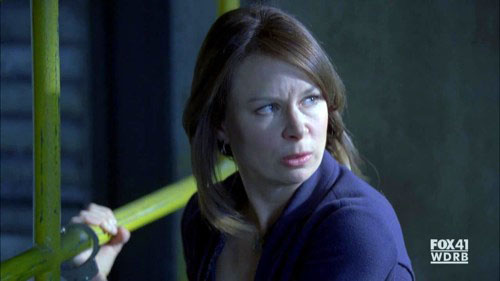 "Listen to me, Jack please. Killing Suvarov will be an act of war." Jack tells her to shut up. "These people need to be stopped," says Jack, and Chloe counters with all the innocent lives that are at stake. As she says this, Suvarov arrives at Logan's suite, and enters. He is now in Jack's cross-hairs, and Chloe tells Jack Renee wouldn't have wanted him to start a war in her name. "Don't dishonor her memory like this." That gets to Jack, who slowly puts down his rifle, eyes glinting with tears. Jack makes Chloe promise to see this through and gives her the recording. She must get the recording to the media. Meanwhile, Logan is waiting for Jack's shot to kill Suvarov, but nothing happens. He has to apologize to Suvarov, who looks angry and puzzled, and leaves.
CTU tac team is almost there, and Jack says Chloe can't get away unless she shoots him because they have orders to shoot with extreme prejudice. He puts his gun to his own head and she has to shoot to prevent him from shooting himself. In rushes the tac team to find Jack down and Chloe with the smoking gun in her hand. A bunch of us 24 fans are screaming at the TV screen. Nobody has touched the popcorn, we're too much at the edge of our seats yelling. We hate the commercial interruptions but don't leave the room while they're on. This finale is moving so fast, we're scared we'll miss even a second of it. We refuse to believe Chloe killed Jack. That just cannot be. We're forced to watch some political crap ads telling us who to vote for. We loathe every single one of them with their smarmy faces and someone throws an empty candy wrapper at the screen. We hang on waiting for the show to resume.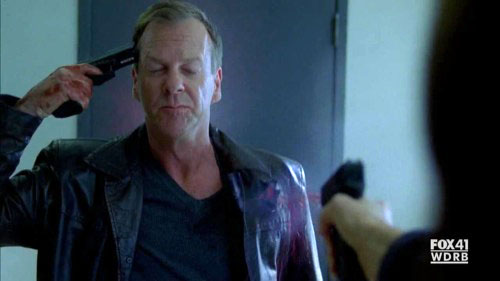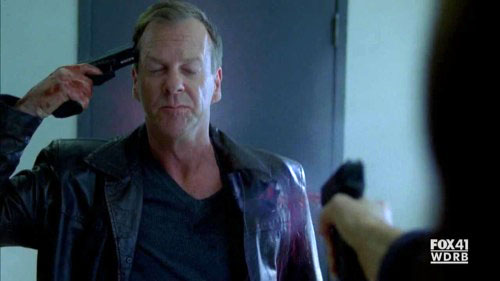 The tac team has discovered Pillar in the car trunk and released him. He's now in charge and the team must take its orders from him. He tells them to hold Chloe there. Bloody Jack's on a gurney with oxygen mask. Logan tells Pillar on the phone that he knows Jack has a recording of everything, and Pillar must get that recording. Pillar searches everything, finds Jack's recorder, but it's empty. He tells the team to search everywhere, and he heads for Chloe to search her.
She seems nervous but sasses him when he asks if Jack gave her anything. He tells her to empty her pockets on the grounds of national security. She does so reluctantly and makes her displeasure known. She gives Pillar a very hard time but he frisks her anyway. She grits her teeth until he's finally finished. "I hope you enjoyed yourself," she shoots back over her shoulder as she gathers up the stuff from her pocket and walks out. As she approaches the elevator, she removes Jack's recording hidden in her cell phone. Pillar starts grilling Jack and finds out from the medics that the shot Chloe fired was a clean one, causing little damage. Pillar thinks Jack's about to tell him something when he removes the oxygen mask and Pillar leans down. Big mistake. Jack grabs Pillar's ear in his teeth and rips it off.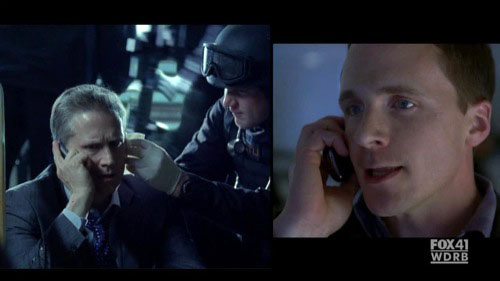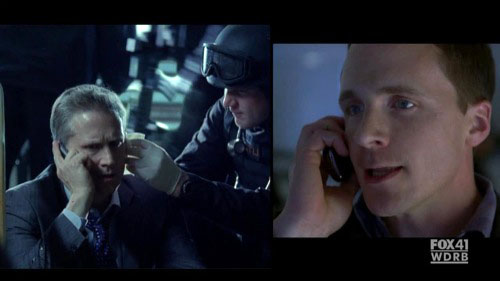 Chloe and Cole, back at CTU mobile, get the data card in their computer but before they can succeed in dispersing it to the media, they're grabbed by the tac team under orders from Pillar, whose bloody ear stump is being tended to by medics. Pillar has them take the data card to Logan. Geez, we never saw that coming. We're almost hysterical now because no matter what Logan and his minions do, even though they may be a step behind Jack, they keep catching up and taking the information that will alert Americans to the cover-up. Since Chloe and Cole failed to get the information disseminated, we can't see any way out of this.
Logan takes the recording to Taylor telling her, "Now it's over. You won. Congratulations." She asks where Jack is now and Logan tells her he's under heavy guard, that "Jack Bauer will never let this go." Gregory Itzin as Logan is again brilliant in his sleaziness, and Cherry Jones as Taylor is also great in her turn as the conflicted and newly turncoat president. She realizes Logan has marked Jack Bauer for death, yet she does nothing to stop him. She drops a few tears, and plays the recording. It's the one Jack made presumably for Kim. His sincere and heartfelt explanation of what he did today and why he did it gets through to her, and she's very disturbed and tearful when Tim alerts her to the impending signing ceremonies. "Lasting peace cannot simply be political," says Jack's video. We're all crying at this point as it's so obvious to her that Jack is a noble patriot and she is a low-down criminal.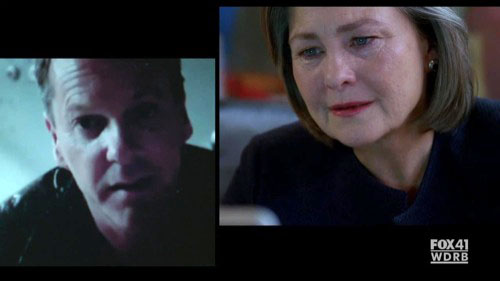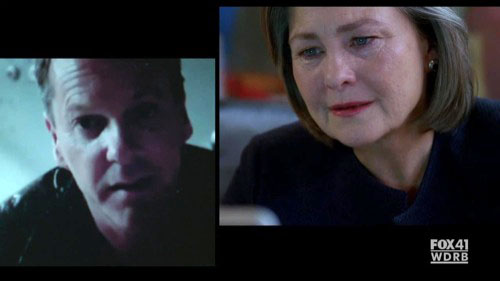 Logan tells Pillar that he underestimated Taylor and didn't think she "had the balls to go through with this." Pillar, with a bandaged ear, claps Logan on the back and they go to Logan's suite for a celebratory drink. Logan praises Pillar for everything he did. Logan will meet with the signers of the peace accord afterwards and get his own praise. Or so he believes.
After their intros, Suvarov walks to the podium and signs the Peace Accord. Then Mrs. Hassan picks up the pen and waits, waits, waits, unsure. You hope she doesn't sign it. At last, she signs. Then Taylor goes to the podium, opens the box Hassan presented her with, picks up the golden pen. The pen poises above the paper. You hope she doesn't sign it. Everyone is waiting and wondering why she's taking so long. She screws the top back on the pen without signing, walks over to Mrs. Hassan, presses the pen into her hand and says, "I cannot accept it." Suvarov asks what she's doing and she says she's doing what she should've done before. She announces that great crimes have been committed and that she has participated in a conspiracy to hide those crimes. She said no meaningful treaty can be signed and that this process has to come to an end. Standing in the background, Mrs. Hassan smiles.
Taylor tells Tim to stop Logan's ambush of Jack, and Tim calls to stop it. But Logan's ambush has already happened, and Jack has been taken by Logan's men. Taylor starts to shake and fall apart, knowing she was unable to stop Logan's plot against Jack. We're all bawling now when we hear Tim tell Taylor, "We didn't make it. They got Bauer." GeeZus! How much do they think we can take!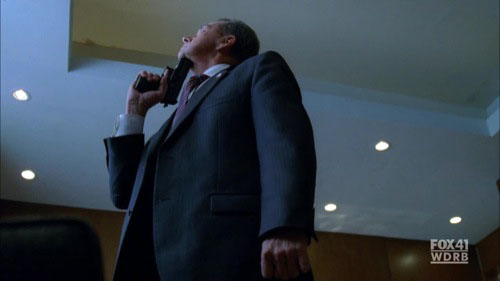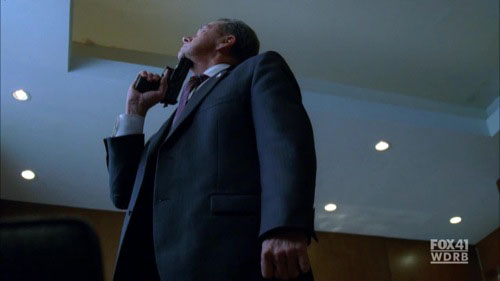 Logan and Pillar, watching the aborted signing on a TV set, are stunned by the announcement that Taylor did not sign. The phone rings and Logan instructs Pillar to let it ring, that it's Taylor. Logan is totally losing it before our eyes. He smashes Pillar over the head with a heavy decanter. "This was my last chance and Bauer took it away!!" he screams, grabbing Pillar's gun. He puts it to unconscious Pillar's head and fires, as Taylor is frantically knocking on his door. Logan then puts the gun under his own chin and fires. "We've got to have Logan alive!" shouts Taylor as they burst into the suite.
Though Logan may live, he'll probably suffer permanent brain damage. Taylor tells Tim to release Chloe and Cole and have them find Jack no matter what. They find the ambush on security cameras and backtrack to see Jack put into a black van. They'll never get to Jack in time. Jack is removed from the van and told to get down on his knees. It's obvious Logan's man doesn't want to shoot Jack. Jack manages to attack him, even though he's handcuffed, but the guy gets his gun back and puts it to Jack's head. "I really didn't want to do this, but orders are orders." As he's about to shoot Jack, another guy has President Taylor on the line advising them there's a microwave drone in the sky and she orders him to release Jack Bauer immediately!! "You and your men are to stand down and leave Jack Bauer where he is" or she'll have them killed by the drone. Jack is uncuffed. The president wants to talk to him on the phone. The men get into the van and drive away.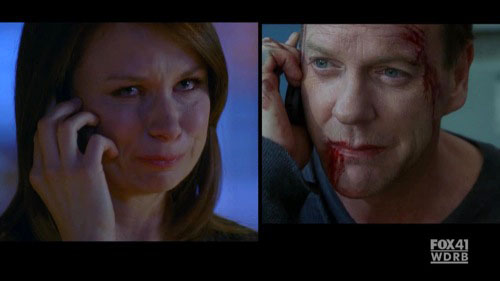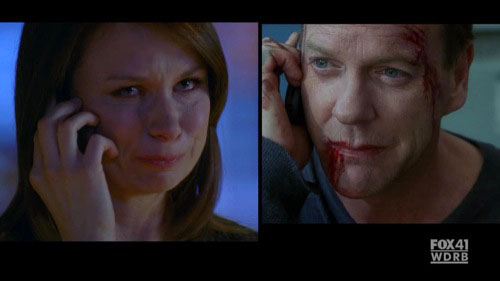 Jack tells Taylor, "You should've let them kill me because I'm not going to let go of this until it's over." She tells him it is over, that she'll resign and turn herself over to the Attorney General and face the consequences for her actions. She admits she betrayed every principle she ever stood for and she betrayed Jack. He said they both made mistakes. She tells Jack the Russians will be coming after them and so will the U.S. and that Jack should get out of the country before the FBI arrives to take him in. She's crying openly now.
Chloe is watching this by drone. Jack calls Chloe and asks her to promise she'll keep Kim and family safe. She promises, and also says she'll get Jack as much time as she can for him to escape.
Jack: When you first came to CTU, I never thought it was gonna be you that was goint to cover my back all these years…" Chloe is crying now. "Thank you," he says.
"Good luck, Jack," says a weeping Chloe. Jack staggers to his feet, holding his wounded side. Chloe orders the drone brought back to the base. We see Jack running, and he takes one long last look directly at the drone, with Chloe watching. "Shut it down," she says, as we see our last close-up of Jack Bauer digitize, and disappear.
Rating: 10 / 5 Stars (and that's no mistake)