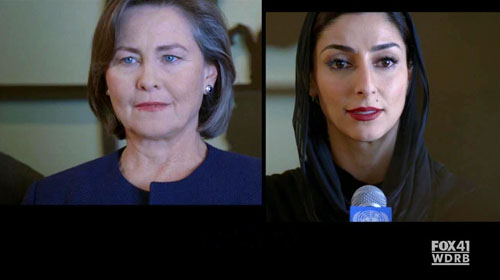 Episode: 24 8.20 – "11:00 a.m.-12:00 p.m."
Original Air Date: May 3, 2010
I'm all atwitter over this ep. Despite Jack's lack of dammits, he's gone into Bauer Power overdrive, the place his fans like best.
Mrs. Hassan speaks of President Taylor's integrity and moral courage at a press conference, and of how much her late husband trusted Taylor, while Taylor stands by looking guilty. In the meantime, ex-pres Logan tells his aide, Pillar, that he's committed to the same outcome regarding the fate of Dana, but maintains plausible deniability by saying "not that I have any idea what you're talking about, do you understand?" as he gives a dead-eyed smile.
I used to be against waterboarding but, when it comes to torturing Dana, I like it. She still refuses to talk though, and tells Bledsoe and his team that she lied to Jack and that there's no evidence. Back to waterboarding. Hee.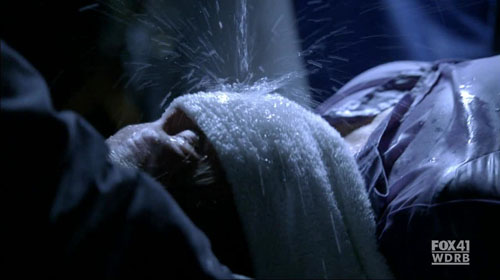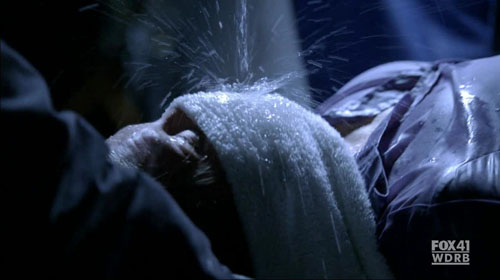 Chloe, thinking Jack's holding Cole hostage, tells him she's never seen Jack like this before, and to be sure Jack sees the psych guy as soon as Cole brings him in.
Jack and Cole get into the building where Dana is being held by taking out everybody, stealing a comm unit from one, and using it to lure the balance of security team onto the roof. Jack gets Dana's exact location from a guy at the command station and he and Cole burst into the torture room. Dammit! I wanted the torture to continue. Bledsoe grabs Dana, sticks a gun at her head, and taunts Jack saying Jack can never risk shooting him before he shoots Dana. Wrong! BLAM! The hole in his surprised head tell us Bledsoe was wrong about that. Unfortunately, now I am forced to watch Dana's heaving bosom as Cole cuts her bonds. If her shirt gets any tighter, she'll be wearing it internally. With Jack as cover, Cole whisks Dana out of the building, Jack behind them. Lots of gunplay action and Bledsoe team members dropping like flies as Bauer's bullets strike.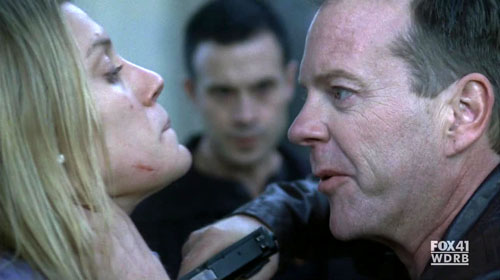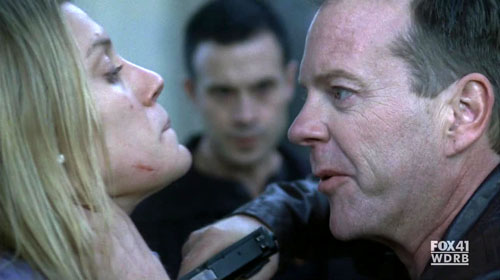 While Chloe is finding out that Jack took Cole hostage and putting out an APB, Jack is demanding the evidence from Dana that will incriminate the Russians, evidence she told him she had. No, he won't get her immunity but he may let her go if she turns it over. She finally tells him the evidence is in a safe deposit box, and tells Cole she believes Jack wants revenge for Renee's death, not justice, and that Jack will kill her. You can see that Cole is uncertain now (don't forget, he used to be engaged to her) which makes me wonder what his IQ is.
President Taylor learns that Jack not only escaped, but whacked all of the "private" security people Logan had sent, and recaptured Dana. Taylor's now angry with Logan because his people failed. Logan has a fiendish Plan B: Taylor should appoint his aide, Pillar, as Chloe's replacement and he can then head a manhunt for Jack. Taylor agrees (bitch). Privately, Logan meets with Novakovich and his aide, Pavel, asking them to whack Jack. Now everybody's hunting Jack down.
Jack, Cole and Dana get to the bank and Jack sends the two of them inside while he stands guard outside.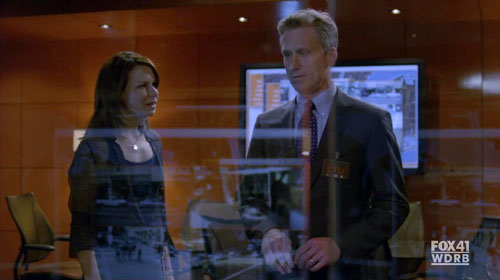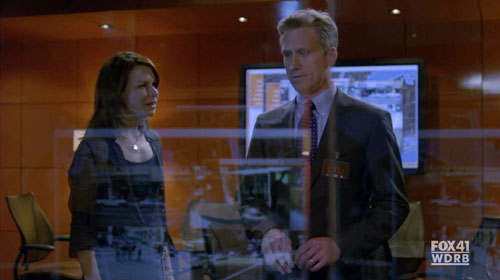 Pillar changes Chloe's orders to treat Jack gently when he's caught, and orders an unrestricted level of force. Now we've got a real situation. It doesn't seem anyone is on Jack's side, but that's only bound to bring out Jack's personal force of nature.
Dana's busy conning Cole as the safe deposit box is brought to them. Cole tells Dana to back away from the box so he can open it himself. He sees a bunch of money, a gun with silencer, and a memory card. He grabs the gun, unwittingly creating an explosion from a device hidden under it. Cole appears stunned and Dana grabs a chair and slams him over the head, knocking him unconscious, and takes the gun. When a bank employee rushes in at the noise, Dana shoots him dead. She pockets the memory card and dials 911. In a phony scared little voice, she says there's a gunman outside the bank and he's going to shoot someone. She then escapes, just as Jack is picked up by NYPD and told to drop his weapon and hit the ground. Jack watches as she runs away. He disarms one cop and says "Sorry" as he shoots the other cop in the foot, yelling to people to call an ambulance for them.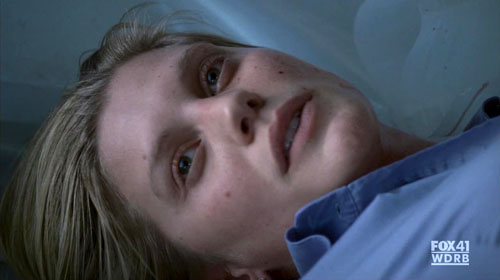 He runs like the wind to catch up with Dana, dodging cars, cabs and passersby. She runs into a building under renovation, but can't shake Jack who forces her to use up all her bullets. She slams her empty gun on the ground and runs but he's right behind her, yelling "Stop!" which she does when she has nowhere left to go. Jack makes her turn over the memory card, and she knows she no longer has any leverage. "Is there anything I can do?" she whines.
"Nothing," he says, as he shoots her, and shoots her again. It's a happy day to see her dead and staring eyeballs. Best scene in the entire series.
Jack walks away.
Rating: 5 / 5 Stars