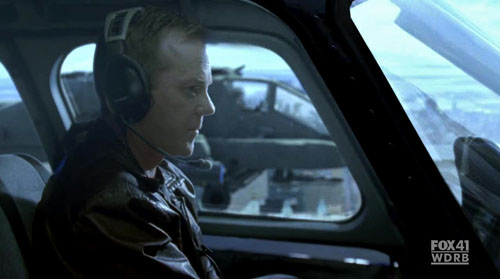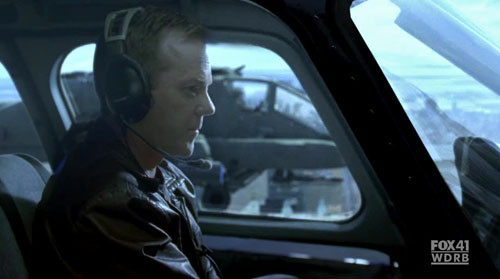 Episode: 24 8.19 – "10:00 a.m.-11:00 a.m."
Original Air Date: April 26, 2010
Bad Boy Bauer in a stolen 'copter, with Chloe as CTU interim head, watching and ordering that Jack be brought down, successfully evades capture and, as always, he'll decide when and where to land, not CTU.
He expertly lands the 'copter on the Cooper Building roof, and runs down the fire escape, with CTU agents in hot pursuit. Of course Jack makes it to the street where tree foliage hides him from the all-seeing eye of CTU, and again he manages to get away unscathed. Chloe, apprised of his getaway, realizes he'll try to get to Dana and debrief her as only he can, and orders Cole to head a search team. Cole is turning out to be another Tony Almeida (not that there's anything wrong with that), and we can only hope he rebels against those orders and sides with Jack as Tony used to do.
Cole: Jack knows he can't get to her.
Chloe: He'll either figure it out or he'll die trying.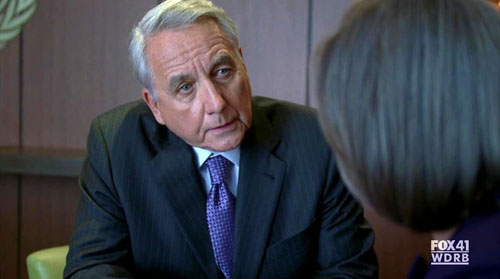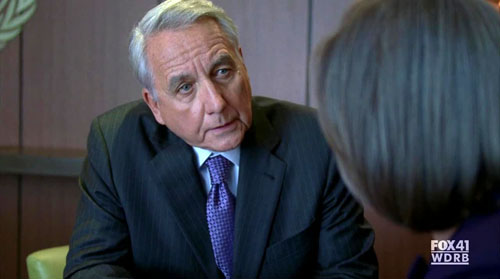 Ethan advises President Taylor to come clean, which will cost the Peace Accord, and either try for it another time, or leave it to a future president. It's apparent that she doesn't like this idea, but agrees and says she'll first speak with Mrs. Hassan and then make the announcement of the U.S. withdrawal from the peace talks. Looks like Ethan has a bit of a crush on the President but maybe it's just my imagination.
Logan manages to get the President's ear as only he can, by sleazing up to her in the hallway and getting her into a private office. He then proceeds to use twisted reasoning to change her opinion and keep the truth from everyone. This can be done, he says, by declaring Dana Walsh an enemy combatant, which will keep her off the public radar. He's like Wile E. Coyote in that what he says makes sense, but he looks totally psychotic while suggesting to the President that he knows a private security firm that can transfer Dana from CTU to a private facility (same one where he stuck his wife?), and implies torture. Of course, you know how much I loathe Dana so this idea definitely appealed to me. When it comes to her fate, I'm not one of these wusses who screams "You can't torture people!!" I'm more the type to say, "If it's Dana who has done so much harm to so many, then go for it till her eyeballs pop and she squeals like the sow she is!"
Greg Itzin is playing Charles Logan to the hilt, and scenes with Cherry Jones as President Allison Taylor are amazing. Logan is so persuasive that he's able to manipulate Taylor into doing what he wants her to do.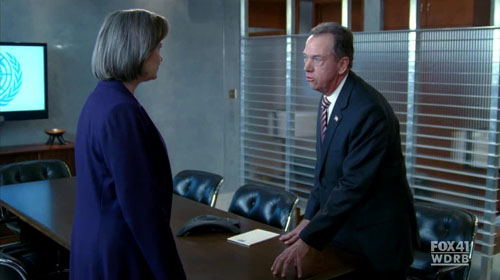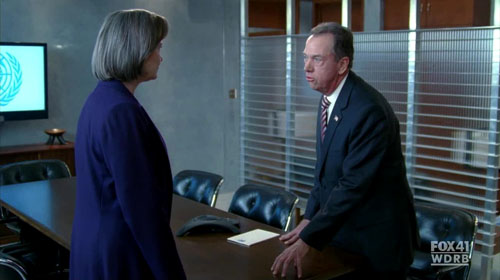 President Taylor tells Chloe to expect Mark Blesdoe from a private security firm for removal to a "safe house," where she'll be questioned. It's hard to figure if Taylor believes "questioning" in this case means non-coercive, or if she suspects Logan's talking torture. Either way, a terrible weakness in this president is now up there for us to slowly grasp the fact that Jack's in more trouble and nobody has his back. One more time, he's operating on his own and against his President.
On one of several disposable phones Jack has bought, he tells Chloe the President is lying and he must personally question Dana to get proof of the truth. You can see on Chloe's face how hard it is for her to decide whether to stick with Jack as in the past, or to obey her direct orders from POTUS. She tells Jack that Dana is being moved to a safe house and he asks her to find out where that is. Jack disposes of the phone and on another disposable cell, he calls Jim Ricker (Michael Madsen), an ex-military buddy who owes him a favor, and orders personal weapons.
Dana, screaming and kicking, is dragged out of CTU (be still my happy heart) by Blesdoe and his men, who discuss with Logan's aide the possibility of killing her "while trying to escape." Logan's aide says he has to check with his client. As they prepare to depart CTU with Dana, Chloe manages to slip a mini-USB drive into Bledsoe's PDA and sucks up Dana's destination intel for Jack. It's wonderful to see Dana trying to gain Chloe's sympathy by begging for her help, and screaming that they'll kill her. Happily, Chloe just stares at her.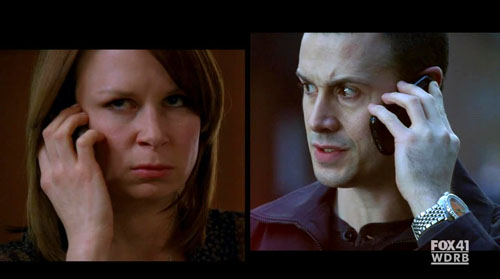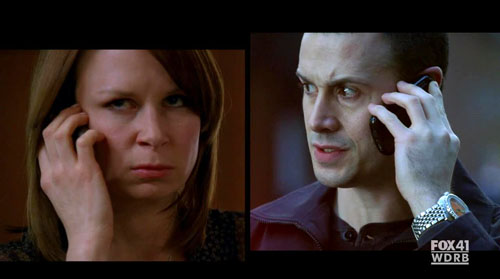 Chloe, who now knows where they're taking Dana, makes a decision that freaked me out. Since she's under Presidential Order, she decides that Jack isn't thinking clearly, and tells Cole to bring Jack in before he gets himself killed. To me, this is the single worst thing that ever happened on 24 since they killed Edgar off in Season 5.
Jack gets to Jim Ricker's place to pick up his heat, and Ricker says "Now we're even." Bad Boy Bauer responds, "I'll let you know when we're even" and splits. He calls Chloe for the safe house location and Chloe <gasp> gives him the wrong address where she has Cole and a team set to apprehend Jack and bring him in. I can't stand this much longer. I don't care about Presidential Orders because for Chloe to go against Jack after their history together, well, it's just plain wrong.
Ethan Kanin calmly talks with President Taylor and tries his best to convince her to tell the truth, first to Mrs. Hassan and then to the nation, but Taylor remains adamant. Kanin realizes Logan has succeeded in his nasty manipulations and he can't bear seeing the President go against everything she believed in, and he resigns his post. She appears stunned but has made up her mind. She'll have to accept his resignation. Although he's not actually there in the room at this time, you can just "feel" Logan's evil presence. Kanin departs, leaving her with "You've got Logan now. There's only room for one of us."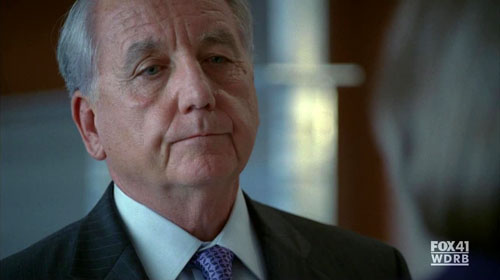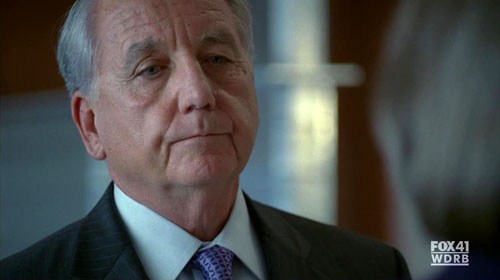 Jack arrives at Chloe's trap site, where he's been led to believe Dana is being held, and calls Chloe to tell her he's arrived. She promptly alerts Cole who's hiding inside with his team. Jack slings an automatic weapon over his shoulder, a weapon so big it could sub for an RV. He hides the bag with other stuff from Ricker and enters the building. "Oh NO, Jack!!!" I scream at the TV, "It's a trap!!!" But he goes in just the same.
Maneuvering behind columns and other good hiding places, he gets hold of one of Cole's agents, and sticks the barrel of this humongous gun at his head, walking out in front of Cole and the rest of the team with "Drop your guns NOW!" They drop the guns, and Jack has Cole kick them over to him. Cole says, "How'd you know this was a trap?" and Jack says, "I know Chloe." Jack makes Cole call Chloe and say they captured him and are bringing him back to CTU. Chloe says she should feel relieved, but she just "feels worse." When Cole asks Jack what he's going to do, Jack gives him an angry look and shouts "Do what I say!" Yeah baby.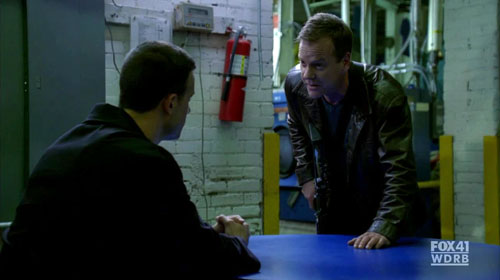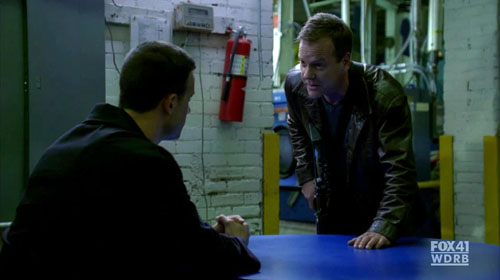 Jack takes Cole out of earshot of the team and asks for his help, telling him that the President lied and he knows because she told him to his face. He's very convincing as he slides an automatic over the table to Cole and asks him to make up his mind: "It's your call." Cole succumbs and spills Dana's real hiding place a short distance away. Jack pretends to be holding Cole hostage so they can pass by the rest of the team without arousing suspicion of their new alliance.
In its original and wonderful 24-y way, we see Taylor making the announcement of Hassan's death to the public, and simultaneously see Dana being strapped down by Logan's "private security." She gets waterboarded. WAY TO GO, DUDES!!! Too bad they don't add a few Medieval tortures, like the Iron Maiden or the Rack — yeah, that's it, give her the Rack.
It's a bit of a relief that Jack has Cole now — that is, if he really does.
Rating: 5 / 5 Stars