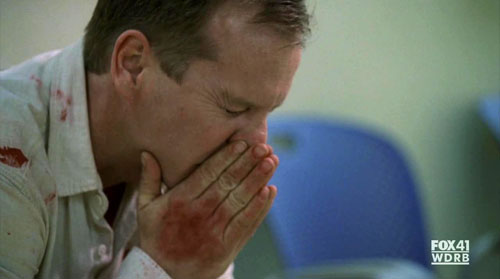 Episode: 24 8.18 – "9:00 a.m.-10:00 a.m."
Original Air Date: April 19, 2010
There comes a time in every season of 24 when Jack Bauer goes rogue. For Season 8, that time is now.
Jack's anguish is apparent as he watches dead Renee being carried out of the hospital room, presumably to the mortuary. Thank God for all the CUs of Jack's face. Kiefer is so good, he doesn't need dialogue for us to know what he's feeling. His grief is cut short by a phone call from Chloe, expressing her condolences and telling Jack that Hastings is gone and she's now CTU head. Jack starts off nicely by asking who shot Renee but Chloe, with all her new responsibilities, is reluctant to tell him who she believes did it. Jack almost loses his temper with her, a sure sign that he has temporarily buried his pain at losing Renee, and we should expect to see more of these flare-ups. Chloe thinks the assassin must be someone from Sergei Bazhaev's Russian mob, and that Bazhaev is being arraigned at that very moment in a downtown courtroom.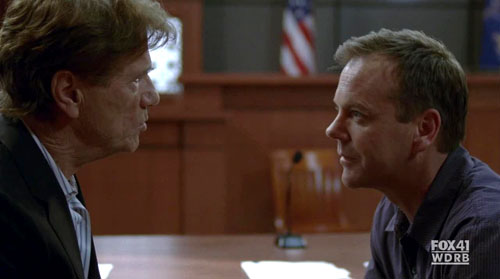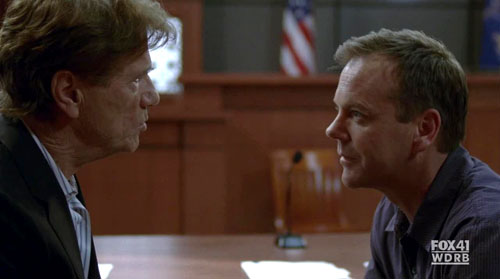 While President Taylor welcomes Ethan back and fills him in on her meeting with Logan, who will now meet with Novakovich the Russian to get them back to the Peace Accord table, Jack arrives at the downtown courtroom and slips into a seat behind Bazhaev's family, all listening to the judge deny bail. Bazhaev slowly turns, locks eyes with Jack, appears very disturbed at his presence, and says something to his lawyer, who asks the judge for time with his client. Now the courtroom is empty except for Jack and Bazhaev, who denies knowing Renee's shooter. Again, Jack's rage is simmering just below the surface as he says that Renee was his family, and he would seek justice through punishing Bazhaev's family. This gets through, and Bazhaev tells Jack that the one who would definitely know who killed Renee is the Russian government's mole, Dana the Dipstick.
Jack calls Chloe and asks for witness protection for Bazhaev's family, since once the Russian government finds out the lead to Dana that he gave Jack, the family will be sent to meet their maker faster than normal. Jack also asks Chloe to set up an interrogation for him with Dana. Chloe, newly cautious, alerts Cole to this as she fears Jack may go over the line when questioning Dana. Chloe also arranges for cameras to record the interrogation and Jack, who just got to CTU, says if he was going to kill Dana, she'd already be dead.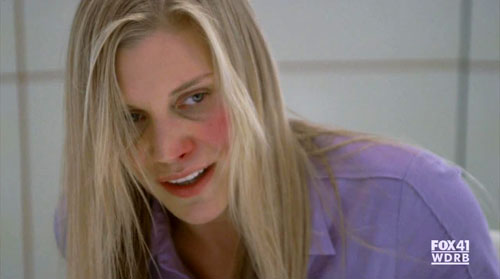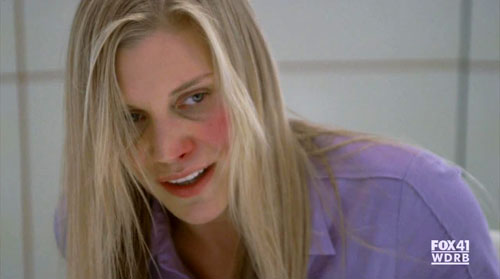 Jack enters the room and Dana, still with the Norman Bates eyes, doesn't react much, and refuses to talk. Jack slaps her around, knocks her off the chair, and, in short, does a Wham Bam Thank You Ma'am, only without the Thank You. It made my heart sing every time her nose bled. Of course, she finally agrees to give him names "all the way to the top," and with proof, but first, she wants a new immunity agreement signed by the president, witness protection, and enough money to live comfortably abroad.
Pillar, an aide to Logan, takes a call from the Justice Dept, alerting him that Bazhaev and Jack have had a talk. They can't let Jack interrogate Dana, and Logan may need to ask President Taylor to intervene. Logan freaks out, because he can't tell the President that the Russian government is behind all the events of the day. His face reddens as he remembers, "Bauer torpedoed my presidency. Tried to ruin me. Almost did. There is no way I'm going to let that happen again." Like I said, it's great to have a real villain, especially one who used to be our president. I loved it when Logan said to his aide, "It's good to be back in the game again, even if it's through the rear door."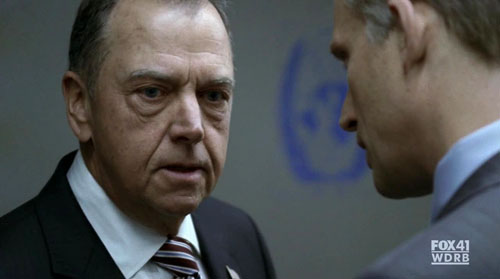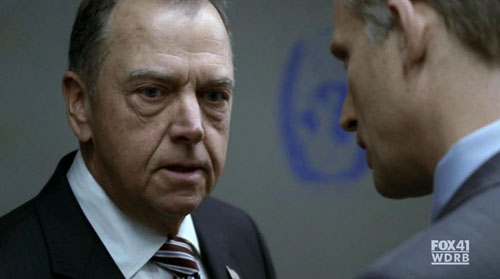 Logan speaks with President Taylor and Ethan, telling them that Jack needs to be stopped. President Taylor is aghast at this and demands to know the reason. Logan finally tells the truth, which outrages both Taylor and Ethan, but Logan convinces them that, if Jack finds out the truth and makes it public, it will forever ruin any chance of a peace accord. He deviously appeals to Taylor's ego by flattering her with statements like so many have tried to make it work in the past and she's so very close to actually getting the job done. Apparently, fake politics require as much sucking up as real politics. Taylor decides to go to CTU to talk personally with Jack.
Arriving at CTU, Taylor meets privately with Jack asking him to stand down, and telling him she won't give in to any of Dana's demands. Jack's expression is one of total disbelief and they have words, rather loud words, considering she's the President and he's a hero who has saved America God knows how many times, gone through torture and hell, and lost every woman he ever loved. There's some great acting between these two pros in this scene. There's his seething anger, frustration, and confusion over what she's saying, and there's her frustration that she can't tell him the real reason and her dislike of being challenged.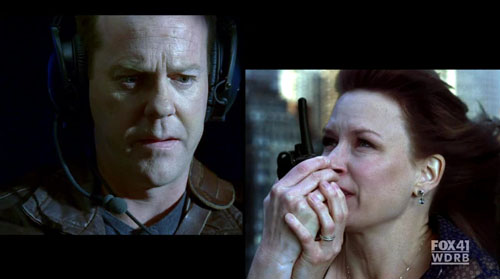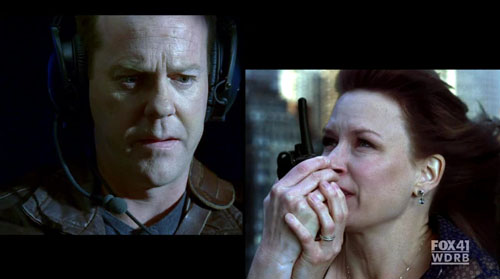 Jack has figured out everything about the Russians correctly but she says he has no proof, and tells him she's got a copter ready to take him to McGuire AFB for debriefing. Jack, stunned, says, "You're locking me down." A pair of Secret Service agents on either side of Jack escort him to the helipad, as the President tells Chloe to have Dana taken away and locked up, explaining that Dana is a sociopath who will say anything and cannot be believed.
At the helipad, walking with the admiring Agent Winnick who looks at Jack like he's in the presence of greatness (which, of course, he is), you can see Jack's burning silently as he strides toward the copter. Suddenly, he grabs Winnick's gun, ordering his men to drop their weapons. This shocks Chloe, who's watching on a CTU monitor, and yells to have security to immediately to the helipad. Too late. Jack's back!!! He steals the copter and flies west over the Apple towards the U.N. building. Chloe does what she must as CTU head, and orders the FAA and the Air Force to intercept the copter and force it down.
This was an outstanding ep… all but one of the Unholy Trinity (Hastings, Hassan, and Dana) are now gone, replaced by Greg Itzin, back again as the psychotic ex-president Logan. Best of all, Grandpa Jack has gone bye-bye and Badass Jack is back!
Rating: 5 / 5 Stars