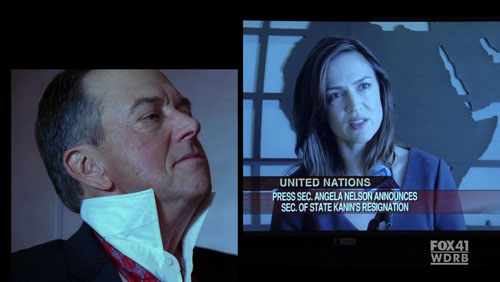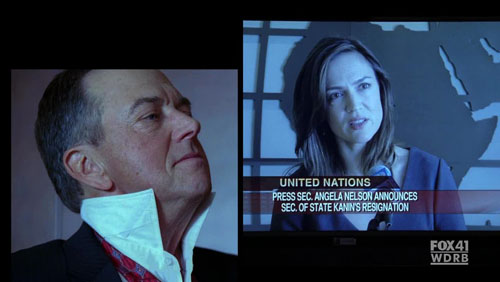 Episode: 24 8.22 – "1:00 p.m.-2:00 p.m."
Original Air Date: May 17, 2010
"How far will Jack go for justice?" asks 24's offscreen narrator. I can tell you one thing, this ep is better than sex.
Logan's gleeful spiff-up is one for the list of great TV scenes of all time. It occurs simultaneously with the White House press secretary's announcement of his help in getting the Russians to the peace table.
Jack's taking reporter Reed to a public phone (good luck in finding one of those) because he threw her cell away, knowing she could be tracked that way. Ominous line from Jack: "I need you to break the story in case I don't make it."
Logan intrudes on a conversation between Mrs. Hassan and President Taylor, forcing an intro, then steers the President aside for a private talk. As she walks away from them, Mrs. Hassan says to her aide: "I trust President Taylor. I have to assume if she involved President Logan it was for a good reason."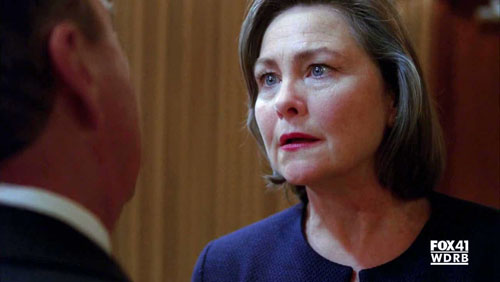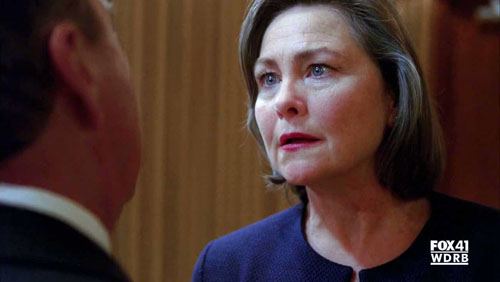 Logan fills Taylor in on Jack's escape and successful transfer of the memory card to Reed, which seems to stupefy Taylor. He tries to convince Taylor to shut the press down, if Reed gets the story out. Taylor accuses Logan of trying to muzzle the press, a Constitutionally protected entity. She says "I never should have let you do this," and he responds, "Every decision was yours. Let's not pretend otherwise. I've studied you for a number of years, Allison… You've always known what needed to be done and were willing to do it. That's why I know you'll call [Reed's] publisher…" and have him kill the story. Taylor to Logan: "This country survived your presidency." Logan responds, "But it won't survive yours." Nothing like a bickering pair of politicians. I've gotta say that Greg Itzin's Logan is one of the best villains television has ever produced.
Logan's on his way to the peace accord signing, and Ricker, back at his place, uploads Logan's limo route to Jack's tablet. Jack tells Ricker to start erasing all connections to him, and thanks him for everything.
Taylor calls in her aide, Tim, and tells him she intends to stop publication of "an unfounded story regarding Omar Hassan's murder." She tells him to contact the FBI and have them seize any evidence Reed has. She says the allegations are false. Tim balks. "Please just do it!" she orders. Tim must obey POTUS orders. Where the hell is Ethan? I know he resigned but so what? We need him now more than ever.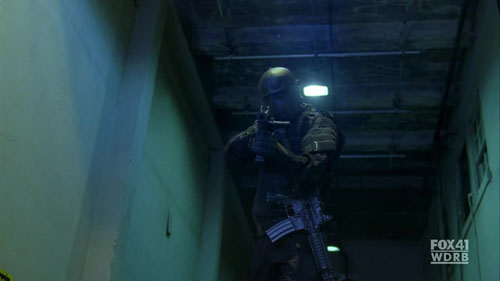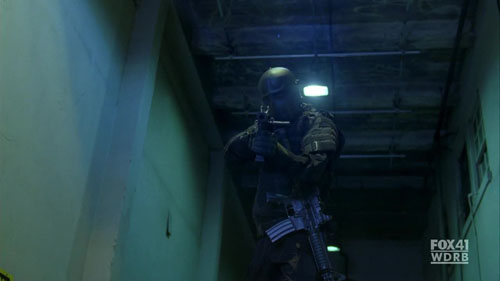 We see a caravan of limos in, what else? A tunnel. Suddenly, there's Jack in Kevlar helmet and face covering. It's a bird! It's a plane! It's Darth Bauer!! He's got knee pads, bulletproof vest, assault gun blazing. Weapons at the ready are sticking out all over his body. Very cool. He takes out everybody. Blam! Blam! Blam! Logan's under assault. He cringes and whines and slobbers to his security guard, "That's Jack Bauer!! Don't just sit there! He's coming for me!!!" Jack shoots at the bulletproof glass of Logan's windshield, which shatters in one piece, until he kicks a hole in it, drops in a gas canister, disabling both Logan and his security guy. Logan, coughing, crawls out of the limo. Jack tells him to stand up and come with him or he'll kill him right there. A quivering Logan complies, and Jack shoots out a lock on a nearby building, forcing Logan inside.
Logan is blithering and dithering in terror, cowardly perspiration running down his terrified face, and still manages to blubber, "I'm not the bad guy here." As only he can, Jack demands the name of the person in the Russian government. Jack has his gun barrel pressed tight against Logan's sweaty cheek. Logan's eyeballs look like they're going to pop right out of his treasonous head, and he freaks out at Jack's threats and shouts out the name "Novakovich!!!
Pillar and team get to where Logan's limo was attacked, but none of the wounded Secret Service saw anything and can't help him. They have no idea what just happened, it was so fast. Pillar sees the lock Jack shot off the door, gets the schematics to the building from his stoolie at CTU and issues an order: "Shoot Bauer on sight."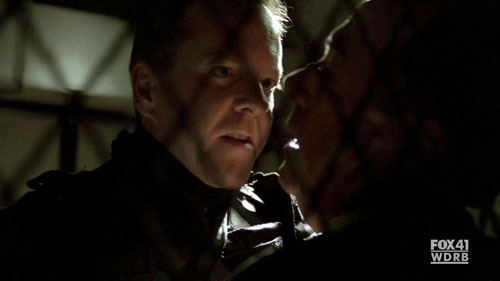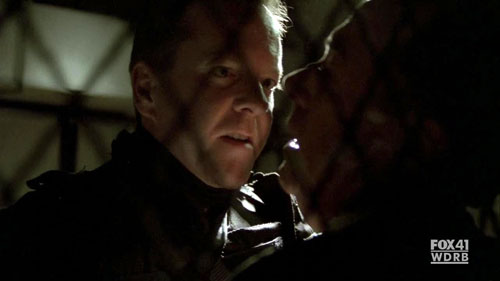 Jack hears Pillar enter the room where he's got Logan. "Say another word and I'll drop you right here." Jack knocks Logan out with a twist to the neck. Jack is gone. Pillar gets to the downed Logan, and orders an ambulance for him.
Arlo says there's nobody to send to Ricker's location where they think Jack is. Chloe answers, "There's one." She's talkin' Cole. Pillar's stoolie objects to Chloe's wanting Cole released to her. Tough luck, ratfink, Division has given Cole a temp furlough to Chloe's custody, since she's still Director of Provisional Operations. Chloe asks Cole, "Are you coming or would you rather wait here for your federal prosecution?" She updates Cole and gives him Ricker's location. Cole wants to expose the cover up, but he thinks Jack's getting careless. He hasn't forgiven him for offing Dana, and doesn't like Jack's kidnapping of Logan.
Cole: "If Jack's there and he makes a move other than complete surrender, I'm puttin' him down. Do you still want me to go?"
Chloe: "I don't have any other choice."
Meantime, Reed's hiding in a diner and gets a call from her editor, the only one besides Jack that she trusts. He tells her the FBI is in the newspaper's office with an order from the President. He tells her to protect the evidence and to "get the hell out of there." She flees.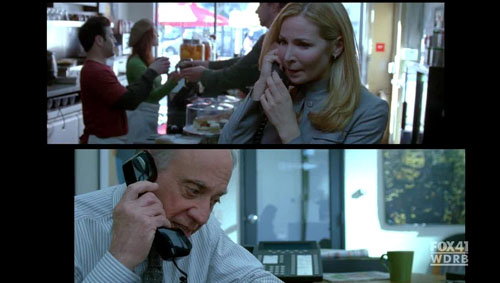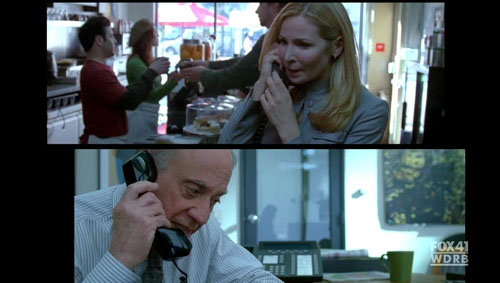 In an underground garage, Bauer grabs one of Novakovich's men, smashes his head into a car, and says, "Where's Novakovich? Where's your key card? What suite is he in? How many guards?" Jack gets all the information he asks for and knocks the Russian dude out, smashing his head with the gun butt. He's way over the edge now. He shoots two more Russian guards, and takes the pass off one to gain entrance. Jack, no longer in protective Kevlar, is stabbed in the gut by one guard and gets on the elevator, bleeding. His face tells us he must finish his mission and to hell with his own safety. Up till now, I was yelling at the TV screen and thrilled by Jack's moves but now… Jack's hurt and I don't like this part at all. I want to crawl under my bed covers and never come out. But I have to come out to see what happens next.
FBI storms to hotel lobby where Reed has fled and arrests her, taking the memory card from her purse, just after she was able to get a message to Mrs. Hassan via her daughter that the Russians are behind the slain Hassan's murder. Tim tells Taylor that the data card has been apprehended. She orders that no one is to see what's on that card except her.
Pillar is putting Logan into an ambulance, but first Logan gasps at him to warn Novokavich that Bauer's coming after him.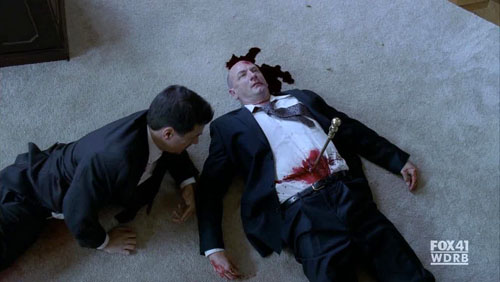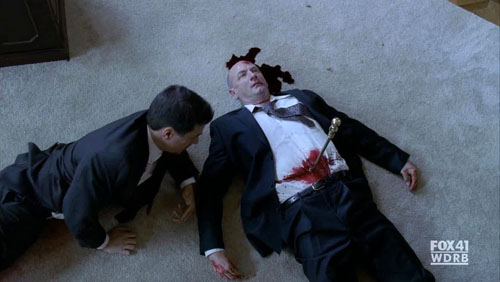 We see a room, camera pans to a dead body, then another dead body, then a wounded man crawling along the floor, passing yet a third dead body until he drags himself to dead Novokovich who has a sword through his gut. Nice work, Jack. The crawling dude reaches over to answer a ringing cell phone in Novakovich's dead pocket, and it's Pillar. A little late with that warning, Pillar.
Crawling dude tells Pillar that everyone is dead and he thinks Bauer was wounded. Pillar tells Logan what happened and they don't know if Novakovich said anything before Jack croaked him. Logan, still on the gurney, oxygen mask hanging down, phones Russian President Suvarov, who's in a limo en route to the U.N., and tells him what's happened. He admits giving Jack Bauer Novakovich's name. To justify what he did, Logan says he "sacrificed a rook for a king." What a suck up. Logan says no, Bauer has no idea that Novakovich was operating under Suvarov's orders, and says he heard Bauer was wounded. "There's nothing more dangerous than a wounded animal," says Suvarov. Little do they know that Bauer has planted a tiny mic on Logan's shirt collar and he's listening to everything they're saying. He's badly wounded, and looks pained as he lifts the huge weapons bag onto his shoulder and, as he walks away, we see his blood on the wall.
I must be a closet masochist because I wouldn't miss next week's double final ep, even for a date with Downey.
Rating: 5 / 5 Stars