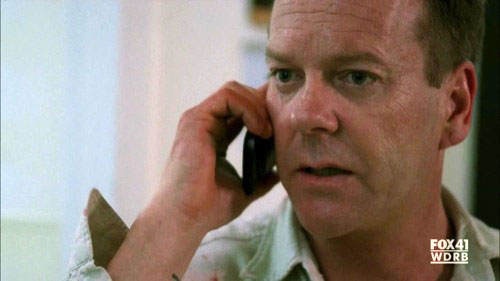 Episode: 24 8.17 – "8:00 a.m.-9:00 a.m."
Original Air Date: April 12, 2010
Spoilers ahead for the 17th hour of the latest most awful day in Jack Bauer's life.
Jack finally got laid. Hard to believe, my friends, but it happened. Of course, nothing good comes free and Jack pays a really high price for his short roll in the hay.
Where was I? Seeing naked Jack has taken over and I seem to have forgotten where I was. Oh yes, reviewing the entire ep. <back on track now>
Turns out that Samir, the dead terrorist, isn't dead anymore, at least not for the moment. Jack's anxious to interrogate him but, behind his back, Pavel, one of the paramedics, injects Samir with some kind of deadly substance. As Pavel leaves, he passes Renee on the stairs and she has that quizzical look of "Hmmm. I know that guy, but can't remember from where." Pavel recognizes her from when she was an (undercover) agent for Vladimir and the Russian mob, and he distinctly doesn't care for the fact that she saw his face.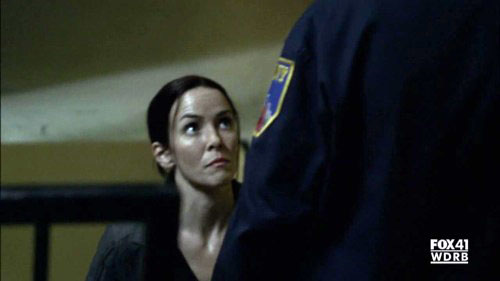 President Taylor is en route to address delegates to the about-to-be-defeated peace accord about Hassan's demise when she's pulled aside by IRK's Jamot, once Hassan's enemy but now a loyalist to Hassan's ideals. Jamot urges Taylor to back the widow Hassan (Dalia) as President of Krapistan because she's much loved by the citizens and she shares Hassan's goal of signing the peace agreement. Taylor likes this idea and they both talk with Dalia, who's reluctant at first because, well, she's in mourning. But she gets over it and agrees.
Russian delegate Novakovich talks to Pavel who says Samir will be dead in half an hour and that everybody who could have identified them has already been whacked, but he's a little apprehensive about Renee's having seen him. Novakovich tells him to keep an eye on Jack and Renee, who are in a cab headed for Jack's apartment ("We're going home") but we know in our heads that Pavel's an assassin and that just keeping an eye on Jack and Renee might not satisfy him.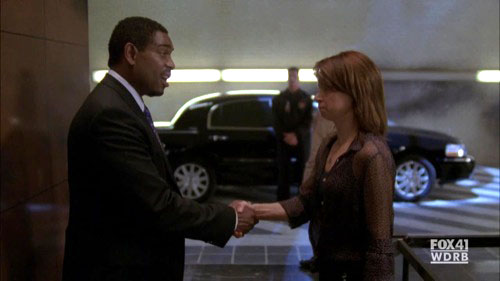 President Taylor's aide, Tim Woods, is authorized to inform Chloe that Hastings's performance (not to mention his posture) has been so poor that he's being removed as head of CTU and Chloe will be interim chief. Chloe goes to Hastings' office and tells him she doesn't think it's right that he will take the fall for everything that went south, but he agrees with the assessment because he was the one who hired the Dipstick and he owns the day's failures. Chloe goes traditional 24 and says: "We had a rough start, but I eventually enjoyed working with you."
Jack and Renee have arrived at his apartment and I'm not going to describe their kiss because I'll probably faint with the very memory of it. So I'll just say they end up between the sheets and the sex was evidently SO good, they didn't even want a cigarette afterwards.
But what's this we see happening in the apartment across the street directly opposite Jack's? NO! It's Pavel, who has knocked off the elderly gent who lives there and has taken a position at the window facing Jack's, a position just like the one taken by Lee Harvey Oswald as JFK's limo was approaching. I don't like the feeling I'm getting here.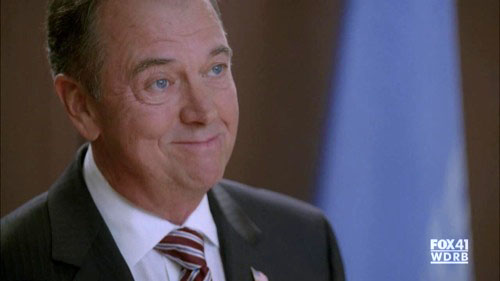 Meanwhile, the Russian delegate, Novakovich, tells President Taylor that Russia won't sign the peace agreement, and he doesn't care if the Widow Hassan will be President or not. Taylor goes to the hospital to see Ethan Kanin, recovering from a heart attack, and seeks his sage advice. But she doesn't like it when he tells her that the only way he can think of to get Russia back into the fold is to use someone who has maintained great relations with Russia, even though he's been off the radar for a long time. He advises Taylor to talk with… get ready… former President Charles Logan! Now you're talking! Logan was one of the best villains ever on 24. Very Nixonlike, very untrustworthy. In other words, a formidable, much admired total nutcase.
Against her better judgment, President Taylor meets with former President Logan and expresses her dislike and distrust of him. But he's sure he can get the Russians back on board because he has "leverage." He doesn't say what leverage he's referring to, but assures Taylor that no laws will be broken and it won't tarnish her presidency. What does he want in exchange? He wants her to go public with how he has helped the country and he wants to be present when the peace accord is finally signed. Taylor hates this entire meeting but knows she has no options left, so she agrees, warning him "God help you if you make me regret this!"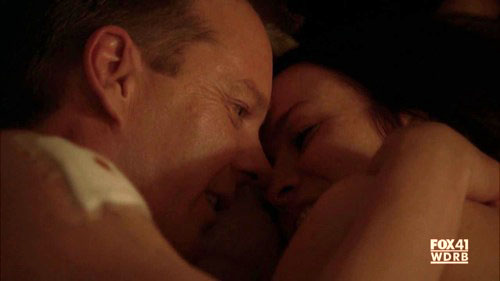 Renee's still in bed, while Jack has gotten up to get her a drink of water. Like I said, that must've been some great sex. She doesn't want a cig, she doesn't even want a beer, she just wants water. <sigh> While Jack's in the kitchen, his phone rings and Renee picks up. It's Chloe, who tells her Samir is dead, murdered, because a toxicology report she ordered shows an unidentified toxin his his blood. Suddenly, Renee recalls seeing the EMT and remembers where she knew him from — when she infiltrated the Russian mob. She asks Chloe to get the old files and she'll identify him.
Renee leaves the bedroom, coyly wrapped in a white sheet, when suddenly a shot rings out! No, NO!! Say it isn't so! For God's sake, Jack finally gets laid, has plans for a real life, and now TPTB take that away from him??????? I can't stand it. I yell at the TV. I say a lot of bad words at it. I watch as Jack rushes to her lying there on the floor, the sheet all bloody. Jack dodges Pavel's bullets, grabs the phone to Chloe and instructs her to have a trauma team ready at the hospital.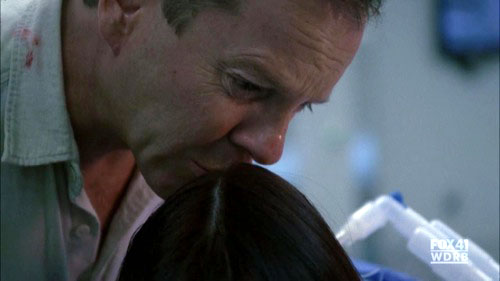 He picks up Renee in his arms, tear-asses down the stairs of the apartment, and manages to grab a cab, directing the cabbie to dodge and speed his way to the hospital. They screech to a halt in front of the hospital entrance, and Renee is rushed into surgery, with Jack, his white shirt all gunked up with blood, pacing in the hallway. Chloe calls to find out what's going on, learns that Renee's in bad shape, and tells Jack the shooter got away, that Samir died, and that Renee had recognized the EMT and sent for her old files to ID him.
The surgeon enters the waiting room and it's obvious the news is not good. He tells Jack he's sorry that Renee didn't make it. Jack, who is starting to break down, goes into the room where Renee is lying, and slowly approaches her. He gives her a last kiss, then collapses, sobbing.
I can't stand this. Jack Bauer reluctantly re-enters CTU after his well-earned retirement. He's already lost his wife, Teri, found out a girlfriend was really a terrorist (Nina), fallen deeply in love with Audrey who's in an irreversible coma, and at last, he's ready for love again with Renee. And what do they do??? They kill her!!! I'll tell you one thing, these writers really know how to throw a curve ball. That's 24 for ya.
Rating: 4.5 / 5 Stars