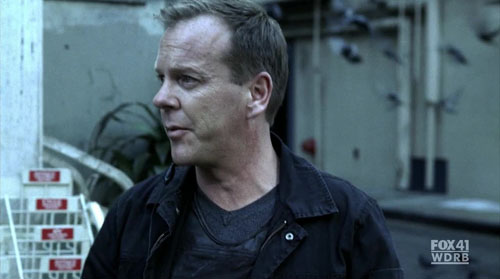 Episode: 24 8.15 – "6:00 a.m.-7:00 a.m." and 8.16 – "7:00 a.m.-8:00 a.m."
Original Air Date: April 5, 2010
At long last, Jack finally says "Dammit!" on Monday night's two-hour, slam-bang, adventure-filled double ep. True, he only whispers it when he spots the SUV of the traitorous Tarin heading straight for him, but still… Jack's sotto voce "Dammit!" does somewhat make students all over the world feel a tad less neglected.
Back to the tunnel in which we last saw Jack, Renee & agents trying to return Hassan to the U.N. building and taking the merc, Bishop, back for CTU debriefing. Hassan wants to turn himself over to Samir in order to stop the dirty bomb from going off on the Upper West Side, but Jack refuses to allow that because the President assigned him the task of protecting Hassan. What Jack fails to anticipate is Hassan's zeal to help New Yorkers avoid this catastrophe. As soon as Jack turns his back, Hassan whacks him over the head with a crowbar, rendering Jack unconscious. Hassan takes Bishop and off they go to the sound of newly conscious Jack yelling out, "You can't trust him!!!!!"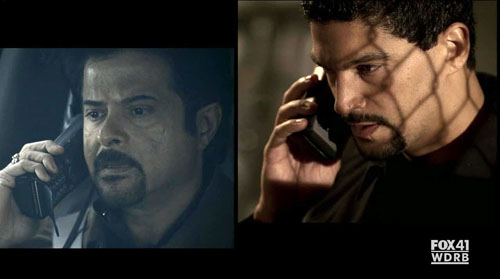 Bishop gets Hassan into a waiting black SUV and conference calls Brucker and Samir, who then talks to Hassan. Samir calls Tarin who, by now, is a nervous wreck, considering the timer now shows only seven seconds till boom time. What a relief when Samir orders him to stop the clock.
Jack calls Chloe, filling her in and telling her to keep to herself that Hassan plans to turn himself in, until he can notify President Taylor. He tells Chloe to backtrack the security camera feed till she sees Hassan entering the street with Bishop. Jack calls the Pres, informing her of Brucker's treason, and asking her to find out where Hassan will be turned over. Taylor is trying to find Kanin and dispatches Weiss to find him, not knowing that Weiss is a traitor, too.
Chloe locates the spot where Hassan and Bishop got into the SUV and tracks them to the Upper West Side, alerting Jack to their location. Crafty Tarin phones Bishop and, using a ploy, gets him out of the SUV and to the van containing the aborted dirty bomb. Tarin gets into the SUV with Hassan and drives off. They have a verbal confrontation, calling each other names and hurling accusations back and forth, like "You're a traitor!" "No, YOU're the traitor!" "No, YOU are!!!" yada yada yada.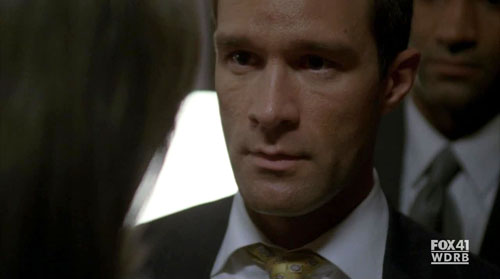 Speaking of traitors, President Taylor now knows she has a pair of them herself: Brucker and Weiss. She rips them each a new one when she discovers them with the still-unconscious Kanin, who's swiftly whisked off by medics. Taylor tries to get Weiss to say where Hassan is, but he demurs, believing he's saving New York. Not even Taylor's threat, "The penalty for treason is death!" gets him to talk, although he did look for a minute like he was scared enough to vomit.
Hastings tells CTU to track Bishop's SUV, while the Dipstick tries yet again to sidle off for a phone call. But Chloe, who seems to be onto Dana or at least doesn't like her anymore, snarks for Dana to stay at her station. Jack arrives at the van/bomb site and it's defused.
Chloe calls Jack with Hassan's location, and President Taylor assigns Jack to lead the rescue op. Dana leaves her station and tries to phone Tarin, but Cole returns to help Jack, and she hangs up the phone. Renee also arrives, delivering Hassan's wife and daughter as Jack had instructed, and they join the President watching the sat track Tarin's SUV with Hassan inside. Dana says she wants to check the trunk line, and again leaves her station, with a frowning Chloe suspiciously staring after her.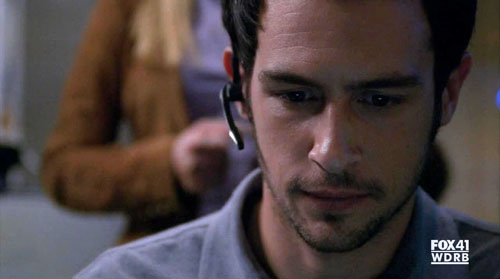 Dana sets up a laptop to monitor the sat feed when Arlo enters the server room and intuits what she's doing. As he sits at her laptop to check things out, she comes up behind him with a cord stretched between her two fists… Aha!!! Another garroting seems to be in the works. But, hark! Arlo gets a call from Hastings, who needs him back at his station. Alone now, a frustrated Dana drops the cord and retrieves the sat feed, phoning Tarin in the SUV to warn him that CTU's following, and she directs Tarin to turn off the planned route and into a parking garage.
Just as Jack sights Tarin's SUV, it swerves and goes into the parking garage. Jack traps the SUV on the roof, and, as Tarin tries to flee in the SUV (this is where Jack finally says "Dammit!"  and I bowed my head in gratitude), Tarin's SUV is forced over the ledge and plummets a long way, smashing onto the concrete floor several stories down. Jack rushes to the scene, only to find a dead Tarin, and a gone Hassan. Jack doesn't know that, somewhere along the line, Hassan was sedated and stuffed into the trunk of a blue Honda by a blonde woman, a soldier of Samir's. Jack finds Tarin's cell phone, tells Renee there must be a mole inside CTU who warned Tarin that he was being followed, and they uplink the phone intel to Chloe who must now decrypt it.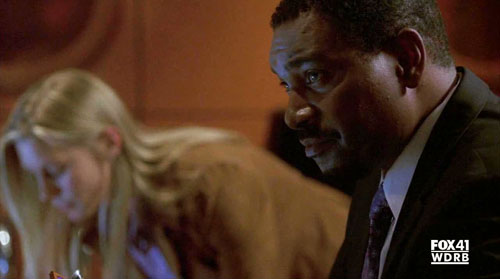 Now that Dipstick Dana has done the down and dirty, she tries to leave CTU but is stopped by a security guard with new rules: Hastings must personally clear everyone who enters or leaves, and her ID has not been cleared. She tries to charm the guard but fails, just as she has with the viewing audience. Dana retreats to Hastings's workstation, claiming she must check his computer reset. Hastings, brilliant as ever, says, "OK, fine." I know one thing: former CTU head Bill Buchanan would never in a million years do any of the stupid things Hastings does. Besides, Buchanan stood up straight.
The Dipstick now has time to change her passkey status on Hastings's computer to clear her exit from the building. Hastings goes down to the floor with Chloe and Renee, who inform him about a mole in CTU. Chloe has decrypted Tarin's phone and they find the mole is Dana. Hastings looks up at his office to find it empty. Du'oh! Who vets these idiot employees anyway, an alien retard? Even Arlo gets it, and says to Chloe, "You work with someone for a year. You'd think you'd know them. She's been acting funny all day. I should've seen the signs, like by looking at her face." Chloe responds as only she can: "She played us. Get over it."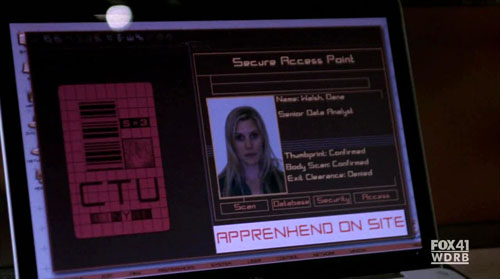 Dana approaches the security guard again but this time, her passkey has a red alert. Someone, probably Chloe, has undone what the Dipstick did and set a warning instead. The guard isn't quick enough, however, to jump out of the way of the bullet Dana fires at him, and he's a goner. She also plugs all the other guards who run to help, and escapes just as Hastings tells a shocked Cole (remember, he was engaged to her) that she's a terrorist mole. Cole springs into action, rushing off to apprehend her before she can get to her car. He succeeds in pinning her against the car door, holds a gun to her head and screams, "Who ARE you???" He's really pissed, although he doesn't ask her to return the engagement ring.
Dana insists she'll talk, but only to Jack, who is summoned. When he goes into the interrogation room with Dana, she wants immunity and a chunk of the dough from IRK when CTU retrieves the cash. Dana seems to have seen the movie Psycho once too often, since her "I'm-a-terrorist-but-you'll-have-to-make-a-deal-if- you-want-Hassan-returned look is the same one Norman Bates has at the end of the Hitchcock movie. You know the whacko look I'm talking about where he says he'd never even kill a fly. I'd like to put Dana in an interrogation room all alone with Kim's cougar from Season 2.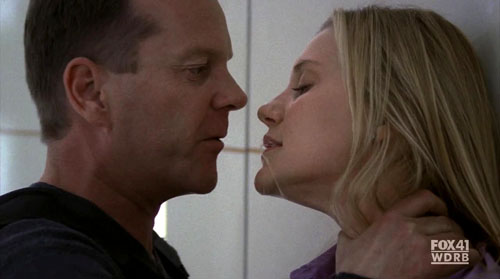 Meanwhile, the blue Honda with the blonde driver gets to its destination and Hassan is handed over to Samir. The plan is for Hassan to video a confession about all the wrongs he perpetuated and the crimes he has committed on the people of his homeland. Hassan refuses and torture is readied. Thank goodness, since I do miss the torture element in 24, but it was way better when Jack did it than when the bad guys do it. After President Taylor reluctantly signs the Dipstick's immunity agreement, Dana tells Jack where Hassan is being held, and Jack, together with Renee, take a team to rescue Hassan, thereby saving the hard-won peace accord. That's the plan anyway.
President Taylor is watching the video feed which shows Samir reading a list of the crimes he claims Hassan has committed against Krapistan. Chloe is at CTU, watching the same feed and determines the probable apartment they're in, based on certain specifics she notes. She gives the intel to Jack, who asks Renee (the new Jack Bauer) to come with his assault team, and makes her promise to stay behind him and follow his instructions to the letter.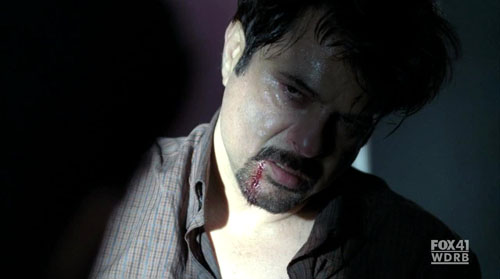 When the assault team reaches the door of the apartment, Jack picks the lock and they quietly enter. Renee spies a blonde wig on the floor, realizes the brunette woman on the couch is the Honda blonde, and shoots to kill when the woman pulls a gun on her. Jack and Renee blast into a secret room of the apartment, shooting and killing Samir and his henchdudes. But wait … Samir's voice can still be heard. What? But he's dead. Seems that Samir's voice came from a prerecorded tape, and they find Hassan, already dead, with his throat slit but his pompadour intact. Here's where the great acting talent of Kiefer Sutherland is apparent, as Jack Bauer kneels before Hassan's corpse, takes the head in his hands, and tenderly closes Hassan's eyes, whispering, "I'm sorry." Truth be told, I'd rather he'd have said "Dammit!!" but this scene was actually quite beautiful, even for an ingrate like me.
President Taylor has watched in horror as Hassan's throat was cut, and she has to tell the wife and daughter. She's also concerned because there's no indication of who Hassan's successor might be. There goes the peace accord. Maybe.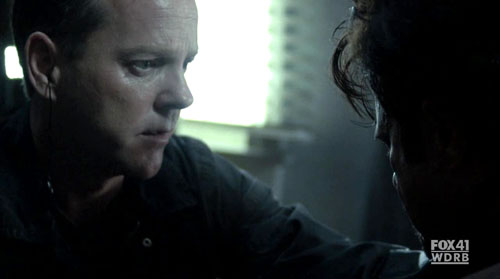 Kind of a puny ending, considering all the other cliffhangers, but there was so much action in this double ep that I can't be too upset about it. Aside from my intolerance of Quasimodo, Eraserhead, and the Dipstick, this has so far been a good season except for one big thing: I'll never understand why Fox moved the shoot to Manhattan. With all the incredible locations, where do they actually shoot? In cars. For this, they moved Kiefer to Noo Yawk? Well, there's still time for him to have a chase up the Statue of Liberty, shove somebody off the Chrysler Building, or hang by his hands from the Brooklyn Bridge. One can always hope.
Rating: 4.5 / 5 Stars