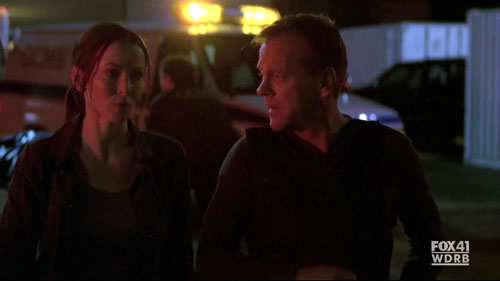 Episode: 24 8.14 – "5:00 a.m.-6:00 a.m."
Original Air Date: March 29, 2010
Maybe it's because this is 24's last season, but tonight's ep zoomed by so fast, it seemed more like five minutes than an hour. Plenty of Jack, whose collapsed lung from last week wasn't really collapsed; EMT says broken ribs or too much stress could collapse it at any moment. Jack turns in his Kevlar vest full of bullet holes for a new one and he's all manned up again.
The cab, last seen hurtling through Manhattan traffic with Samir, Tarin and the dirty bomb ingredients aboard, is now being tracked by the long-suffering Chloe. Who do you think screws up the satellite drone? Who else but Dumb Dana doing dirty to drone, all while whispering to Samir? If she doesn't have a Bluetooth, then she's talking to her hair.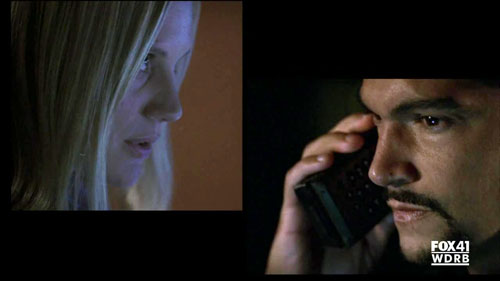 Hastings calls President Taylor and totally wimps out with a remark that CTU's best efforts cannot guarantee the safety of New York. (Later, Hastings delivers what may be the wussiest pep talk ever to CTU employees.) The Pres assembles the National Security Team and phones Jack, who's out there trying to locate and stop the dirty bomb. She asks him to do her a favor and supervise Hassan's removal to a safe place in New Jersey, which is the first I ever heard that there IS a safe place in Jersey. Jack sweetly mentions how busy he is, but agrees to return and escort Hassan and family to safety. Renee insists on going along, and here's a big indication of the acquisition of balls on Renee:
Jack: I need to do this on my own.
Renee: We're not going through this again. I'm coming with you. End of discussion.
I can't imagine why the writers have gutted Jack's badassedness and have him bending to Renee's will. Where'd he spend the summer, in sensitivity training? Where's the Bauer Power of yesterhour? Where did the "Dammit" go? Where's the outlier, tortured-soul, manbag-carryin' Bauer gone to? Apparently, that Jack Bauer is now channeling through Renee.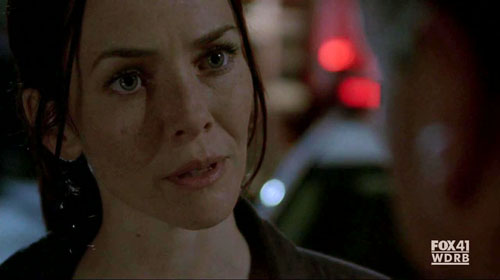 Samir's taxi delivers him to Ahman, the bomb maker, who will make the device functional as soon as the rods are loaded. Samir will place the bomb after he talks to President Taylor. He's going to put it on the Upper West Side of Manhattan, and it will kill about 140,000 people and render the entire area unsafe for habitation for a period of a hundred years. (This could be good news because maybe then, the landlords will lower the rents so regular people can move there.)
The National Security meeting is a farce, much like our own Congress. Samir phones Taylor on speakerphone, tells her of the radiological dispersal device set to contaminate 40 blocks. He'll call everything off if Taylor turns Hassan over, giving her an hour to decide. She says a strong "no," which results in her aide, Weiss (remember, he's a mole) recommending that she do so in order to save American lives (not to mention the real estate value of the Upper West Side). She's offended at this idea, but General Brucker agrees with Weiss, while Secretary of State Ethan Kanin is aghast at the very idea and sides with the President. Pres Taylor delivers inspirational lines: "if the worst happens, we will deal with it," she says. "We will pick ourselves up off the floor and deal with it. Why? Because that's what we do. Americans don't stay down. We rise up in times of crisis. We carry on. Is that clear?" Yes, it's clear and thrilling, Madame President. Where do I sign up?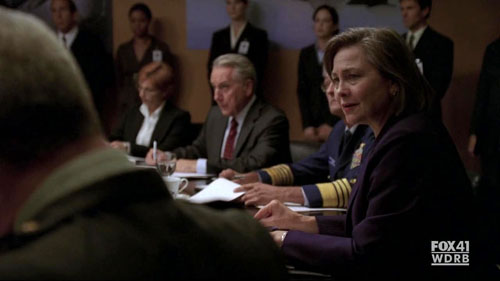 Chloe's working on a list of checkpoints and road closures and, when Dana says she wants the list to check out any unprotected areas, Chloe complies. Dana calls Samir from her hair, and passes on the intel. Ahman the bombmaker has it all tricked out and ready to go.
General Brucker talks privately to Weiss and wants a covert op set up to secretly turn Hassan over to the terrorists and save New York. They both go to Kanin's office because he's the only one who has Hassan's evac route on his computer. The plot is rapidly thickening and the angst is riding high, because we know Jack and Renee, with agent Molly O'Connor and her team, are leading Hassan and his family by underground tunnel, and they'll be in high danger.
Kanin interrupts Brucker and Weiss, spies the thumb drive in his computer, and instantly suspects why they're there. Brucker won't let Kanin leave. Kanin secretly dials Jack's cell phone from his own cell in his pocket, but Brucker is onto that and grabs it. Kanin is struck by a heart attack so severe that Bob Gunton should get an Emmy, unless of course that heart attack was a real one. I couldn't tell. A bottle of his nitrate heart pills spills on the floor. I thought Brucker and Weiss would just stand there, but Weiss shoves one of the pills down Kanin's throat. I guess nobody's all bad.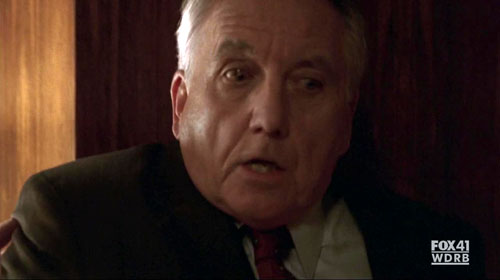 As Jack, Renee, Molly, and her team are striding through the underground tunnel with Hassan and family, Jack tries to return Kanin's call but there's no answer. He tries other numbers but can't find him. We can see that Jack is suspicious that something's awry with the escape route because Kanin would never have tried to phone and then hang up and be unreachable. If only Jack had said "Dammit!!!" but that was too much to hope for. I had to be satisfied with his brain work instead.
Jack reaches Weiss in Kanin's office and tells him he must speak with Kanin but, unknown to Jack, Kanin's out cold on the couch in his office. Weiss tries to tell Jack all is well, but Jack doesn't buy it and insists on talking to Kanin. Weiss yells at Jack and hangs up. Jack calls out to Molly to stop, that something's wrong and they should return to the U.N. The terrorists lurk behind boxes about 100 yards ahead of them, watching the Hassan party turn around and start to go back. They're ordered to shoot as many as possible and they start blasting away.
Jack yanks Hassan behind a bunch of wooden pallets and puts Renee in charge of Hassan's wife and daughter. Jack orders Renee to get them into a side tunnel and he'll follow along right after her, but they're pinned down. With Jack covering O'Connor so the Hassans can retreat, he then tells O'Connor she will have to hold them off. His orders are to protect Hassan, so he can't stay with her and fight. The agents are being slaughtered left and right and Hassan wants to get a gun and help O'Connor, but Jack doesn't allow him to put himself in further danger than he's already in.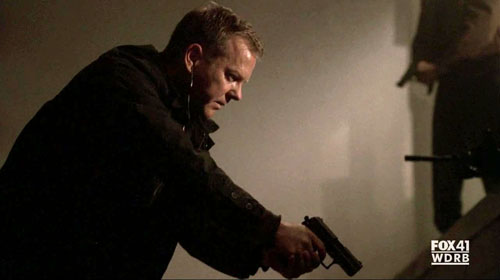 As they flee down the side tunnel, the terrorists catch up, and Jack finally throws a gun to Hassan. He also throws a smoke bomb and, while Renee sprays bullets at the terrorists, Jack uses the smoke as cover and fires at the enemy, blasting them into the next century. Waytago Jack! There are only two enemy commandos left and one of them is about to waste Jack, but Hassan shoots him dead, while simultaneously preserving the height of his pompadour. Jack unmasks the remaining commando, only to find he's an American. It's from this man that Jack learns of Samir's call to President Taylor, her refusal to cooperate by handing over Hassan, and the fact there's only 20 minutes left for her final decision before Samir unleashes the bomb.
Samir by now believes President Taylor will not acquiesce to his demands, and orders Tarin to take care of the bomb, meaning Tarin will have to blow himself to smithereens. Tarin doesn't look too thrilled with this instruction. He says a few phrases in Krapistanese, their mother language, which probably translate to something like, "I don't wanna die, I don't wanna die!!!!" (Actually, it was Arabic for "The next world is the true life.") Samir tells Tarin to start the countdown, saying "Your name will never be forgotten, my friend. Your family will be honored above all others." Yeah, and maybe offer them an apartment on the Upper West Side.
The countdown says 15 minutes till detonation. How will Jack and Renee save the city and get Hassan and his family back to the U.N. building? Tune in next week.
Rating: 4 / 5 Stars