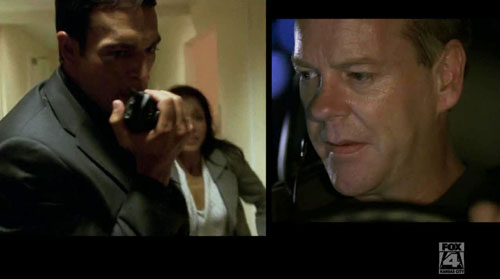 Episode: 24 8.12 – "3:00 a.m.-4:00 a.m."
Original Air Date: March 15, 2010
Jack and tac team are enroute to the hotel to save Kayla. She's locked herself in the bathroom, trying to open a stuck window to escape, while Tarin stands outside the door yelling at her to hurry up. Samir has informed Tarin that suicide bomber Marcos might've blown his identity before he blew himself up. Just five minutes before Jack's arrival, Tarin breaks the door down and grabs Kayla. They're off and running, watched by tech-savvy Chloe at CTU. She tells Jack exactly where they are. She's the best!
Meanwhile, NYPD decides to ignore Jack's command to hold position, and they rush the hotel corridors anyway, only to be shot deader'n a doornail by Tarin. (Too bad Dana didn't join them and get herself whacked.) Grabbing one of NYPD's comms and issuing false intel to Jack, Tarin makes another run for it. But canny Jack <sigh> easily figures out that Tarin's intel is phony.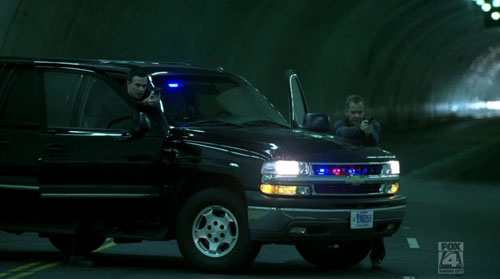 It doesn't matter that Tarin and Kayla make it to a waiting cab, because Chloe has just gotten satellite drones to track the cab to a camera-less underpass. Jack, looking very hot in kevlar vest, and Cole, who'd be a lot more appealing if he didn't wuss out to dingbat Dana, leap out of their vehicle, only to find the cab empty. Awwww. Jack figures the terrorists want Kayla in order to have leverage over President Eraserhead, er, I mean President Hassan, but doesn't know what they want from him.
Back at CTU, dead Kevin's parole officer, Bill Prady, who looks like a fugitive from Deliverance, arrives to interrogate Dana about Kevin's whereabouts. She lies to him but doesn't fool him one bit. Even he can tell bad acting when he sees it. Prady decides to hang out at CTU while Dana goes back to the "national emergency" she has told him about. Somebody ought to sew that idiot's lips together. Prady wants access to tapes from the NYPD lockup, the same one Kevin robbed with Dana's guidance.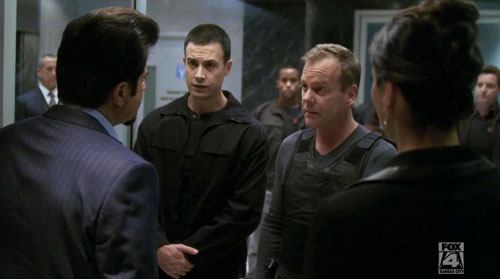 Jack and Cole meet with Hassan, whose hair arrives in the room five minutes before he does. Nice Mrs. Hassan loses it because CTU screwed up the rescue of their daughter. (She evidently uses the same teeth whitener as Tarin because, when either of them talks, you could get blinded by the glare.) Jack asks Hassan what it is that Tarin might be trying to get from him using Kayla as leverage. Nobody could possibly have believed Hassan when he claimed he didn't know, since his pants were on fire. I loved it when Jack said the threat to the U.S. was brought upon the country by Hassan's family because Jack tells the truth and that's how you can tell he's not a politician.
Tarin takes blindfolded Kayla to Samir, little knowing that Samir is prepared to knock off Kayla to bribe intel out of Hassan. Samir has Kayla tied to a chair and phones Hassan asking for File 33. Hassan denies any knowlege of a File 33. Samir doesn't believe him because he knows CTU is listening to the call. Samir puts a plastic bag over Kayla's head and she starts to suffocate. Will her father let her die? Or will he give up File 33? In case you're wondering, File 33 is operational details about U.S. radiological detection and shows all U.S. nuclear detection facilities.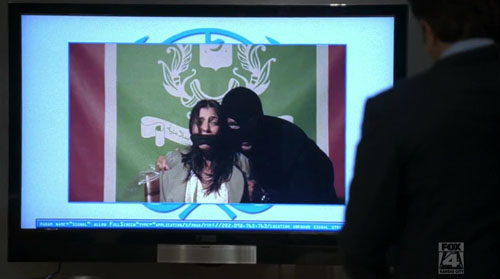 Chloe and Arlo have found Kayla's location by a subway noise on the video cell feed which Arlo crosschecks with train schedules. Jack tells Hassan to let CTU create a fake File 33 to buy time until they can rescue Kayla. Jack and the tac team head for the Brooklyn location and Hastings sends a backup team with aerial coverage.
Tarin was shaken up when Samir put that bag over Kayla and seizes her when nobody's looking, running to escape Samir and his trusty henchpeople. During the chase, Tarin disables a man and takes his car keys. Recognizing the car when the garage is reached, Tarin gives Kayla his cell and tells her to call CTU. Just then, as we're thinking "Hey, maybe Tarin isn't that bad," he gets shot. Kayla slides over into the driver's seat and puts the gas pedal so hard to the floor that you know she's not driving a Toyota.
Prady knows that NYPD backup video feeds are archived at CTU and asks Dana for them. She agrees, using one of her two expressions. She calls Cole and tells him she's going to give up the video feeds and he tries to discourage her. She begins to cry. What else would you expect of someone who's in charge of uncovering terrorist activities?
Kayla calls CTU who pinpoints her position and tells her to hotfoot it over to their offices. Jack and the tac team get to the location where she'd been held prisoner, only to find it empty, just like that cab. They uncover a tunnel system and, at CTU, Arlo puts drones on the exits, spying Samir and two others leaving the premises. Who do you think he sees, besides Samir? Tarin, the undead. Samir tells Tarin that Kayla will die for a good cause. The plot is now so thick, it's hard to follow, but I managed.
The divine Jack Bauer realizes this has to be a setup and that the only way to disable the radiological detectors is to take out CTU. Therefore, Kayla's car must be bombed up. She's already driving into CTU when she's apprehended by CTU security. Jack was right — they find a bomb in the car, an EMP, with ten seconds left on the timer. Jack orders a shutdown of the systems, but the security guard who's trying to move the car now that Kayla is out of it is killed by an electromagnetic pulse, which also takes down everyone in the area and shatters CTU's doors. Lights at CTU fade out. With no power, and no drones operating, Arlo loses sight of Samir and Tarin, and Jack loses all communication. He turns to Cole and says "We need to contact NSA. The terrorists just took out CTU." Never saw that coming. I love it when that happens.
More will be revealed next week but, for now, all I can hope for is that at CTU, Dana is killed instantly, and Chloe isn't even cut by flying glass. Perhaps Hastings's posture will be improved by the blast. Wait and see.
Rating: 4 / 5 Stars