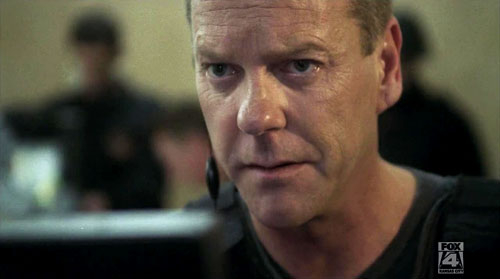 Episode: 24 8.11 – "2:00 a.m.-3:00 a.m."
Original Air Date: March 8, 2010
Jack correctly figures out that the suicide bomber, Marcos, plans to reconfigure the circuits in his disarmed vest so he won't be taken alive. He has already managed to reconfigure one out of four circuits. Chloe, back at CTU, has tracked and locates Marcos's mother. I knew she would, since the mother is played by Mare Winningham.
Cole and Dana return to CTU after cleaning up the mess they made at the swamp last hour, and Cole decides they should "act natural." He says "We're in the middle of a radiological threat… When it's over, then we'll talk." It would've been more reassuring had he not walked out on his responsibilities in the first place. Hastings meets them at elevator: "You two have holy hell to answer for… you broke protocol." He said if they weren't both the best at what they do, they'd be out. He puts Dana under Chloe's supervision, so I guess Chloe is back to #1 systems data analyst. If TPTB had only left her at #1 this season, we wouldn't have had to deal with dumb dipstick Dana. Chloe says she's glad Dana wasn't fired. I can't figure out why Chloe likes her, although she did have a nice self-satisfied smirk on her face after she said that. Hastings orders radiation sensors to be set up at all ports into the city. Arlo still has the hots for Dana and I don't get that either.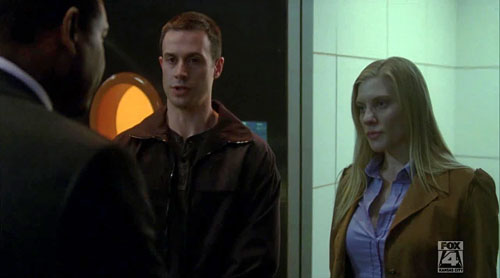 Cameras into the oxygen chamber are repaired and Jack again tries to talk sense to Marcos, who, this time, listens to Jack saying IRK will be the losers if nuclear explosions occur in NYC. CTU alerts Jack to the fact that the chamber is being surveilled by outsiders so they've got to cut off. Jack begs Marcos to open the door. Marcos refuses, but explains why he has to blow himself up: America dictates which countries may or may not develop nuclear power. Jack has to remind him that he was born in America. Marcos finishes rearming a second circuit and now two green lights blink menacingly on his bomb-laden vest.
Thanks to Chloe's locating Marcos's mother, Elaine, Cole and team arrive at her apartment to find her packing to leave town. They explain the facts and take her to the hospital hoping she can talk Marcos out of blowing himself up. When she arrives, we see there are now three blinking green lights on Marcos's vest. Elaine does her best, but cannot persuade her son to give up. She's taken out of the room, hysterical, and Jack enters to try again. He informs Marcos, with four green lights blinking, that if he detonates and the rods are set off in Manhattan, Elaine will be exposed to radiation and die a horrible death. Marcos cries with remorse and agrees to come out. But now the vest is fully set to go off. Can Jack disarm it again in time? We'll see very soon.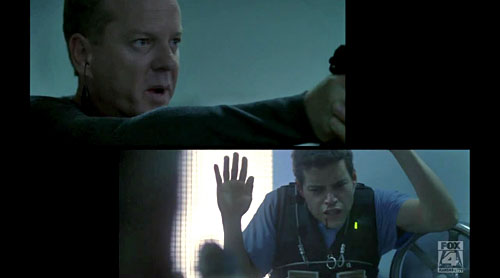 Same as before when Kevin phoned, Dana again skulks off in a corner of CTU to take a phone call this time from dead Kevin's parole officer who has tracked him down to Dana's phone number. Yet again she is forced to capitulate to the instructions of another, this time to avoid anyone finding the submerged bodies of Kevin & friend. What, she can't learn anything from experience? 24 writers will have to publish a book called Dana for Dummies and explain to the audience why we're supposed to care anything at all about this stupid woman.
A 30-second countdown appears on Marcos's vest, which Jack is frantically attempting to disarm. This is a thriller because Jack's fingers are shaking, making it harder for him to try to separate the wires on Marcos's vest. As he works, he begs Marcos to reveal the location where the nuclear rods will go off, but Marcos doesn't know. At the very last nano-second, Marcos yells Tarin's name out as the one who knows where and when. With two seconds left, Jack knows he cannot disarm the bomb, so he shoves Marcos back into the chamber and the bomb goes off, hurling Jack to the ground and splattering lots of blood all over the inside of the chamber.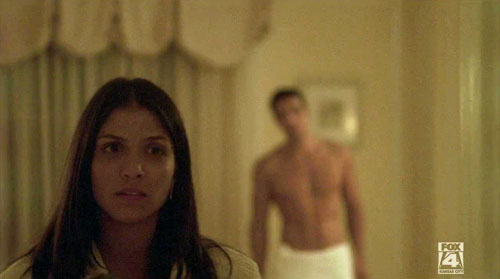 Jack calls President Hassan and reveals the name of Tarin. Aha! So Hassan wasn't so paranoid after all. He tells Jack of Tarin's escape and that his daughter is with him but he doesn't know where. Jack convinces Hassan's wife to keep calling and trying to find a location on Kayla and Tarin.
While Tarin is taking an after-sex shower, Kayla disobeys his instructions not to take phone calls from anyone, and does take a call from her mother who finally convinces her that Tarin isn't who he pretends to be, and what will happen if Tarin doesn't come clean with location of the planned attack. Kayla tells her mother the name and room number of their hotel, just as Tarin comes out of the bathroom to find her on the phone. Kayla is very cool and says she just reassured her mother that all was well and did not tell where they were. He appears suspicious, but seems to buy her story. He looks good in a towel.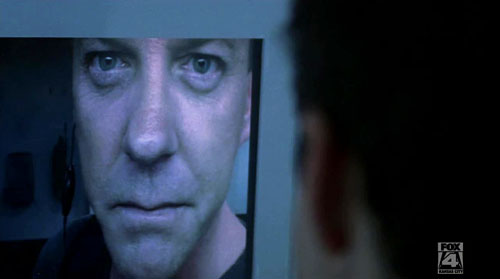 At CTU, Cole says he can have a tac team at the hotel in 20 minutes, but Jack says cops can get there faster, but to make sure NYPD understands that Tarin must be taken alive no matter what.
Even without Renee or President Taylor this hour, there was plenty of suspense. What made this ep interesting was, of course, Jack Bauer. When he talked with Marcos and said Elaine would die a horrible death: "You don't believe me? Look into my eyes!" We could see Jack's past was what he meant, all the awful things he had witnessed and actually done himself. It's at this point in the story that we know Jack is again faced with the terrible dilemma of being "in" and wanting to be "out" and knowing that his CTU past is also his present.
Rating: 4.5 / 5 Stars