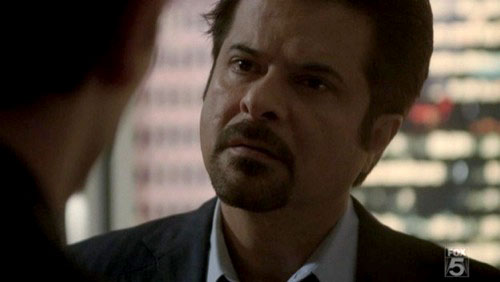 Episode: 24 8.07 – "10:00 p.m.-11:00 p.m."
Original Air Date: February 8, 2010
Hassan appears to be losing it, arresting everybody in sight, ordering torture and death to political prisoners in Krapistan. I think his hair is so high that it's scraping the ceiling of the UN Building, causing the roots to tamper with his brain. He actually stands up U.S. President Allison Taylor for a meeting, but she's so sweet, she phones asking if she can still count on him to stand with the other nations. He assures her he is no longer persecuting those who betrayed him. Obviously, his pants are on fire.
Dumb Dana and those two, er, I can't say the "r" word anymore (so much for freedom of speech), so I'll just call her ex-boyfriend and his idiot friend "brainless morons" and hope the morons of the world don't all send nasty mail. Dana guides them into the warehouse where all that dough is held in a locker. She gives them entry codes, locker numbers, times the security guard checks; she gives them everything, all on the sly from her CTU station, or hovering nearby her station and skulking about on her cell phone. But they are morons. Can't find anything and when they do, they don't just take the money as planned, the mondo-greedy friend of her ex trashes the locker, leaving a paper trail, not to mention fingerprints. Besides all that, he offs the security guard who's making his rounds right on schedule but the two idiots have hung around too long. Dana, who has two expressions ("what are you doing?" and "please don't let me down"), uses both of them as we see her on the phone, afraid she'll be found out.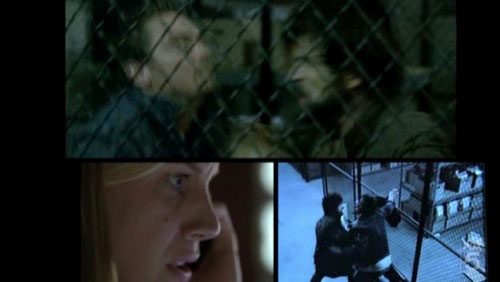 Of course, wonderful and snarky Chloe is suspicious, as is Arlo, a CTU tech whose position in all this is yet to be determined. He seems to have a crush on Dana, which tells me he was not well vetted by CTU Human Resources. Sometimes he monitors Jack's whereabouts; other times, he seeks Chloe's advice on whether or not to tell Dana's fiancé, Cole, that maybe she's fooling around with someone else. Chloe pretty much tells him to mind his own business.
At Vlad's, Jack (in his Myer/Meier/Meer disguise as a German buyer seeking those elusive nuclear rods) takes Renee aside and tells her he's authorized to pull her off the job, that she's essentially cracking up. She insists he not do that, because she's the only one close to Vlad who can find the nuclear rods. Jack capitulates and watches her go back over to Vlad, who plays grabass with her. This irritates observant Jack, who can do nothing without giving himself away. Vlad starts calling all his contacts to try to locate the nuclear rods, which he begins to think do not exist. One of the people he calls is Bazhaev, who denies everything and tells Vlad never to call him again. Bazhaev then phones the guy driving the truck with the rods in it, and tells him Vlad knows something and they should pull the truck over to the side of the road. I have no idea why.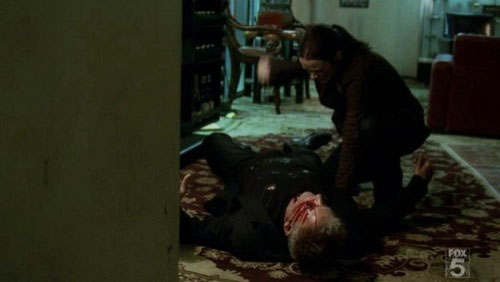 Vlad has exhausted all his contacts and now wants to stop, satisfied with the $5 million Jack as Meyer/Meier/Meer turned over earlier. Renee insists he start calling the same people again — that's why she came back and not for him. This dents his ego and he furiously smacks her. She loses it, really loses it. She grabs a knife and smashes it into Vlad's eyeball and, when he falls, she stabs him in the chest over and over and over. Jack comes running over and grabs her. Before she realizes who he is, she plunges the knife into Jack!!! OMG!!! What a shock that was. Jack falls to the ground, just as Lugo comes running in ready to shoot. Jack hurls the knife he just pulled out of his side right into Lugo's throat. Wow! All Vlad's other goons can be heard running toward them, but there's Jack, shooting them all right through the wall before they can enter.
Bloody Jack takes traumatized Renee into his arms and tries to soothe her. He bandages himself (what else? He's Jack Bauer), then calls CTU and covers for Renee saying she killed Vlad in self-defense. Jack says they might find more intel going through Vlad's computer and phone records.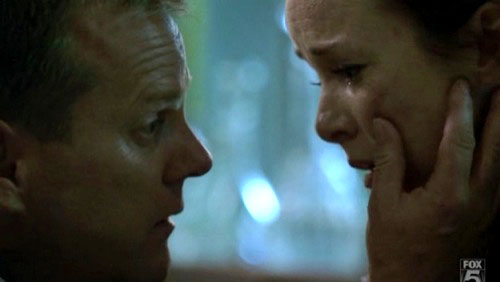 Jack goes back to Renee, who's devastated at her crack up and says she now has nothing, but Jack says, "You have me." (Pardon me while I have an attack of jealousy.) There's noise outside. Voices and approaching footsteps. Must be CTU. Nope, it's not CTU to get them out, it's more Russians! Aarrrggghhh. Jack hides Renee and offers himself up as a diversion, sure they won't kill him until they debrief him. The Russians take off with Jack through an underground tunnel which isn't known to CTU, so CTU cannot follow his whereabouts as they had planned to do. Uh oh. Nobody knows where Jack is.
The real CTU guys, including Cole, arrive and take Renee back with them.
Tune in next week to find out what happened to Jack.
Rating: 3.5 / 5 Stars