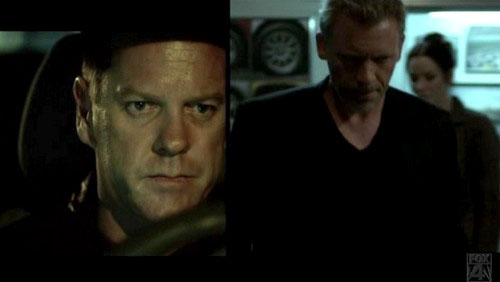 Episode: 24 8.06 – "9:00 p.m.-10:00 p.m."
Original Air Date: February 1, 2010
Hastings refuses Jack's request to get Renee out of there because she's dangerously near the edge of sanity. Jack then offers to get Renee out himself when he goes to Vlad pretending to be the German buyer, Ernst Meyer.
Dana phones Kevin from CTU. She has located intel on $120,000 in impounded drug money in a police warehouse that has security she can access from her workstation. Kevin, and the guy who's also in Dana's apartment but we still don't know why, seem ecstatic at this news and prepare to rob the warehouse, guided by Dana.
Renee tells Vlad she has a German buyer, Ernst Meyer, who wants to buy weapons-grade uranium that they can resell for tens of millions of dollars, of which Vlad would receive thirty percent, if he tells her where it is. Vlad wants an upfront payment of $5 million. She calls Jack who arranges for the $5 million and says he'll be there in half an hour.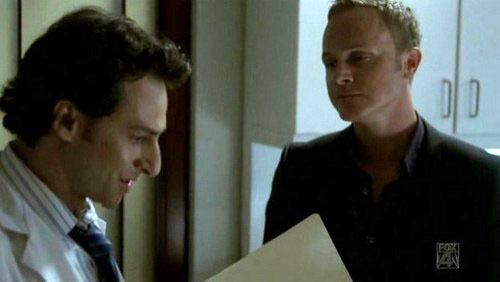 The doctor puts Bazhaev's son, Oleg, on morphine. Test results indicate the son needs a bone marrow transplant, but, under pressure, the doc agrees with the other son, Josef, that there's a way to flush out the radiation with drugs.
Jack tells Cole no drive-bys in case they're spotted by Vlad's guards. He listens to Renee's conversation with Vlad on the comm. Vlad apologizes for what he did to her in the past, and then gets all hot for her. He wants her to come in with him. To get Vlad off her back, Renee excuses herself to take a shower. While she's gone, Vlad instructs Lugo to pick up Ernst Meyer, the buyer and, once they get the $5 million, Lugo is to shoot Ernst.
At the UN building, Weiss tells President Taylor that Hassan's rounding up and killing dissidents in Krapistan may lead to the British, Germans, and Egyptians pulling out of the peace accord. Taylor says to tell them Hassan wants to prevent his brother from acquiring nuclear rods. She needs to buy time, and asks for all reps from all countries there to sign the accord meet her, so she can appeal to them.
Hassan's head of security gives him a list of detainees, and among the names is a cousin of his U.N. delegate. He orders the guy arrested. After his brother tried to have him assassinated, Hassan doesn't trust even relatives.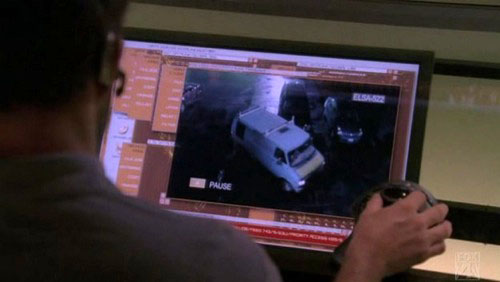 Dana meets with Kevin and the other guy, Nick, and gives Kevin a keycard, PDA, and Bluetooth, telling him to do exactly what she says and they won't be caught. Arlo at CTU, the guy with the crush on Dana, is secretly watching this meeting on a security camera.
A clothing-challenged Renee, wearing only a towel, is accosted by Vlad, who had entered the bathroom during her shower. He believes she really wants him personally and that's why she returned. He threatens to nix the deal if she doesn't go to bed with him. He leaves her to finish drying off, expecting her to come out of the bathroom and into his bedroom. While Vlad's gone, she phones Jack and says she's going dark. Her eyes are dead. She takes out the comm unit of her ear and washes it down the drain of the bathroom sink.
There's a knock at the doctor's door. The nurse with more drugs? No, Russian thugs blow the doctor and nurse away, grab Bazhaev's two sons, and leave to return them to their father.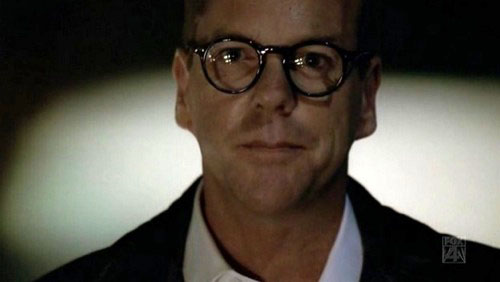 Lugo meets Jack who, as Ernst Meyer, is wearing horn rimmed glasses, smoking a cigarette, and speaking German. Jack insists on talking to Vlad before he gives up the $5 million. Cut to Vlad answering the phone in bed, with Renee next to him, both naked and after-the-fact. Jack begins to transfer the money over his laptop, with Lugo and henchmen waiting till the transfer is complete before they blow Jack/Ernst away. As Renee dresses, Vlad tells her he's going to have Ernst killed and keep the money. She tries to phone Jack, but Vlad stops her and warns her never to go against him. She has no way to help Jack.
Just as the transfer goes through, sniper Cole, up on a rooftop, blasts the henchmen with a rifle and Jack knocks Lugo to the ground. Jack then calls Vlad asking if Vlad really thought he'd walk in without any help. He asks Vlad if he thought he could be rolled for $5 million. Vlad reconsiders, and asks Lugo on the phone to bring Jack in.
Bazhaev is furious at having been disobeyed by one son to help the other son. He points a gun at Josef, then swivels and shoots Oleg, the sick one, killing him.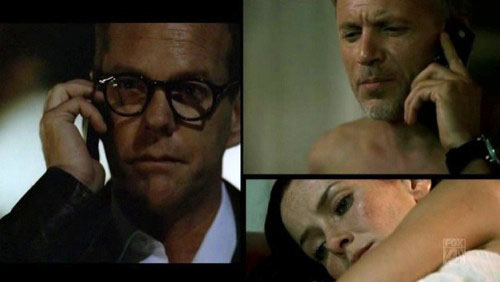 Although this episode was Jack-lite, there was enough action to almost compensate. The scenes with Jack are way more alive than scenes without. When he wore those glasses as Ernst, he looked (as was Tweeted) like Harry Potter. He smoked, too. I found that odd since Jack seems to be tied with a rope of political correctness this season. Maybe smoking is the way he rebels. The tension between Renee and Jack, if only on the phone, is heavy, and he seems to feel responsible for her actions. In fact, this season, Renee is more like old Jack Bauer than current Jack Bauer, torture wise. You can see how he feels, largely due to Kiefer's superb acting, while Renee's more dead-eyed and almost mechanical in her actions, as the part calls for. She really seems about to go mad, though she did indicate revulsion at having to sleep with Vlad to keep her cover.
I still find Dana irritating, and can only hope she redeems herself by entrapping those two thieving creeps she's helping by using CTU. I keep wishing someone would shoot her. Maybe next week.
Best snark of the night was Chloe's to Arlo at CTU: "Go ahead and stare at my ass as I walk away."
Rating: 4 / 5 Stars