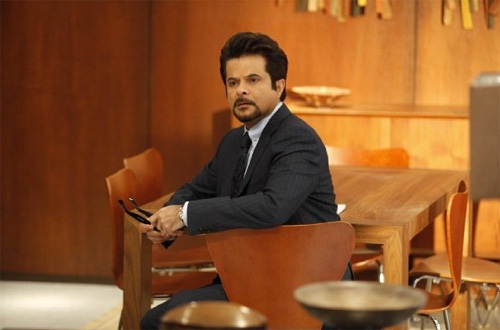 Episode: 24 8.03 – "6:00 p.m.-7:00 p.m." and 8.04 – "7:00 p.m.-8:00 p.m."
Original Air Date: January 18, 2010
Following the two-hour premiere of Season 8 on Sunday, January 17th, producers gift fans of 24 with yet another double dip into Jack Bauer's resurgence as (arguably) America's greatest fictional hero. Picking up where we left off…
Reed, the blonde reporter/lover of President Omar Hassan of fictitious middle east country Kamistan, tries to resist confessing to Hastings how she happened to have a key card to Hassan's private residence but, ultimately, she tells all about their illicit affair. And they didn't even torture her. Compared to past interrogations at CTU-LA, Hastings isn't very good at it and just did a lot of yelling. Hastings confirms her story that Hassan himself gave it to her and they have a personal relationship. Hastings now thinks perhaps Chloe's theory that Reed was set up by parties unknown might have merit after all and gives grudging permission for Jack and Chloe to follow their hunches. Security cameras outside of Reed's apartment show Davros (the assassin) entering and leaving just before bogus evidence was found. Not too hard to figure out how it got there. They locate the cab that picked him up, and learn he was dropped off at a house in Queens where Jack Bauer heads by himself, the scent of the assassin fresh in his flaring nostrils.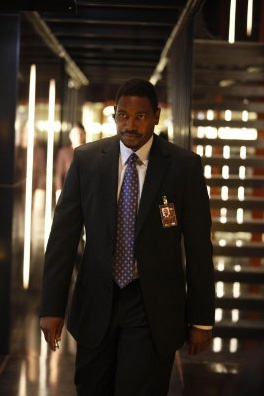 When he gets there, Jack finds the bodies of an NYPD cop and his wife, murdered by Davros who's been doubling as NYPD cop Mike Farmer. The dead cop was Davros's partner, but it's not clear to me whether Davros is a real Russian hit man underground as a NYPD cop, or an NYPD cop who went rogue. (This is why Kiefer Sutherland asks us to suspend disbelief.) Motive for this kill: The dead cop had been assigned to security detail at the U.N. that day but wouldn't change places with his partner. Jack is tased by a legit cop on scene who beats the crap out of him while his partner almost believes Jack's story of being with CTU and trying to stop an assassination. Good cop, bad cop. But beaten-bloody Bauer smashes the chair he's strapped into, head-butts bad cop into a wall, and frees himself. Bauer mojo rising higher. Good cop finally phones HQ and verifies Jack's identity.
Back at CTU, Chloe is busily decrypting intel and finds schematics for the U.N. where the disarmament accord is to be signed next day, along with a bomb hidden in the building's basement beams that security and their bomb-sniffing dogs failed to uncover in many safety inspections. Chloe intuits this may be more phony intel set up to distract CTU from a real assassination plot. Hastings disagrees with her, believes the false intel, and orders a U.N. evacuation of the entire building. In the meantime, Jack now knows the real plan is to get Hassan away from the safety of the U.N. building, making him vulnerable to the assassin, who plans on blowing Hassan's car up with a hand-held detonator to a bomb hidden in a manhole. Jack convinces the good cop to drive him to the U.N. to thwart the plan, and alerts Cole to stop President Hassan's motorcade at all costs.
Cole performs some cool Steve McQueen-type driving, saving Hassan from the detonated bomb's blast. (At one point, a flaming car seemed to hurtle right through the TV screen, making me wonder if this was filmed in 3-D, possibly preparing for those 3-D TVs we've been hearing about.) Cole races around the police motorcade to catch up with Hassan. Hastings sees what is going on and tries to reach Cole, who ignores him. Cole pulls in front of Hassan's car to stop it, right over the manhole with the bomb. It explodes underneath the two cars. Cole drags himself out of the burning car, rushes to Hassan's car and pries him out, then gets him safely into another car which speeds away. Cole notices suspicious actions on the part of cop Davros and follows him, only to be ultimately captured by him. As Davros is about to splatter Cole's brains all over the place, enter an adrenalized Jack Bauer, blazing gunfire into Davros and killing him.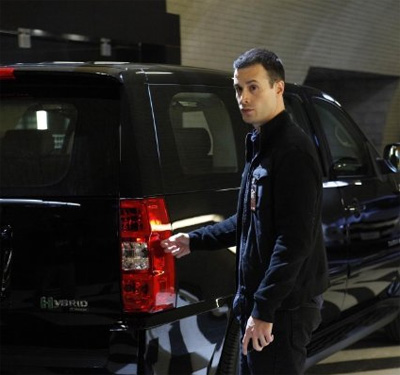 Later, CTU's medical examiner discovers the body of Davros leaking nuclear matter due to recent exposure to weapons-grade uranium. This discovery leads to Hassan's brother, Fahrad, the mole, who's been arranging to buy nuclear rods to arm Kamistan. Fahrad escaped as soon as he realized the assassination had failed.
Recently evac'd President Taylor re-enters the UN building. She calls Hassan and, with regard to his traitorous brother, tells him, "We can only be betrayed by the people we trust." She guarantees him that they are doing everything they can to find his brother. Hassan agrees to continue the peace talks.
The assassination plan has been thwarted, innocent reporter Reed released, identity of the mole uncovered, assassin killed, disarmament talks to continue. Even Hastings says he supposes Chloe wants to be thanked by Hassan and she replies, "Actually, I was thinking he should thank Jack. Then Cole. Then maybe me." All is well. Or is it? Can Jack now leave to join his family in California? Certainly not… this is 24.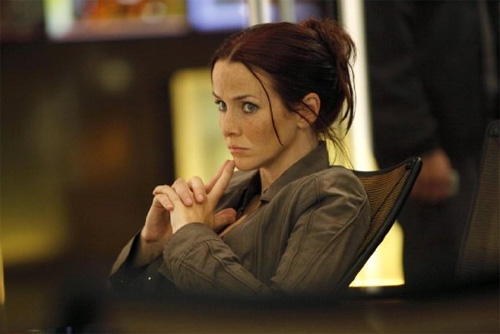 Tats on Davros's body matching those on other dead Russian mobsters must be interpreted by an expert, so Hastings brings in a former FBI undercover agent who had infiltrated Russian mobs in the past. It's Renee Walker (Annie Wersching), Jack's love interest from Season 7. She agrees to again infiltrate the mob in order to locate the syndicate selling nuclear material to Fahrad, still at large.
Not only does Renee go under cover with the Russian mob, she goes personally dark. Very dark. As in sawing off the hand of a Russian she was seriously flirting with seconds before to get intel. In Season 7, we witnessed Renee becoming a kind of evil version of Jack. Renee seems to have perfected some kind of synthetic psychosis that renders her unable to feel empathy and enjoy inflicting pain and death. She is also disturbed because Jack insisted on going undercover with her instead of heading to California to be with Kim. Doesn't he trust Renee to do the job alone? Apparently not.
More will be revealed as Season 8 unfolds its secrets each Monday night.
Rating: 4 / 5 Stars