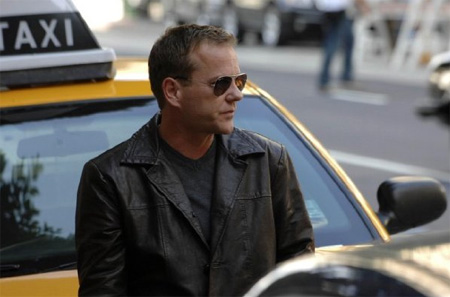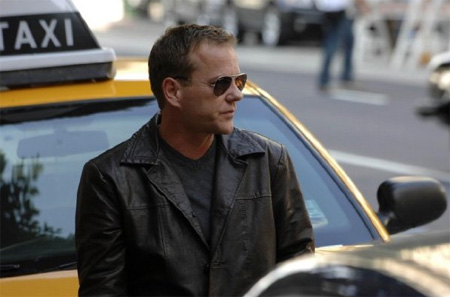 Episode: 24 8.01 – "4:00 p.m.-5:00 p.m." and 8.02 – "5:00 p.m.-6:00 p.m."
Original Air Date: January 17, 2010
It's not easy to hear Jack Bauer (Kiefer Sutherland) say to his granddaughter as he reclines on a couch in a New York apartment, "You're supposed to call me Grandpa." What? Jack Bauer's a babysitting grandpa? Where's the gun, where's the "dammit," and most of all, where's the manbag? Patience, I said to myself, more will be revealed. And it certainly was. Fast, twisty, unexpected.
It was a busy summer in 24 land. Jack got cured (we don't know exactly how) and moved to New York, President Allison sent her daughter to jail and divorced the First Husband. Remember when President Allison told Ethan (Bob Gunton) that she had a job for him? Well, now he's Secretary of State, and her new Chief of Staff is an outspoken character named Rob Weiss (Chris Diamantopoulos). Chloe O'Brian (Mary Lynn Rajskub) has been rehired by a new CTU-NY after her husband Morris was downsized from his job.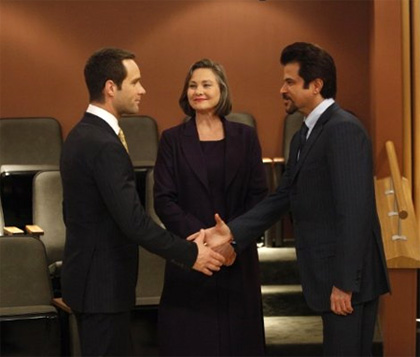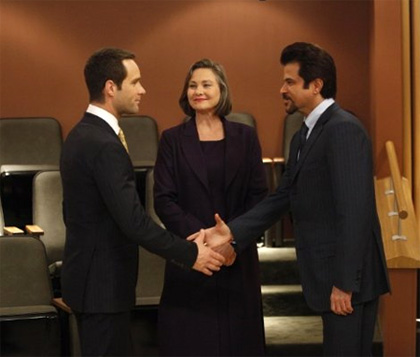 Season 8 begins in the late afternoon and we learn right away that Jack has retired and is finally enjoying family life. It's a whole new thing for him and for us. Kim (Elisha Cuthbert) and her husband and child are moving back to Los Angeles and Jack plans to go with them. Sounds idyllic, but hey, relax — it doesn't last.
Jack's former informant, Victor Aruz (Benito Martinez, The Shield's Aceveda) is running from Russian thugs trying to kill him because he has intel of a plot to assassinate President Omar Assan (Anil Kapoor of Slumdog Millionaire) that very day, before he can sign a nuclear disarmament agreement with U.S. President Allison Taylor (Cherry Jones). A wounded Aruz finds Jack who's reluctant to get drawn back into any intrigue but is finally convinced he must get Aruz to CTU-NY, a new branch headed by Director Brian Hastings (Mykelti Williamson). Jack grabs his manbag and heads for CTU with Aruz. Only one of them gets there alive.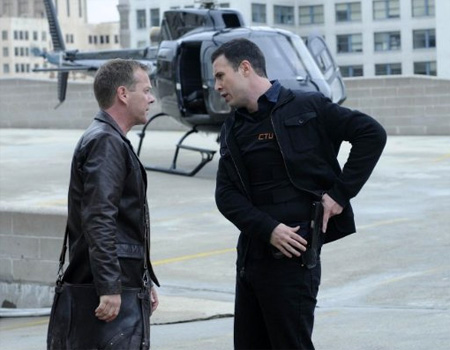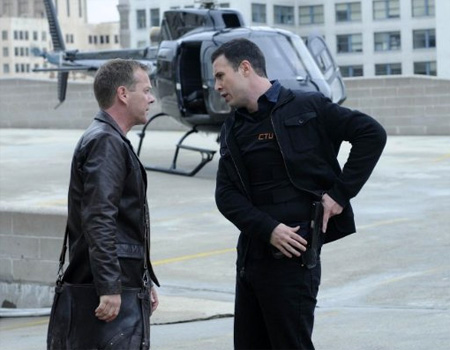 As Jack attempts to deliver Aruz to a copter Hastings ordered to take him to CTU, Russian paramilitary catch up with them. There's a lot of action, including one of 24's best kills: Jack hacks a fire axe into the chest of one of the Russians. Jack Bauer's mojo is rising. A surprise rocket missile that blows up the copter finishes Aruz off before he can gasp final intel to Jack. All he manages is that there's … are you ready? … a mole! Someone close to President Hassan! What a concept! But he expires before naming the mole.
As Jack looks around CTU where he's to be debriefed by Chloe, he softly says, "I hate this place." Same old political b.s. he always hated. Chloe's still a computer geek, but not yet up to date techno-wise with all CTU's new equipment. Her boss is analyst Dana Walsh (Katee Sackhoff) who seems one of the few who appreciates Chloe's talents. Hastings doesn't seem to think as highly of Chloe as she always was by former directors. "Sweet Chloe" is gone and we're back to the good old hostile, cynical, and snarky Chloe we know and love. Incidentally, it looked like CTU has a couple of Mac slates.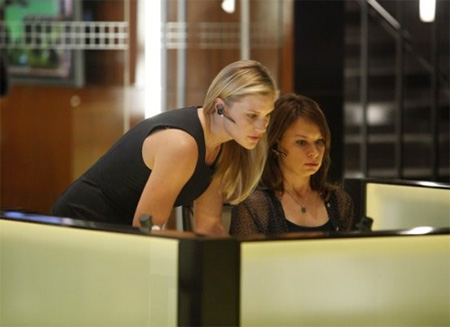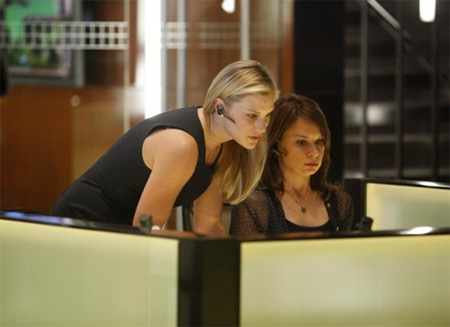 Another new character we meet is head of field ops Cole Ortiz (Freddie Prinze Jr.) who's engaged to Dana Walsh. Her mysterious backstory is hinted at for future eps.
Director Hastings believes new evidence that the mole is a blonde reporter who's sleeping with married President Hassan, while Chloe strongly suspects the evidence was planted to divert CTU from the true mole, still unknown. She asks Jack to help her convince Hastings but Hastings refuses to believe it's anyone but the reporter they've now got in the interview room, so Jack mentally shrugs and prepares to go back to L.A.
Kim tells him that she called Chloe, knows what's going on, and believes Jack will never be happy if he doesn't stay to help Chloe, who has always been there to help him in the past. I have forgiven Kim for jumping the cougar, because I like her this season. Jack agrees she should leave for L.A. and he'll follow after he does his manlyman kickass Bauer thing.
A good beginning to what may be the final season for this action-packed series.
Rating: 3.5 / 5 Stars