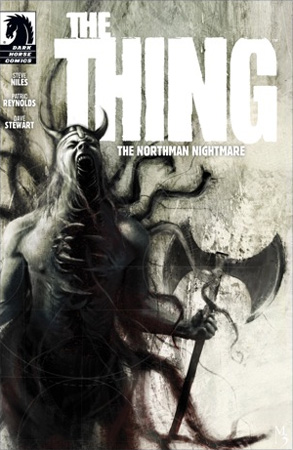 Issue: The Thing: The Northman Nightmare
Release Date: October 19, 2011
Writer: Steve Niles
Art: Patric Reynolds
Colors: Dave Stewart
Letters: Nate Piekos of Blambot
Cover: Menton3
Publisher: Dark Horse Comics
Whenever a comic book version of a movie or television property is released, you inevitably hear about how much fun it is to be able to work on a comic book and not have to worry about the constraints of a budget or about realistic special effects. But as we found out from Season Eight of Buffy (which I did actually enjoy), having that "unlimited budget" mindset can lead you to stray too far from what made the original property great in the first place.
Luckily, Steve Niles didn't go down that road. He knew that no matter where or when you set a "Thing" story, the most important elements are the characters and an overwhelming sense of paranoia.
The setting for this story is Greenland in 1121 and our cast is a crew of Vikings who have fallen foul of the terrain and have become trapped on land when their boat hits ice. Their leader is a man named Rodmar who commands respect from all those he travels with, and who carries the wounds of previous battles on his face for all to see.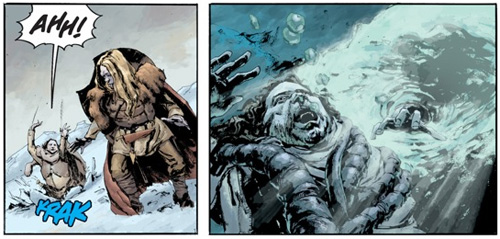 After setting off on foot over icy terrain, and learning very quickly how dangerous the land can be, the group comes across scorched earth and remains of a creature that they can't identify. When they arrive in a nearby village and discover the ostensible survivors of an attack, we find ourselves once again in very familiar "Thing" territory.
A "Thing" story is easy to write but difficult to master, and I think that Niles has done a pretty good job here. The paranoia and mistrust is ever present, mixed in with some action, good characters and a genuinely surprising ending.
The artwork by Patric Reynolds is serviceable, but nothing to write home from Greenland about. At times, characters look too similar and action sequences seem muddled. But his work on the creature effects makes up for part of his other shortcomings.
It's going to be a while before The Thing is released in the cinemas in Ireland, but this book has helped to ease the pain of the long wait.