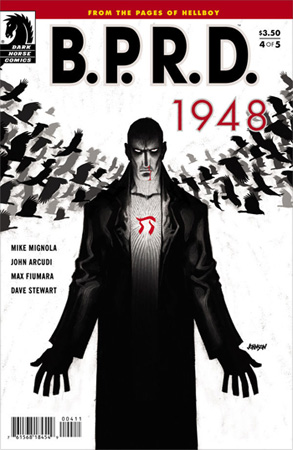 B.P.R.D.: 1948 is the latest five-issue miniseries from the franchise. The monthly miniseries, which started in October, catches up with Professor Bruttenholm and the Bureau for Paranormal Research and Defense as they relocate to Connecticut in 1948 after the war. They are drawn in to investigate a classified project that is underway, utilizing nuclear explosions in the deserts of Utah that are meant to benefit the space program.
Of course, sooner than later, all hell breaks loose. Literally. Creatures begin to appear and attack soldiers in the desert and Bruttenholm has to get to the bottom of it. That is, if he can stand the gorgeous distraction that is Dr. Anna Rieu. The beauty is as fascinated in what is happening behind the explosions — actual images and impressions she is seeing behind the bright lights — as Bruttenholm, and the two decide to look into things together. Bruttenholm finds Rieu is brave and smart enough to hear the truth and tells her the story of how he came into raising Hellboy.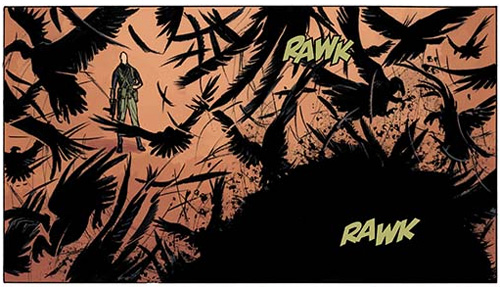 While 4-year-old Hellboy is running around in the background of the miniseries, focus lies on the possibility that atomic explosions are disrupting the membrane between parallel universes. Issue 3 begins to throw more focus on the glass that has been fused from the sands of the desert during the explosions. It's nothing ordinary, of course, and is named enkeladite after the project name Ekelados.
And as the eerie creatures continue to creep about and the ideas are planted, the discovery that the enkeladite could be what is actually drawing these creatures from another earth into our own is finally discovered in the January issue, out this week.
Coming into the miniseries now may seem confusing for some, but for those who familiar with the franchise or even the Hellboy movies, the series is intriguing and entertaining. The characters are easy to follow even if you're just one of those movie fans and any confusion can be cleared up spoiler free with a quick Google. For a comic, the suspense and right amount of gore is there and the mystery that is being solved is compelling to read to the end.