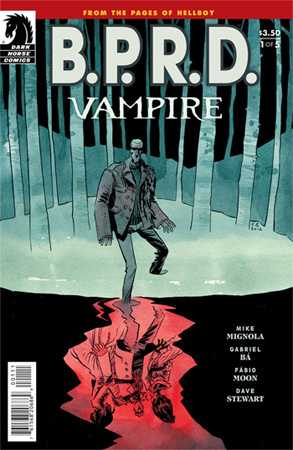 Following the brief glimpses of Anders in B.P.R.D.: 1948, the B.P.R.D.: Vampire miniseries is set around him and his drive to "find the vampires" and "kill them all."
Note: This recap may contain spoilers!
I am going to admit that the opening pages, showing the vampire sisters wandering snowy woods with their master leading them, were jarring. Not by the artwork, which is being headed up by Gabriel Bá and Fábio Moon this round, but by the dialogue. I understand we are in this universe of the Bureau and things are to be over the top, but wow. I was really taken out of the stunning imagery by the cheese fest of speech coming from this creature of the night. However, I had to press on. Perhaps the romanticized bull running from this character's mouth will come into play.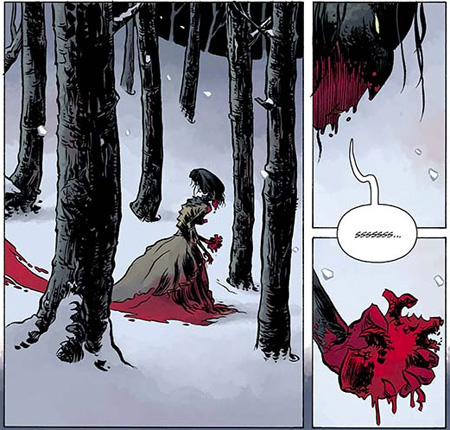 As we ended the wandering vampires and entered the Bureau, the comic turned and this is where the storyline gets good. Agent Anders awakes from a dream and packs his bags. He is stopped by Professor Bruttenholm, who asks what is wrong. Anders's struggle is less of a dramatic speech, but it packs the emotional punch. His description of becoming angrier and angrier with everything he encounters is actually relatable in a way. Sometimes life builds higher and higher around you until you want to rip it all apart. His feeling that the emotion is actually becoming him is his drive to leave. Professor Bruttenholm tries to reason with him, but Anders must go. He's going to find the vampires, find where they meet and worship Hecate, and he's going to kill them.
On the last page of this issue, I smiled and said, "This is going to be good." While I didn't see some jolting differences in the artwork for this issue, I am sure it will come as so to some who have been with the series the whole time. Storyline wise, this sense of revenge and Anders's departure have been building for some time. It really is the relatable emotion of anger that will more than likely drive some readers to cling to B.P.R.D.: Vampire. After all, we, too, live in a world of monsters.