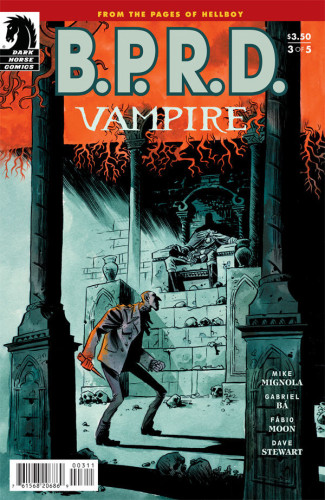 We last left Agent Anders with Hana in a mysterious ancient building at the end of B.P.R.D.: Vampire #2. Anders has been attempting to track down Lord Wilhelm, an alleged vampire, and the sisters that wander with him. While Anders and Hana wandered the last issue, giving a backstory to this elusive vampire, their adventure was more educational than action packed. Issue #3 resolves this, as Anders is led by the vampire sisters to where Wilhelm resides in darkness.
Note: This recap may contain spoilers!
Anders calls Lord Wilhelm out, using the man's love, Princess Eleonora, as ammo to get the vampire to crack. Wilhelm insists he did not kill Eleonora — quite the opposite. He loved her so much that he left and resided in the dark, away from her, to save her life. Anders, as we know to be a bit mad in his own way, refuses to believe this and drills Wilhelm into telling him the truth — even using the rings we saw in the previous issue. They belonged to Konig, another vampire, who was destroyed by his fellow bloodsuckers. Anders threatens that Wilhelm will be destroyed in the same way.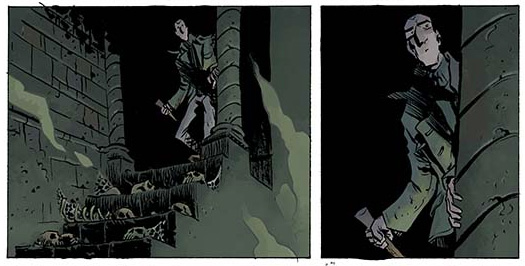 A fight ensues and, during it, we see Hana as she has found her way back outside. She reveals she lead Anders there for someone else. And she wonders if she did correctly as told. Meanwhile, the sisters taunt Anders, stating he's far stronger than Wilhelm — and that he can destroy him. This reveals, as we've already seen, that Anders is connected to these sisters and that they are indeed now a part of him. Ultimately, he believes in the words they tell him, leading Wilhelm gruesomely to his death.
Unlike the previous two issues, B.P.R.D: Vampire #3 is packed with some action. That being said, it lacks the development of the previous two issues and the depth of story. Wilhelm's reveal is beautifully drawn and the sisters slithering along with him in the dark almost sparks sound effects in one's brain. Again, while there is a lack of deep storyline, the brief story of Eleonora and Wilhelm's deep love and need to save her from his own doom gives just the right amount of drive for the conflict that immediately rises and quickly ends. This intense fight and the last panel of Anders standing, much consumed by the dark, is awesome. I eagerly await the next issue.